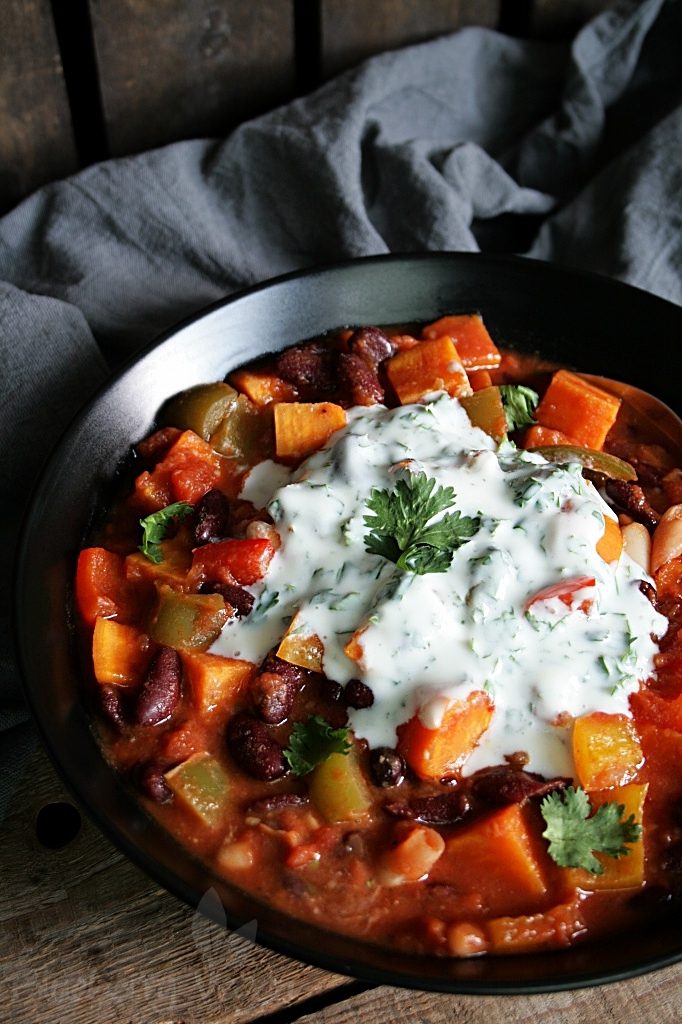 [Advertising: Affiliate Links]
Because of all the rain I had a craving for a hot pot. And since I love chili in all variations, I made one.
This chili is super filling because of the beans and sweet potato. Bell peppers add some color to the pot.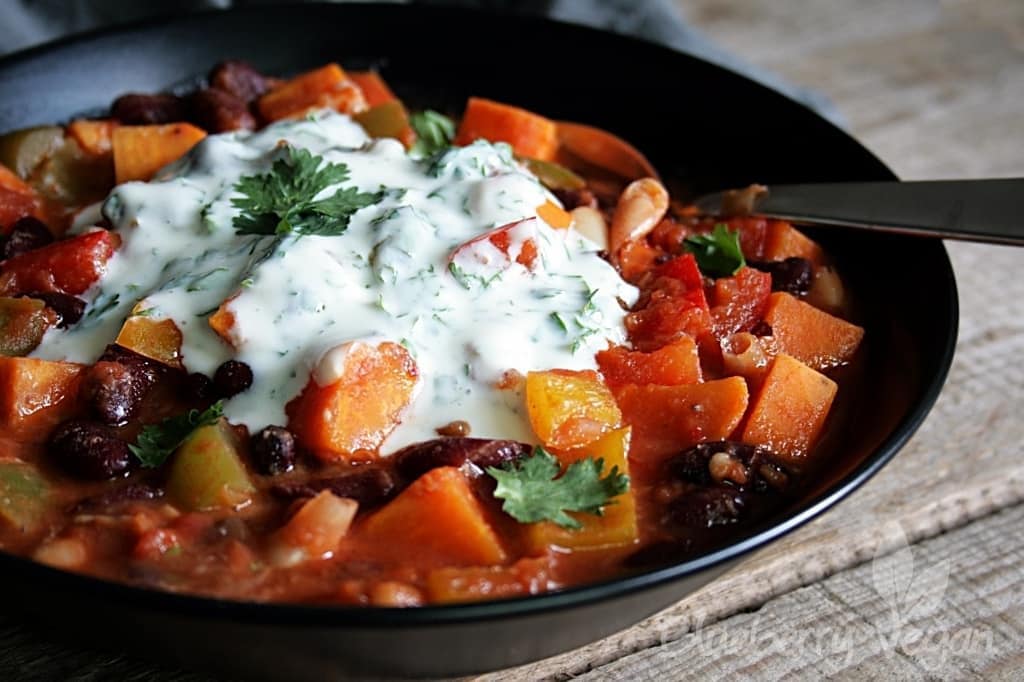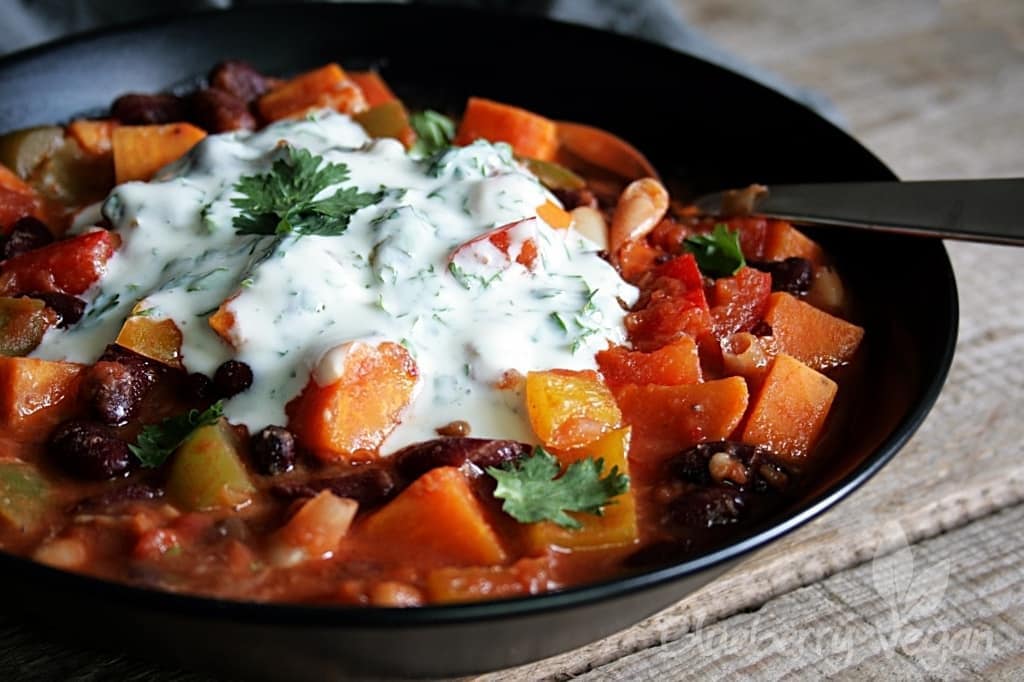 You can easily regulate the hotness of this dish by using more or less chili sauce.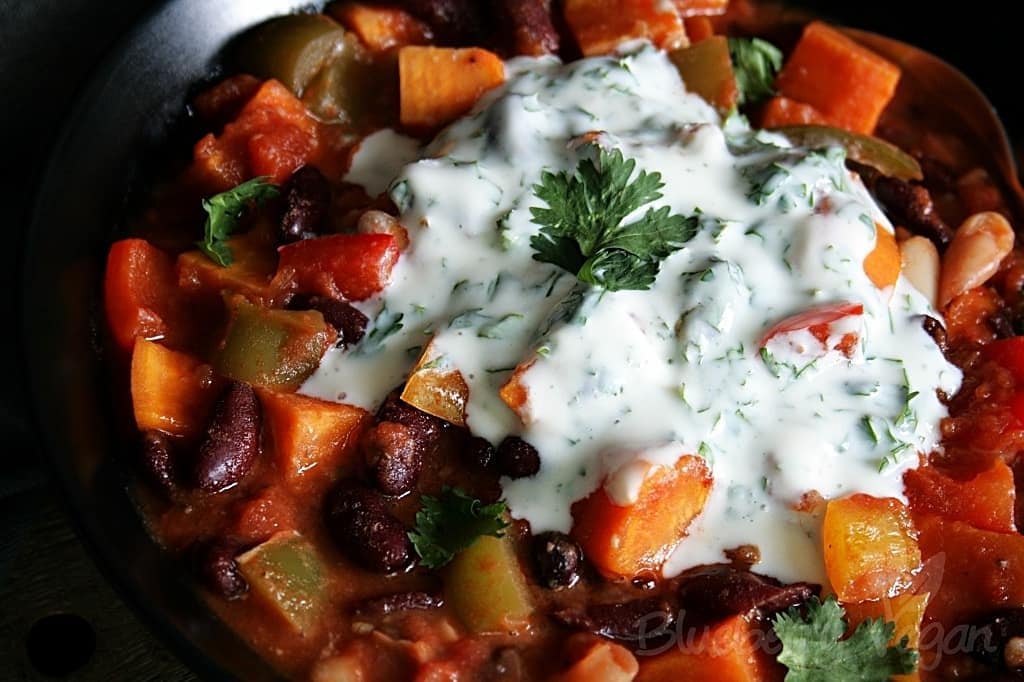 I hope you enjoy it!
Love,
Rina
Hungry for more sweet potato? Also try stuffed sweet potato, sweet potato bites, salad with sweet potato, jackfruit sweet potato curry and spinach sweet potato bowl.

Colorful Veggie Chili with Sweet Potatoes
Zutaten/Ingredients
For the chili:
1 tbsp olive oil
1 medium-sized onion
2 cloves garlic
2 sweet potatoes - about 1 pound
1 red bell pepper
1 yellow bell pepper
1 green bell pepper
2 14-oz cans chopped tomatoes
3 14-oz cans beans - kidney beans, borlotti beans and canellini beans or else
salt
pepper
1 tsp cumin
1 tsp smoked hot paprika
1 tsp lemon juice
chili sauce to taste - sambal ulek or sriracha


For the topping:
8 tbsp soya yoghurt
2 tbsp lemon juice
2 tbsp cilantro, chopped - if you don't like cilantro use mint instead
Zubereitung/Instructions
Finely chop the onion and garlic. Peel the sweet potato and slice into bite-sized cubes. Also cube the bell peppers. Drain and rinse the beans.


Heat the oil in a big pot and sauté the onion until translucent. Then add the sweet potatoes and brown them. After that add the garlic and sauté until fragrant. Then add the rest of the ingredients along with 1 2/3 cups water and season well with salt, pepper, cumin, paprika, lemon juice and chili sauce. Let simmer for 15 minutes, stir occasionally.


Combine soya yoghurt, lemon juice and cilantro in a bowl. Season the chili to taste with salt and chili sauce once more and arrange in four bowls. Add some soya yoghurt to each bowl and serve.