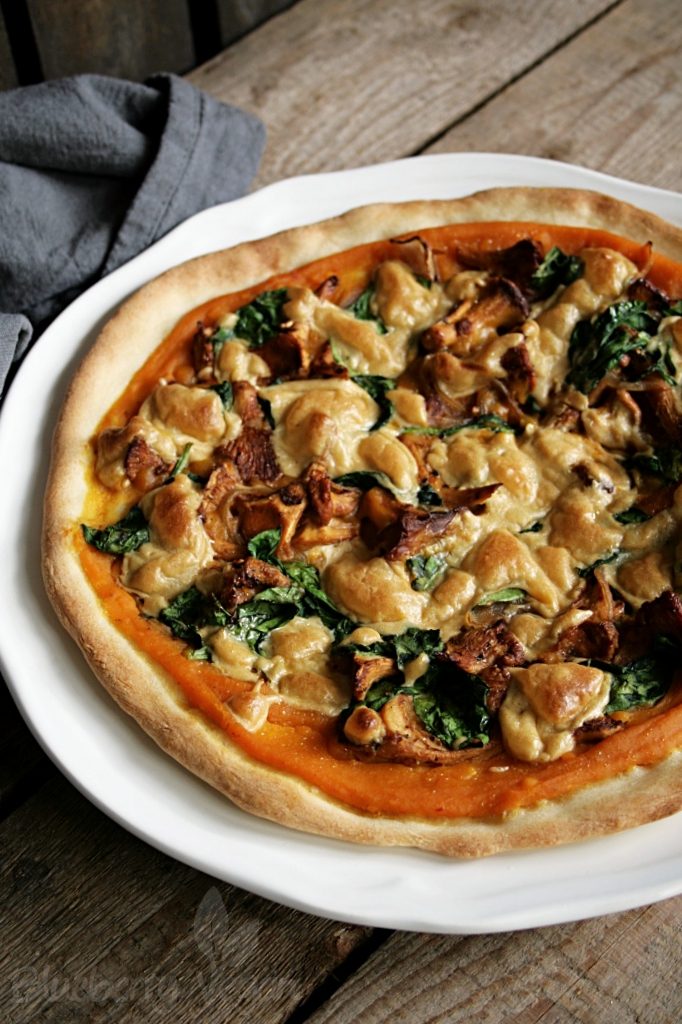 [Advertising: Affiliate Links]
You can eat pizza the whole year round and I like it, when the pizza transforms with the seasons. Because pizza is a dish which is easy to vary, I like to do so.
In spring I add asparagus to my pizza and in summer I like it with fresh tomatoes. And this year I made an autumn pizza for the first time. When I had the idea to make it, I had no idea whether it would be edible. It turned out to be very delicious in fact!
You have to try this pizza! Have fun baking it.
Love,
Rina
Looking for more pizza inspiration? Then also try pizza with my beloved vegan pizza cheese, eggplant pizza, asparagus pizza, quick wrap pizza, wintry pizza boats, pizza wheels with wind garlic and mushrooms and tart flambée pizza wheels.

Pumpkin Pizza with Chanterelles and Spinach
Zutaten/Ingredients
For the dough:
100 g (3/4 cup) spelt flour
1/2 tsp dry active yeast
1/2 tsp salt
1 pinch sugar
about 60 ml (1/4 cup) lukewarm water


For the pumpkin sauce:
150 g (5.3 oz) pumpkin
1 clove garlic
1 tsp lemon juice
1 tsp Worcestershire Sauce
1/4 tsp salt
1/4 tsp cumin
1/4 tsp paprika powder, sweet
Sriracha or Sambal Ulek to taste
60 ml (1/4 cup) water


For the cashew sauce:
20 g (2 tbsp) cashews - alternative 1 tbsp cashew butter
1 tbsp nutritional yeast flakes
1 pinch salt
1 pinch paprika powder, sweet
1 pinch garlic powder
60 ml (1/4 cup) water


Also:
2 hands full chanterelles
1 hands full spinach
1/2 small onion
salt
pepper
Zubereitung/Instructions
Make the dough first. Heat the oven to 50° C (120° F) then turn it off. Knead all ingredients to a soft, not sticky dough. Maybe add some more water or flour. Knead for at least 5 minutes then place in a bowl, dust with flour and cover with a kitchen towel. Put in the oven and wedge the door with a wooden spoon. Let rest for 40 minutes, until the dough has risen significantly.


While the dough is resting cook the pumpkin and garlic. Use a steamer, the stove or the microwave to soften it the way you like. Then blend it with the rest of the ingredients for the sauce in an open blender so that the steam can escape and your blender won't explode. Set aside.


When the dough is ready place a baking tray or pizza tray on the bottom rack of the oven and heat it up to 250° C (480° F). On a sheet of parchment paper press the dough into a pizza shape, don't roll it, to make it rise in the oven. Spread the pumpkin sauce on the dough, leave a rim.


Wash the chanterelles and spinach, cut the onion in strips. Heat a non-stick pan and sauté the onion in a dust of oil. Then add the wet chanterelles and fry for 2 minutes. Season with salt and pepper and spread on the pizza. Then place the wet spinach in the pan and let wilt. Also spread on the pizza.


Grind the cashews and blend with the other ingredients until smooth. Pour into a sauce pan and bring to boil to thicken the sauce. Drizzle over the pizza and put in the oven for 10 - 12 minutes until golden.
Tipps/Notes
I ground the cashews in my Personal Blender. If you can't grind them use cashew butter instead. I bought a pizza tray a couple of years ago which makes the pizza super crispy:
Pizza tray
Make sure the Worcestershire Sauce that you buy is vegan, because many brands are not. The
one from Biozentrale
is vegan. Read about my
Personal Blender
here.