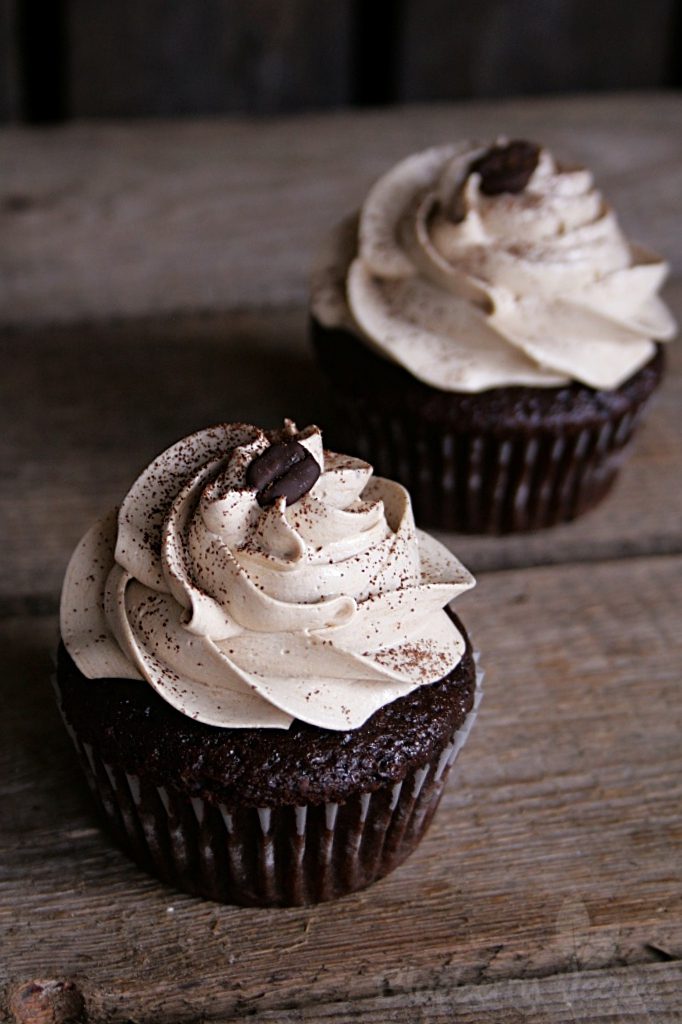 [Advertising: Affiliate Links]
Last weekend I attended our regular vegan pot luck brunch at Underground in Wuppertal. It's been a while since I last been there. This time I brought wild garlic pull-apart bread and these mocha cupcakes.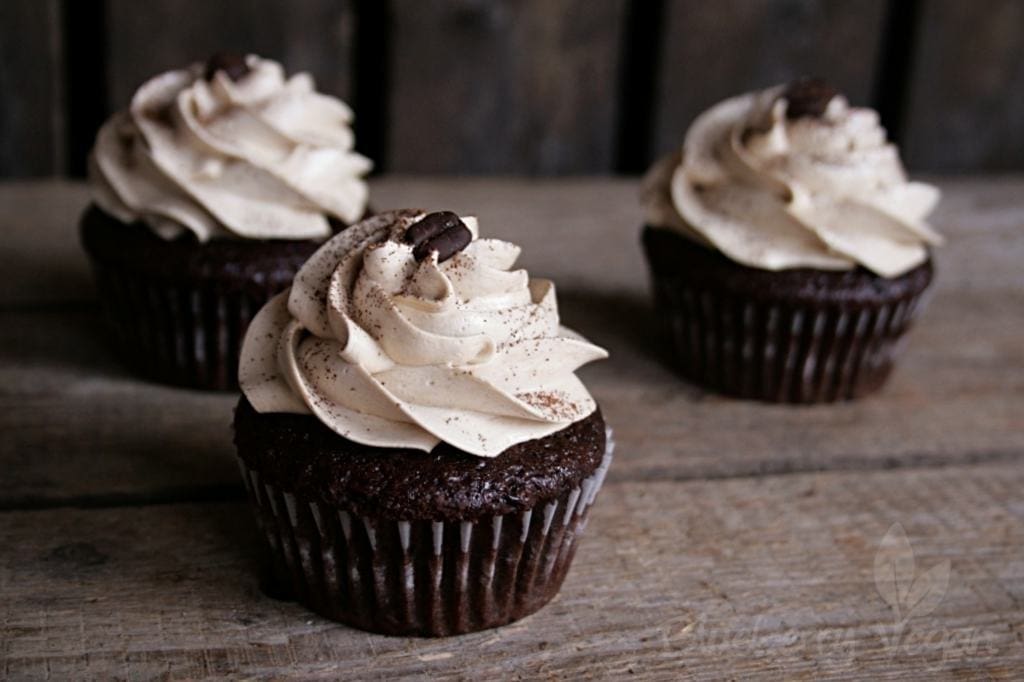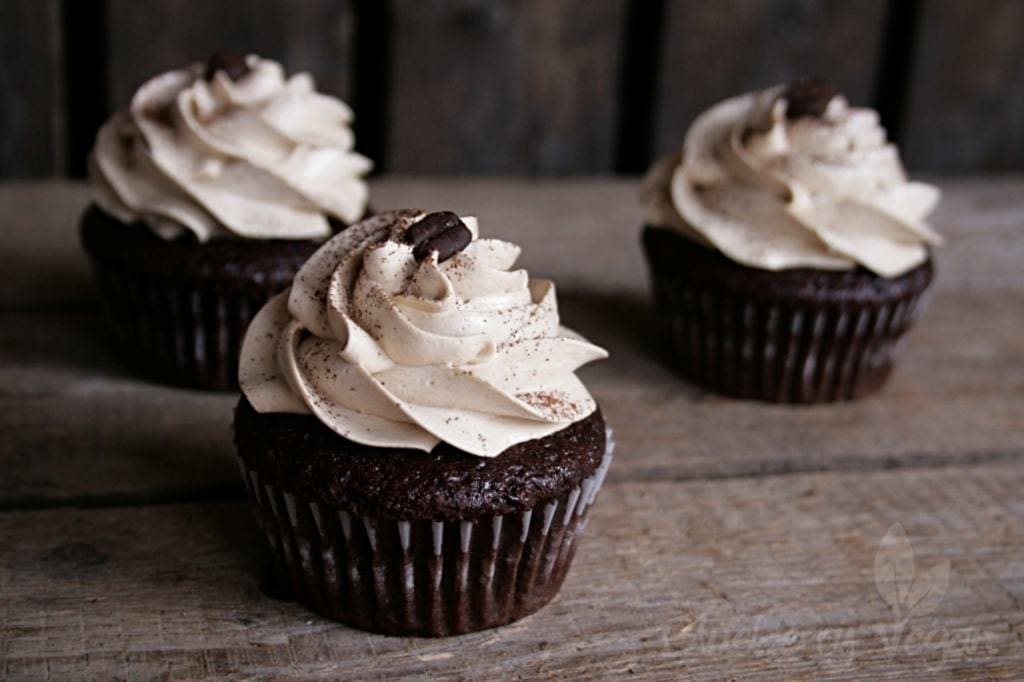 If you like sweets, that aren't too sweet and you are a coffee addict, you are gonna love these cupcakes! The cake part is made with a lot of cocoa powder and coffee and the buttercream frosting on top is made with espresso.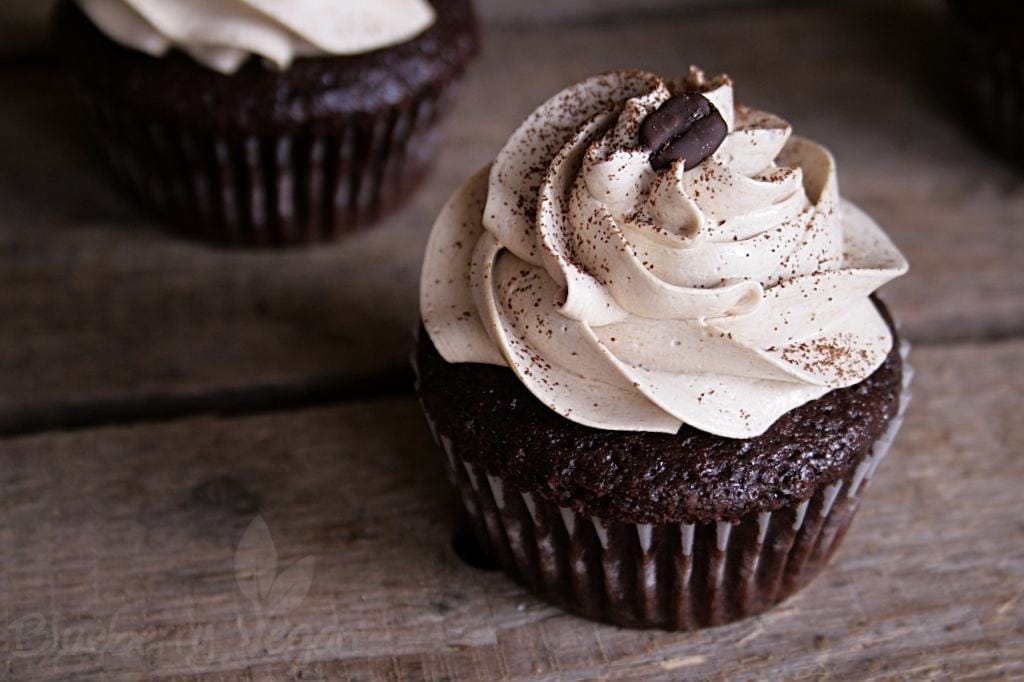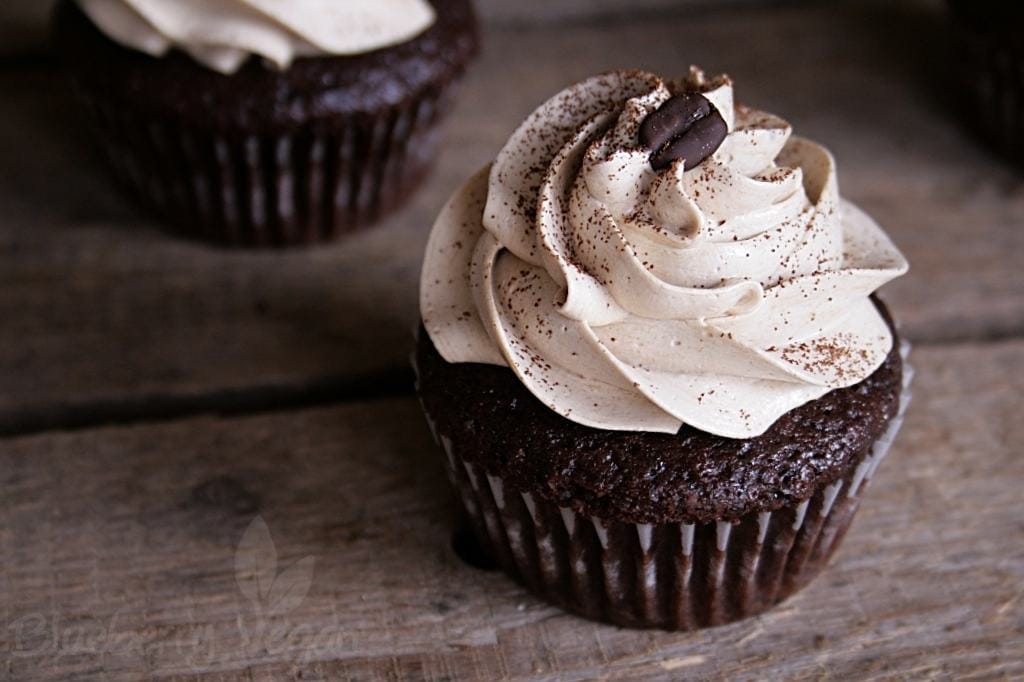 The final touch is a coffee bean, that I covered with dark chocolate and put on top of the frosting. I'd loved to use mocha beans instead, but couldn't find any without shellac.
Have fun baking these cupcakes!
Love,
Rina
You like cupcakes? Here are more recipes: strawberry cupcakes, simple chocolate and vanilla cupcakes, orange and lemon cupcakes, apple cinnamon cupcakes, gingerbread cupcakes and mojito cupcakes.

Mocha Cupcakes
Ergibt/Yield:
12 Cupcakes
Zutaten/Ingredients
For the batter:
240 ml (1 cup) soy milk
1 tsp apple cider vinegar
2 tsp vanilla extract
80 ml (1/3 cup) neutral tasting oil
160 g (3/4 cup) sugar
180 g (1 cup) white flour - spelt or wheat
25 g (1/4 cup) cocoa powder
2 tbsp instant coffee, freeze-dried
1/2 tsp baking powder
3/4 tsp baking soda
1/4 tsp salt


For the buttercream:
150 ml (2/3 cup) water
2 sticks (each 1,8 g) instant espresso powder - alternative 2 tbsp instant coffee
3 tbsp sugar
2 tbsp flour
150 g (5.3 oz) vegan butter
1 tbsp powdered sugar


For the chocolate coffee beans:
2 pieces dark chocolate
1 tbsp coffee beans
Zubereitung/Instructions
Preheat the oven to 180° C (360° F), equip a muffin pan with paper liners. Melt the chocolate for the chocolate coffee beans and mix with the beans. Push each bean off the spoon on a sheet of parchment paper and let dry.


In a big bowl whisk soy milk and apple cider vinegar and let curdle for about 5 minutes. Add sugar, vanilla extract and oil and whisk for 1 minute until foamy.


Lay a sieve over the bowl and measure the dry ingredients in it, then sieve over the wet ingredients and mix briefly. If there are only a few lumps left, it is perfect, don't overmix.


Pour the batter evenly up to 3/4 high in the cupcake liners. This works best with an ice cream scoop with ejection function or when you pour the batter in a freezer bag, cut off a corner and pipe it in the paper liners.


Bake in the oven for about 18 - 23 minutes until a toothpick comes out clean. Let cool for 5 minutes in the muffin pan, then remove and let cool completely on a cooling rack.


For the frosting combine water, coffee, sugar and flour in a pot and bring to boil. Let simmer for 1 - 2 minutes, then pour in a bowl and cover the pudding with clingfilm to prevent it from getting a skin. Put it directly on the pudding, not on top of the bowl.


Let pudding and butter get room temperature. Then beat butter and powdered sugar 3 - 4 minutes until fluffy, then beat in the pudding one tablespoon after another and beat until it is really fluffy. This will take a couple of minutes.


Spread the buttercream on the cupcakes with a knife or fill the buttercream in a piping bag and pipe on the cupcakes. Add a chocolate coffee bean on top.
Tipps/Notes
If the buttercream curdles, beat it again with two tablespoons of hot coconut oil. This way it will become smooth again. You can make
vanilla extract
 yourself! To pour the batter IN the paper liners and not around them, I use an ice cream scoop with 
ejection function
, that I have bought years ago. Watch 
Cupcake Jemma's piping tips
 to see how I made a classic frosting swirl on the cupcakes with my 
Wilton 1M
.