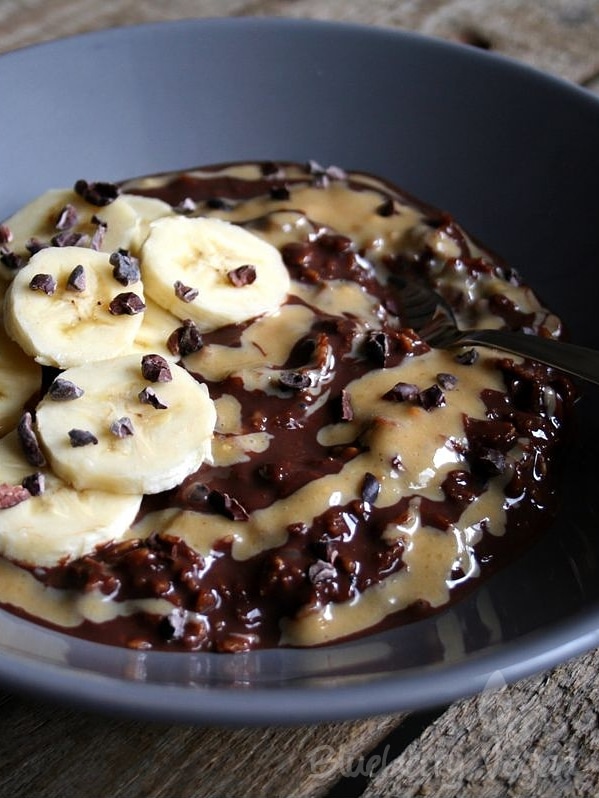 [Advertising: Affiliate Links]
As long as it's cold outside, I am having something warm to eat in the morning. Porridge is a great breakfast. It's not only super delicious, but very healthy. Rolled oats not only add valuable carbohydrates, but also lots of protein and fibers to you meal. They contain a remarkable amount of iron and zinc and satisfy for hours. To make your body absorb the iron better, always eat some vitamin c with your oats.
The combination of zinc and vitamin c is also good for your immune system. So this is another advantage for an oat breakfast.
To mix it up and not only eat oats with non-dairy milk, I try using different ingredients.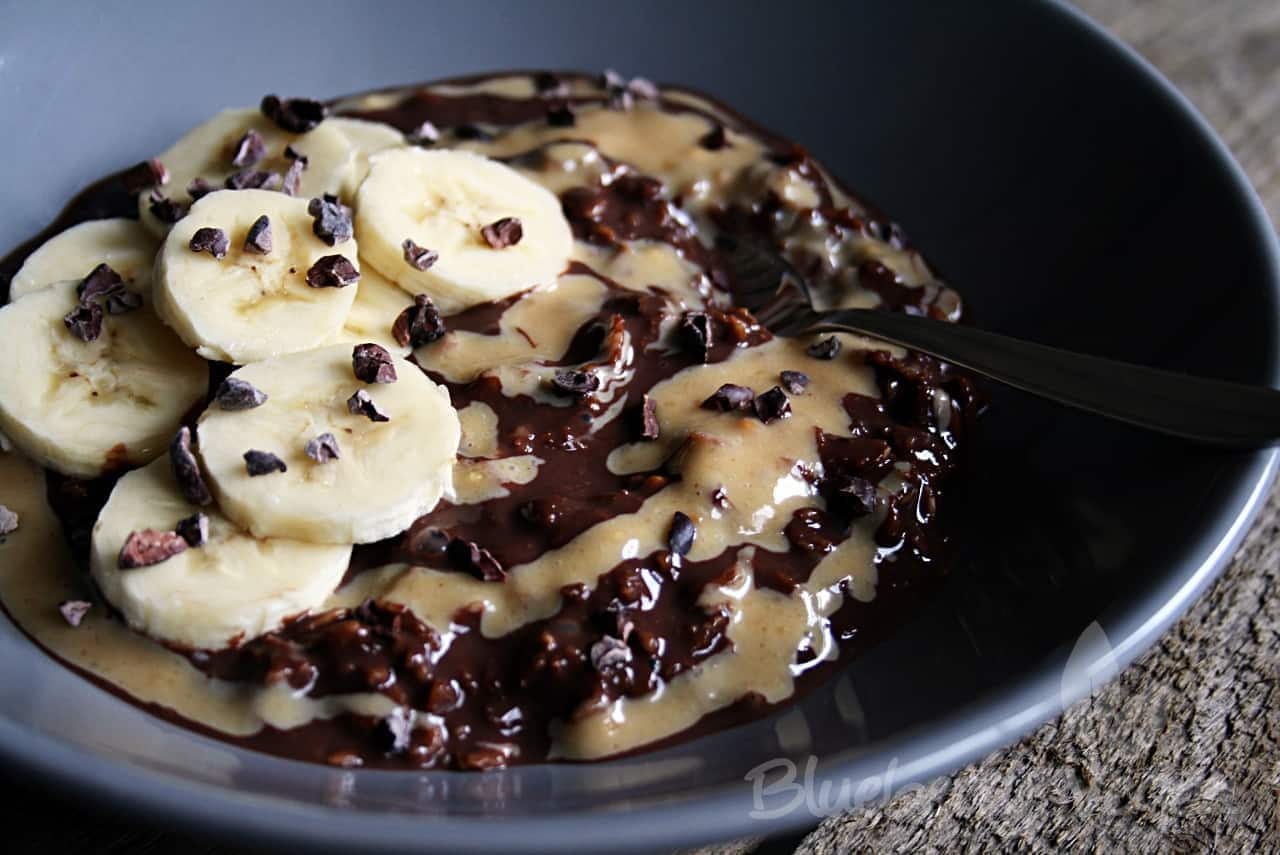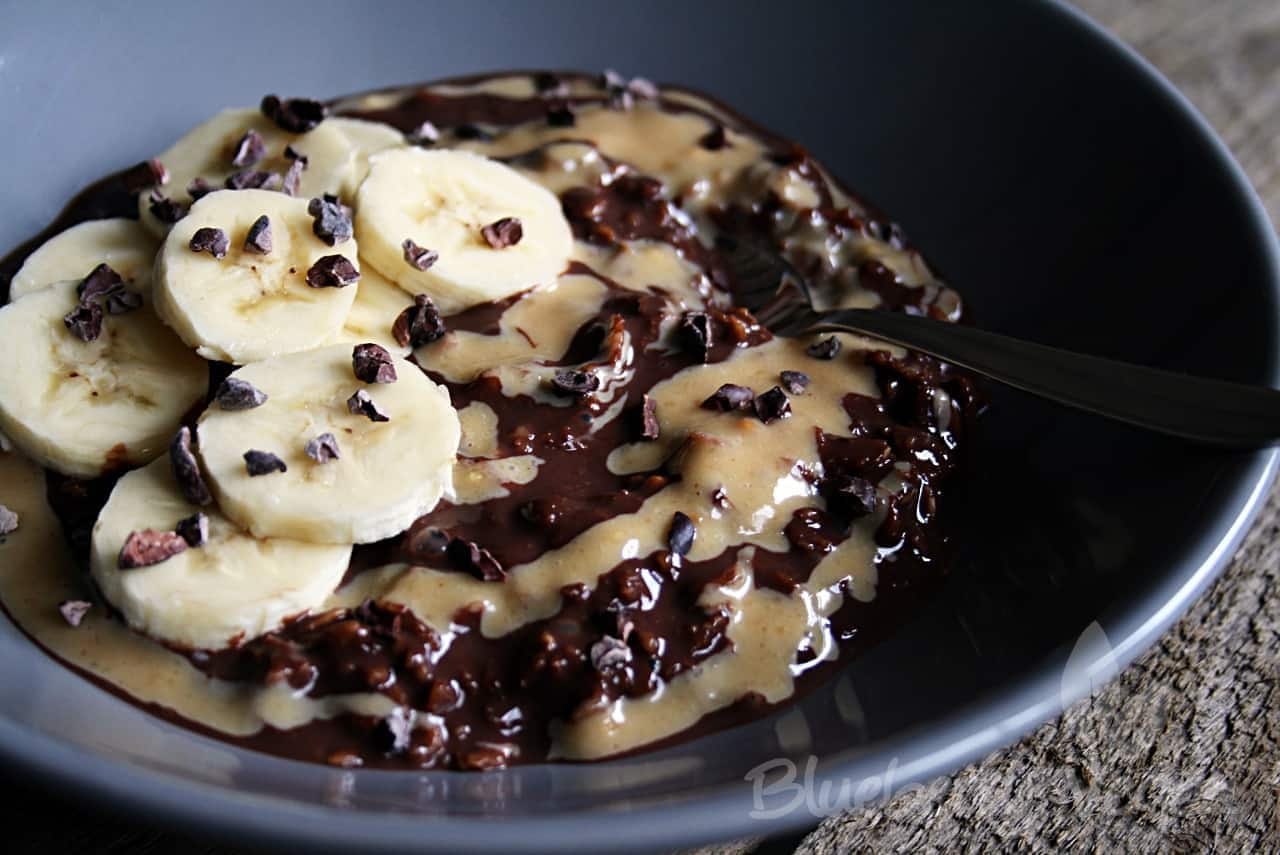 For a couple of days now, I'm in love with this rich chocolate porridge with peanut butter and banana. I used cocoa powder, oats, soy milk and agave nectar and cooked it for a couple of minutes, then added peanut butter and banana slices. If you like you can sprinkle over some cacao nibs. I love that sweet chocolaty porridge with the slightly salty peanut butter. This peanut butter only has peanuts and some salt as ingredients, I like it very much.
You don't need much time to cook the porridge, so you can make it in the morning, even on work days. If you prepare it in the evening before, add a few tablespoons of water, because the porridge thickens over night.
Have a great start to your day!
Love,
Rina
You like porridge? Then also try Porridge with blueberries, Warming apple pie porridge with glazed almonds, Hearty porridge with tomatoes, mushrooms and spinach and Crunchy millet porridge with rhubarb blueberry compote.

Chocolate Porridge with Peanut Butter and Banana
Zutaten/Ingredients
For the porridge:
200 ml (3/4 cup plus 2 tbsp) non-dairy milk
4 tbsp rolled oats
1 tbsp cocoa powder
1 tbsp agave nectar


For the topping:
1 tsp peanut butter
1 - 2 tsp water
1/2 banana
1 tsp cacao nibs (optional)
Zubereitung/Instructions
Bring oats, milk, cocoa powder and agave nectar to boil while stirring and let simmer for 5 minutes. Let thicken for 5 minutes.


In the meantime combine peanut butter and water to make a sauce and slice the banana.


Pour the porridge in a bowl, stir in the peanut butter in circles and add the banana slices. Sprinkle with cacao nibs.