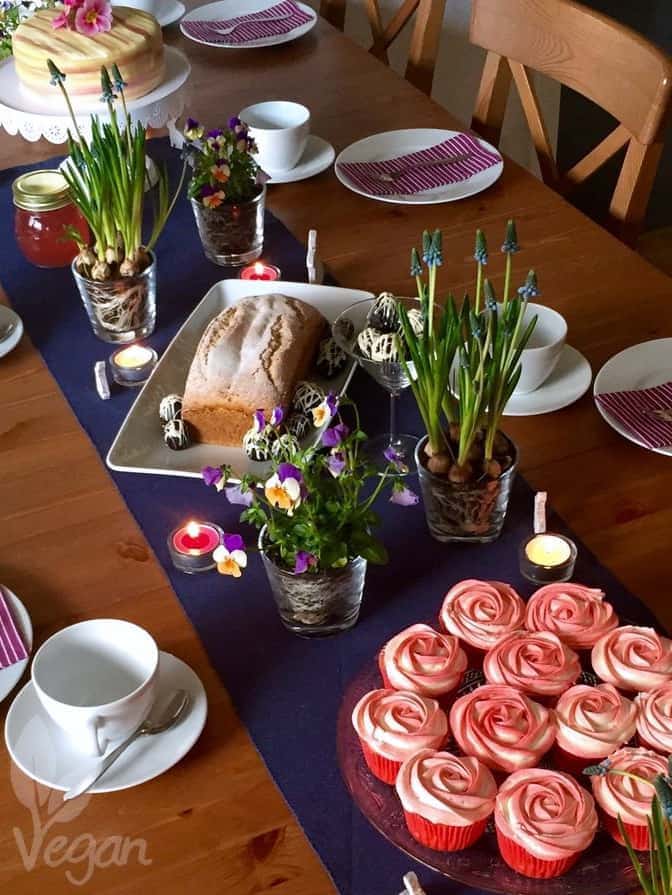 [Advertising: Affiliate Links]
Soon it will be Easter. And the tradition is, to have a lot to eat for important holidays. Yay!
I decided to satisfy the sweet tooth and want to give you some ideas for your Easter café.
For my coffee table I like to combine a cream cake, a plain cake and some cupcakes or muffins. One of them with chocolate and one with fruit. So there is something for everybody.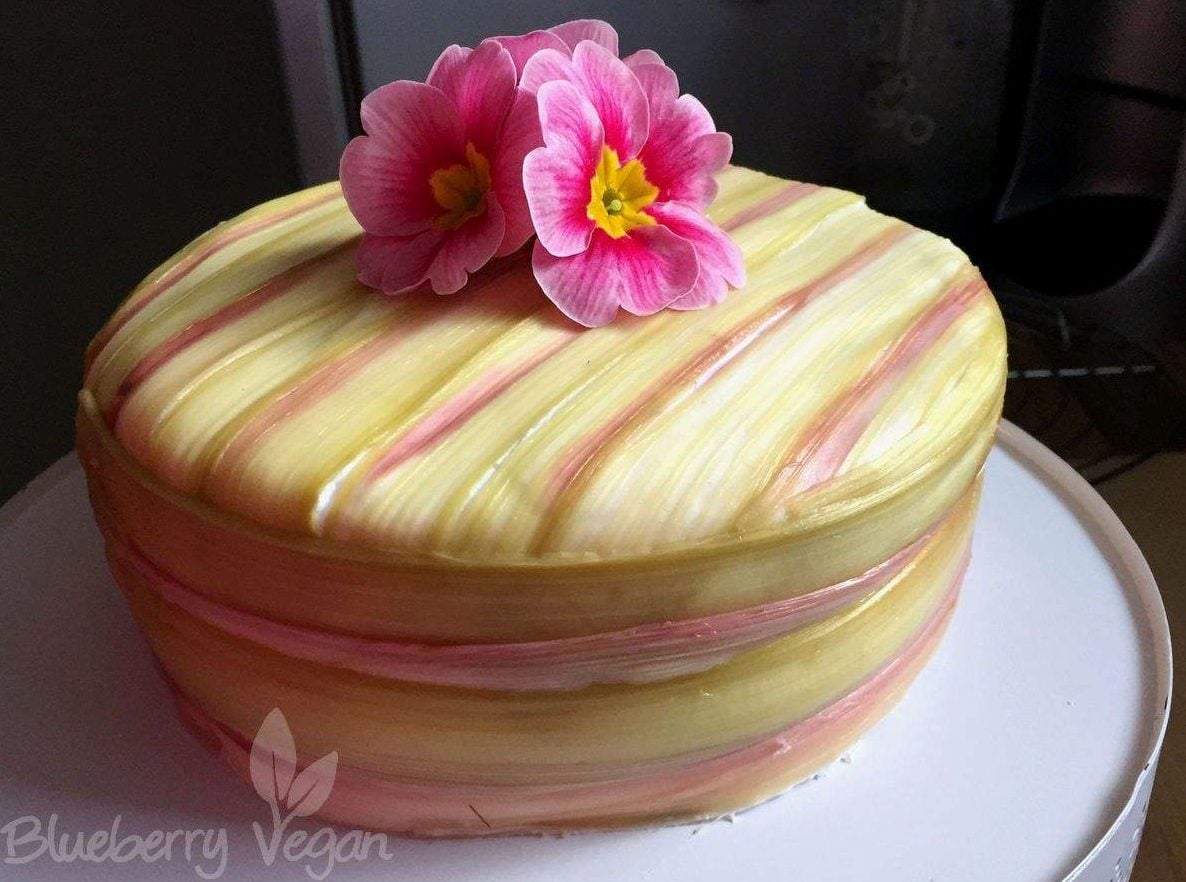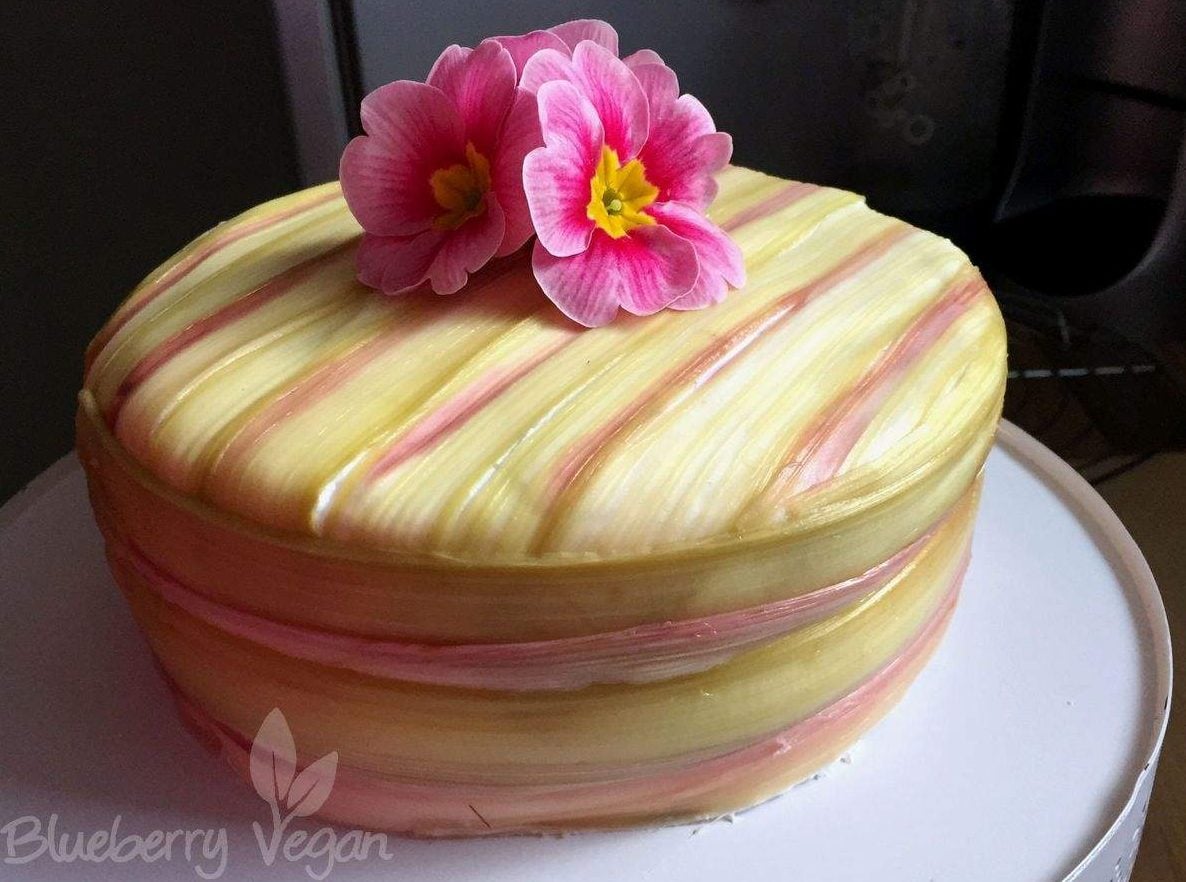 This year I am serving a rhubarb champagne cake, a surprise cake and strawberry cupcakes. I also prepared egg liqueur eggs (like rum balls but with egg liqueur) from the leftovers from the surprise cake.
I have already baked the rhubarb champagne cake once last year. It is some work, but my guests loved it. Use the rhubarb champagne syrup to make a drink: Mix 1 – 2 tablespoons with some strawberries and pour in a champagne glass and fill it with champagne. This is heaven!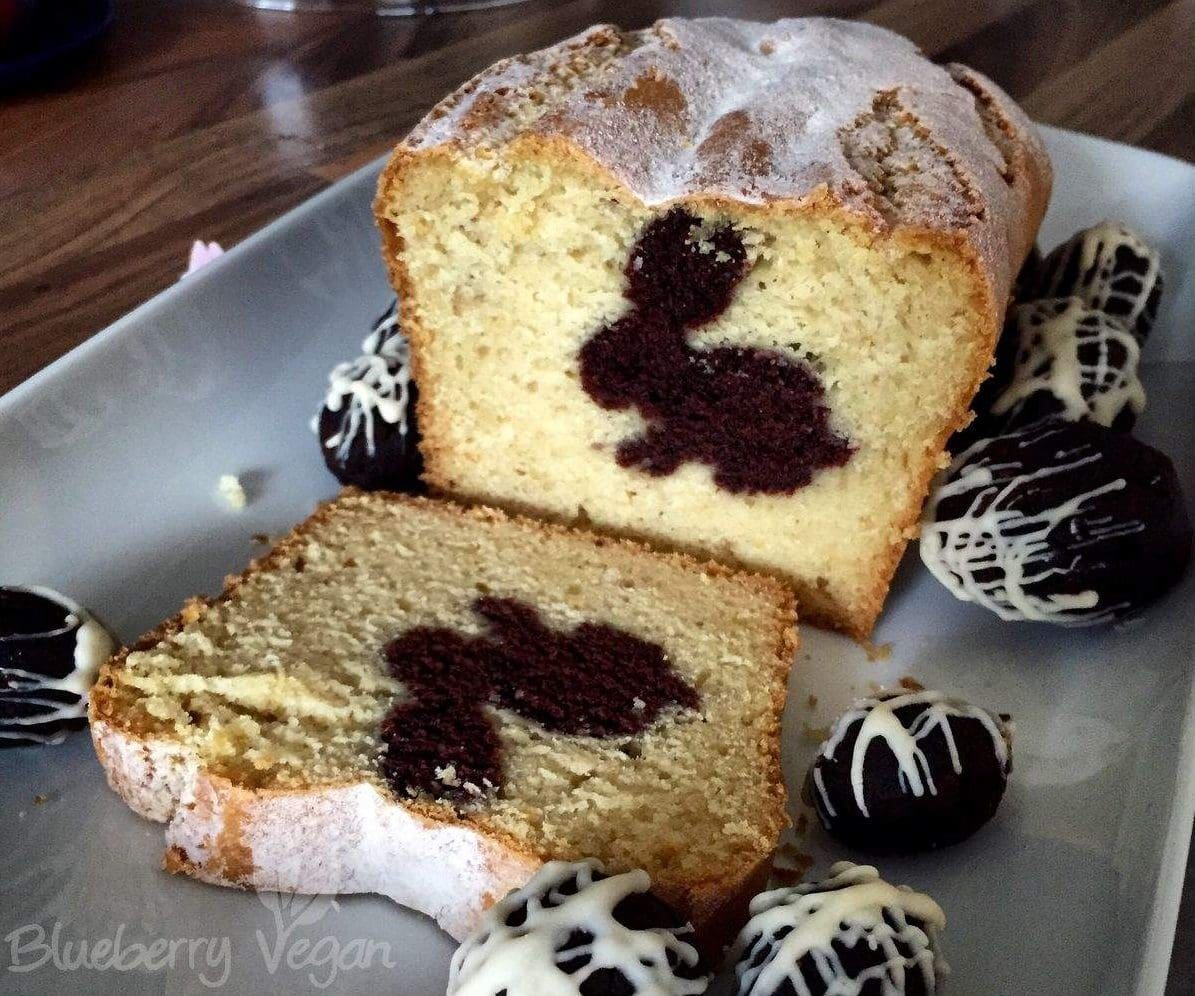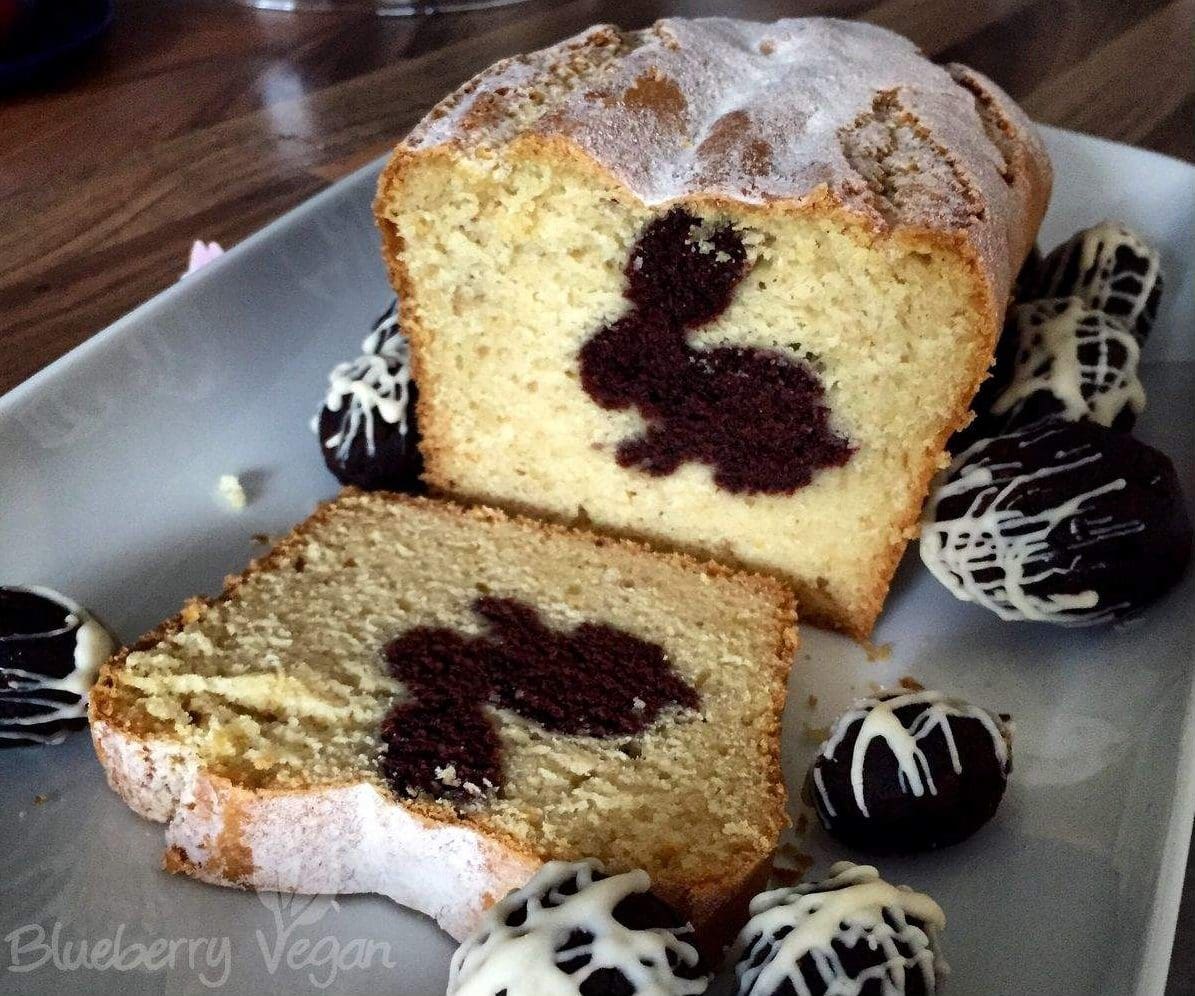 I used this recipe to make the surprise cake. It is really easy and looks so cute. I bought the bunny cutter on amazon. The leftover chocolate cake I crumbled into a bowl, added vegan egg liqueur, kneaded it to a sticky dough and formed eggs out of it. To make them more beautiful I sprinkled them with white chocolate.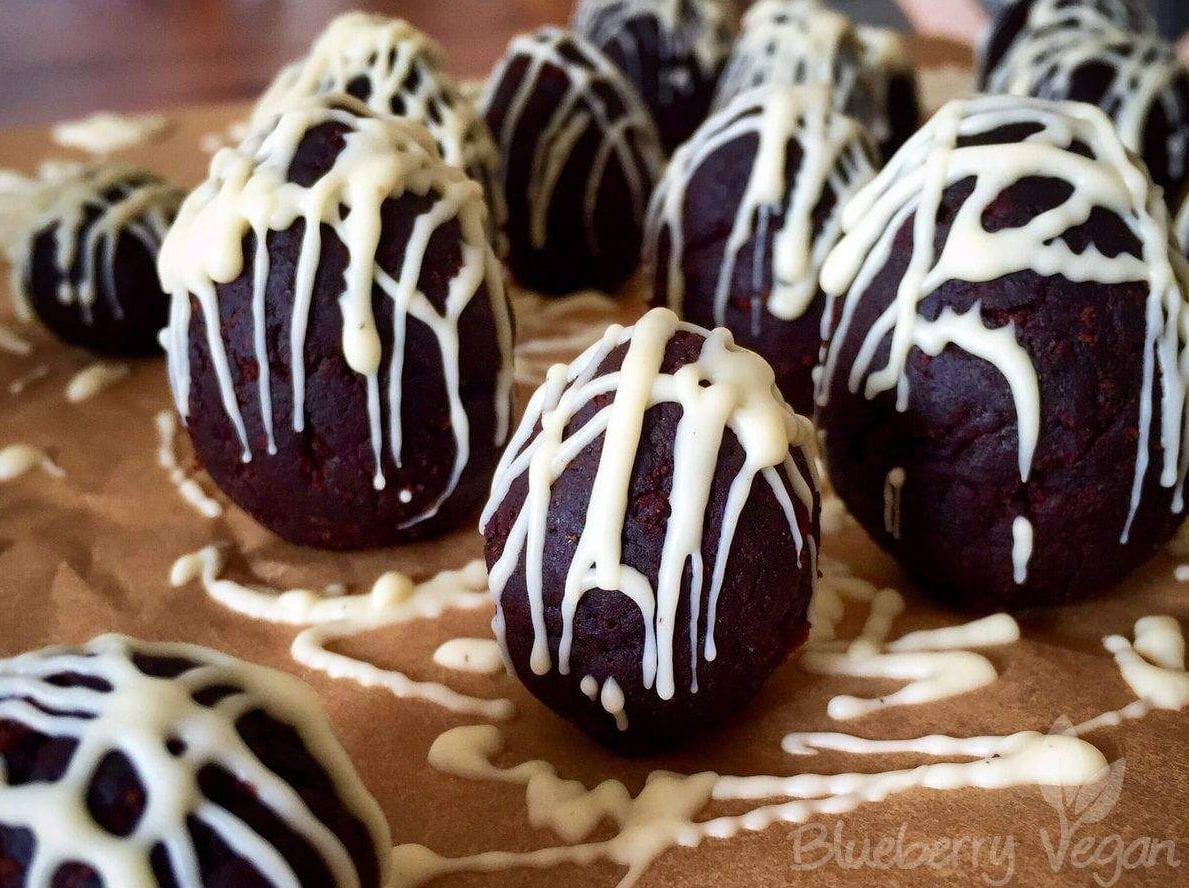 If you like to dress your cupcakes with a buttercream rose you will need a decorating tip. To pipe the most beautiful roses, you better get a wilton 2D. I dyed part of the buttercream pink to get that two-tone effect. There is a brilliant tutorial on how to make a two-tone buttercream rose on Youtube.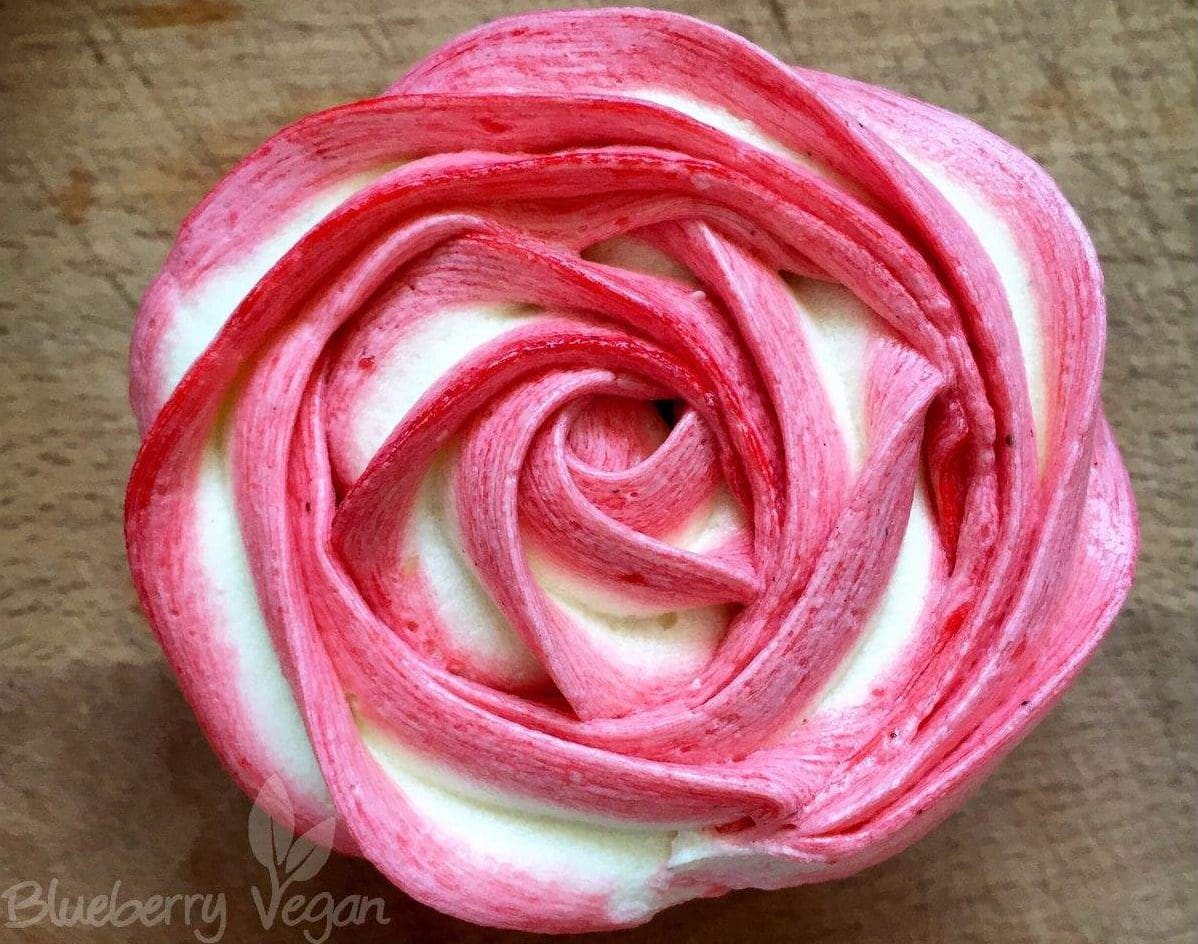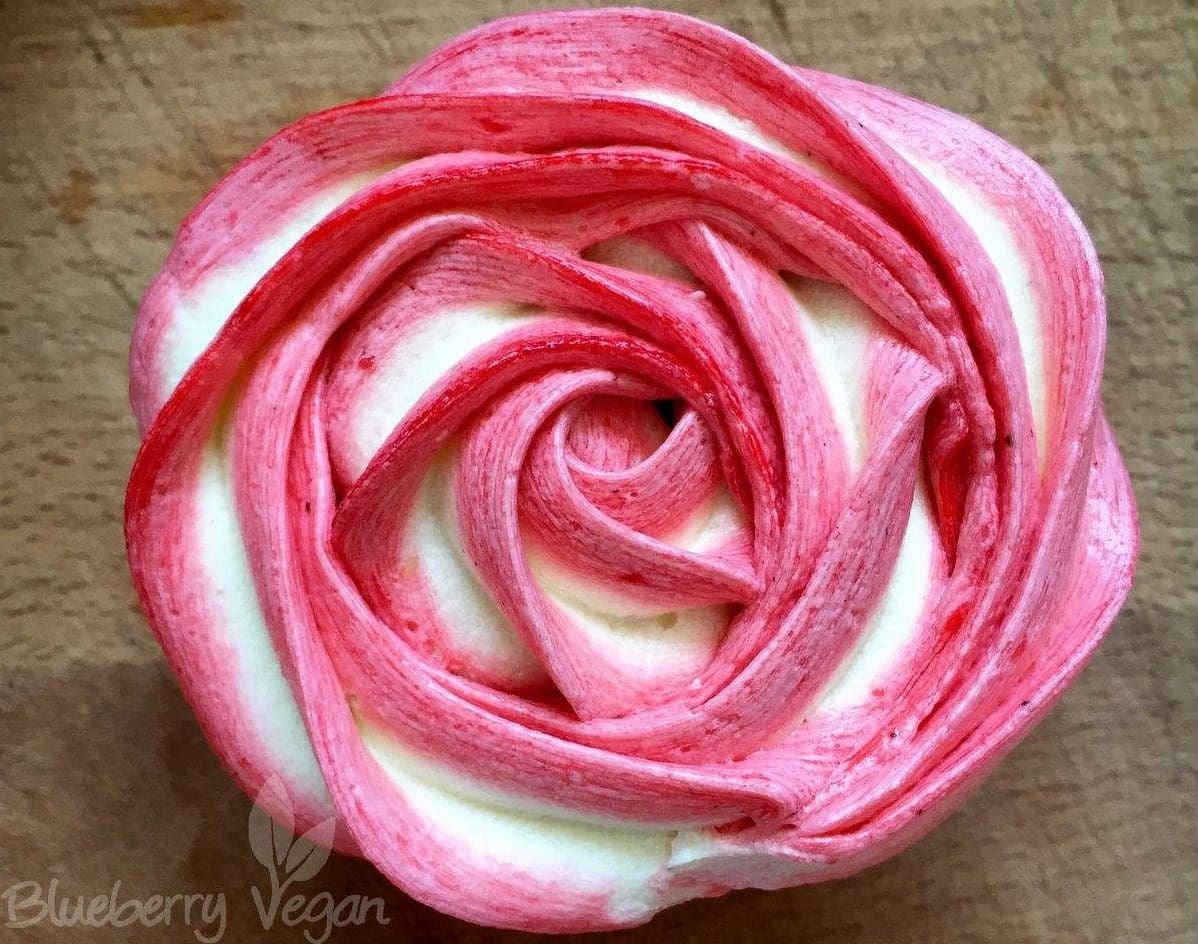 The cupcakes are easy to make. I used my basic vanilla cupcake recipe and added some white chocolate and chopped strawberries.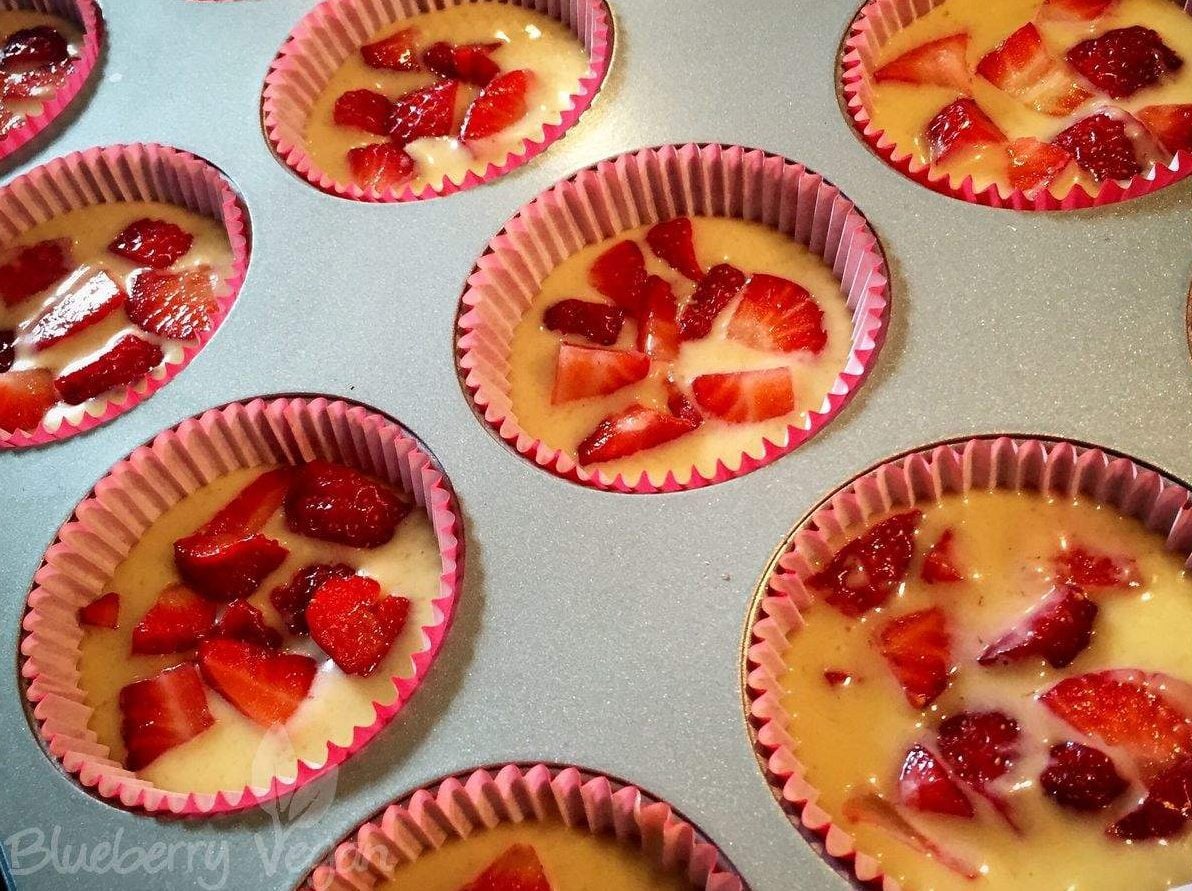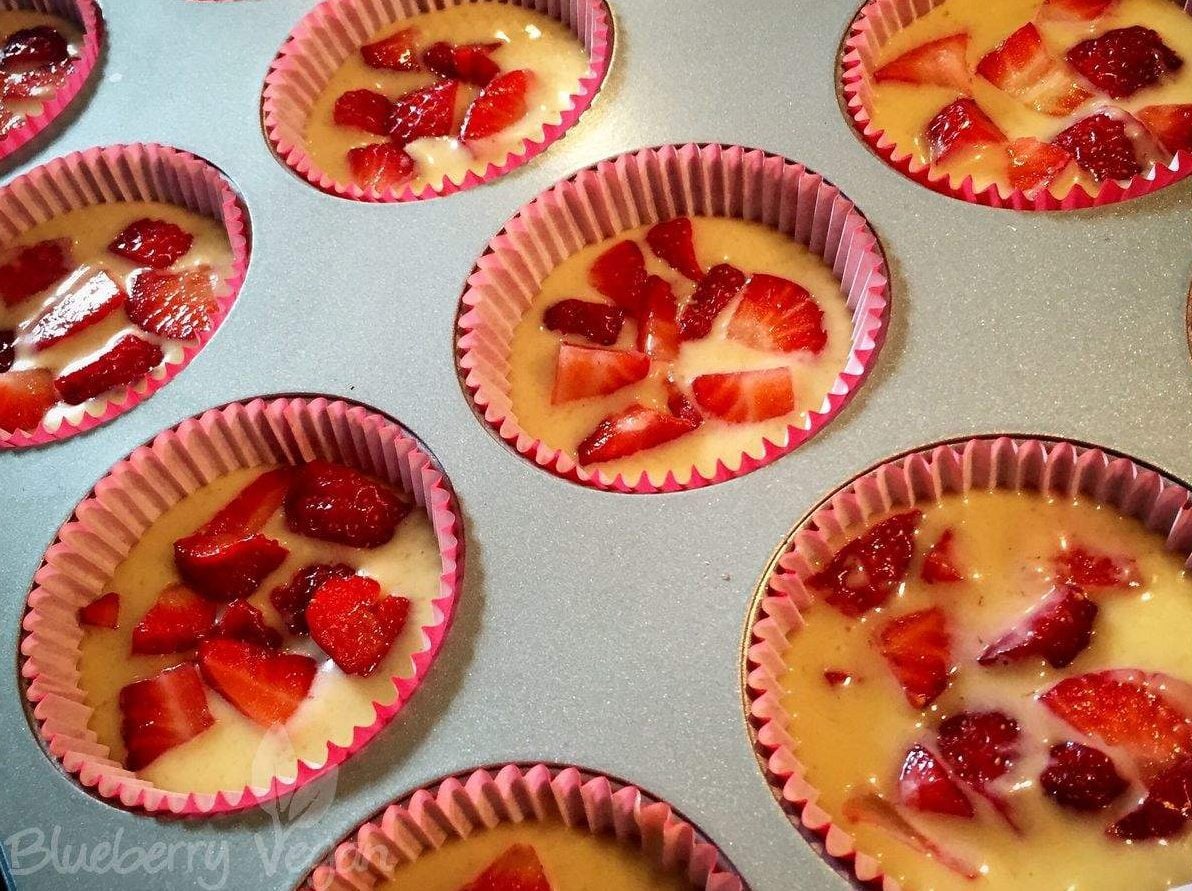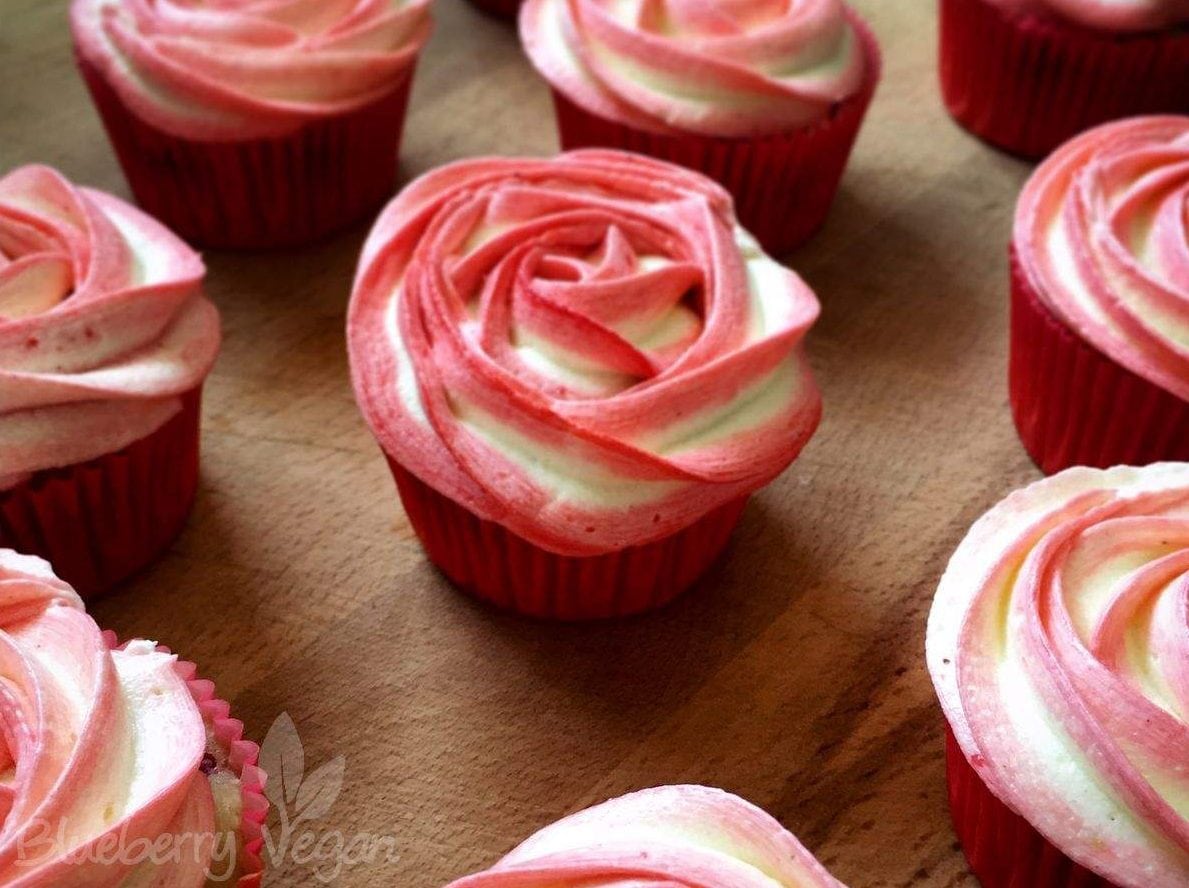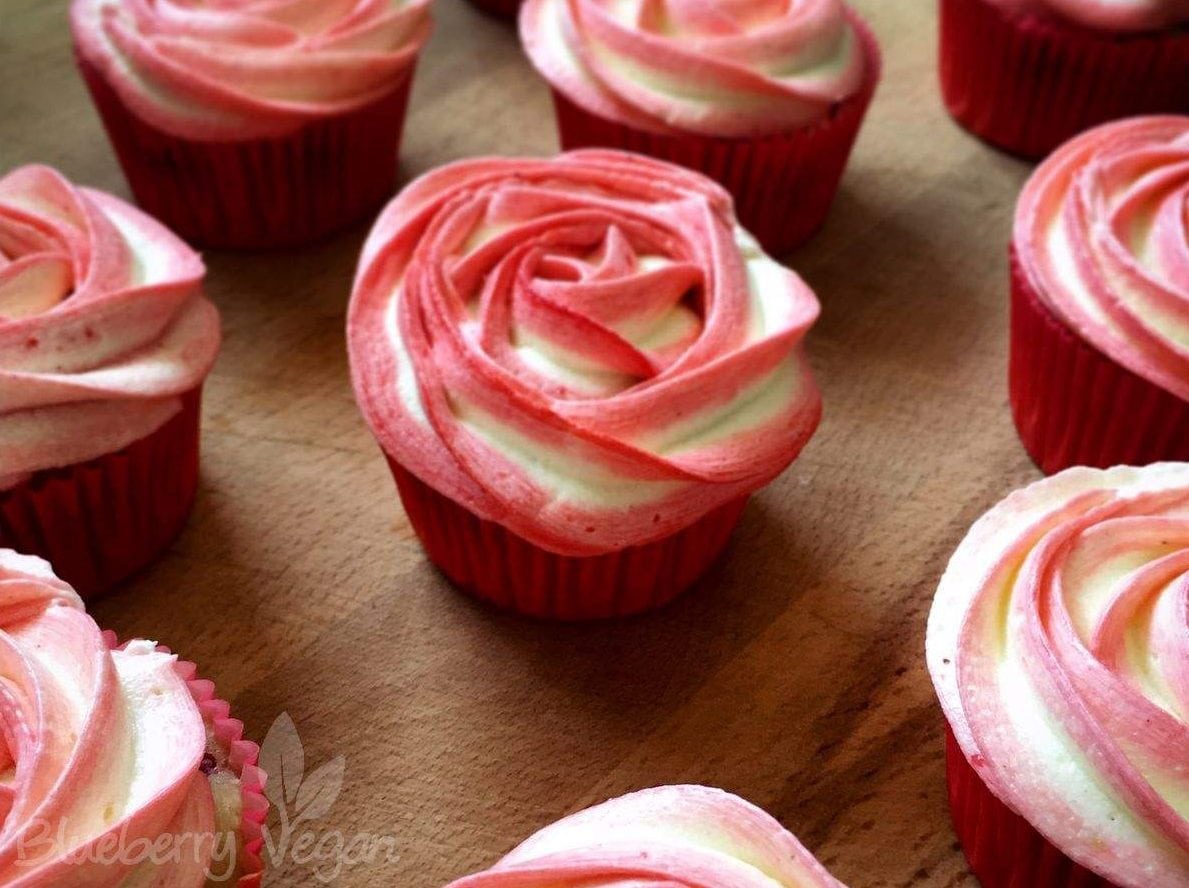 Try also to prepare the cupcakes with blueberries instead of strawberries. I used blue liners instead of red ones and dyed the buttercream with purple food dye for the blueberry version to make them look perfect.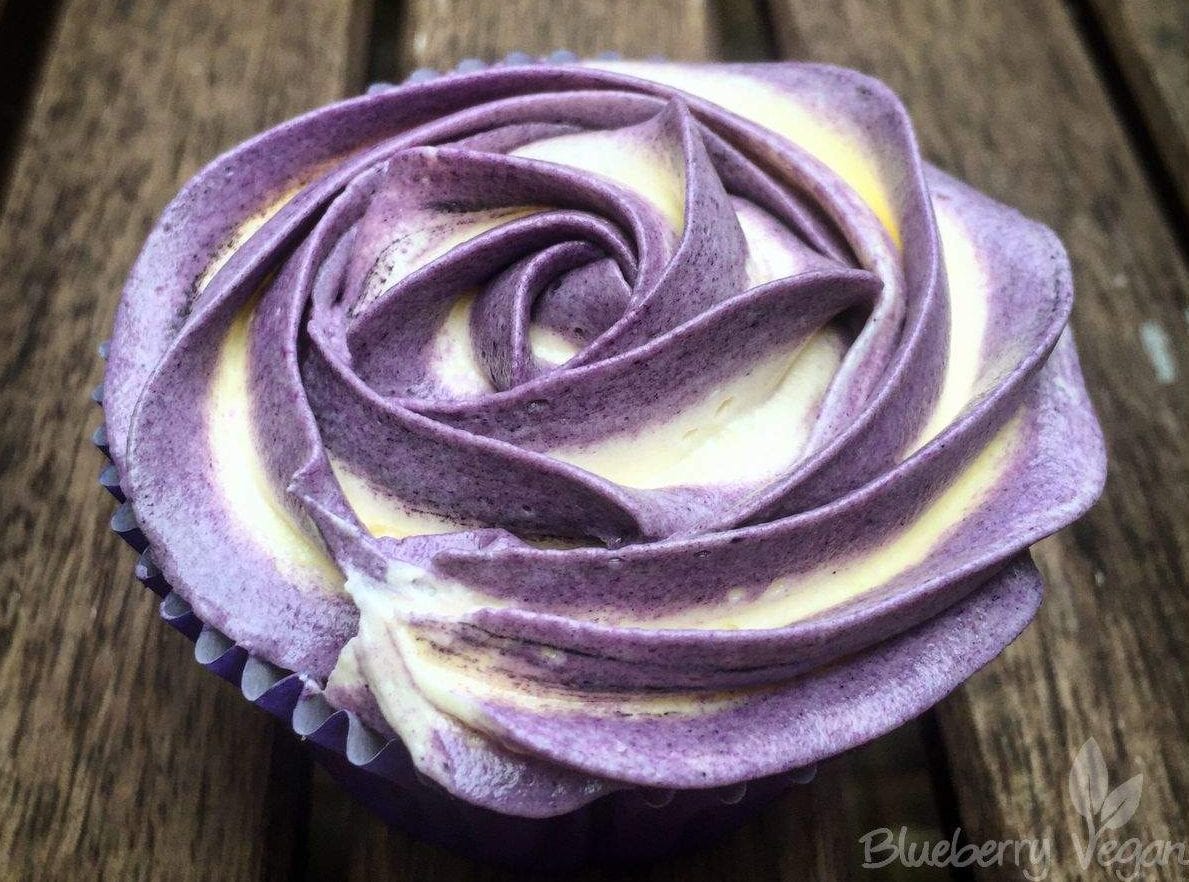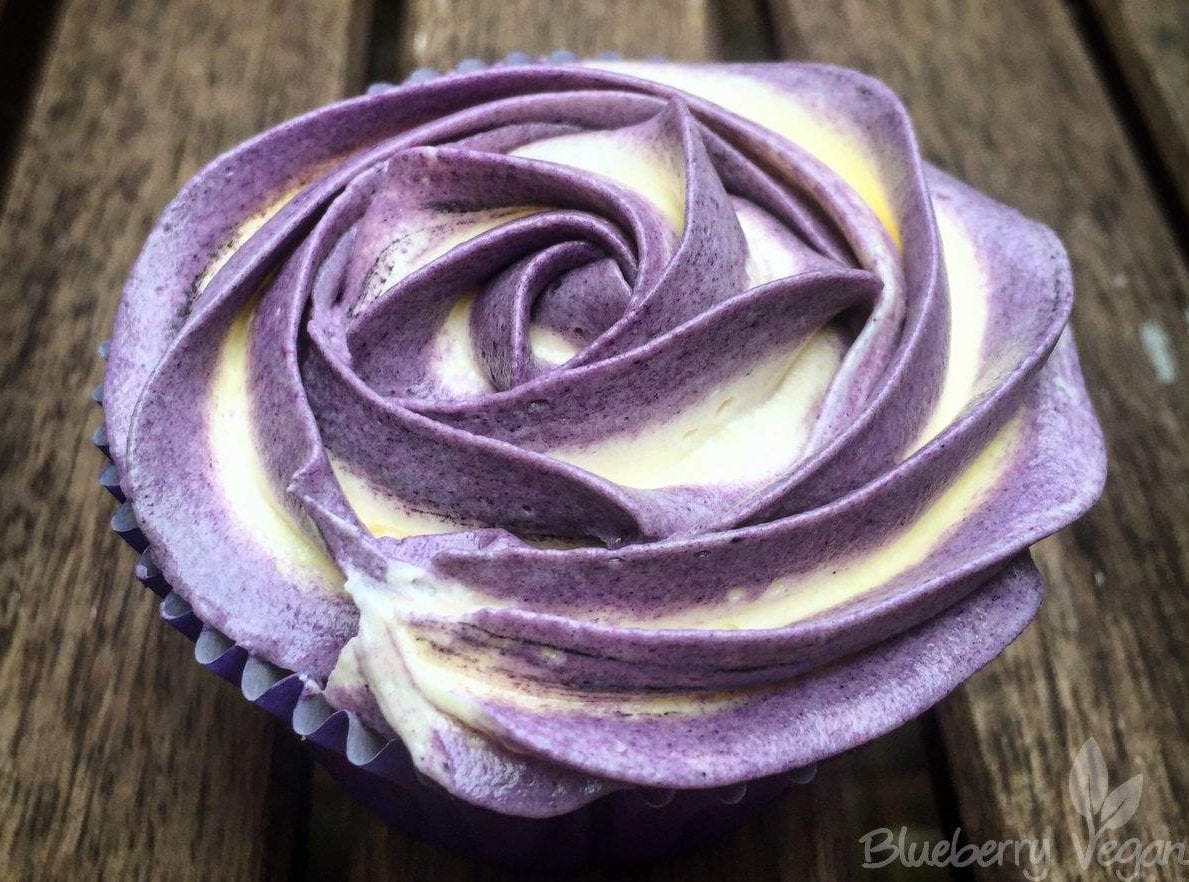 To decorate my table I use grape hyacinths and violas that I planted in used candle glasses from Ikea. In a shop I found white wooden bunnies and place them all over the table. That's all. I don't want to have more decorations than cakes on the table. 😉
I hope you got some ideas for your Easter café and you enjoy the holidays with your beloved ones!
Love,
Rina
You like cupcakes? Here are more recipes: strawberry cupcakes, simple chocolate and vanilla cupcakes, orange and lemon cupcakes, mocha cupcakes, apple cinnamon cupcakes, gingerbread cupcakes and mojito cupcakes.

Strawberry Cupcakes with White Chocolate
Ergibt/Yield:
12 Cupcakes
Zutaten/Ingredients
For the cupcakes:
240 ml (1 cup) soy milk
1 tsp apple cider vinegar
80 ml (1/3 cup) neutral tasting oil
2 tsp vanilla extract
160 g (2/3 cup) sugar
220 g (1 1/4 cup) flour
2 tbsp corn starch
3/4 tsp baking powder
1/2 tsp baking soda
1/2 tsp salt
40 g (1.5 oz) white chocolate
150 g (5.3 oz) strawberries


For the topping:
150 ml (1/2 cup plus 2 tbsp) soy or almond milk
2 tbsp instant pudding powder
2 tbsp sugar
150 g (5.3 oz) vegan butter
1 pinch food dye
Zubereitung/Instructions
Preheat the oven to 180° C (350° F) and equip a muffin pan with liners. Chop the strawberries and chocolate in small pieces.


In a big bowl combine soy milk and apple cider vinegar and let curdle 2 - 3 minutes. Add sugar, vanilla extract and oil and whisk bubbly for about 2 minutes.


Place a sieve over the bowl and measure flour, starch, baking agents and salt in it and sieve over the dry ingredients. Stir until just combined, don't overmix. It's ok, if there are some little lumps left. Fold in the chopped chocolate and pour the batter in the liners.


Spread the strawberries evenly on the batter and gently press them into it.


Bake in the oven for about 20 - 25 minutes until a toothpick comes out clean.


Let cool for 5 minutes in the mold then put the cupcakes on a cooling rack and let them cool completely.


For the frosting prepare a pudding. Mix non-dairy milk with sugar and instant pudding powder and bring to boil. Let boil for 1 - 2 minutes, then pour into a small bowl. Cover the pudding with clingfilm directly on the surface to avoid a skin.


Let the pudding and vegan butter get room temperature.


Beat the butter 3 - 4 minutes until it ist white and fluffy. Then add the pudding spoon after spoon while beating. It takes a couple of minutes until it's a perfect fluffy and soft buttercream.


Take a third of the buttercream and dye it with some food dye and spread it in a piping bag. Make sure the colored buttercream builds a sourranding. Place the white buttercream in the middle.


Pipe the buttercream on the cupcakes beginning in the middle and then go around and then gently pull apart the piping bag. Watch the video for a better imagination.
Tipps/Notes
If your buttercream curdles, beat in two tablespoons of hot coconut fat to make it smooth again.