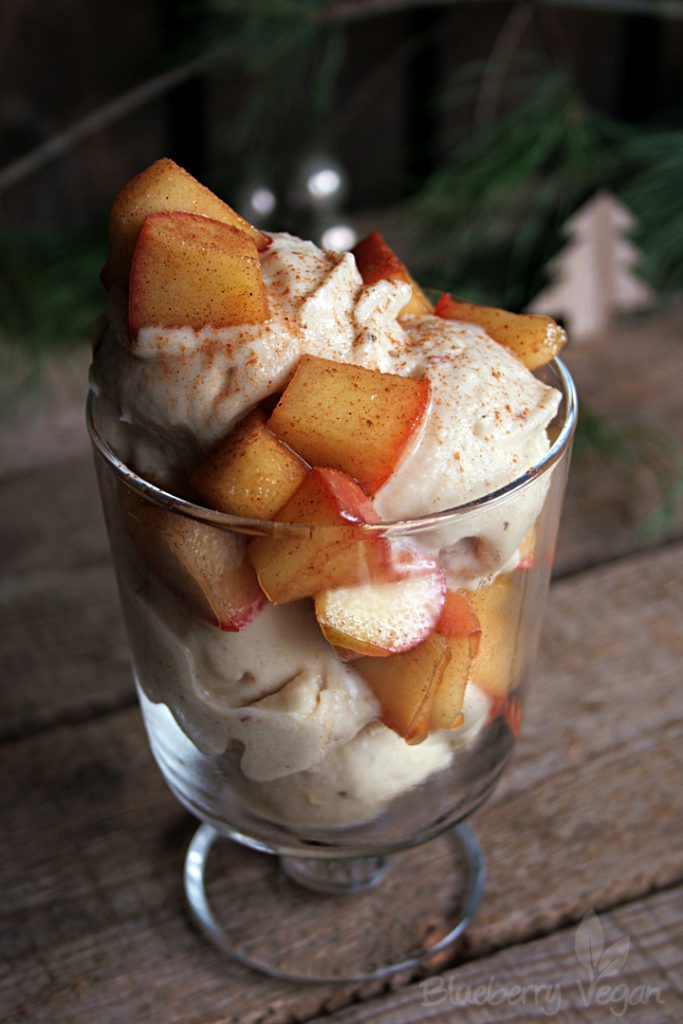 [Advertising: Affiliate Links]
The dessert of my Christmas menu is just like the starter and main dish gluten-free and soy-free. It is also light and tastes wonderful. I decided to make a wintry nice cream with glazed apples and cinnamon.
To keep you prepared, freeze the bananas and apple pieces the night before. This way they are nicely hard and the nice cream won't melt away so quickly. To make the nice cream survive the hot apple pieces a little longer, I also store the glasses in the freezer that I will serve the nice cream in.
The dessert is super easy and quickly made. So you don't have to prepare anything besides freezing bananas and apple pieces.
Click here to go directly to the starter and main dish of my Christmas menu.
Enjoy!
Love,
Rina
Are you looking for more fruity desserts? Also try chocolate cherry dessert, lemon tiramisu, pear blueberry crumble, baked apple crumble, vegan Crème brûlée and basic nice cream.

Apple Cinnamon Nice Cream with Glazed Apples
Zutaten/Ingredients
For the nice cream:
2 ripe bananas
1/2 apple
4 tbsp non-dairy milk
1 tbsp agave nectar
1/4 tsp cinnamon
1/2 tsp vanilla extract - alternative ground vanilla


For the glazed apples:
1 apple
1 tbsp sugar
1 tbsp water
1/4 tsp cinnamon
Zubereitung/Instructions
Cut the bananas and apple in pieces and freeze overnight.


For the glazed apples, cut the apple in pieces and sautée in a non-slick pan for 5 minutes while stirring. Let cool a bit.


In the meantime blend the frozen banana and apple pieces with non-dairy milk, agave nectar, cinnamon and vanilla until smooth. Arrange on two glasses and dress with glazed apples. Sprinkle over a bit of cinnamon and serve immediately.
Tipps/Notes
Make sure your bananas are really ripe. Otherwise your nice cream won't be as delicious and tastes just like banana. To make the nice cream, I use a small
food processor
. This works best for me.