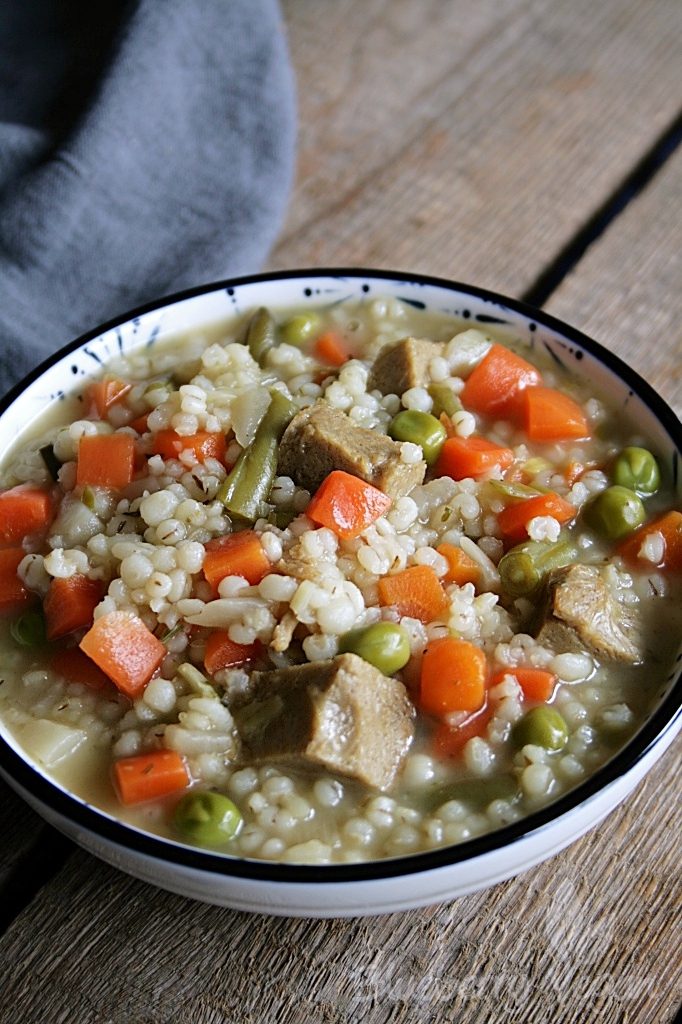 [Advertising: Affiliate Links]
For so many years pearl barley soup was my favorite dish until I discovered baked tofu. So now it is on second place, but I still love it very much.
For a classic pearl barley soup a beef bone with flesh is cooked for hours and then pearl barley and veggies are added to the broth. I like it the easy way (as usual): All ingredients in a pot, cook it and done. Some people cook the barley separately and rinse it, to avoid the soup from getting slimy. Well, I love it slimy…
Back when I ate meat, I used to add canned beef to the soup. Comparing texture and taste I like Wheaty seitan medallions best as a substitute instead of smoked tofu or other meat-like products.
Enjoy!
Love,
Rina
Vegan Pearl Barley Soup
Zutaten/Ingredients
1000 g (35.3 oz) soup vegetables - frozen
250 g (8.8 oz) pearl barley - medium-sized
2 Liter (8 cups ) vegetable broth
175 g (6.2 oz) seitan medallions from Wheaty
salt
pepper
1 heaped tsp yeast extract - optional
Maggi seasoning, soy sauce or tamari to refine
Zubereitung/Instructions
Cube the seitan medallions and place all ingredients in a big pot. Bring to boil and let cook for 20 minutes. Then reduce the heat and let well for 10 minutes. Season to taste with salt, pepper and yeast extract.


Arrange in bowls and refine with Maggi seasoning, soy sauce or tamari before eating.
Tipps/Notes
Yeast extract adds that special umami kick, but it is not essential. You can buy it in health stores or online.