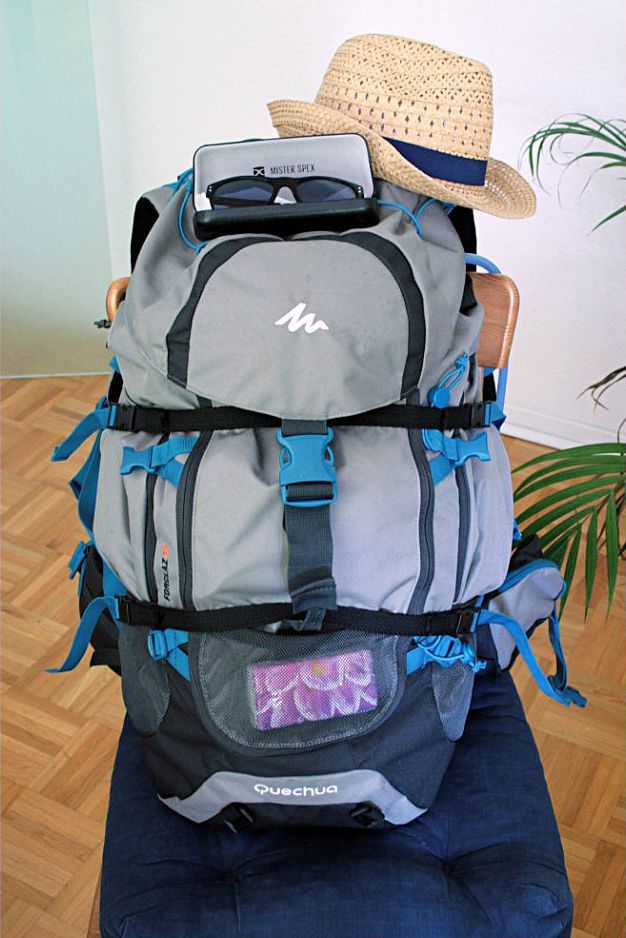 [Advertising: Affiliate Links]
It's only a week until I fly to spain and hike the Camino de Santiago. I packed my backpack today as a trial and made it to 10 kg (22 lbs). I am very pleased with this weight, since it includes already 2 liters of water.
This is what I packed and why.
Edit: I updated the list. Crossed out some things and added some other. With these things, I will go on a Camino hike next time.
Those are the clothes that I packed:
One set for colder days:
– long hiking pants
– long sleeve
– sport underpants
– hiking socks
One set for warmer days:
– zip-off hiking pants
– t-shirt
– sport underpants
– hiking socks
One evening outfit:
– hiking pant-skirt
– hiking blouse
– sport underpants
I can also wear the evening outfit on hot days, since it is also made of functional fibers. I also have in my pack:
– functional underwear as pyjama (When it's to hot at night, I'll switch to a t-shirt and my bikini bottoms)
– bikini
– rain jacket
– thin, warming pullover
– hat (Either a Benjy or a rain proof hat, depending on the weather forecast before I leave)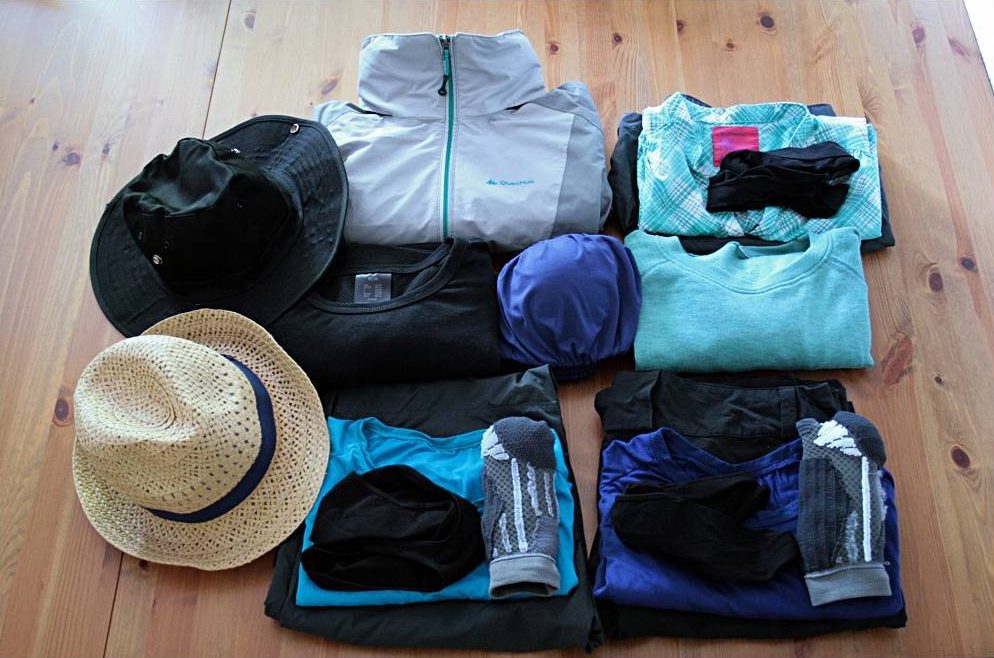 My hiking boots are worn-in and I never had a blister, so hopefully it stays that way with these long hikes. For the evenings and to relax my feet, I packed some hiking sandals. You can also hike in water with them, so I can use them in the shower, too.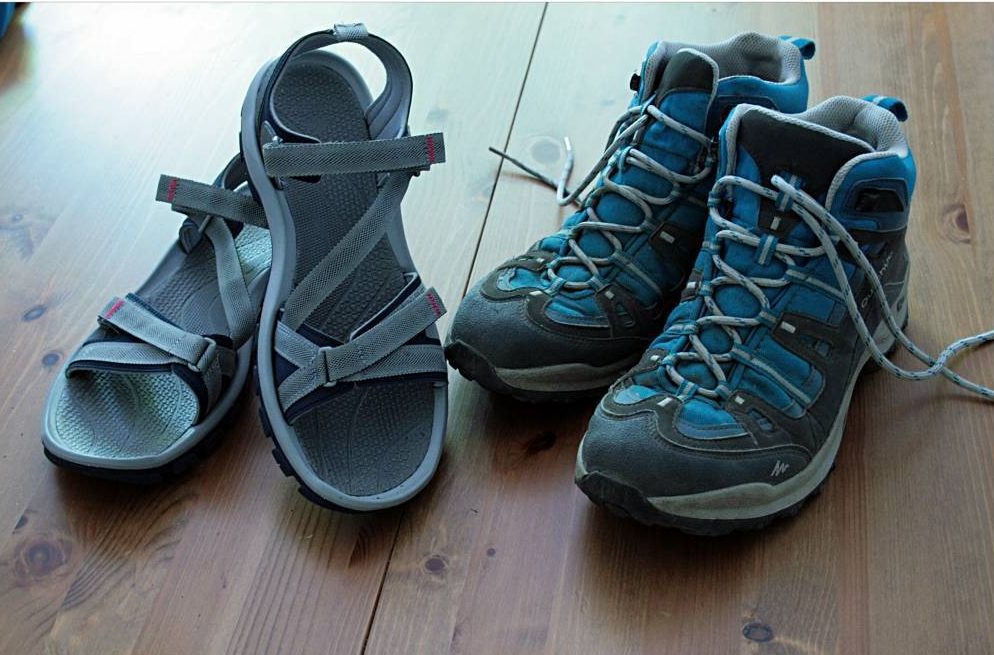 My cosmetic bag looks like this and contains:
– a shower towel (which is a micro fibre floor cleaning cloth) I'll take a bigger micro fiber towel next time
– a small towel (which is a micro fibre all-purpose cloth)
– toothbrush
– toothpaste
– 2 1 disposable razors
– scrunchies and hair clips
– brush
– mini penknife with file and scissors
– file
– solid shampoo from Lush as shampoo, shower gel and detergent
– deo cream
– facial cream
– sun screen (wrapped with sport tape for taping sore soles)
– mosquito repellent
– personal luxury: eyebrow powder and mascara for special occasions, or when I like to ? I have not once used it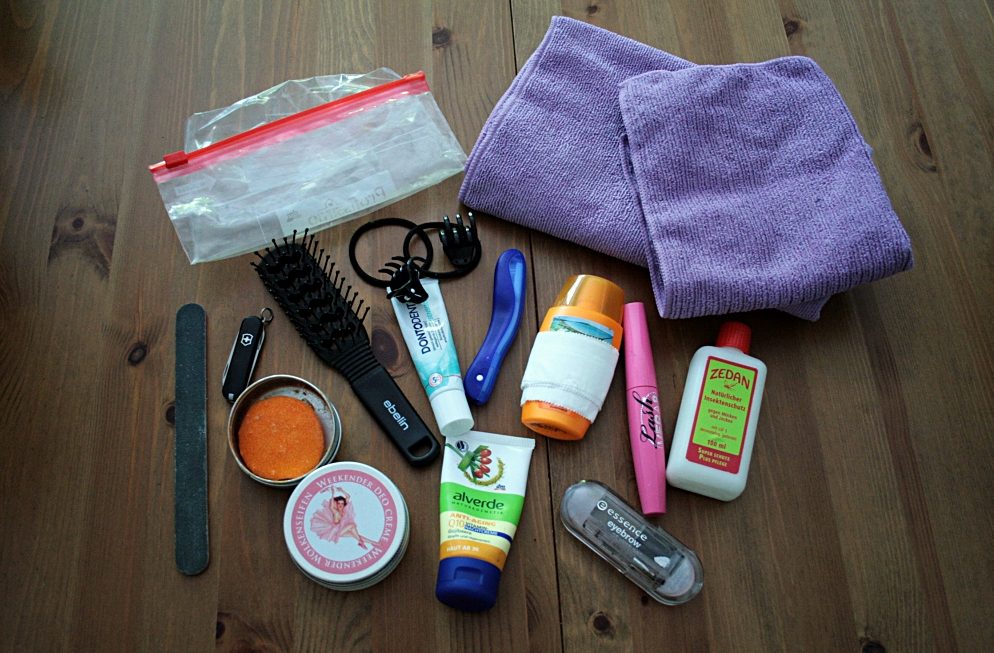 I packed all this in a freezer bag, since my cosmetic bag weighs 180 g and I thought, I can use that another way.
My First aid kit is very small. I will buy the stuff I'll really need in Spain. I am taking this with me:
– a self-retaining bandage (because I had trouble with my wrist a couple of days ago, also it weighs like nothing)
– my emergency baggy with band aids, sowing kit, 2 tampons, medicine for sickness, fever, diarrhea and pain killers
– some gummy tape (to tape the little toes before they get blisters
– two blister band aids
– my Lunette
– ibuprofen
– valerian (because I am a sissy) But Voltaren and Tape instead
– wound cleansing tissues
– a super light sleeping bag
– an inflatable pillow (which I will cover with a buff cloth)
– ear plugs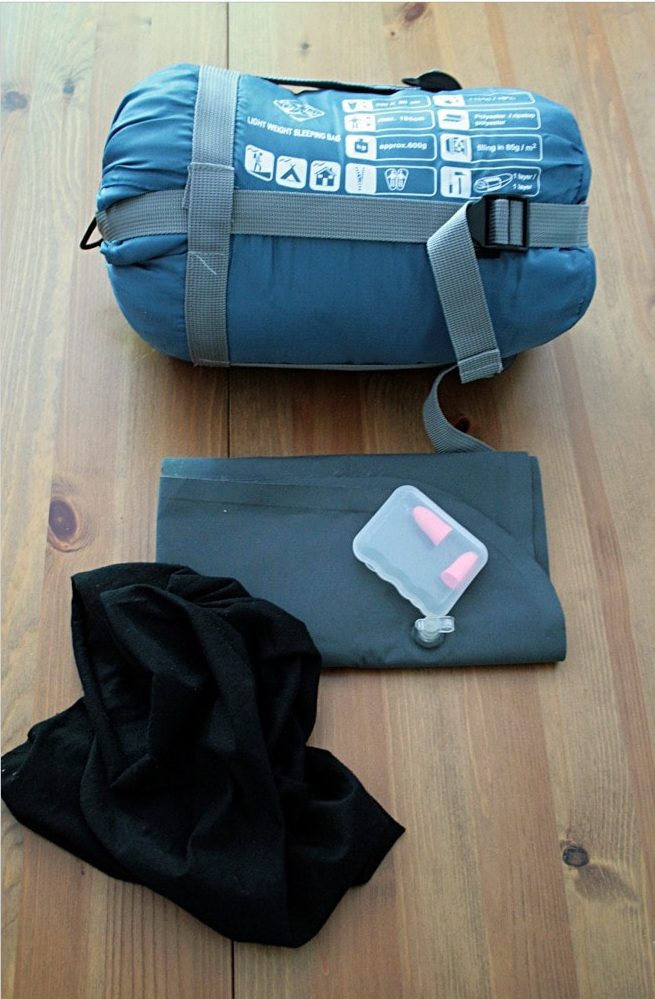 Some people might roll their eyes when they read the next point, but I will do it anyway. I will bring these technical gadgets:
– my Macbook Air with its case
– my iPhone
– a head lamp
– a power bank
– chargers
– earphones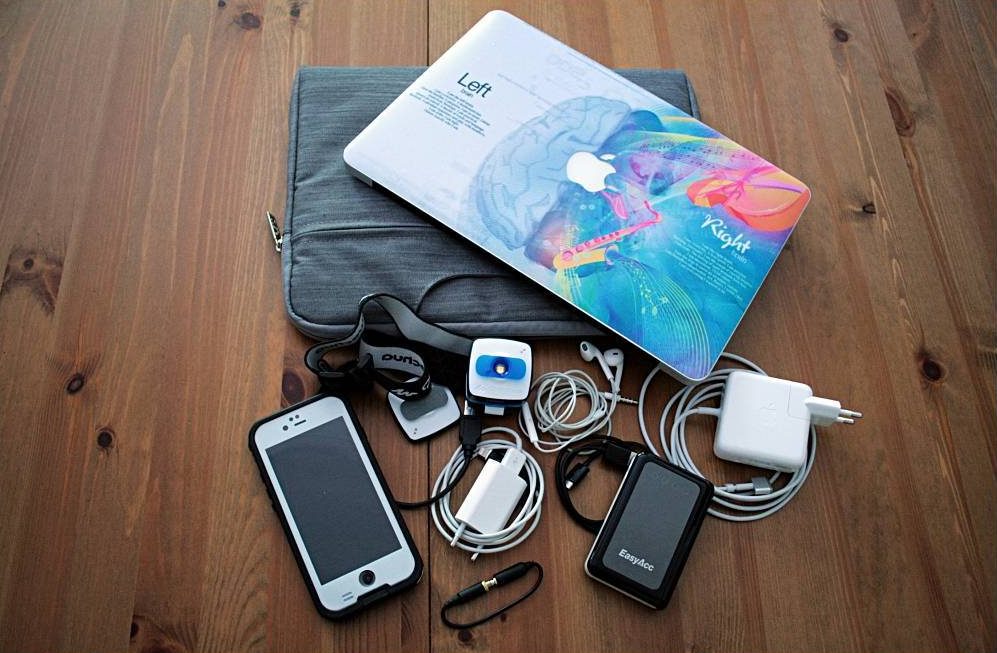 In my last post about the first preparations for my Camino I told you, I bought a bluetooth keyboard and will use it with my mobile phone as a blogging solution. But the more I thought about it, the more annoyed me the thought of blogging on such a small screen. So I am taking my Macbook with me, because it is MY way. Everybody needs to walk the Camino on his own. Even though you meet a lot of people and have company if you wish, you are still on your own. And I'm doing the Camino my way. It is a vacation for me, too. So I will do the things I love. And keeping you in touch and blogging for you, is a thing I love. So it's decided.
The most important things I will carry in my bumbag to keep them handy. It will carry my credencial, my phone for photos, navigation and as a dictionary, a lip cream and the emergency baggy.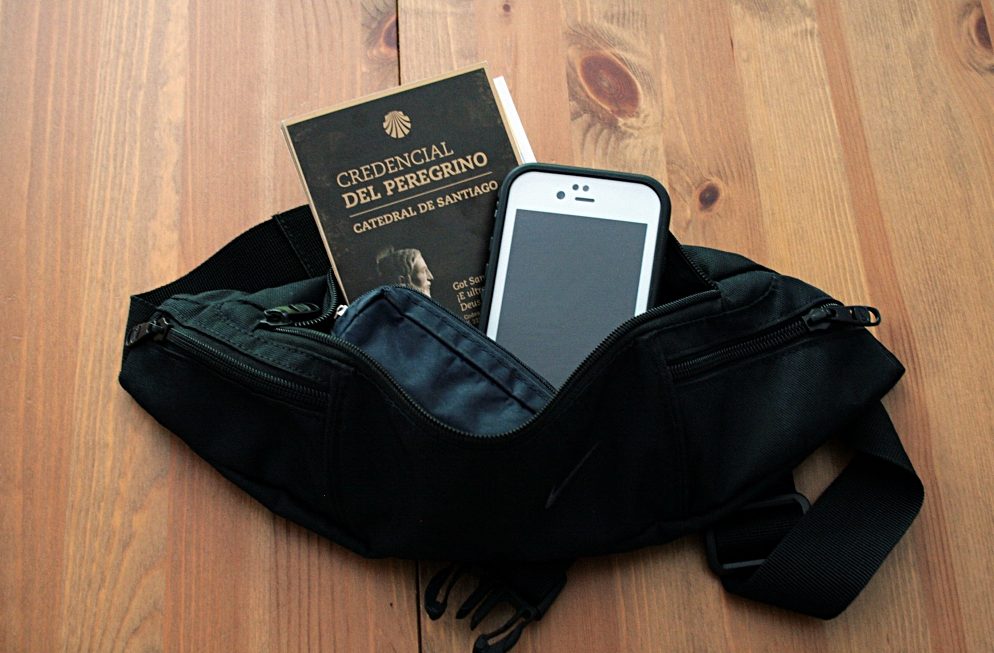 The guide book, my penknife are also in my pack along with a plastic container and a spork, that help me store the leftovers from dinner as a lunch for the next day. I will read the guide book in the evening to know which route I will have to do the next day and take a picture with my phone. So the book can stay in the pack.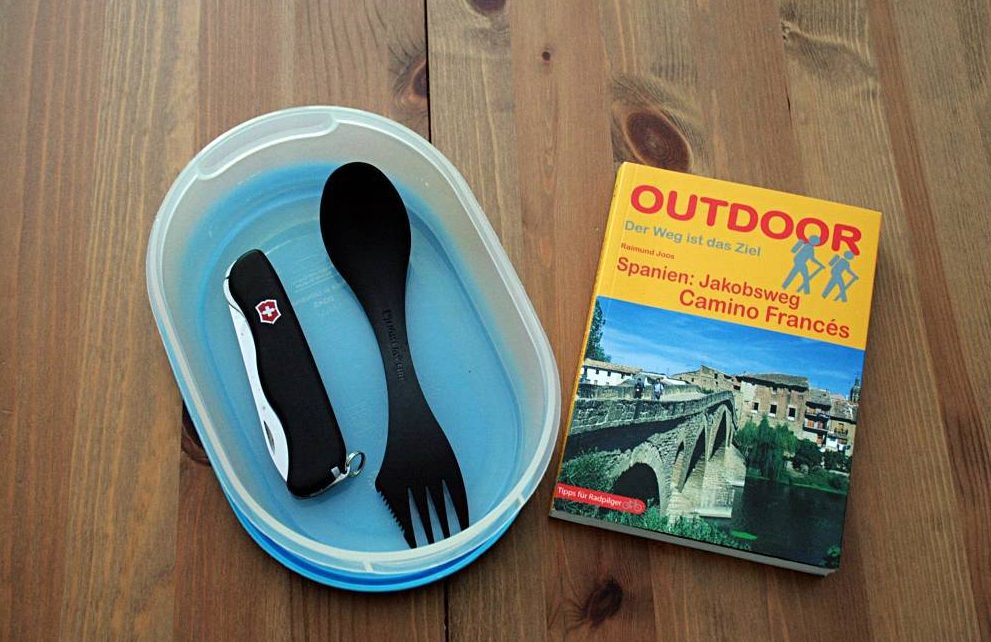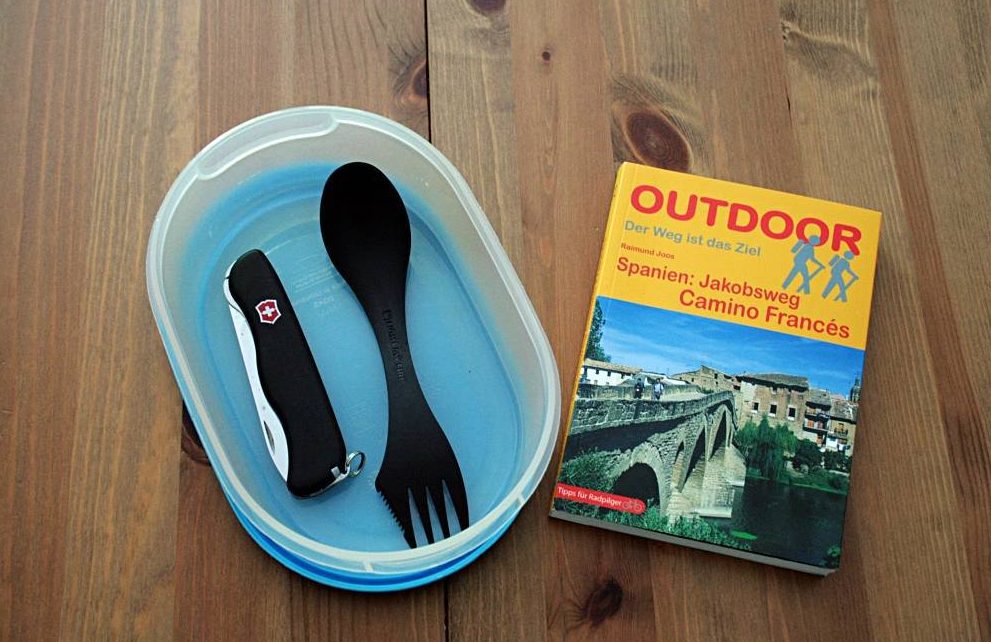 When I have wi-fi access, I will download the part of the map where I am hiking the next day to offline maps, so that I can let me navigate without mobile network, when I lose the way. Also I will use wi-fi for blogging and keeping you posted on my Facebook page. When I am offline, I have time to write the texts and do some picture editing. Only the assembling of a post I will have to do online.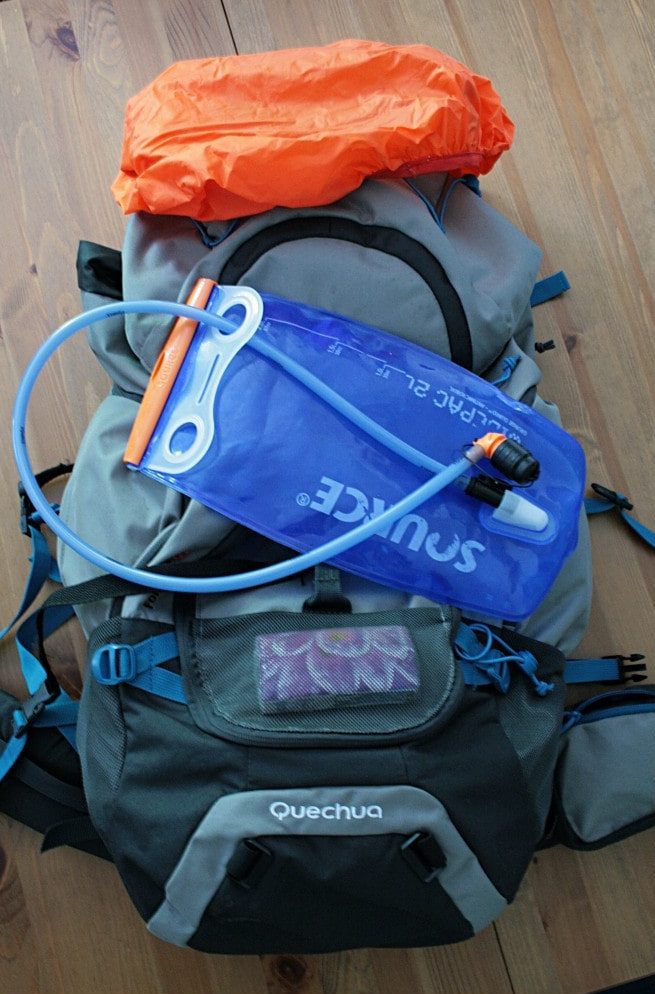 My backpack, and the water tank, that I use, you already know from my other hikes. I will fill it up to 1 – 1 1/2 liters, depending of the length of the stage and its source density. And this is how my pack looks (only the hiking sticks are missing):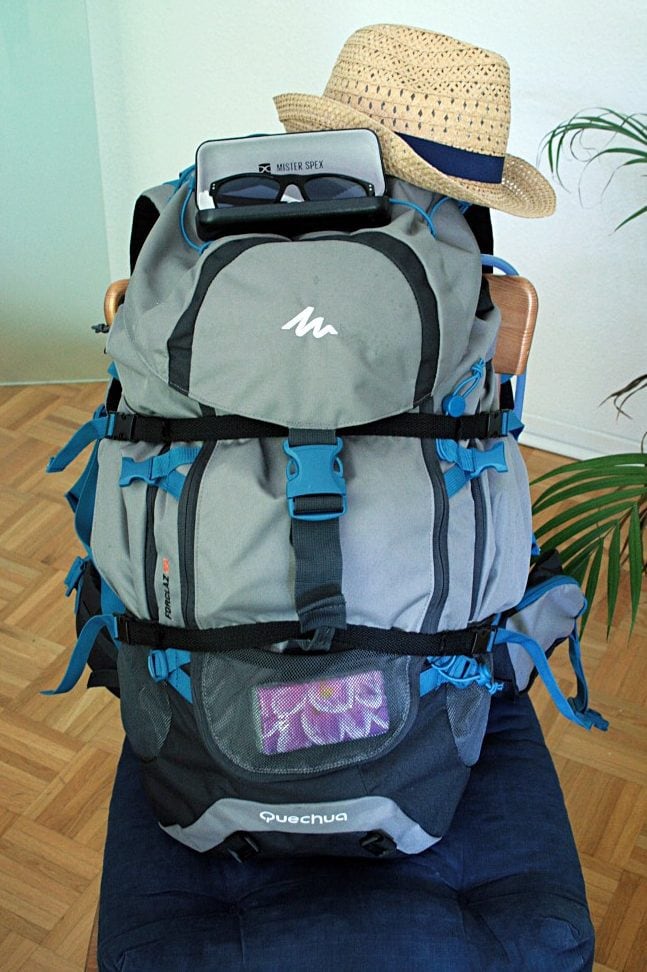 That's it. I am curious, if I miss anything and will buy it in Spain or which things I won't use.
The next time you'll hear from me, it will be from Spain.
Buen Camino!
Rina
P.S.: In May 2019 I hiked another Camino. Here is the latest packing list.