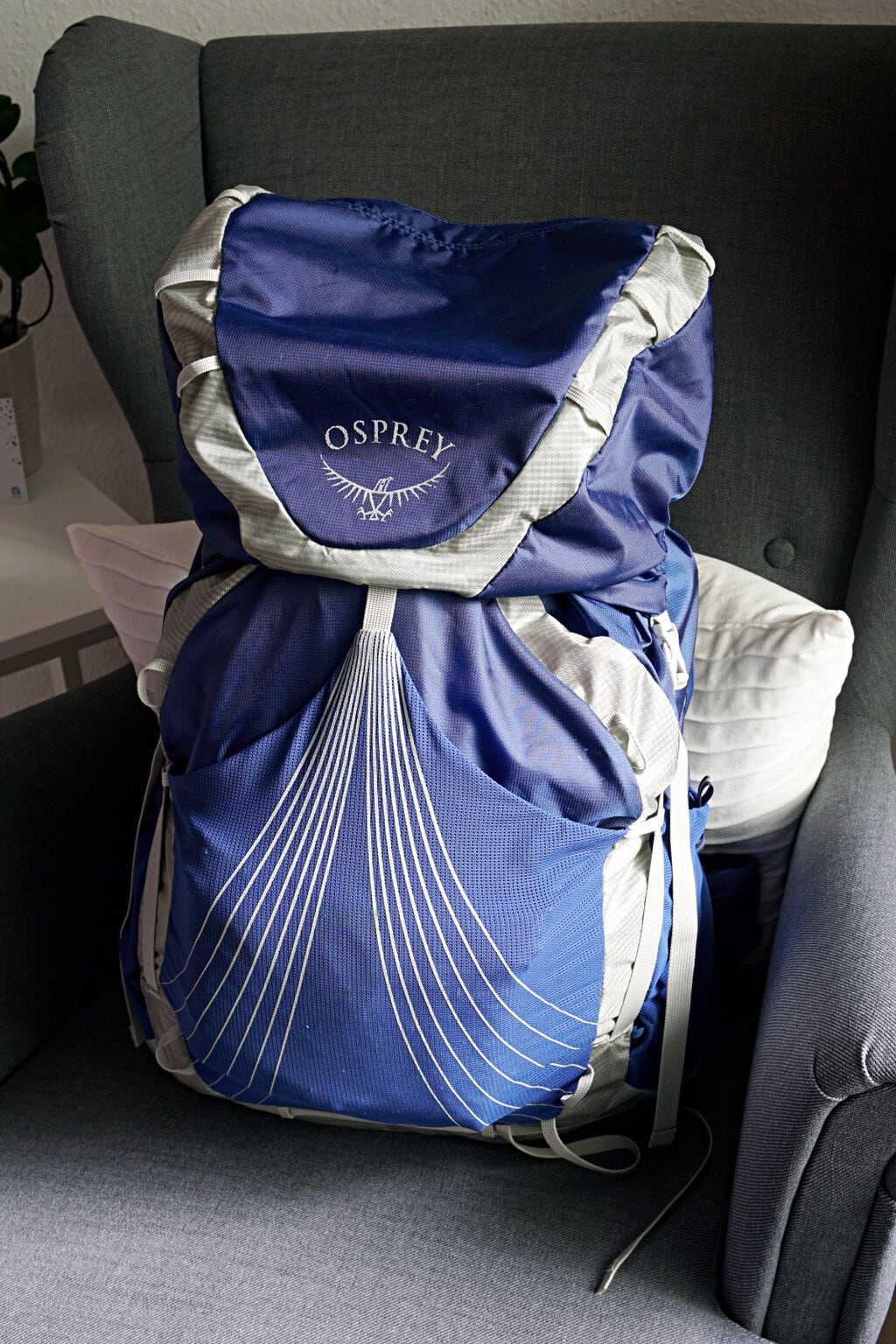 [Advertising: Affiliate Links]
The day has finally arrived! In two days I'm going to go to Porto to start my Camino Português. I've been excited for months now, because I haven't been hiking this much lately.
For the first time I'm not gonna be alone. My friend Steffi asked me, if she could join me in this adventure. Since I have always been hiking alone, I was skeptical at first if this would work. We met for a couple of times and discussed the most important things. We both agree, that it is each our journey and that we would be both okay, if we walked alone and just meet in the evenings. Or that we wouldn't meet for a couple of days because one wants to stay at the place and the other one wants to go further. The thing I am most excited for, is cooking with somebody and getting real food. This part wasn't always easy for me on hikes, because you can get chickpeas in big glasses, for example and this is with some veggies and grains way too much for one person to eat.
To the packing list now: what am I packing? My packing list changed throughout the years and I am quite sure that this time I'm not going to suffer as much as I was on my first Camino. The right shoes and a well attached backpack is half of what you need.
If you want to read how my packing list changed, I listed them here for you: 2016 – Camino Francés, 2017 – Via Baltica, 2018 – GR 221.
I list the packing goods with their weight in an Excel chart. So I can see at the beginning, how much weight I'm going to carry. You can download the chart (in German) here and use it for your own packing list: Packlist Backpacking/Trekking.
My backpack is a little heavier than the last time. This is because of the following things: my new fleece jacket is thicker than my old one and thus 80 g heavier. I won't forget my second bra at home and so I have 74 g more weight. With it's 67 g the dry sack is a little heavier than a simple garbage bag, in which I've packed my clothes so far. The most heaviest things are the sunglasses (150 g) and sunscreen (234 g) which I packed additionally. Also the guidebook is 200 g heavier than the one of the GR 221. Both pair of shoes got gel insoles, because I experienced that they are good for my feet. So it's worth to put on extra weight for that.
This makes 8.2 kg in total in my backpack. With water and food it is about 11.2 kg. If I'm packing everything in my backpack, I have to carry 12.8 kg including water and food.
Clothing:
Though I liked packing my clothes in garbage bags so far, I want to pack them in a real bag this time. For the first time I'm hiking in leggins. I'm curious, how I like them. The second shawl cloth is pure luxury. I had it with me the first time I did a Camino and somehow I want to take it with me again… 🙂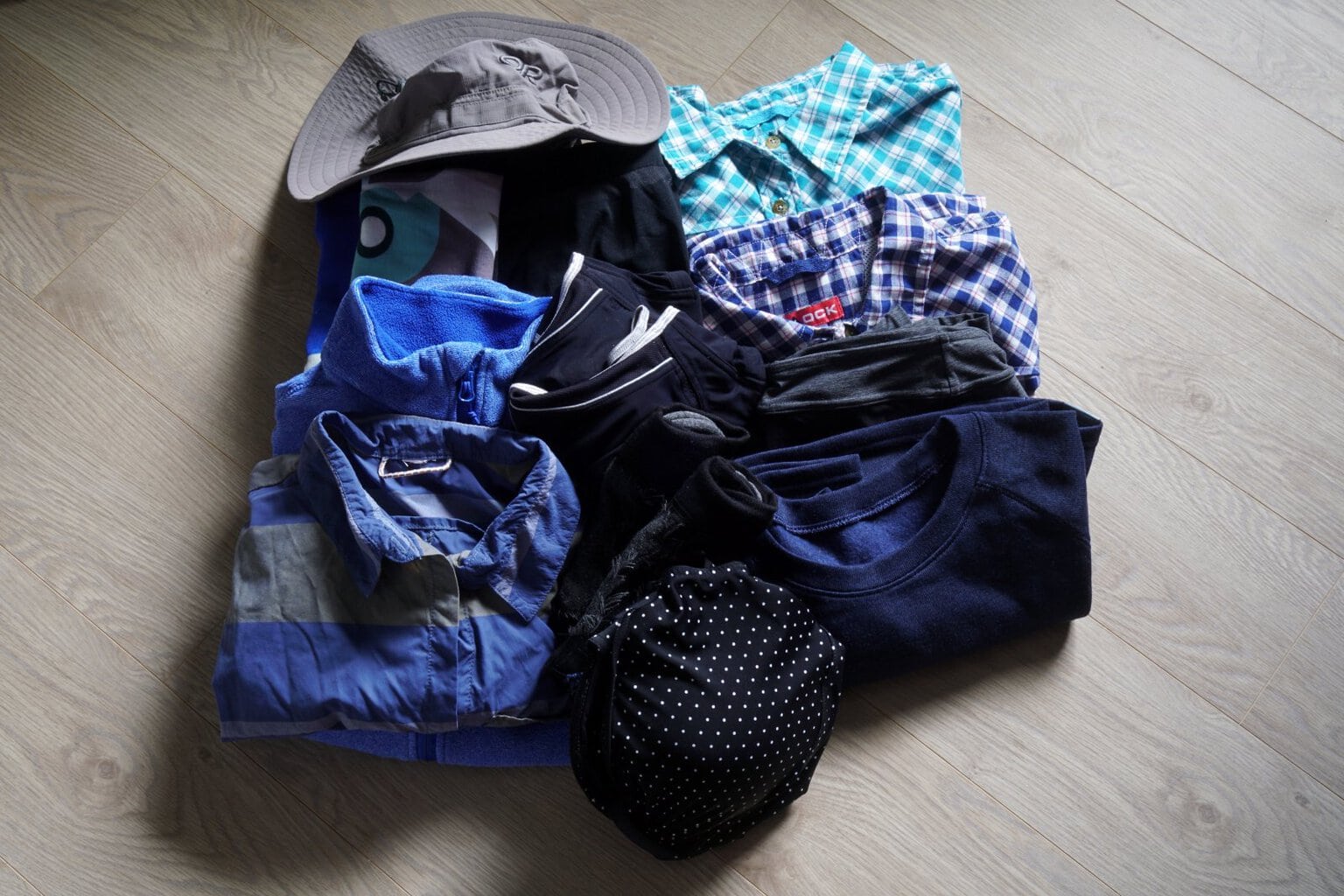 Cosmetics:
toilet bag made from Tyvek
solid shampoo also for my body
oil to apply after showering
srunchies
nail file
mini pocket knife with file, knife and scissors
safety pins to pin my cloths on my backpack for drying
plug for the sink – they're always "missing" and make it hard to wash your clothes
First-aid kit:
Since I bought the big toilet bag lately, my first-aid kit items also fit in there. So I don't have to carry another bag.
Sleeping:
I used to pack a pillow too, but I haven't used it ever, so I am leaving the pillow at home for once.
Technical Gear:
Sony alpha 6300 with Zeiss 16 – 70 mm Zoom lens – leaving the 50 mm lens at home
10 mm macro ring – to be able to get those nice macro shots
camera bag – this one is easily attached to the hip belt
pol filter for less reflection and thus more color in landscape photographs
iPhone XS with the app from ViewRanger – my most-beloved outdoor buddy: navigation also offline
head lamp
powerbank
several charging cables
ear buds
adapter to charge my iPhone and listen to music at the same time – this was bugging me on the Via Baltica: when my phone died, I had to stop listening to music, because the iPhone only has one inlet
What I else pack:
backpack Exos 58 from OSPREY – very light and still comfy to carry
wallet with the most important things like ID, drivers license (in case I am renting a car), health insurance, credit card, giro card, organ donor card
drinking tube – to make me drink while I'm hiking and not only when I am taking a break
Tupperware for leftover food
day pack for when I am sightseeing
bum bag for the most important things