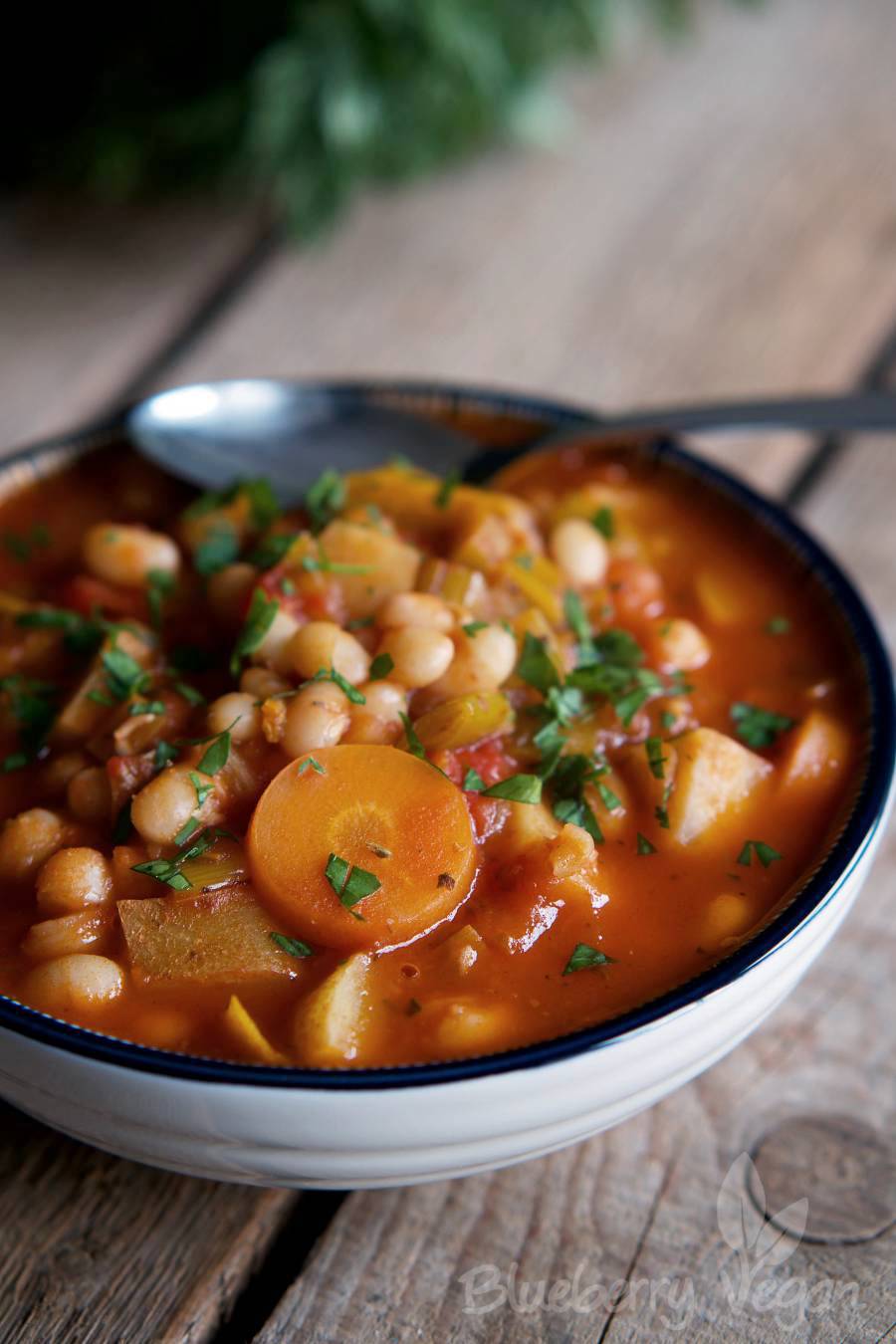 [Advertising: Affiliate Links]
It is still very cold here. So cold that the brakes on my bike conked out. Ok, I had to get them fixed before it got cold, because they weren't that good anymore. Unfortunately I found out about that while riding to work. Being on the way to work means going downhill by the way and with 13% it is quite steep. Luckily I could brake at least so much, that I could do the rest of braking with my foot on the ground and then came to stand before I hit the car in front of me, waiting for the lights to turn green. Now it is in the shop to get new brakes and my head is recovering from brain-freeze that I had only known before from eating ice cream too fast.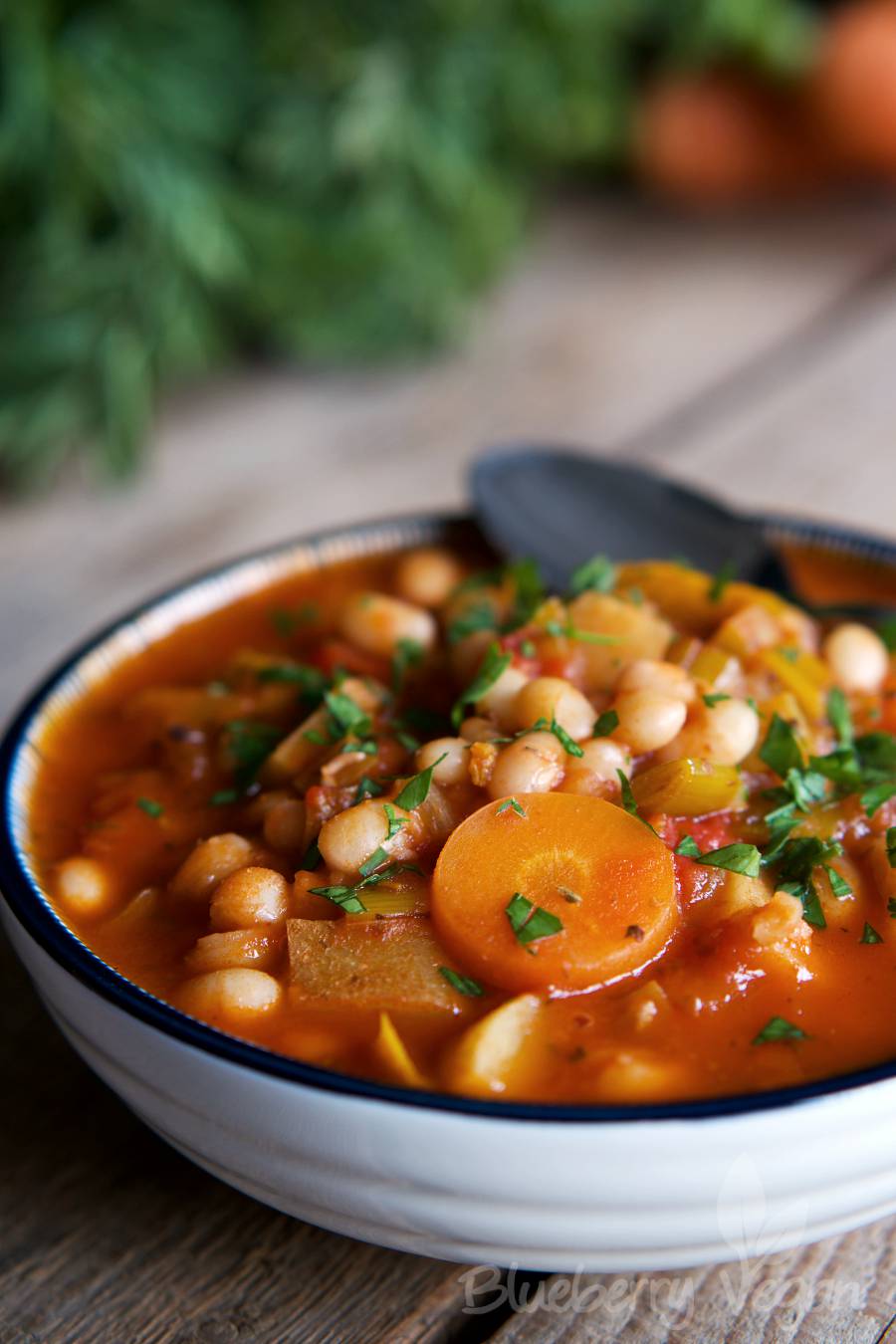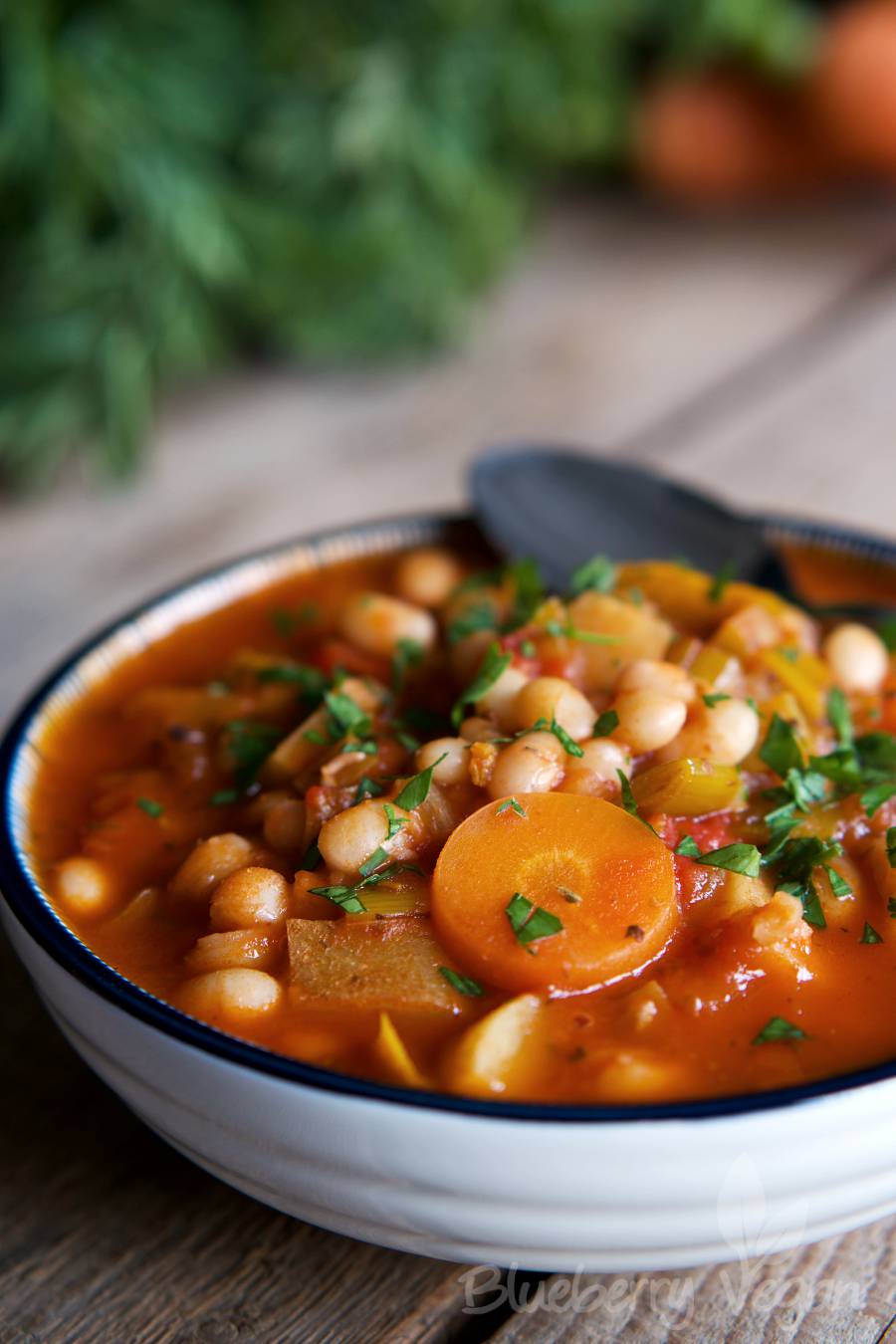 With this temperatures I like to have warming soups and stews that satisfy me good.
A classic minestrone is made with vegetables, savoy and beans and is seasoned with bacon. I omit the bacon, of course, and didn't add any smoked tofu. But I added a teaspoon of liquid smoke for that smoky touch. If you don't like it smoky, omit the liquid smoke.
I hope you enjoy this soup!
Love,
Rina
Warming Minestrone
Gang/Type:
Main Dish, Soup
Ergibt/Yield:
2 - 3 servings
Zutaten/Ingredients
For the soup:
1 stalk leek
2 carrots
1 hand full celery
1 medium-sized potato
1 onion
2 cloves garlic
1 tbsp oil
1 14-oz can chopped tomatoes
400 ml (1 2/3 cup) water
1 tbsp instant veggie broth
1 tbsp Italian herbs
1 tsp liquid smoke
250 g (8.8 oz) white beans, cooked
salt
pepper


!To taste:
fresh parsley, chopped
Zubereitung/Instructions
Slice the leek and carrot, dice the celery and potato. Chop the onion and press the garlic.


Heat the oil in a pot and sauté the onion until translucent. Then add the garlic and briefly sauté. Add the veggies and fry a bit, then deglaze with the tomatoes, fill up the can with water and pour in the pot. Season with instant veggie broth, Italian herbs and liquid smoke and let simmer covered with the lid for 10 minutes.


Then add the beans and let simmer for another 5 minutes or until the potato cubes are done. Season the soup to taste with salt and pepper and garnish with parsley, if you like.