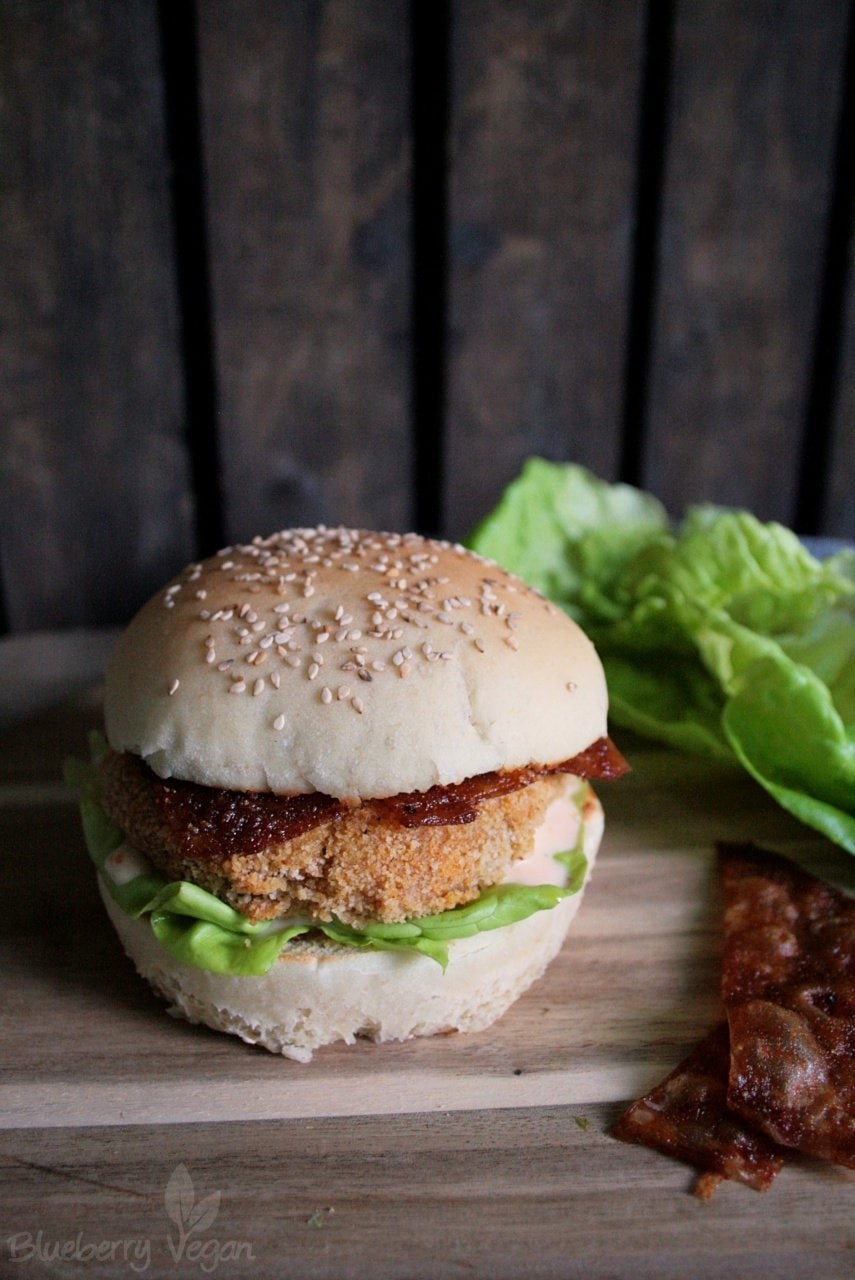 [Advertising: Affiliate Links]
If you like fast food made from scratch, you're gonna love this burger. Because everything is home-made here: The bun, the patty, the rice paper bacon and the sauce. You won't have to work in the kitchen for hours, but you'll have to consider, that the dough will need some time to rise and the patties need time to bake. A great combination is the bacon with the "chicken" patty. I made it from rice paper and a tangy marinade. You bake it in the oven to get it really crispy. It tastes great on sandwiches or as a topping on a salad. Also to mix up you scrambled tofu, it will be delicious. You're gonna love it!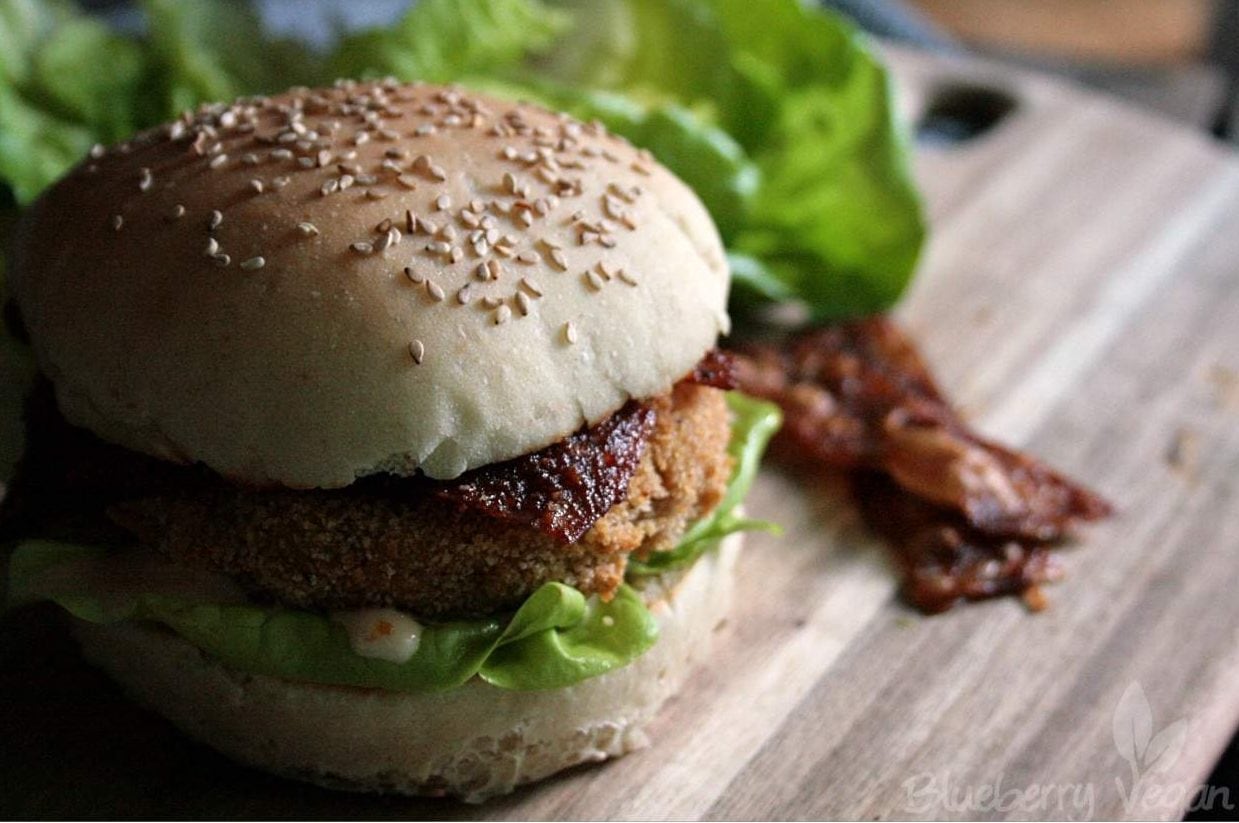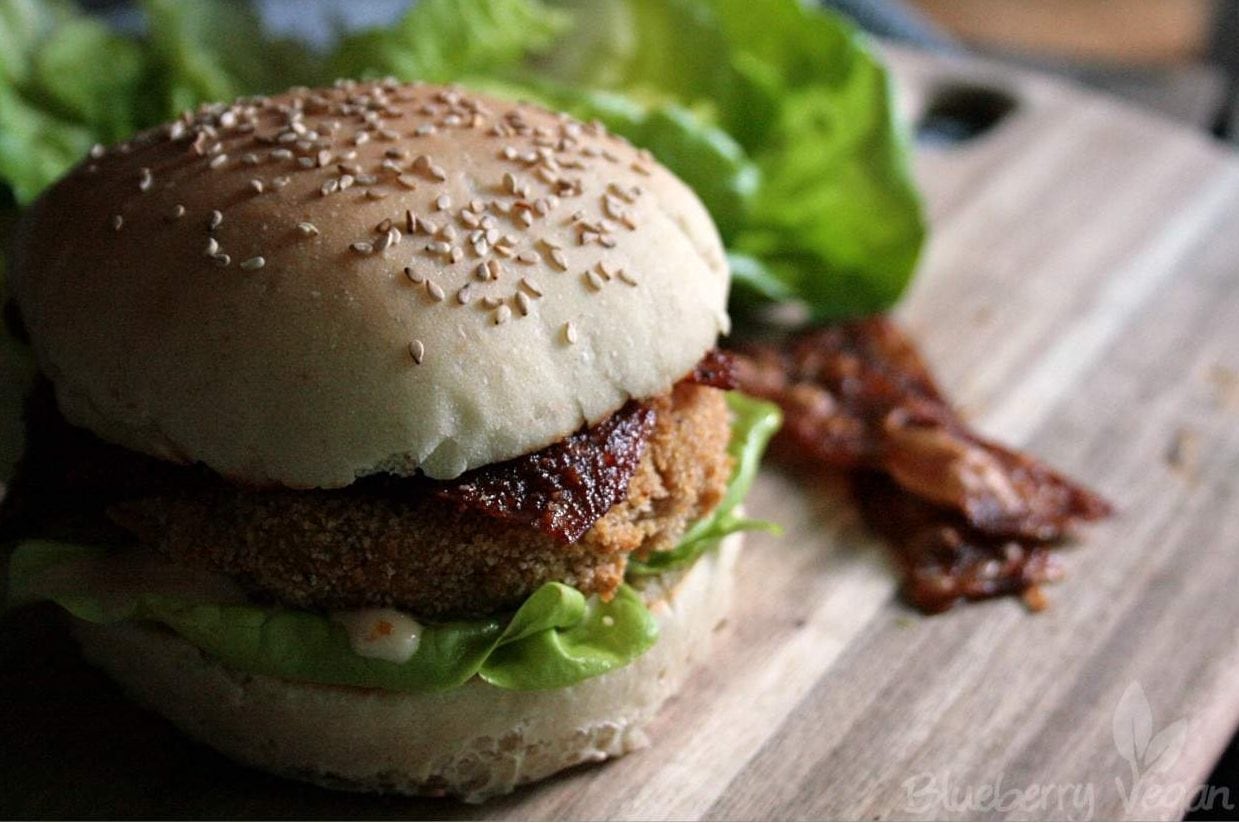 I made the patty from chickpeas, artichokes, breadcrumbs and corn flour and coated it with more breadcrumbs. To get that special texture, try not to overmix the chickpeas and artichokes. The patties are easily prepared in a food processor.
I baked the patties in the oven, so that they are less fat and even more crispy. You can also omit the coating and fry the patties in a pan with some oil. If you form little nuggets, you can prepare yourself a chicken nugget burger. I would recommend a sweet chili sauce with that.If you like it hot, feel free to use more sriracha in you mayo or reduce it, when you like a hint of spiciness. The amount I used in this recipe results in a light, pleasing spiciness. You can use store-bought mayo or make it in two minutes.
I wish you happy feasting!
Love,
Rina
Vegan Chicken Burger with Rice Paper Bacon and Sriracha Mayo
Zutaten/Ingredients
For the burger buns:
1 tbs (golden) flaxseed, ground
1 Pk. dry yeast
1 tbs sugar
1/2 cup warm water
1/2 cup warm non-dairy milk
1 tbs neutral-tasting oil
375 g (13.25 oz) white flour - spelt or wheat
1 tsp salt
Sesame seeds to sprinkle over


For the "chicken" patties:
1 small onion
1 clove garlic
250 g ( 1 14-oz can) chickpeas
250 g ( 1 14-oz can) artichokes
1/2 cup corn flour
1/2 cup breadcrumbs
4 tsp herb vingegar
1 tsp liquid smoke
salt
pepper
For the coating:
3 tbs (golden) flaxseed, ground
1/2 cup water
breadcrumbs
salt
pepper
paprika
oil for the tray


For the rice paper bacon:
4 sheets rice paper
2 tbs olive oil
2 tbs soy sauce - or tamari
2 tbs nutritional yeast flakes
1 tsp liquid smoke
1 tsp smoked paprika
1 tsp maple syrup


For the sriracha mayo:
3 tbs vegan mayo
3 tbs soy joghurt
1/2 tsp mustard
1/2 tsp maple syrup
1/2 tsp lemon juice
1/2 tsp sriracha
salt
Also:
6 big salad leaves
at will: side dish of your choice - crispy potatoes for example
Zubereitung/Instructions
Start with the burger buns. Preheat the oven to 50° C (120° F) and turn it off. Combine all ingredients and mix well. Knead in the machine for about 5 minutes or 10 minutes by hand. Put the dough in a bowl, sprinkle with some flour, cover with a kitchen towel and let rise for 45 - 60 minutes in the warm oven, a wooden spoon wedged in the door.


While the dough rises, prepare the patties. Drain the chickpeas and artichokes and squeeze out the excess water of the artichokes. In a food processor chop the onion and garlic very fine. Then add the chickpeas and chop in rough pieces, do so to the artichokes. Then add the rest of the ingredients and mix until just combined. Don't overmix. Pour into an airtight container and let rest in the fridge.


When the dough doubled its size, drop it on a flour dusted surface and cut into 6 pieces, preheat the oven to 50° C (120° F) once again. Don't knead the pieces, just fold them into bun shapes and put them (fold on the bottom) on a lined baking tray. Cover with a kitchen towel and let rise for another 20 minutes.


After that heat up the oven to 180° C (360° F), coat the buns with some warm water and sprinkle over sesame seeds. Bake in the oven for about 20 minutes until they start to brown, but are still soft. Let cool on a cooling rack.


Remove the patty mix from the fridge, divide in six pieces, roll it into balls and flatten. Combine flaxseed and water in a deep dish and let thicken. Mix a cup of breadcrumbs in a deep dish and season with salt, pepper and paprika. Line a baking tray with parchment paper, spray with some olive oil and preheat the oven to 200° C (390° F). First dip the patties in the flaxseed then toss around in the breadcrumbs until completely covered. Pour on the tray and spray with some olive oil. Bake in the oven for 30 minutes, turn once after 15 minutes.


Bake the rice paper bacon underneath the patties. Combine the ingredients for the marinade. Hold a sheet of rice paper under running water for a few seconds, fold in the middle and cut into strips. Take one strip and dip it in the marinade until completely covered and put on a lined baking tray. Proceed until all strips are next to each other on the tray. Bake for 5 - 10 minutes. The rice paper bacon burns easily, so keep an eye on it after 5 minutes.


For the sriracha mayo combine all ingredients and season with salt.


Slice the buns in half and put them with the cutting surface on a toaster and roast them a bit. Arrange the salad leaves on the bottoms and pour the sauce over. Then add the patties and bacon strips, cover with the tops.