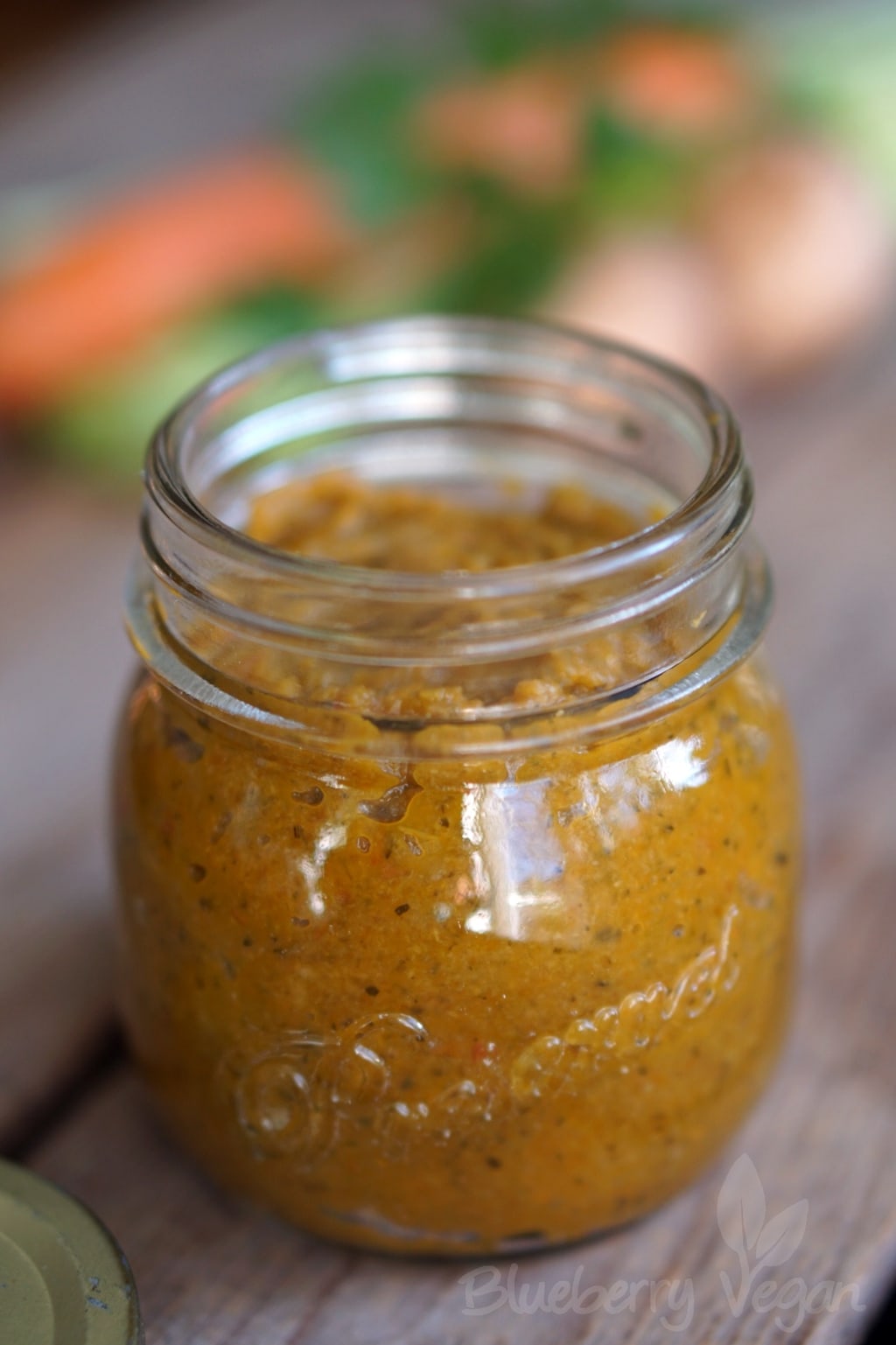 I've been making my own vegetable stock for a long time. The advantages are obvious. I not only know what is in it, but also have an extremely tasty base for soups, sauces and for seasoning all kinds of dishes.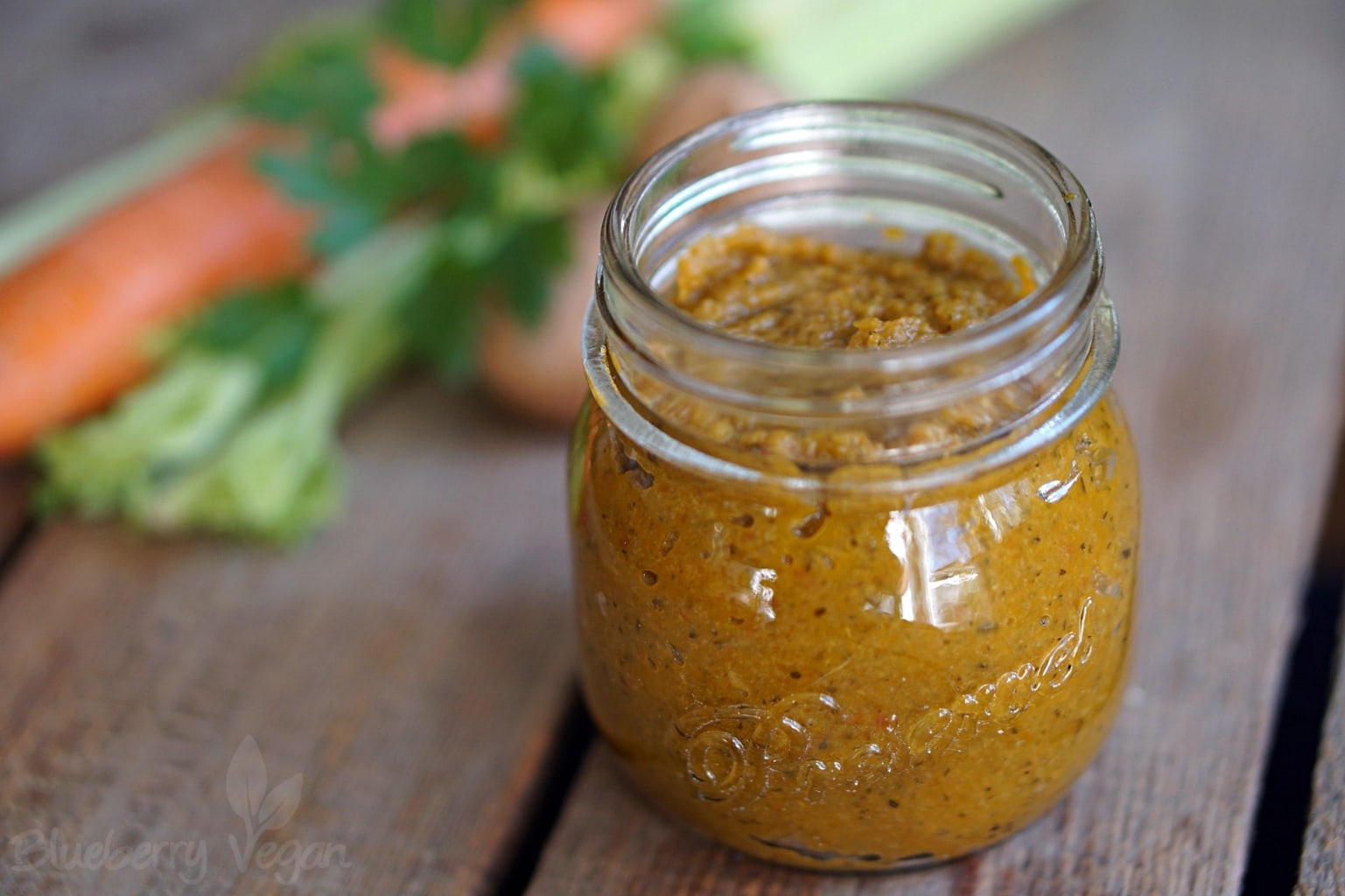 So far I've always had a container in the freezer in which I kept scraps from vegetables. I mainly collected the peel of onions, celery, potatoes and carrots and stalks of herbs and mushrooms. When the container was full, I put the scraps in a big pot, covered with water and simmered for about 1 hour. I then passed the broth through a sieve and stored it in screw-top jars in the refrigerator. Since this method takes up a lot of space both in the freezer and in the refrigerator, I have a new method for a few weeks now. This vegetable stock paste.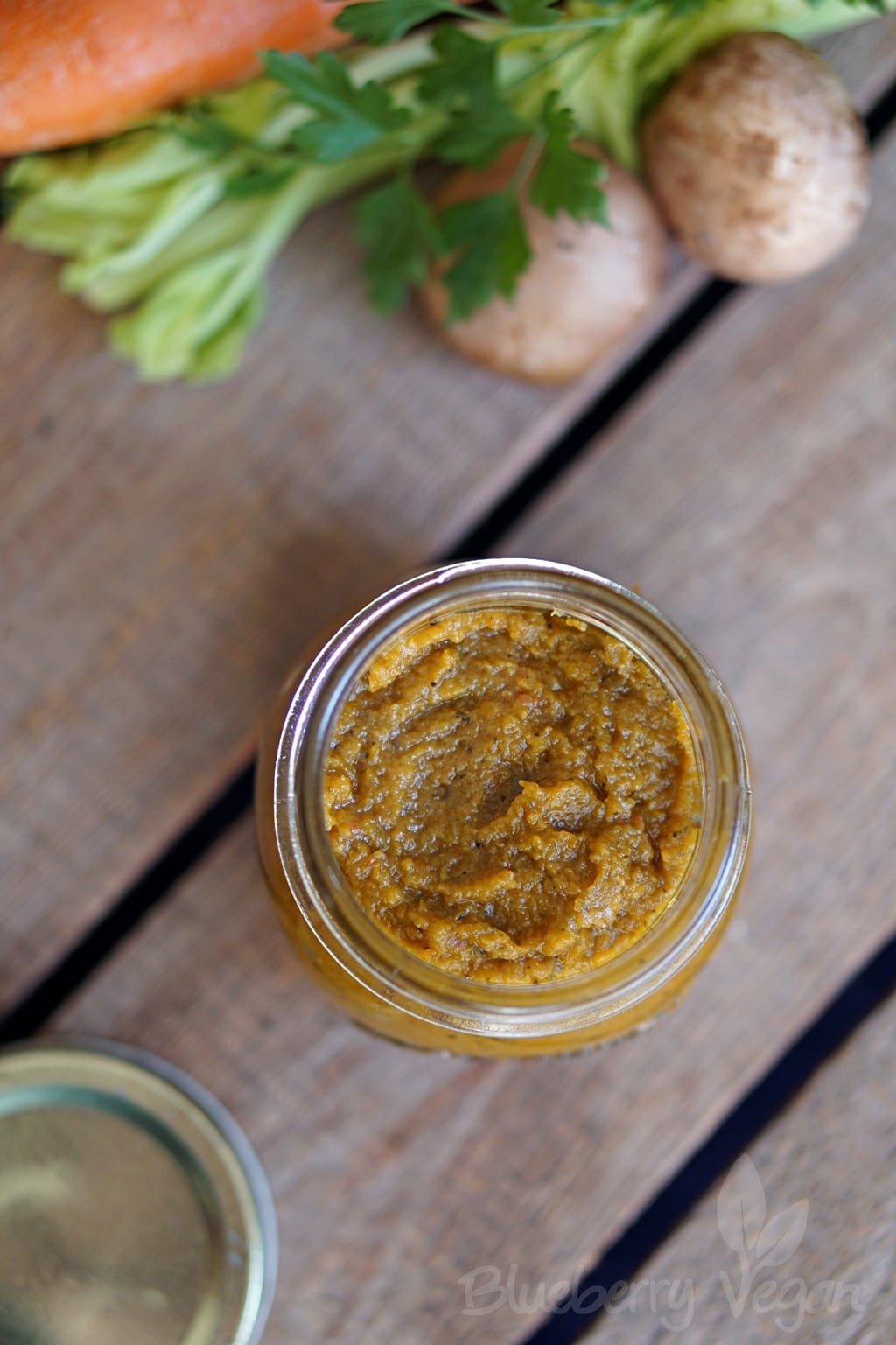 When choosing the vegetables, you can orientate yourself on the contents of your refrigerator or your taste. You can use the paste as a soup base or anywhere you would use a cube of vegetable broth. It will keep in the refrigerator for a few months (if you haven't used it earlier). If the paste is too lumpy for you after cooking, you can puree it to get a very fine result.
I hope you enjoy trying it out!
Love,
Rina
Veggie Stock Paste
Inspired by the recipe for vegetable stock paste from Cookidoo.
Zutaten/Ingredients
2 onions
2 cloves of garlic
3 - 4 carrots
2 - 3 stalks of celery (or 1/2 bulb)
1 small zucchini
1 large tomato
2 - 3 tbsp dried tomatoes
6 mushrooms
2 bay leaves
4 stalks of lovage
1/2 bunch of parsley
1 tbsp ground porcini mushrooms
2 tbsp water
120 g coarse salt
1 tbsp olive oil
Zubereitung/Instructions
Pour boiling hot water over two screw-top jars and their lids, set aside. Wash, clean and roughly chop the vegetables and herbs.


Finely chop the vegetables and herbs in the food processor, put them in a large saucepan and bring to boil together with the ground porcini mushrooms, water, salt and olive oil while stirring. Let the vegetables simmer for about 25 minutes until they have collapsed and the mixture is pasty. Stir again and again to prevent burning.


If necessary, extend the cooking time a little if the vegetable stock paste is too runny. Empty the screw-top jars.


If you like, puree the paste or pour it into the prepared jars without further processing and close with the lids. Store the vegetable seasoning paste in the refrigerator after cooling.
Tipps/Notes
The vegetable stock paste keeps in the refrigerator for a long time thanks to the salt and can be used as a base for soups or to season a wide variety of dishes. Use 1 heaped teaspoon for two cups of water or the equivalent amount of food.