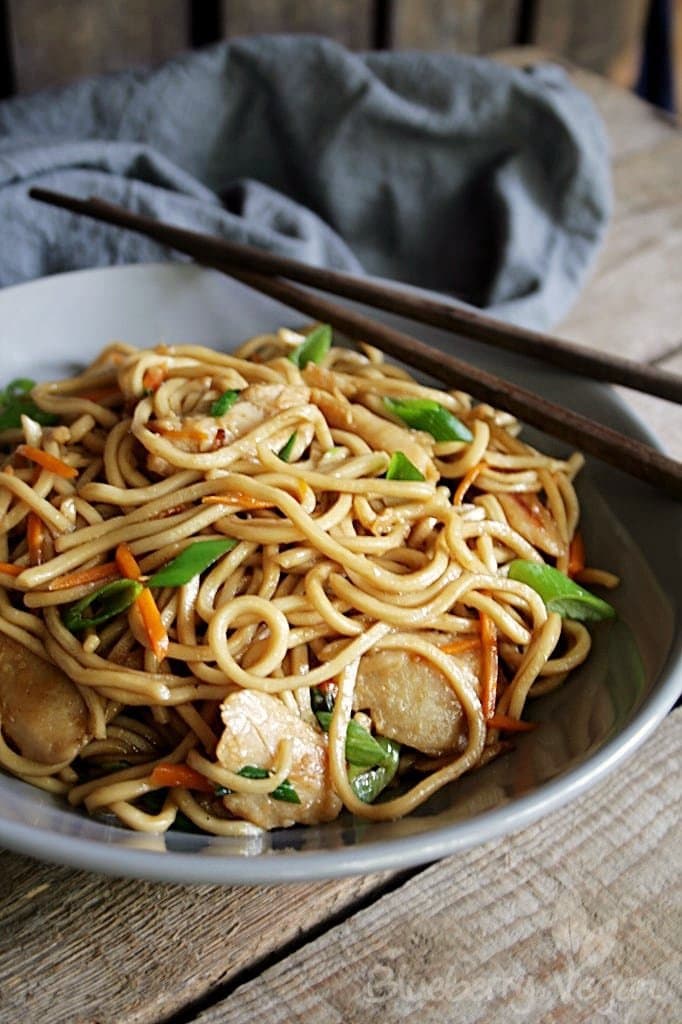 [Advertising: Affiliate Links]
"Hi, I'm Rina and I am addicted to Asian food." – "Hey, Rina!" This is what my meeting of the anonymous food addicts could be like. I love Asian dishes. My favorites are summer rolls, Chinese noodle soup, veggie stir-fry and anything with rice noodles, such as rice noodle salad. And of course Chinese fried noodles. Since fried noodles from your favorite take out are most likely with eggs, it isn't that easy as a vegan. So I get in the kitchen and make them myself. After several attempts with different spices and diverse amounts of ingredients, I finally have the combination, that results in the noodles, that I love.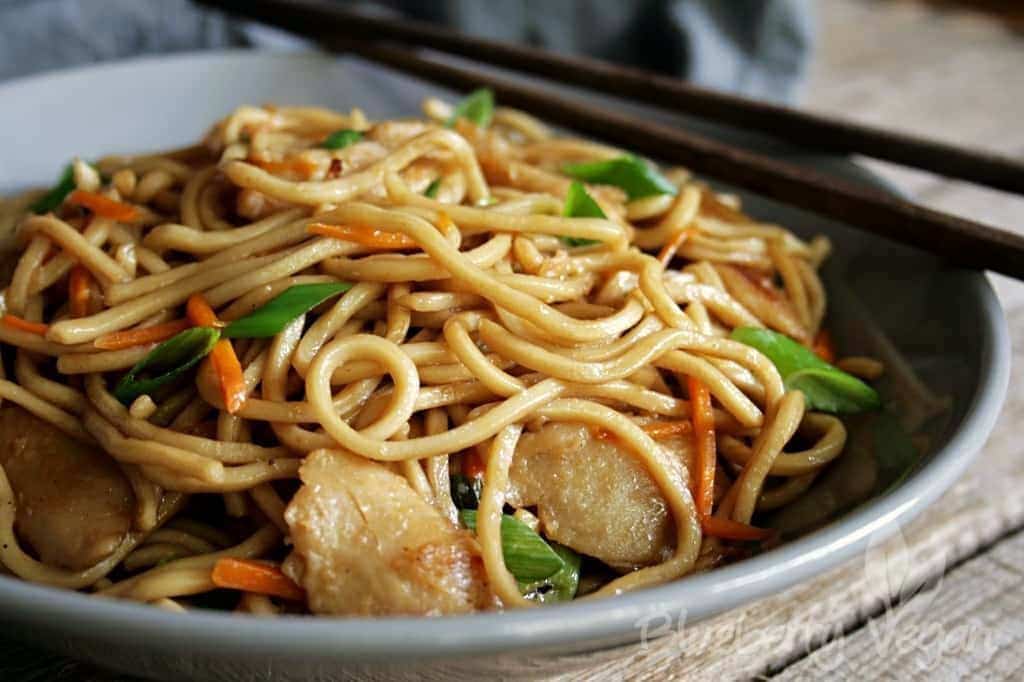 To cook the noodles at home, you'll need wheat noodles, that you can buy in an Asian supermarket. You can of course use other noodles instead, but you'll get the best result with these. If you are in the market also take hoisin sauce and soy sauce with you, because you will need these for the recipe. Also take a look around. I like to buy mushrooms like enoki or shimeji there or fill up my pantry with jackfruit in brine or rice paper.
For the frying you will need a big (wok)pan, so the noodles stay in there and don't mess up your stove. Make sure, the pan is really hot, so that the noodles and vegetables get brown, but still remain crispy. To mix the ingredients I like to swing the pan. To do so I abruptly pull the pan toward me, while using a spoon to push the ingredients away from me. This way they kind of flip in the pan and brown evenly. (You might have seen it, how they do it in a Chinese restaurant.)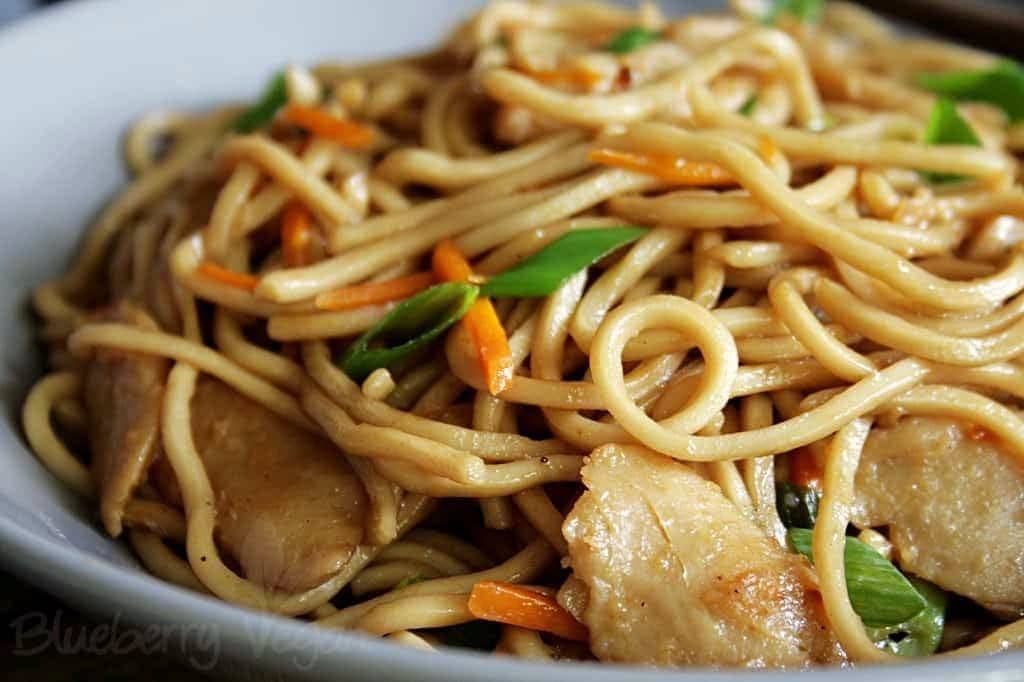 If you like your noodles hot, add some sweet chili sauce or sriracha before serving.
Enjoy your noodles!
Love,
Rina
Chinese Fried Noodles
Zutaten/Ingredients
250 g (1/2 pk.) Chinese wheat noodles
2 big king oyster mushrooms or 1 pk. vegan chicken chunks
2 spring onions or 1 small onion
1 big carrot
2 tbsp (toasted sesame) oil
1 tbsp hoisin sauce
2 - 3 tbsp soy sauce
1 hand full mung bean sprouts - optional
Zubereitung/Instructions
Cook the noodles in salty water until firm to the bite, rinse cold and set aside.


Cut the carrots into fine strips. Halve the king oyster mushrooms length-wise and slice them. Cut the spring onions in rings, the onion in strips. Keep the veggies handy.


Heat a tablespoon of oil in a wok pan and fry the mushrooms and onions for 2 minutes. When the onions are translucent add the carrot and fry for another 2 minutes. Keep stirring! Add the noodles and the rest of the oil and fry briefly. Stir in the hoisin sauce and season to taste with soy sauce.


At last stir in the sprouts and heat them up. Arrange the noodles on two plates and serve with sweet chili sauce and sriracha.
Tipps/Notes
You can also use a store-bought vegan chicken substitute instead of the king oyster mushrooms.