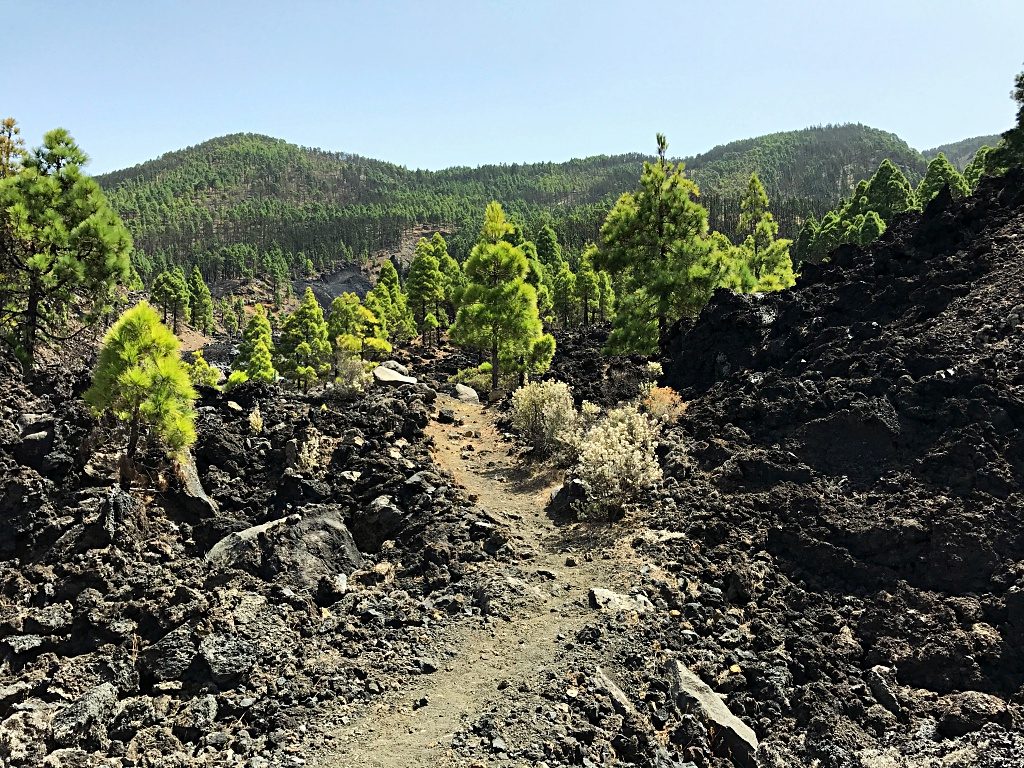 Since I haven't been to the South of La Palma I plan to do my last hike there. In the South the volcano San Juan erupted in the 1970ies and you can still see cold lava flow. To get to San Nicolás, the starting point of my hike, it is only a 15-minute car ride. Finally a short ride to a hike.
Here is the track:
Track San Nicolas – Volcano San Juan
The trail starts at the church in San Nicolás on a road, that leads steeply up the hill and ends in a rocky path, that is temporarily out-of-order, as a permanent sign says. I continue on this way. The sun is shining and although it is only 10:30 a.m. it is hot already.
After half an hour I sit on the trail in the only small shadow so far and have a short drinking break. Also on this trail I am alone again. On three of four trails that I hike on La Palma I was alone, despite the countless lizards, grass hoppers and insects.
The trail leads into a rocky ravine. I have to climb now. Not one of the rocks is solid next to the other and the ground beaks off underneath my feet several times. I check every two minutes, if I am on the right trail. The navigation system says so, but there were no climbing actions mentioned in the hiking guide-book! In this moment I have to think about my hiking stick, that leans next to the door frame. I forgot to pack it this morning. I kind of miss it here, but on the other hand I have both hands free for climbing.
While I take a look at my phone once more, I receive an email from Iberia, the flight company, that I will take for my flight home in two days. I hope that the first one of the flights isn't again rescheduled again. I only have 35 minutes to get from one plane to the other. Another later departure would make it impossible for me to get this one. But the email is only about safety information, that I receive from Iberia before every flight. I check, if I might already check-in. It is indeed possible. I save a seat in the front of the plane and next to the hallway. This way I can rapidly leave the plane.
The next moment I think about how bizarr this is: I am sitting in the middle of nowhere on a rock in a rocky ravine, surrounded by trees, that a fire turned to black sticks and I am checking-in to my flight back home.
It takes less than 2 minutes after I continued my hike, when my phone starts the alarm that I am on the wrong way. I knew that before. I bravely climb up the embankment next to me and need three attempts for that, because two times the ground breaks off and I land on the same rock, that I have started before.
I find a beautiful pine cone. I have seen one like this before in my holiday flat. I will take this one with me and bring it to Amana as a gift.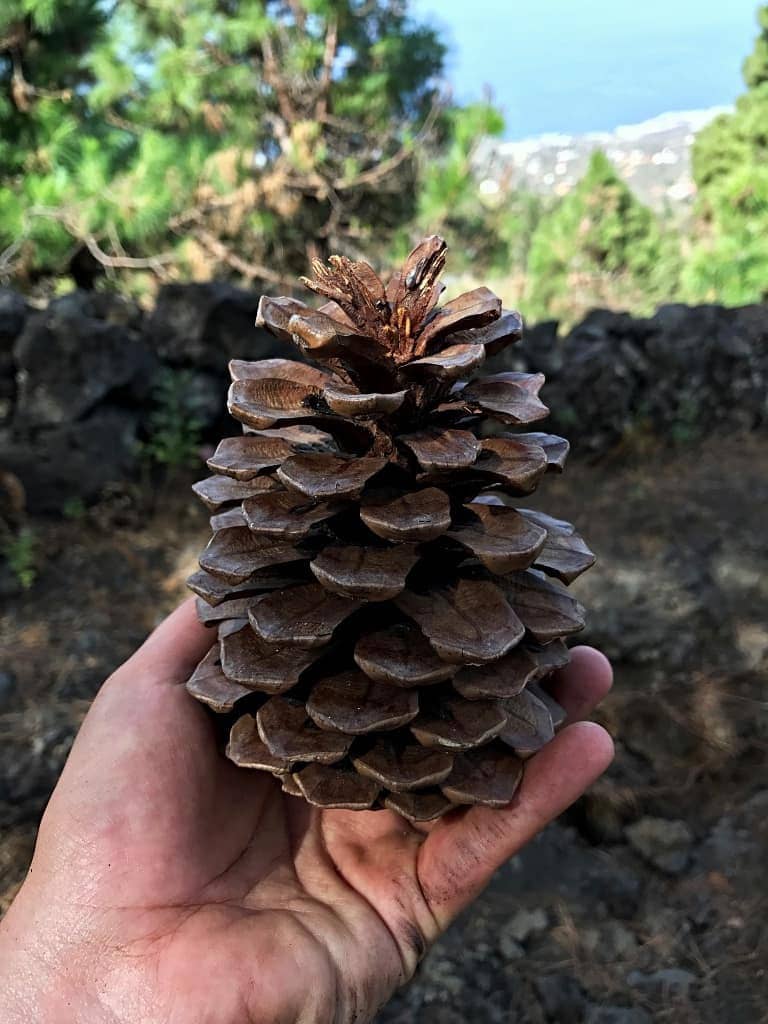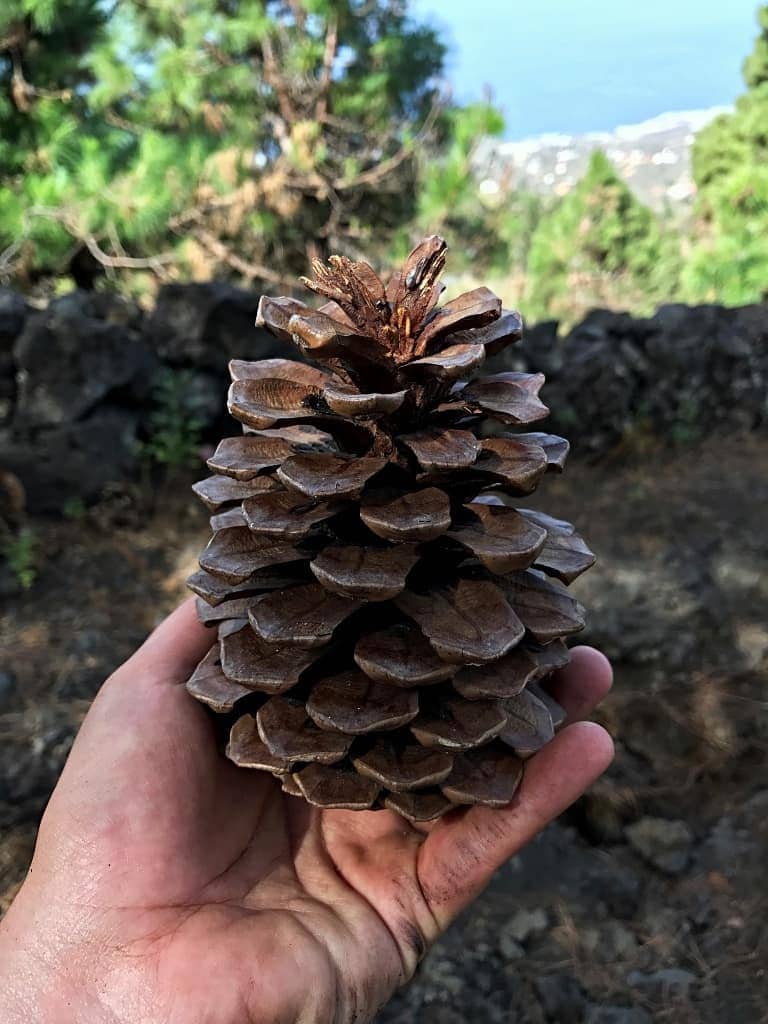 The trail is stony and steep. After another half hour I am exhausted and stop every 10 meters, to calm down my heartbeat. 100 meters further I take another break. I take off my shoes for a moment to cool down my feet, have a banana and drink more water. I should have packed more water, because in the 1 1/2 liter bottle is only a quarter left and I have a lot of trail ahead of me. I decide to take a shortcut. On the map I see a path that cuts off an 1.7 km part of my trail. I drank not enough the last couple of days. My usual 2 Liters a day aren't enough here.
The alarm starts again and I turn it off. I am most certainly on the wrong way, by choice.
There is an amazing scent up here, although it is kind of burned. Suddenly out of nowhere the lava flow begins. It is rocky and the black stones have saved much of the sun's heat. This way the heat is not only coming from above, but from the ground, too. I am overwhelmed. The little stones, that mark the path sound funny, as I walk on them. Kind of like pebbles but more glassy.
The end of field of rubble is just as sudden, as its start and I am in the woods again. My feet are smoking hot, did my soles melt? Of course, they didn't. But Amana tells me later, that this could happen there. I decide to look for a place to have lunch. Since there is nothing other than the needled wood floor near and far, I just sit down and ignore the stitching. I packed the left-over fajitas filling form yesterday's dinner and eat it now on wholemeal toasties.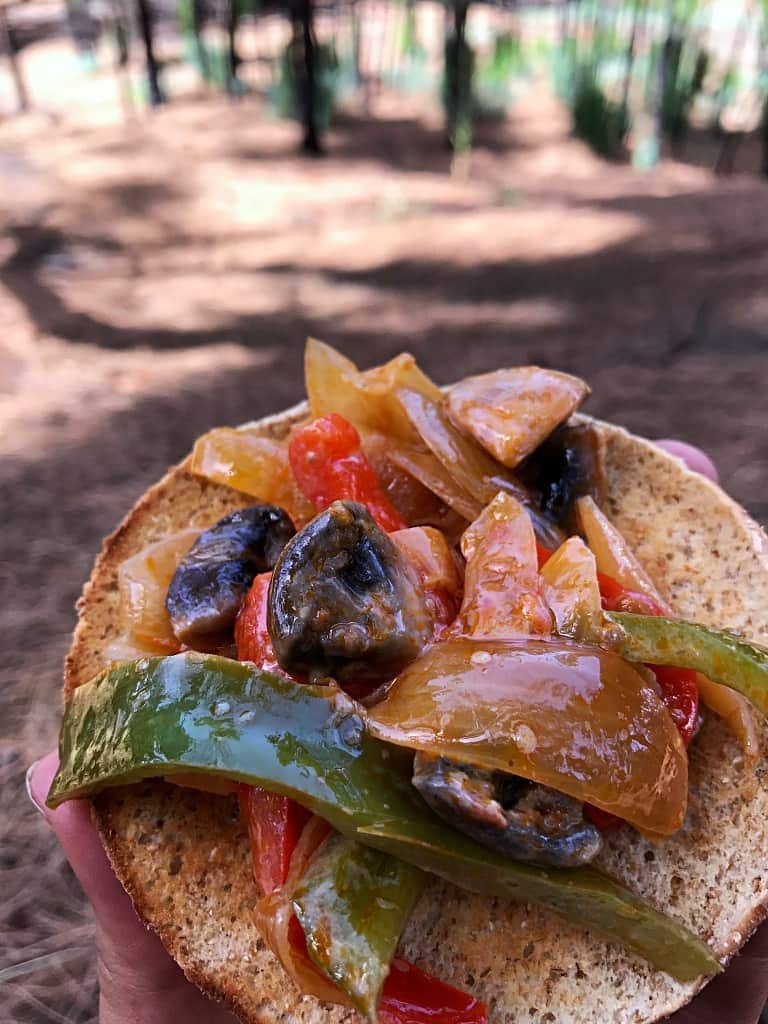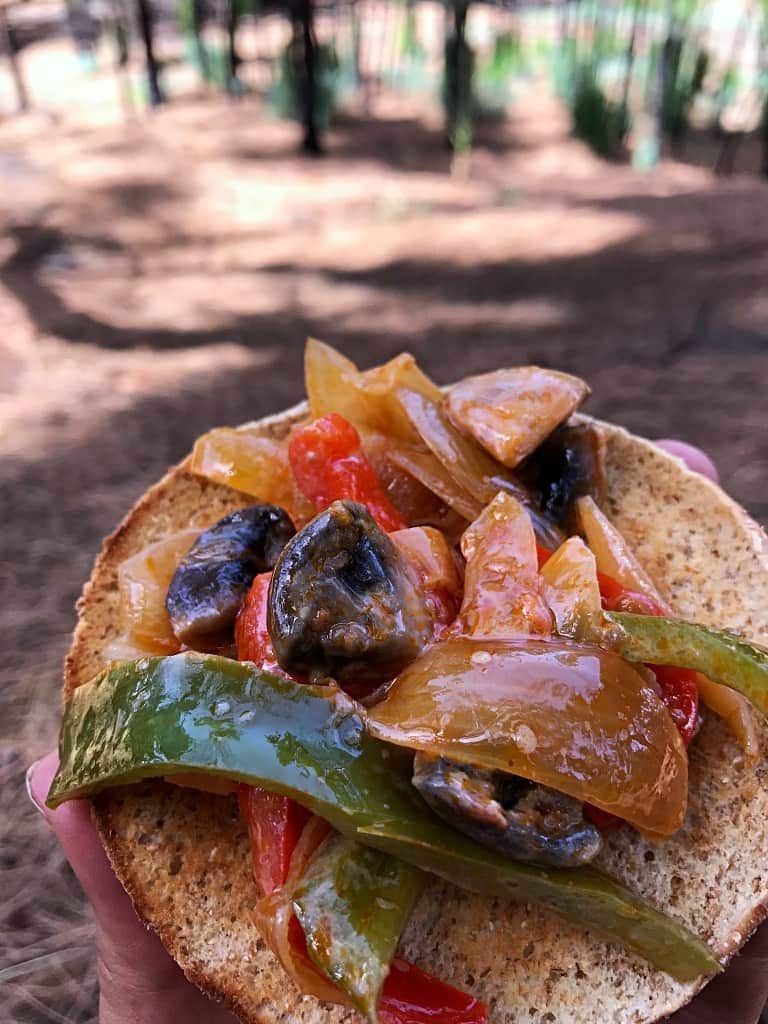 There is nothing to hear but the buzzing of the many flies. After my meal I am staying a while longer and listen to it. Suddenly the PCT – Pacific Crest Trail comes to my mind and I think about how it would be to hike it. This thought comes from the fact that I am reading a book about it at the moment and that I am now sitting here alone in this calm. It would be hard, but yet so rewarding. Kind of like my experiences on the Camino de Santiago. I drank almost all of my water and keep a few sips for my way down.
The descent to San Andreas is not that far with only 3.5 km, but because of the lose and rocky underground it will take me some time to pass it. I slide and trip several times, but luckily every time I manage to get in balance and not fall. After about 45 minutes, when I lose concentration more and more, I step on a solid street. But this street is only 100 meters long and then leads to the next path with loose rocks. Cheered too soon. I have to get my act together and plan to take a last drinking break in the next shadow and drink the rest of my water.
The water is warm and I kid myself in thoughts, that I should have brought a tea bag…
The last 300 meters I walk along the road, that leads me to the gas station/supermarket/café/laundry service, where I parked my car. I get a water ice and a bottle of lemonade, but regret this decision with the first couple of sips. This crap is too sweet for me now. I just wanna rush home and get a refreshing shower.
Since the car was parked in the sun the whole time, it is incredibly hot in there. But I was clever enough to turn the wheel upside down, so that I now can touch it. My skin is all sweaty and the first couple of meters in the car with my windows down are more than refreshing.
As I arrive at home, I wash my clothes for the last time and with that finally my rain jacket, that smells like food since my lunch spilled over it in my backpack three days ago. I cook a delicious bowl and leave the gnocchi and tomato sauce with artichokes and olives for tomorrow, when I meet with Amana and Rainer. Rainer is my neighbor, who rented the house next to mine. I have a wonderful evening with them with good food, delicious wine and great talks. In the end I even see a shooting star (the first one in about 10 years) and make a wish. I couldn't have imagined a more perfect ending to my vacation.
Love,
Rina