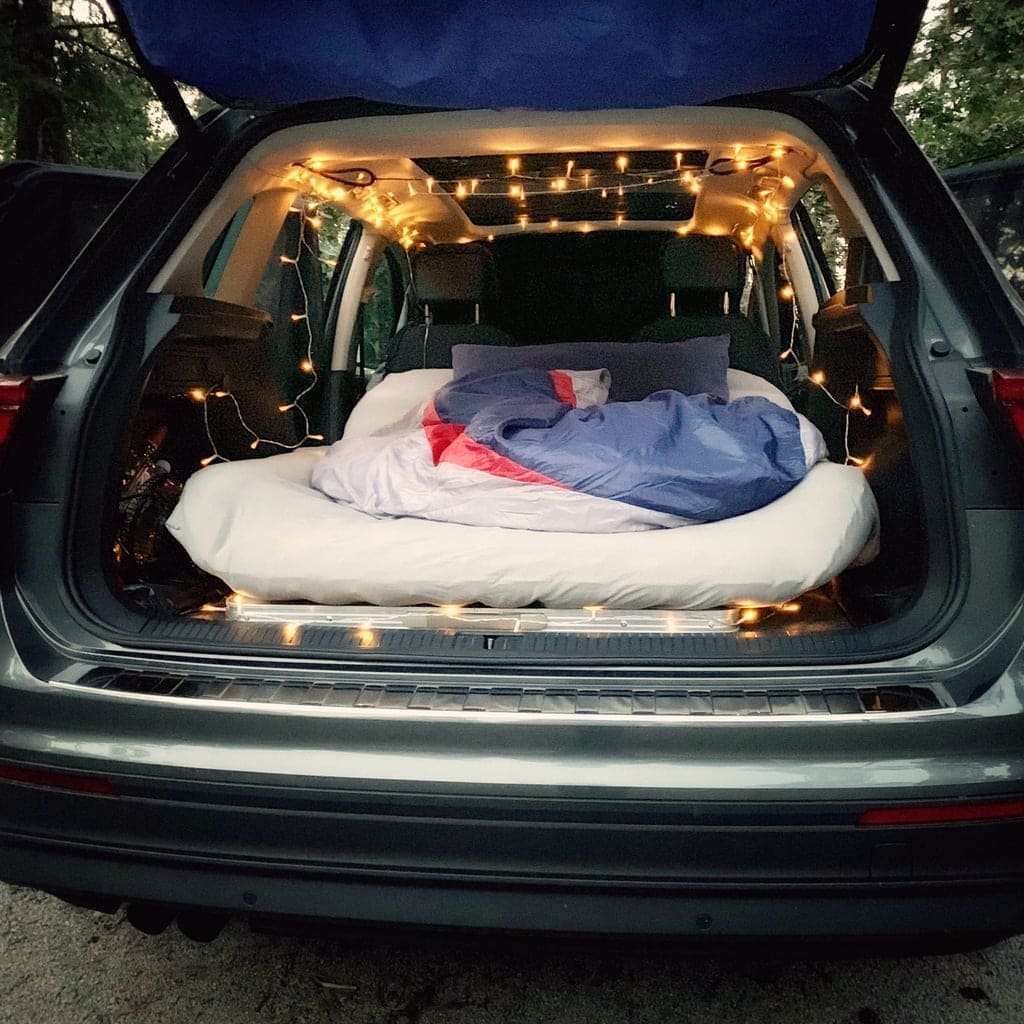 [Advertising: Affiliate Links]
As you may know, I love nature and being outside. However, since I sleep so badly in a bivouac sack, I've considered that I could set up a night camp in my car. Said and done. So I searched for a mattress for my car and then spent a whole afternoon testing it. It worked so well that I decided that my next vacation would be a car-camping holiday.
When fitting my car, it was important to me that it stays a car. I do not want to convert a van or a VW bus into a camper van, but it should remain an everyday vehicle. So I chose an airbed for the mattress. This way I can fold back the back seats and deflate the air bed and continue as a normal car every day.
To ensure enough privacy, I covered the rear window and the small, rear side windows with black garbage bags. As an adhesive, I've used self-adhesive velcro tape so I can peel off the blindes, if I want to continue driving.
Behind the front screen, I put a sunscreen. You probably know that one: such a silvery harmonica thingy. For the side windows, I ordered black opaque fabric, taken a double layer and sewn small magnets on the side and top edges at intervals of approximately 10 cm. So I can attach the curtains super-quick to the frame and remove it just as quickly.
For the back side windows, I have each purchased a wind shield, I insert those in the evening if it rains at night. The side rear windows I always leave open a bit, so I get fresh air at night. I also pull a mosquito net over the rear windows so I won't get eaten up by mosquitos at night.
So covered, it is damn dark in the car at dusk. To make me see anything, I stretched fairy lights across the interior. Those work with batteries and are dimmable.
Speaking of power supply. I've packed both my powerbanks that charge my cell phones (yes, I have two cell phones a private one and a work phone, with two different network providers serving me in different places.), my speaker, my headlamp and my camera batteries. If necessary, the big one also gives some power to my MacBook. The power banks, I charge while driving. Only my bike battery needs the power of a campsite from time to time. But since I also need a shower from time to time, that meets quite well. I then have an adapter to use the campsite outlets and an extension cable.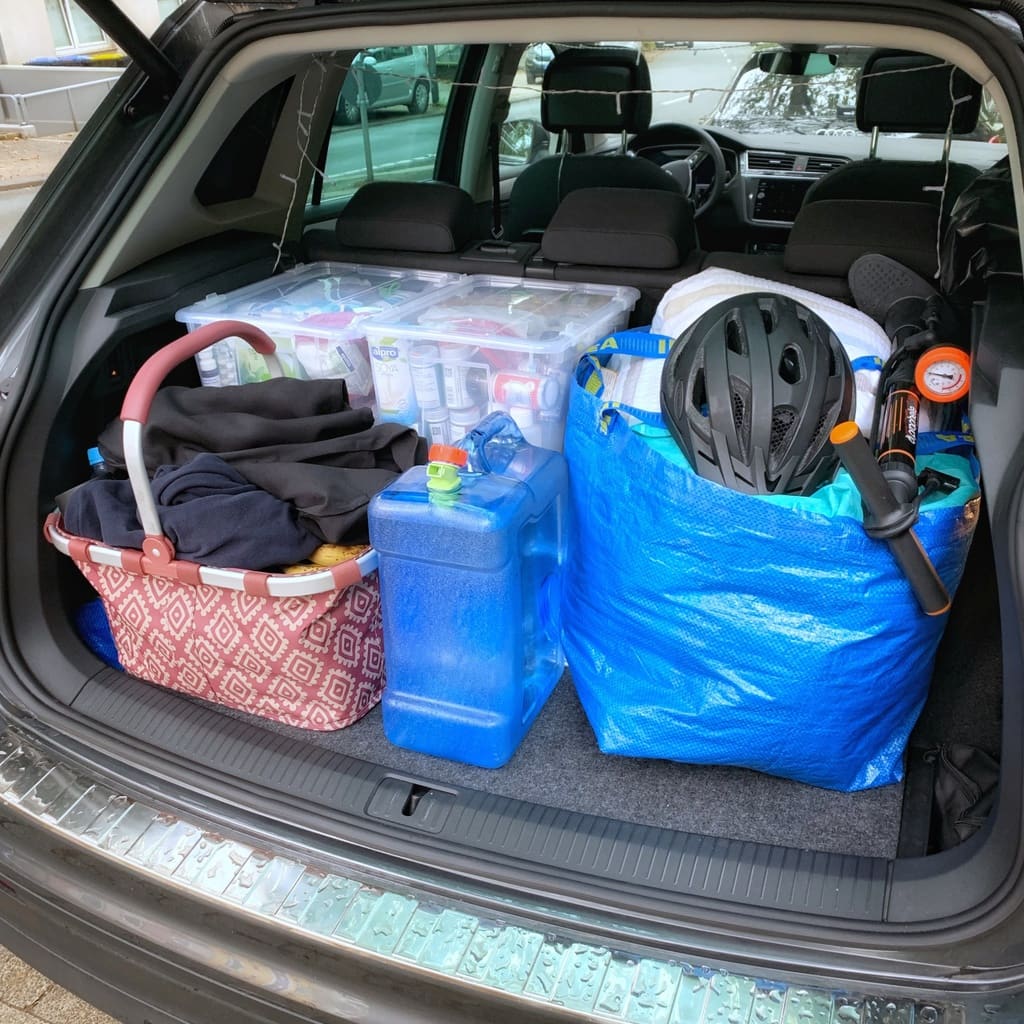 To sleep in my car, I flip the rear seats and inflate the air bed with the supplied electric pump. Very handy is that my car has a 12 v outlet in the trunk. At the back seats, I pull the headrests up so that the airbed also has support from below in the upper area. In the footwell there is each a large and a small IKEA box with my equipment. In the front seat my two backpacks with clothes and bicycle accessories can be found. There's a food basket in the footwell, and my 12-liter water tank.
If it's necessary and I suddenly have to drive in the middle of the night, all I have to do is uncover the windows, fasten the backpacks on the front passenger seat and I'm ready to go.
For clothes, I packed my hiking essentials. I also packed a short and a long jeans and three T-shirts. As it is autumn, I packed a fleece shirt and a fleece jacket. In addition, rain jacket and rain pants.
Besides my beloved 'big backpack', where I've stashed all my clothes, I got a daypack. As a daypack I got me another Osprey, because I'm in love with my big Osprey. The great thing, besides the color, is that I can attach my helmet to the backpack when I'm sightseeing while taking my bike.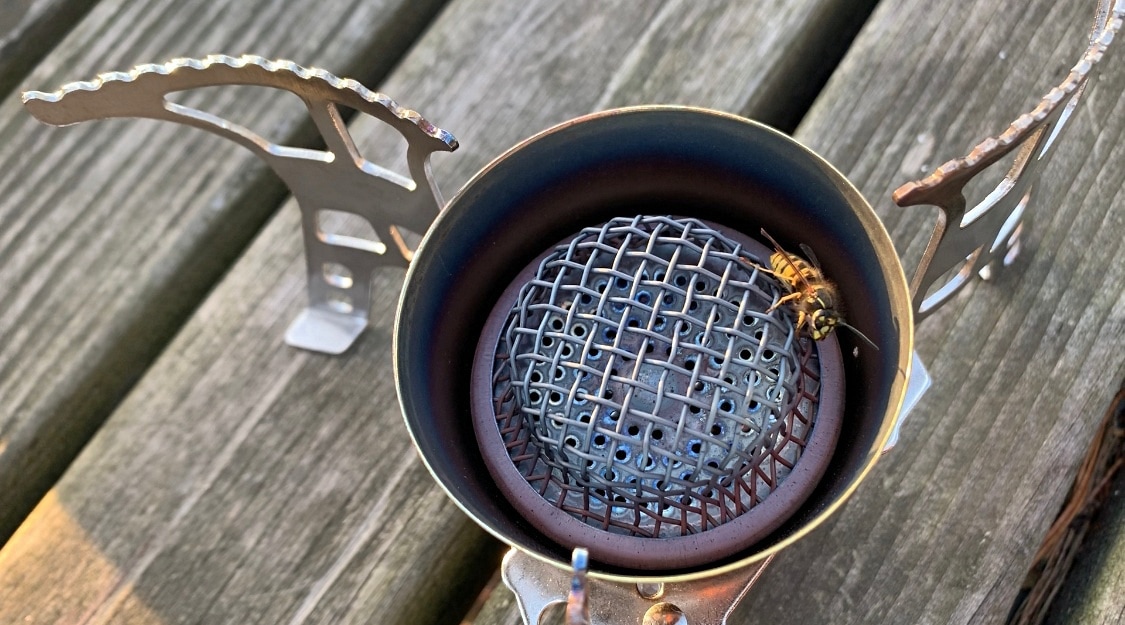 For cooking I have a gas stove along with a wind shield. I use it with simple gas cartridges. The stove has an adapter, which works very well on those cartridges. To always have a stable ground, I bought a simple table, which I can use both high and low. For this I either put the table legs on or leave it. Since my camping chair, which I already had anyway, is a low, near-ground one, I usually cook "downstairs".
The table may seem a little big for one person at first glance, but it was important to me that I could cook on it and cut the food at the same time.
I cut with my jackknife and got me an Ikea cutting pad and cut it in half. For cooking, I use the pot set from Decathlon. I chose it because it is big enough to cook for two (I love to eat warmed up food or even cold food the next day). In addition, both the pot and the pan are coated, which is super practical. I took both plates with me and left one cup and cutlery set at home. I packed my aluminum cup though.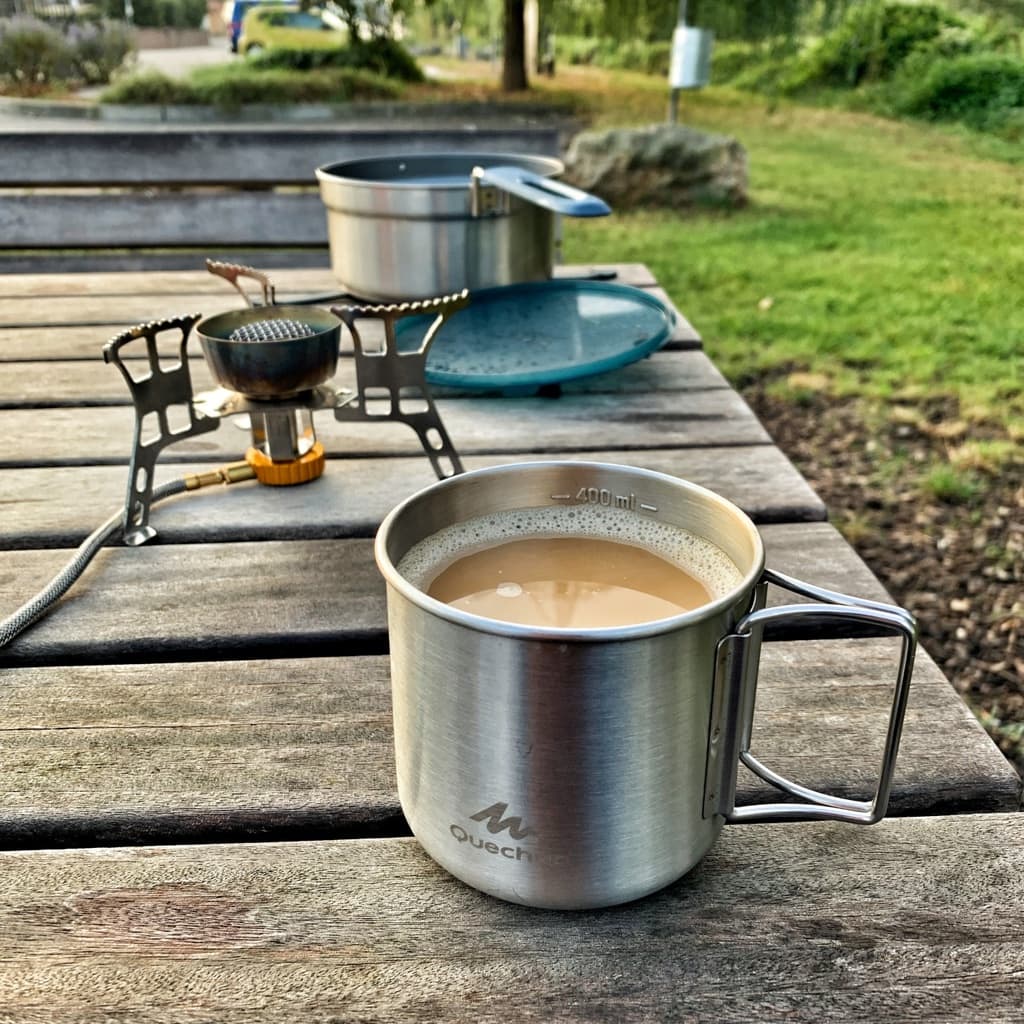 The cook box also has a waiters knife with bottle opener, a can opener, a silicone whisk (the pot coating will thank me), a grater (which, by the way, fits my plastic container exactly), a spatula, a cooking spoon, my fire steel, garbage bags, dish soap and washing bag, kitchen towels and gas cartridges.
In the second big box I have all supplies. These include among others: pasta, rice, flour, soya milk powder, popcorn corn, vegetable stock, yeast flakes, spices, salt and pepper mill, oil, vinegar, soy sauce, maple syrup, custard powder, instant soups (to season)…
I have filled the liquid supplies into small bottles and the solid supplies, that usually come in bigger packages in small containers.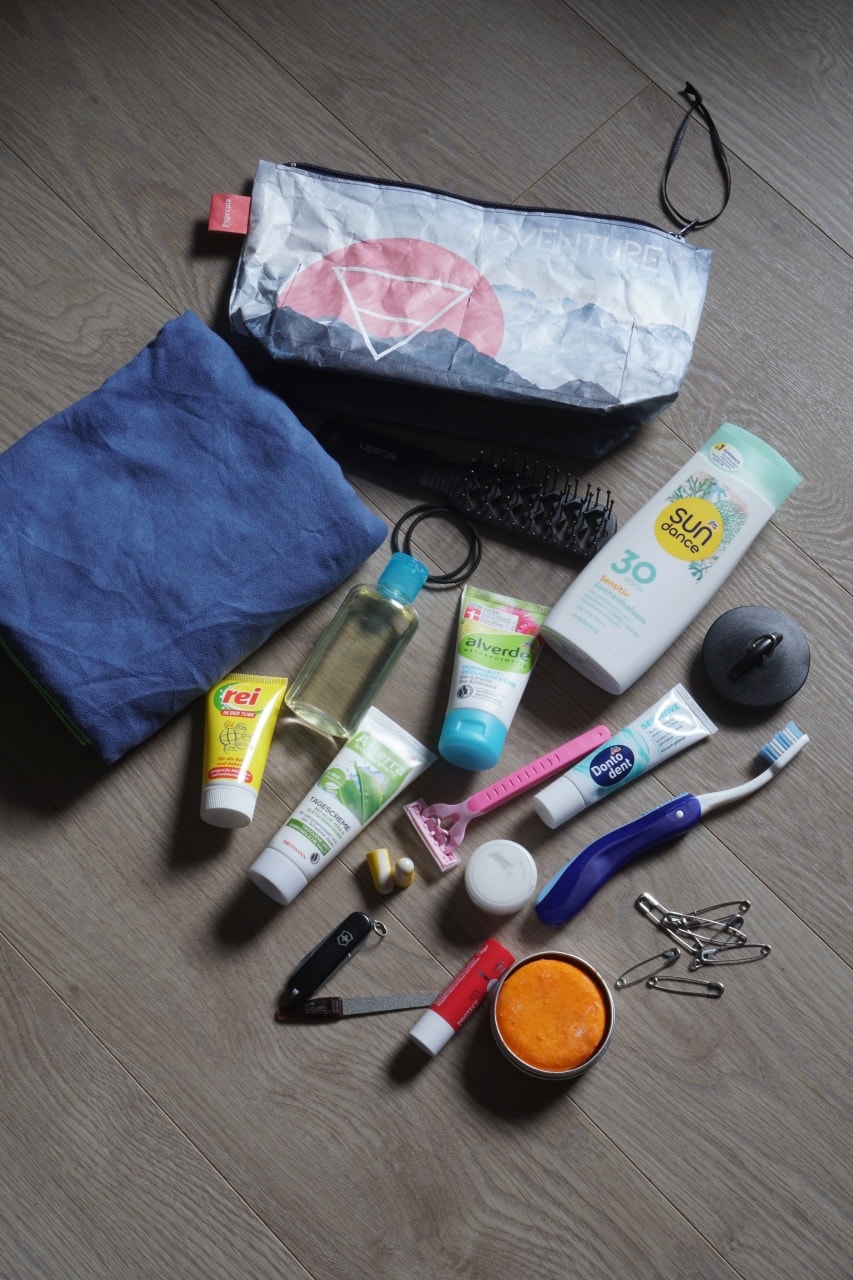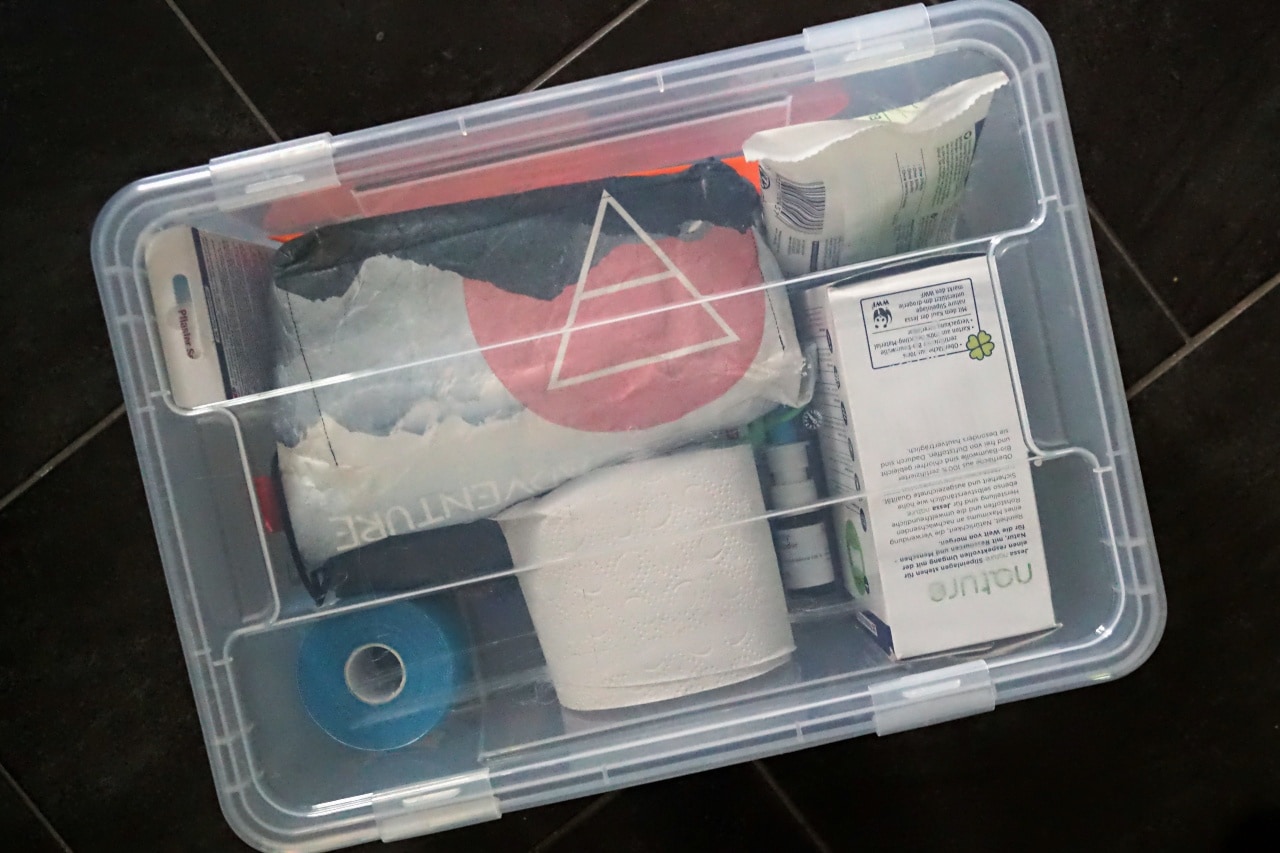 One of the smaller IKEA boxes is my toilet box. In it I have my beauty bag (the content is the same as on my hikes), a small shovel, toilet paper, a rescue blanket, contact lenses including accessories, towels, painkillers, my Lunette …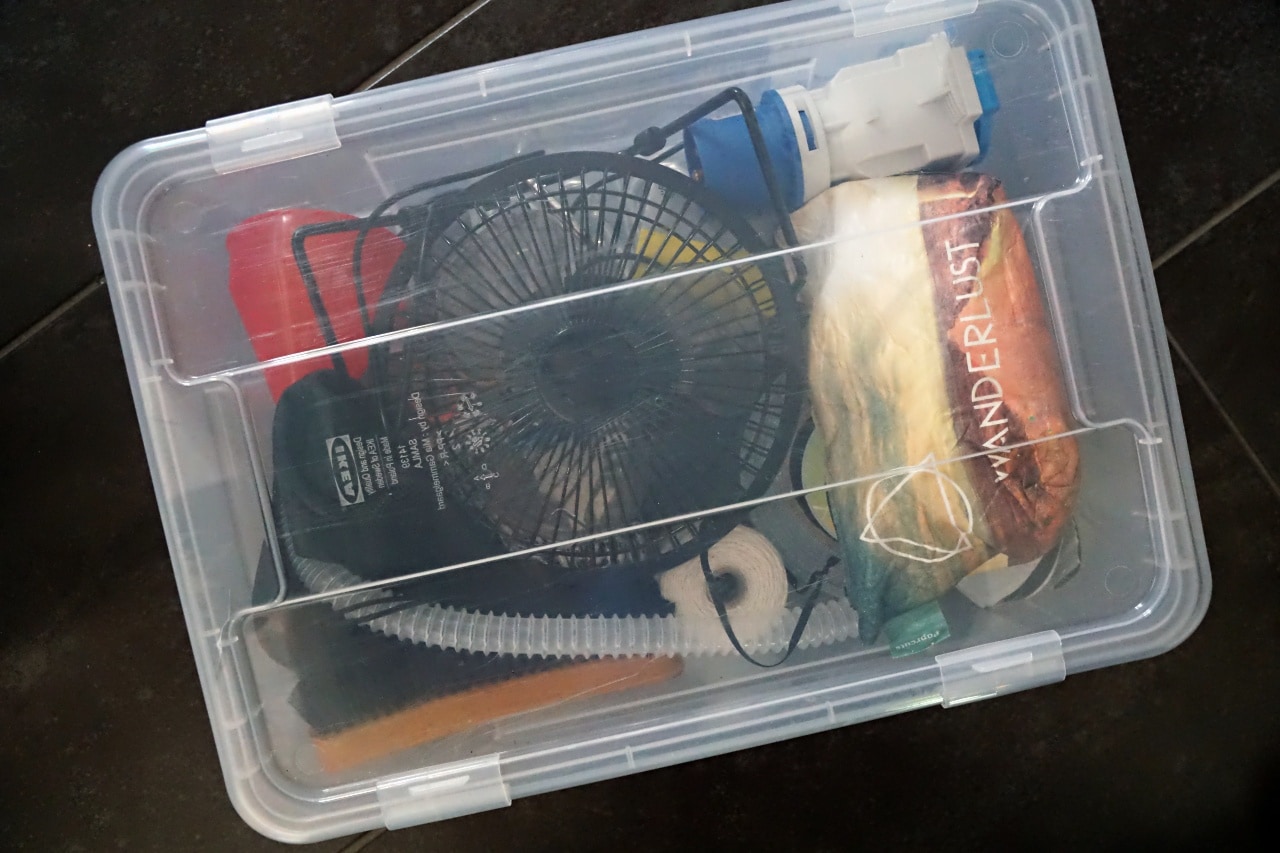 In the second small box, I stowed accessories and technology. These include: My power banks, harnesses for my tarp, paracord, a bluetooth speaker, hooks, carabiners, extra batteries, a small fan, DUCT tape, funnel with hose (if there is only a sink if I want to fill up the water tank), a brush (eg to clean shoes)…
For entertainment, I took two books along with my e-book reader. So I have even more books with me. In addition, I downloaded a few podcast episodes so that I can hear them offline. Netflix also offers the option of downloading episodes or entire films on the phone in order to be able to watch them offline. So I downloaded a couple of movies and a few episodes of my favorite series, so I can watch them falling asleep or entertain myself on rainy days.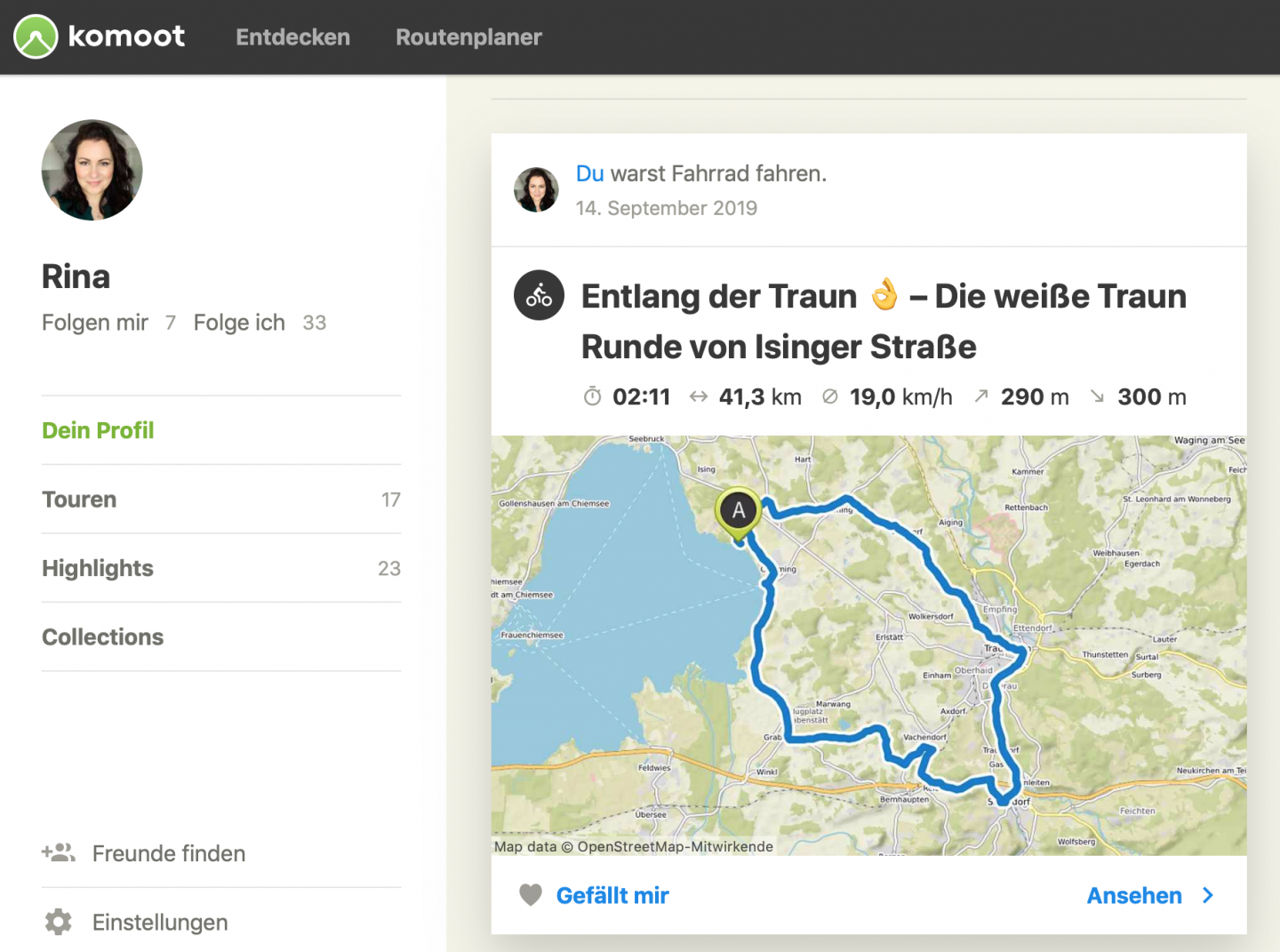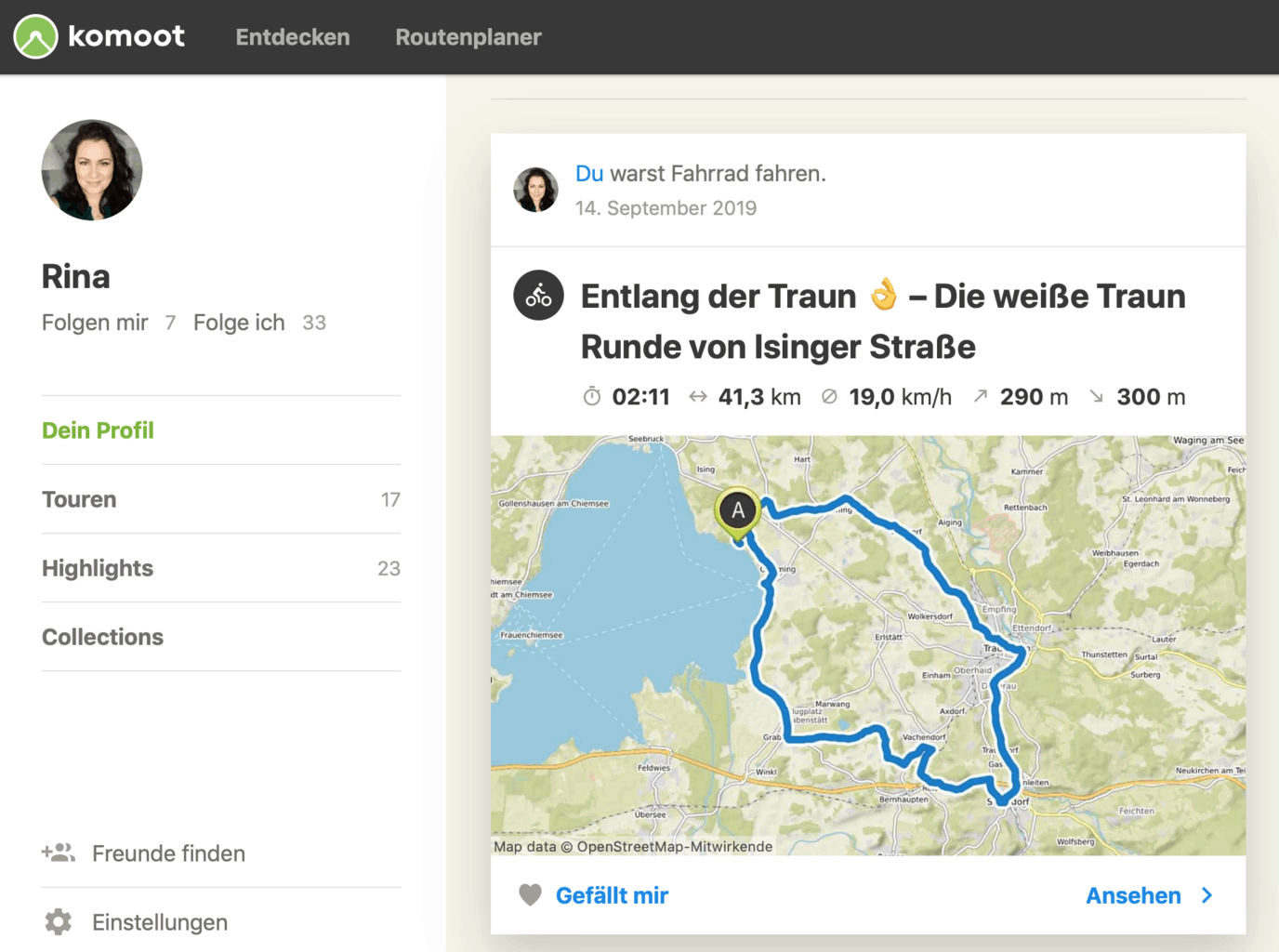 Also new on my phone: The outdoor app from Komoot. Why did I stray from my previous ViewRanger app? Because this time I took my bike and was looking for an app that navigates me on the bike. Google Maps does that wonderfully on roads, but not necessarily on outdoor trails. Also, I can not upload any GPX files from tracks I've planned. The app by Komoot works very well here. In addition, you already have many existing routes that you can use or adapt to your own needs. I paid € 30 for the world map once and now I can navigate as much as I want. By the way, also when hiking.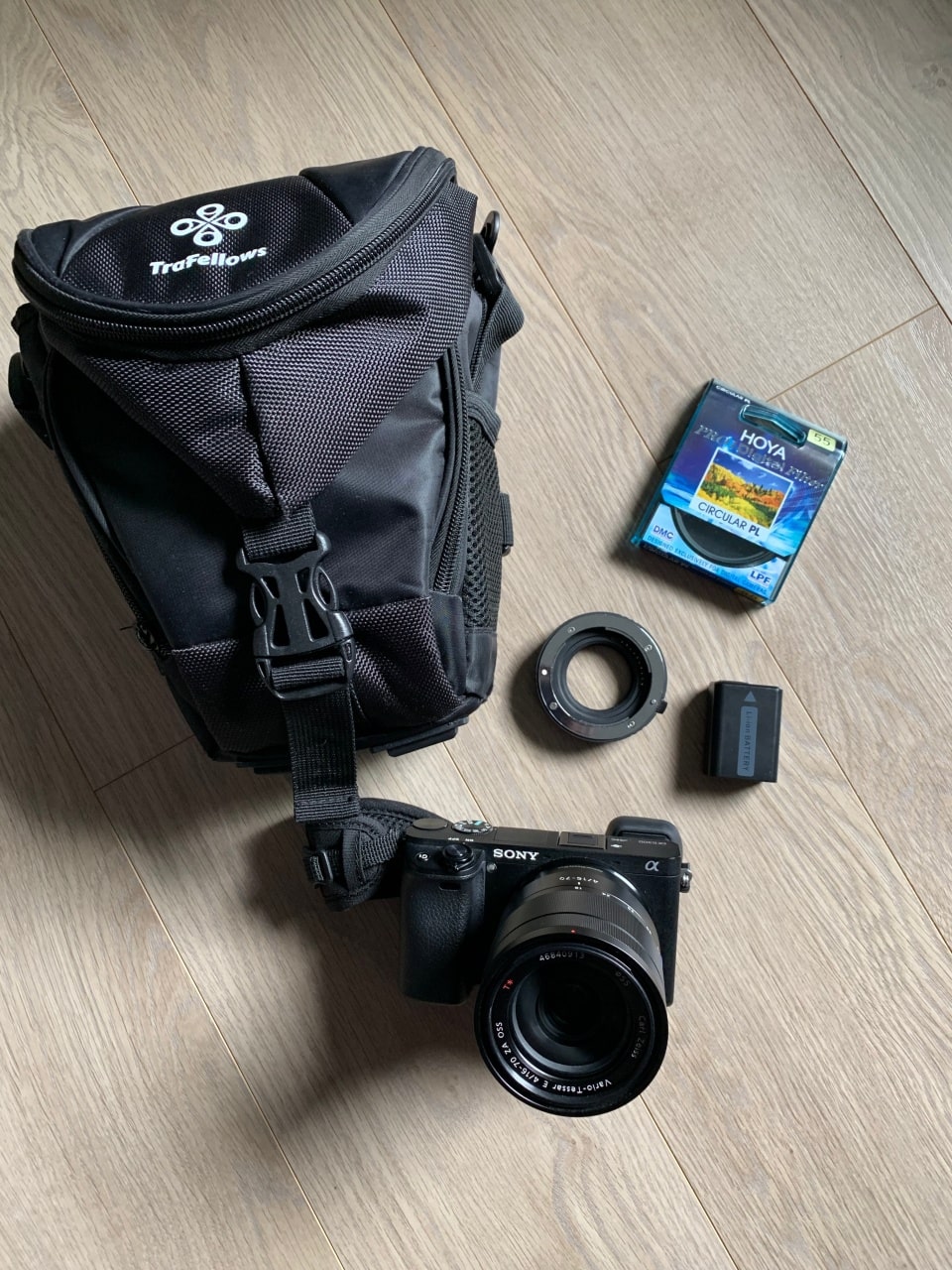 Of course my camera comes with all accessories: Sony alpha 6300 system camera with Zeiss 16 – 70 mm zoom lens, 10 mm macro ring, camera bag, replacement battery, pol filter and small tripod.
And that's it. That's what I took with me. I did not use all things during my tour (not every emergency I had thought of, occurred), but I would take all things with me next time.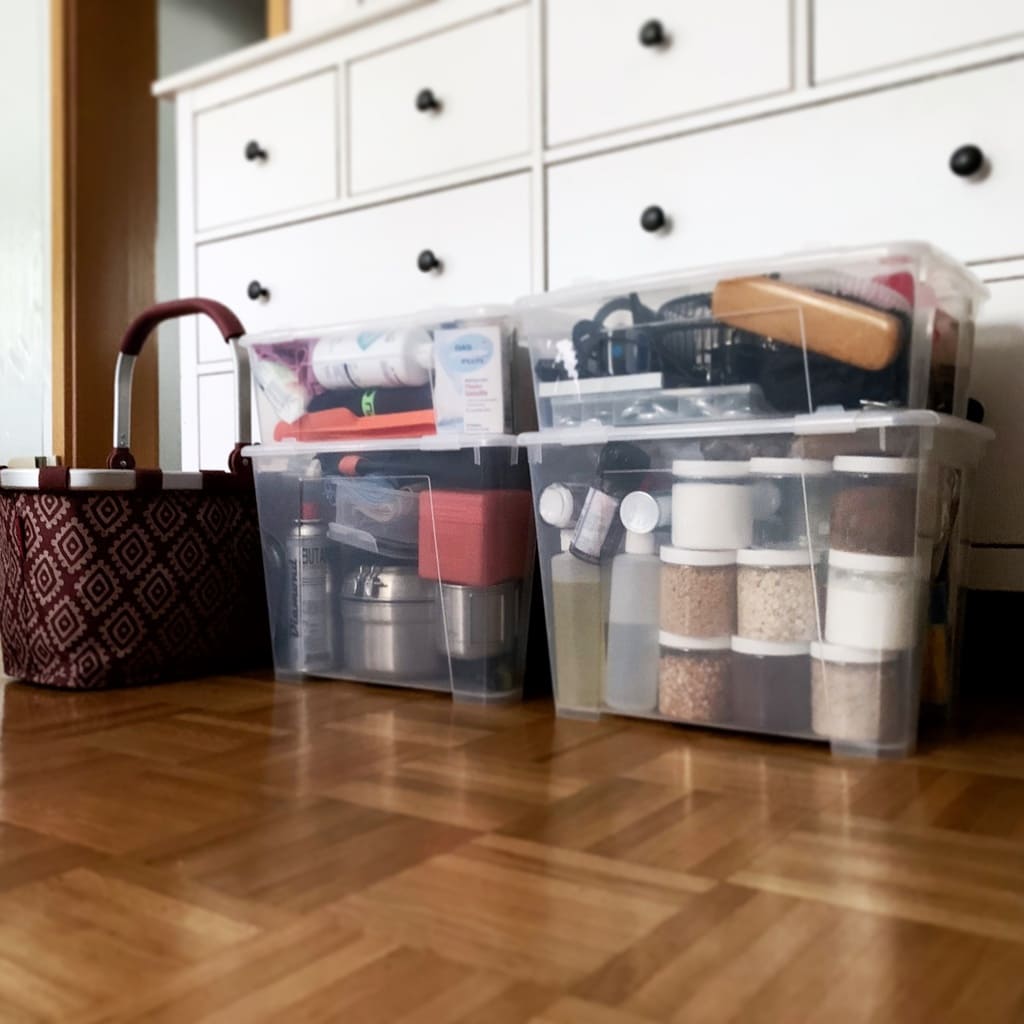 Here I have the list for you in the Exel version to complete, print, check off:
Do you have any questions? Remarks? Tips or tricks for me? Write me in the comments!
Love,
Rina
Short update after several nights in the car:
I exchanged the air mattress to a normal mattress because I never "dismantled" the car on vacation and a normal mattress is simply more comfortable.
I have now replaced the black garbage bag for darkening the rear window with a "curtain" with suction cups that I sewed from the same material as the "curtains" for the side windows.
My eBike charger for the cigarette lighter is a new item on my packing list. So I'm a little more independent and can charge the bike battery while driving.
The rest of the equipment has remained unchanged.