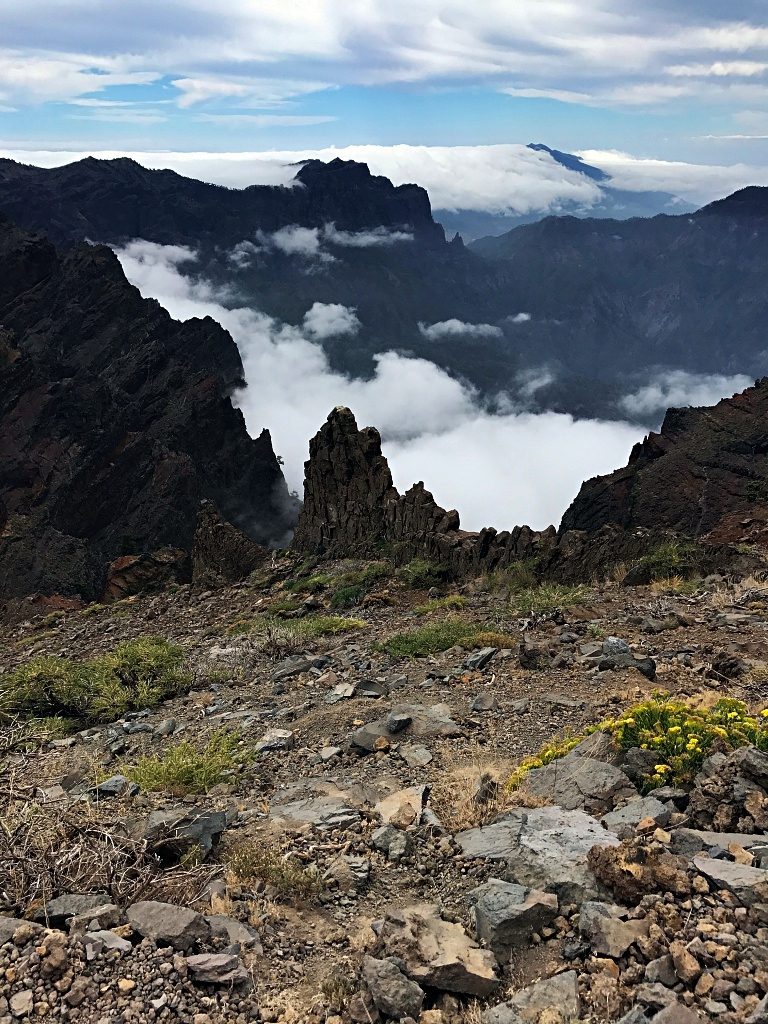 The lazy days exhaust me. I am bored on the one side and on the other side I am too tired for big adventures. I might not like to hear this, but I think I am more of an every-day-routine kind of human and I like it, when I have things to do. It is cloudy today on La Palma. I planned to go to the beach today, but I am not up for that now. I first make me some pancakes for breakfast and while I eat them, I decide to go on another hike today. I can't let the day yesterday be without an appropriate answer! I am looking for a hike with moderate elevation difference and that isn't too long. I browse my hiking guide-book and decide to walk along the crater of the Caldera de Taburiente.
Here is the track:
After breakfast I pack my backpack, get in the car and drive the same route like yesterday and 15 minutes more. So a little more than 1 1/2 hours, that are exhausting because of the countless sharp curves on La Palma. As I arrive on top of the world I am tired. But the fatigue fades as I spot the amazing view.
You have to be free from giddiness, because the 40 cm (15.7 in) wide trail is just by the abyss. The air is noticeably thinner and so dry, that it burns in my nose. It is deadly silent, you could hear a pin drop.
The trail is an endless change of ups and downs. I meet some hikers. This must be a more attractive trail then the others I did before. Despite the height it is warm.
Then it gets steeper and more challenging. I accustomed to the air and the abyss to my left now. The vegetation is scant and I see several types of broom. The astronomical observatory is up on this hill with its telescopes. After a little more than 1 1/2 hours hiking I suddenly hear voices and they are not in my head.
The trail ends in a parking lot which leads in about 200 m (0.1 mi) to a lookout at Roque de los Muchachos, which is with 2.426 m (1,507 mi) the highest mountain on La Palma. This explains why there are a dozen people with burned shoulders in spaghetti strap tops and flip-flops stumbling across the stony, but surfaced way to the lookout. At this moment I am even more proud that I took the longer way here. There was so much to see!
On the Roque de los Muchachos I take a break and eat my left-over spaghetti from last night. The rustling of the bag attracts a crow. It watches me and sees, if it can also get something to eat. I enjoy the view and watch the swallows that fly their circles right above my head.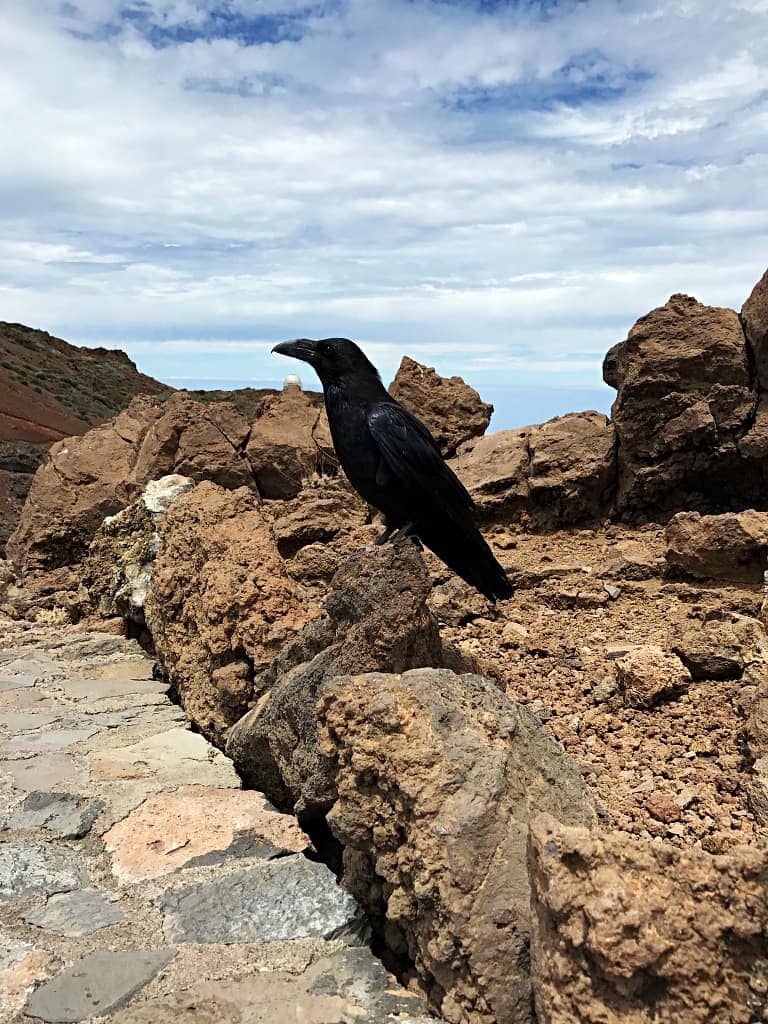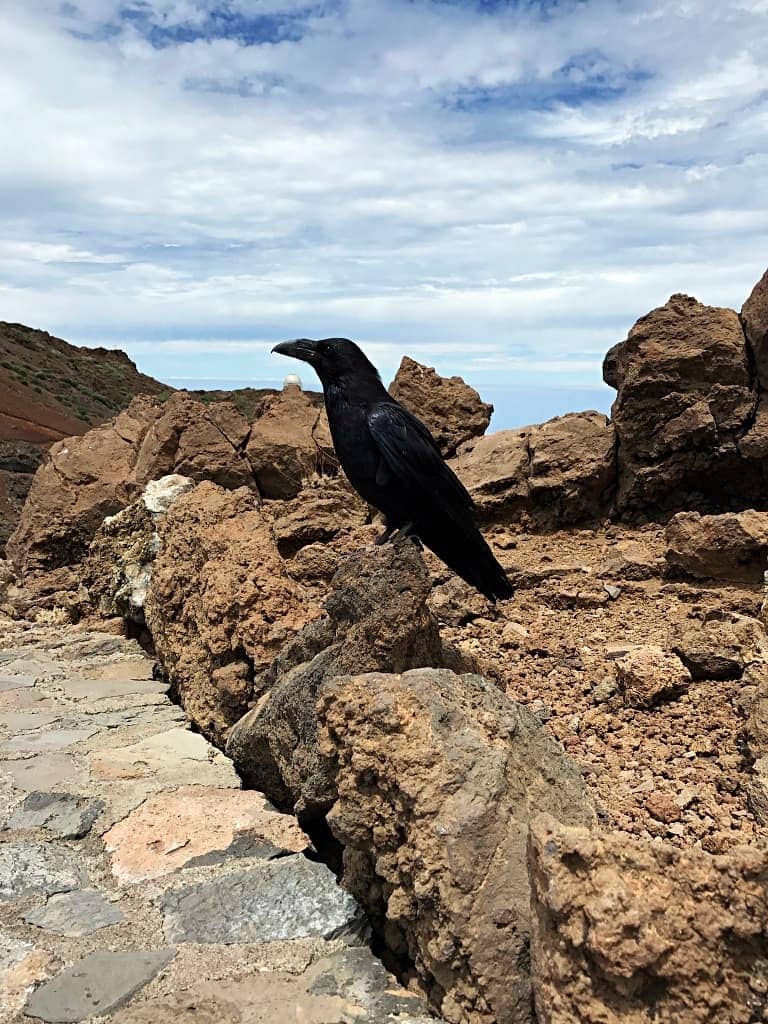 As I am on the way back and on the trail again, I suddenly see, why I saw this many tissues and banana peels right behind the parking lot. Humans. I hate it!
On the first rise of the way back there is a blazing heat which is almost killing me. Luckily this part is over after only 10 minutes and then it is normally warm. The trail is rocky and always up and down. With concentration and my hiking stick it is manageable.
The blazing heat and fresh wind change every 10 minutes. The way back is exhausting, but feels shorter than the way there. The passages that I worried about to slide away on the way there turn out to be easier than I thought.
I see my little red car in the distance. Now it is only a few hundred meters and then 1 1/2 hours curvy drive to my home on this island. Driving can be stressful here, since the roads are curvy and the people who live here tend to tailgate. And I really don't drive slowly…
I decide not to take the same route again, but to drive through Santa Cruz. After 20 minutes I pass the tree line and find myself in a pine wood. The wood floor is covered in golden needles and those also edge the road. Then I pass the fern line and my nasal mucosa is feeling suddenly much better. How different the air is, is also visible in my water bottle that I closed on the top and that tighten on the way down.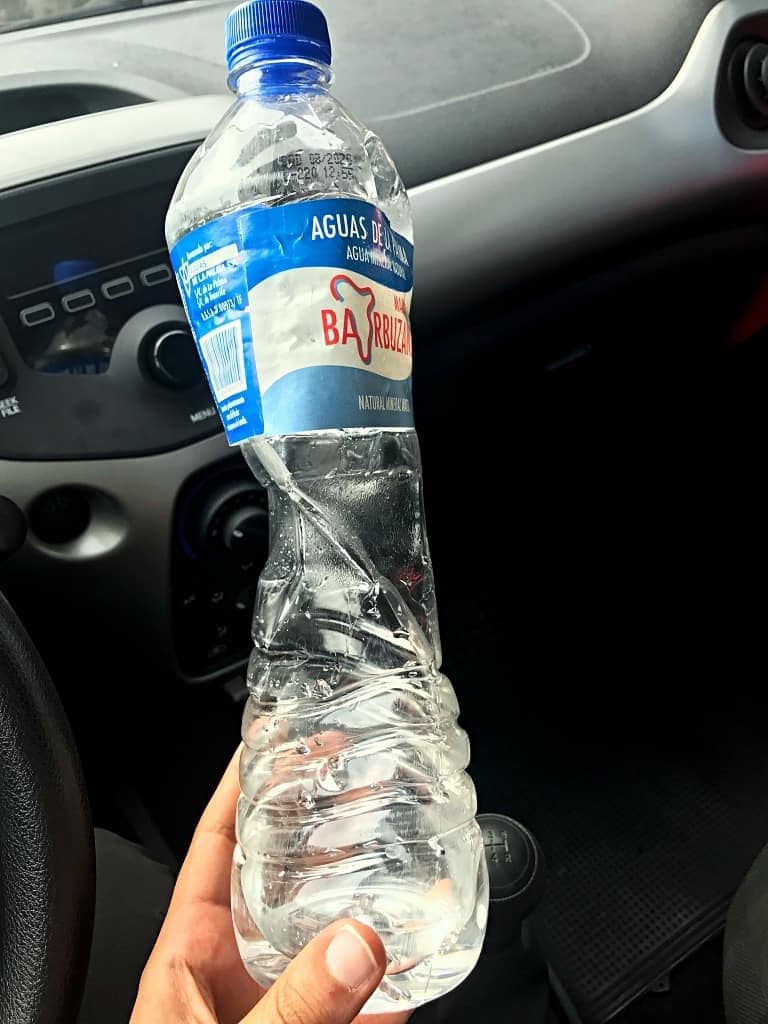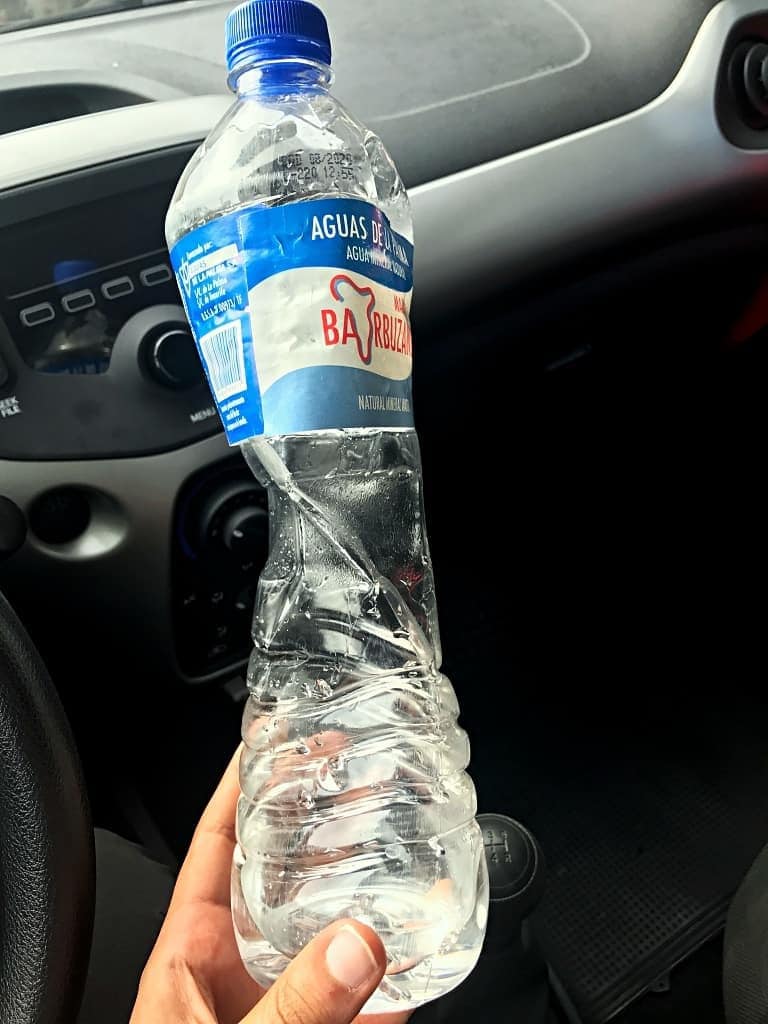 The road is in a bad condition in some passages with holes or fissures. Suddenly there is a fist-sized rock in the middle of the road. Since it is in the middle of a curve I simply drive over it. That shouldn't be a problem, since this car isn't lowered. And then it crashes… I pray that it didn't hit the oil pan and are very watchful the next kilometers. But after another hour of driving I arrive at home safely. What luck!
I prepare this delicious bowl for lunch and have a cerveza sin. In the evening I have reconciled with myself.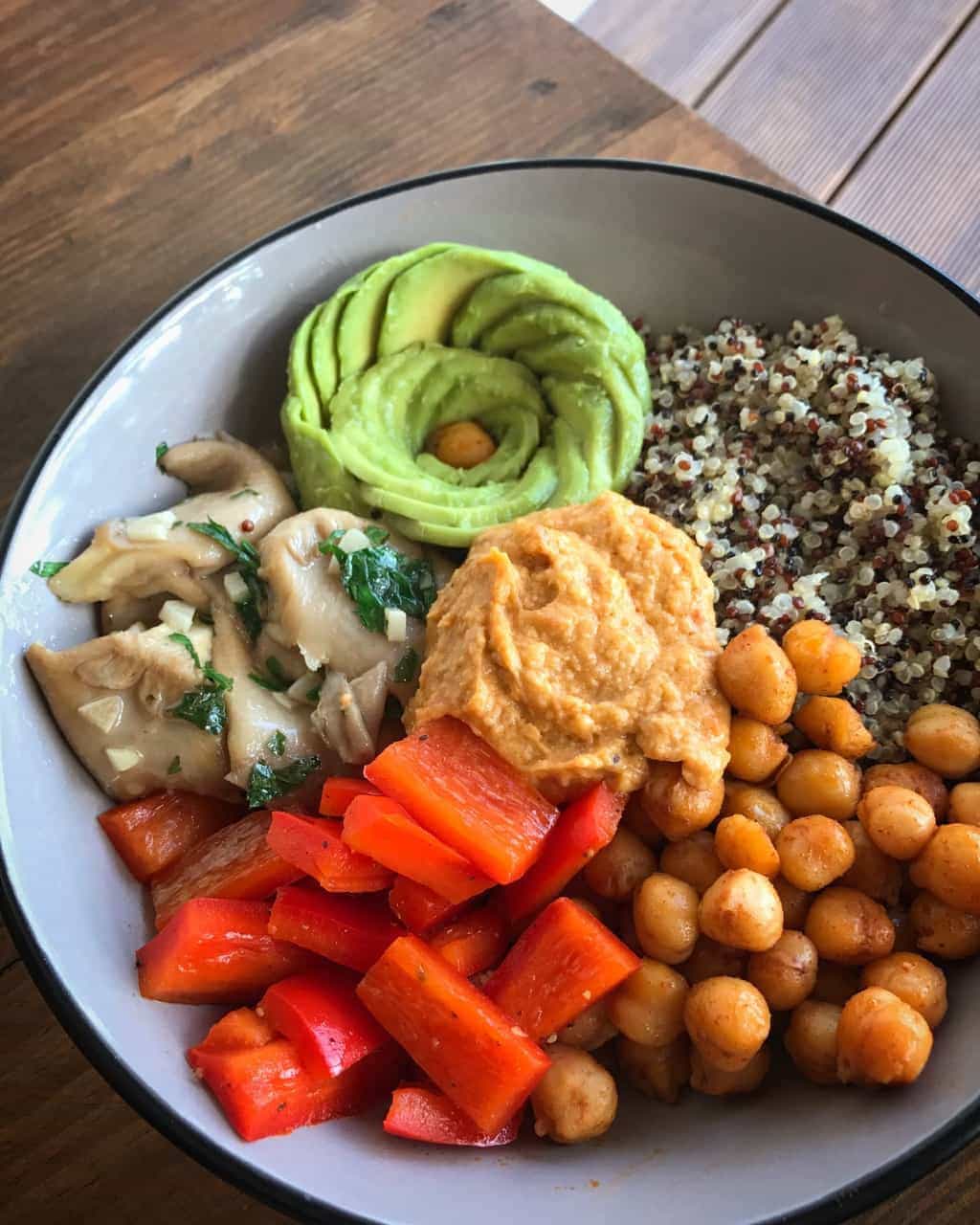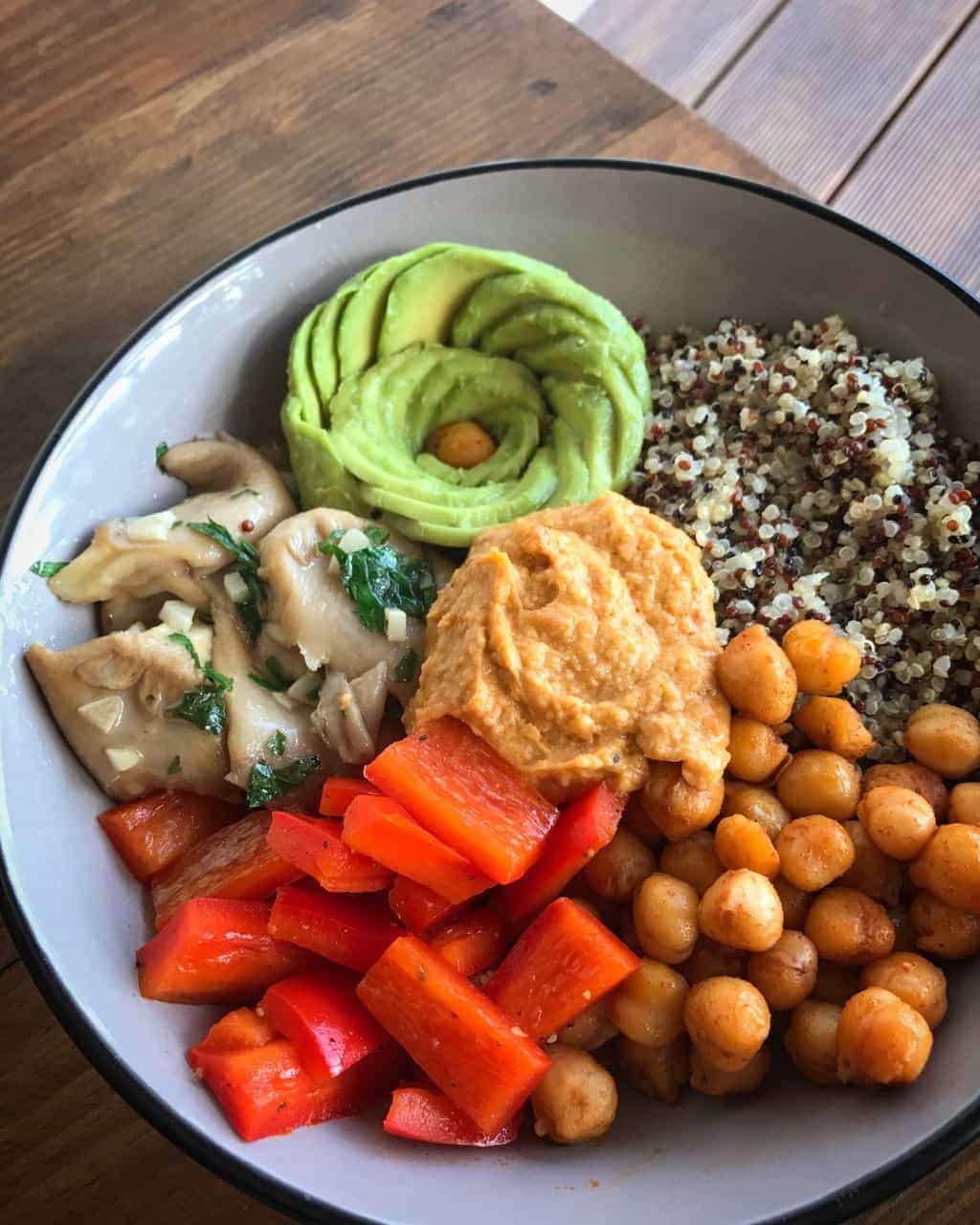 The next two days will be free of hiking, since I want to attend the farmers market de Puntagorda on Saturday and the rummage sale in Los Llanos on Sunday. My landlady Amana asked me and my neighbor if we would like to have dinner on Sunday at the beach bar in Tazarcorte. I am looking forward to it and am excited if and what they offer as vegan options.
See ya!
Love,
Rina