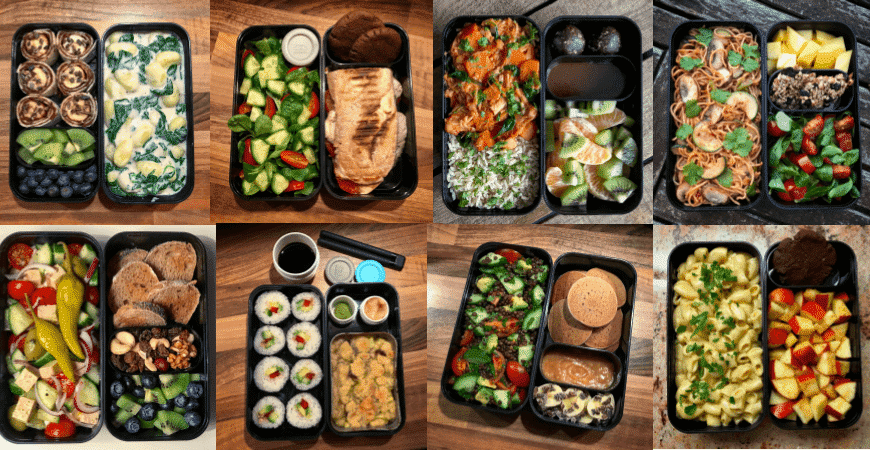 [Advertising: Affiliate Links]
Yes, I know this post is so overdue… For a couple of weeks now you can watch me post my lunchbox almost daily on Facebook and Instagram. Why am I doing this? Well, I just want to give you an inspiration on what to pack for lunch.
On weekdays it isn't always easy to stay on a healthy diet and after a long day at work not everyone is a super-creative mind in the kitchen. I want to show you, what I pack for lunch and that it doesn't take so much effort to make it as it might seem to.
Usually my lunch boxes are filled with left-overs from dinner. So I don't have to make two dishes in the evening and so I make two or even four servings to freeze and reheat on a day, when I come home very late. But I also like salads, sandwiches or wraps to put in my lunch box. By now I have different boxes for different kind of lunches that I want show you in this post.
I love bento boxes. Bentos are boxes that are somehow divided into small sections. It's not only nice to look at, when you open a colorful bento lunch box, it also helps me with portion control. I use three different bento boxes.
I have two Yumboxes. Those are made from bpa-free plastic and are available in four different sizes: snack, panino, classic and tapas. Unfortunately you can't buy the tapas Yumbox in Germany. I would have liked this one. So I bought the panino and the classic Yumbox. But why a Yumbox?
I spent a lot of time doing research on the internet about bento lunch boxes. And after hours I found that only two boxes have sections that are leak-proof. I liked the Yumbox better then, based on looks.
My résumé after using them for a couple of weeks now is, that the boxes are perfect for cold, not too runny dishes. Although praised as leak-proof, the boxes may leak watery liquids, such as watermelon juice or cucumber salad juice. But if the liquid is slightly thicker, such as a vinaigrette, it doesn't leak. It never leaked from the container itself, however, just between two sections a few drops of my tomato salad balsamic dressing went over to the apple wedges.
I often use the panino, that carries 3 cups, to pack a sandwich along with some veggies and fruit. I use the classic, that carries 2.5 cups, if I want to eat smaller portions from varied foods. This is how it looks like:
When I pack warm dishes and I need to rely on absolute leakproofness I use my Monbento. Thanks to a rubber band around the lids and a silicone plug, it closes airtight. If you don't toss it around, it'll be safe. I think it might open, if it falls down. But that never happened to me.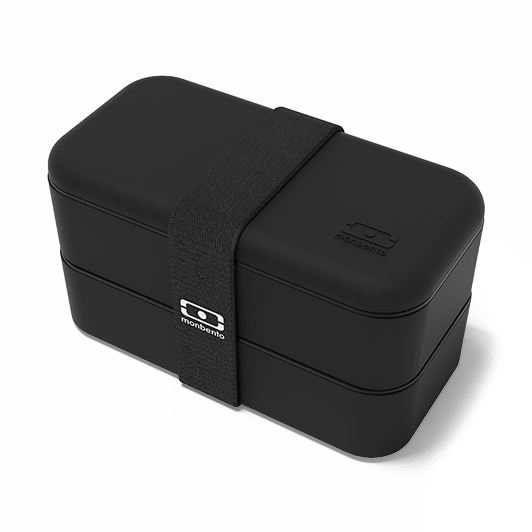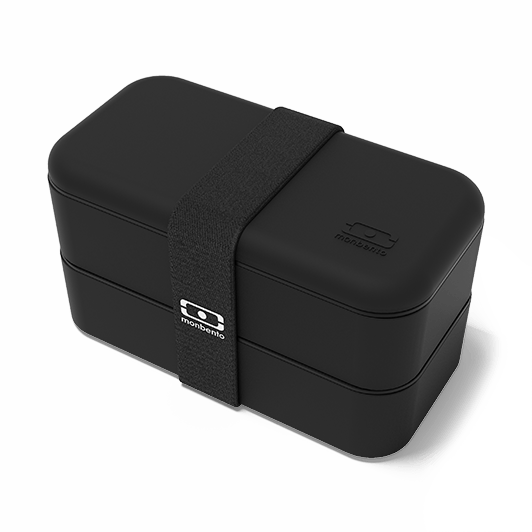 The Monbento is also made of bpa-free plastic and it's got two containers, each carrying 2 cups. You can buy a lot of accessories to go with your Monbento. I have the cutlery set, if I have to eat on the road, the chopsticks, which turned out not to be strong enough to lift my giant maki (I will try them again with a noodle dish), the sauce containers in small and large (the latter doesn't fit in the box!) and the silicon moulds, wich also allow to separate your food in the box and keep some foods like chia pudding, from running.
You can also use the silicon moulds to bake quiches or apple crumble in them and they will fit perfectly in your Monbento.
I also love the little food container to carry yoghurt, chocolate sauce or granola separately from the other food. You close the boxes with the lids after filling them and stack them onto each other. Underneath the top lid is just enough space to hide your cutlery set. To fix the boxes you use the elastic strap. Make sure it sits in the middle to keep your box leak-proof. If you only take one box with you, cover it with the lid and arrange the strap length-wise to keep it tight.
You can put the box in your dish washer and up to three minutes in the microwave. So you can reheat your meal at work.
I usually divide my box in a main dish and a snack or dessert part. This looks like that:
I love how beautiful my lunches look and always look forward to my lunch break. A day can't be bad, if you have an amazing lunch. And when it has been a bad day, things can only be better afterwards.
I will continue posting my lunches in my bento boxes. Follow me on Facebook or Instagram to stay tuned.
Love,
Rina