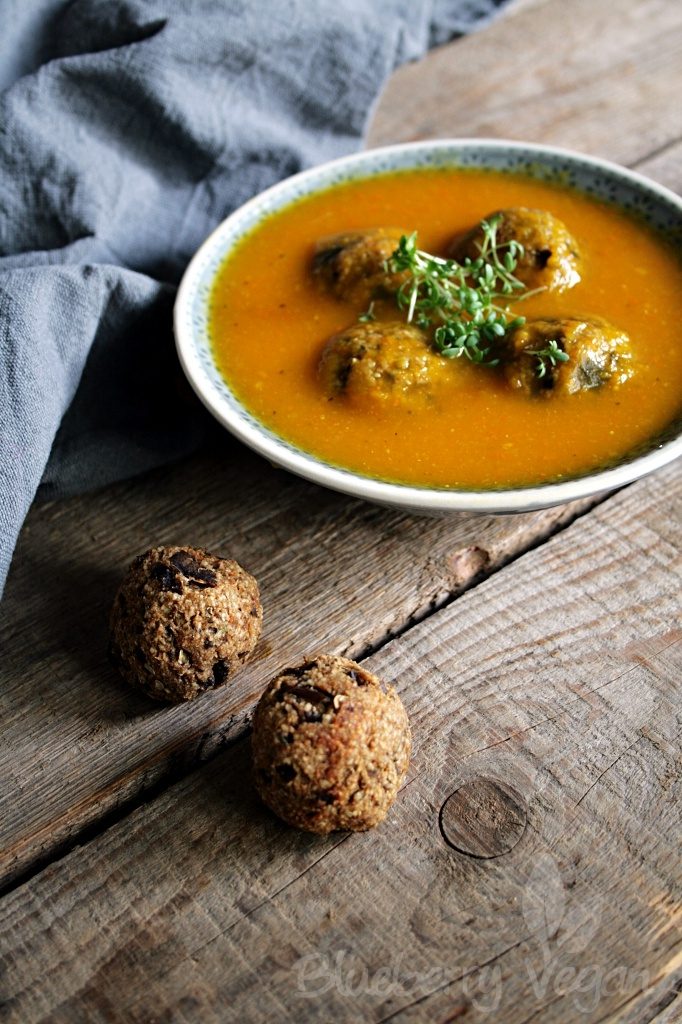 [Advertising: Affiliate Links]
Autumn is pumpkin season. And I love pumpkin! I think there are only a few vegetables, that are as versatile as pumpkin is. I like pumpkin roasted in the oven, as pumpkin fritters, in a risotto and even in muffins and blondies. And not to forget the classic pumpkin soup.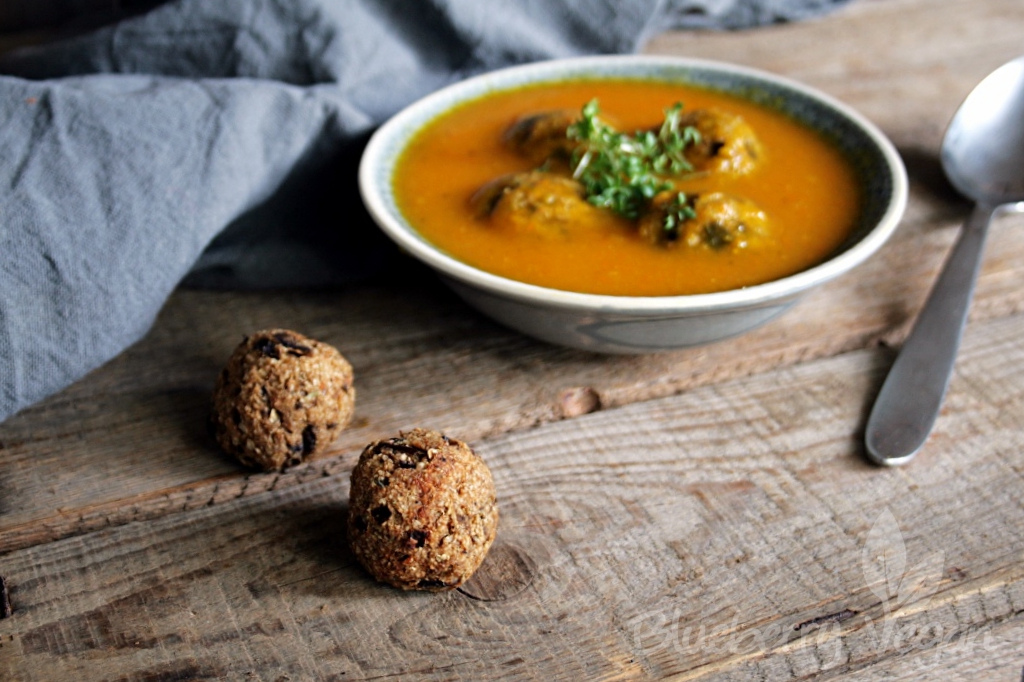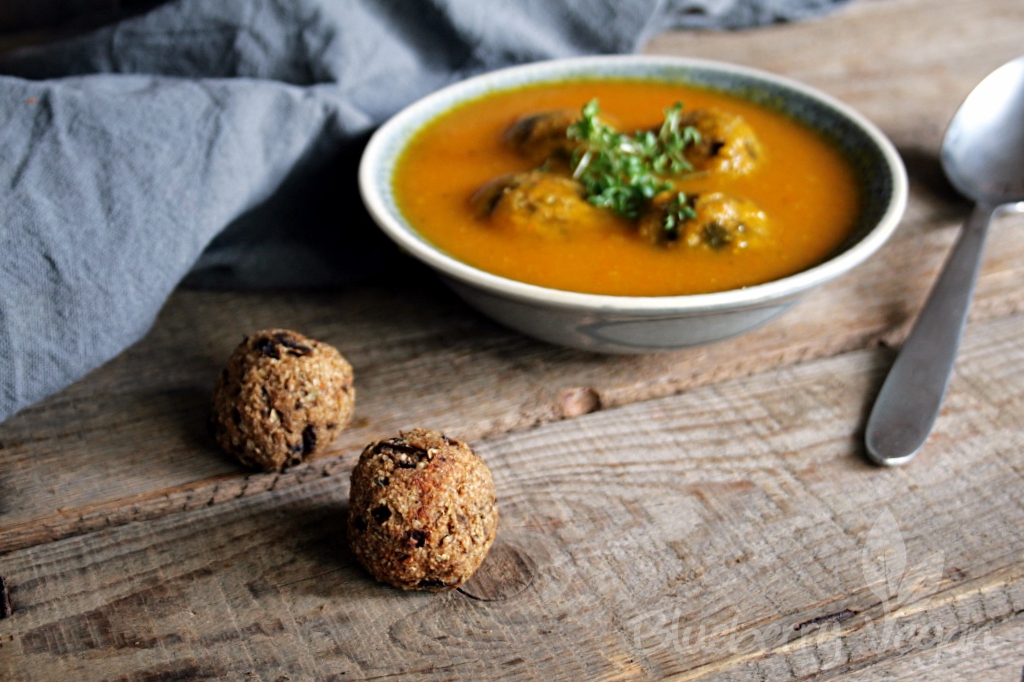 I make my pumpkin soup the same way for years now. It is too delicious to change the recipe. Back when I ate meat, I loved meatballs in this soup. So if you are too lazy to make the eggplant balls just throw in some vegan meat balls from the store.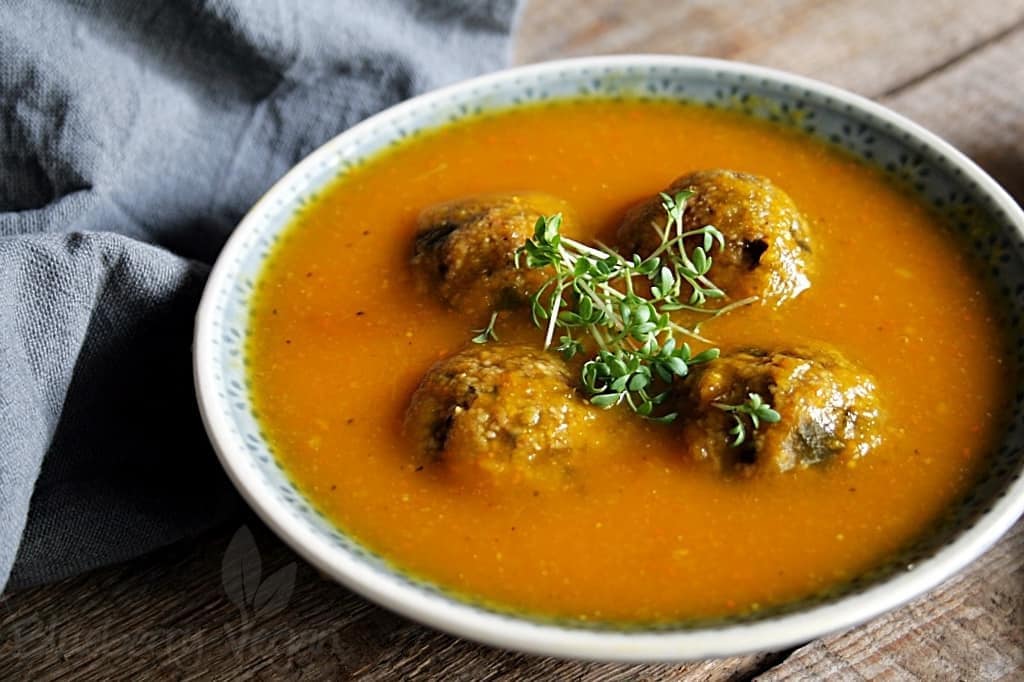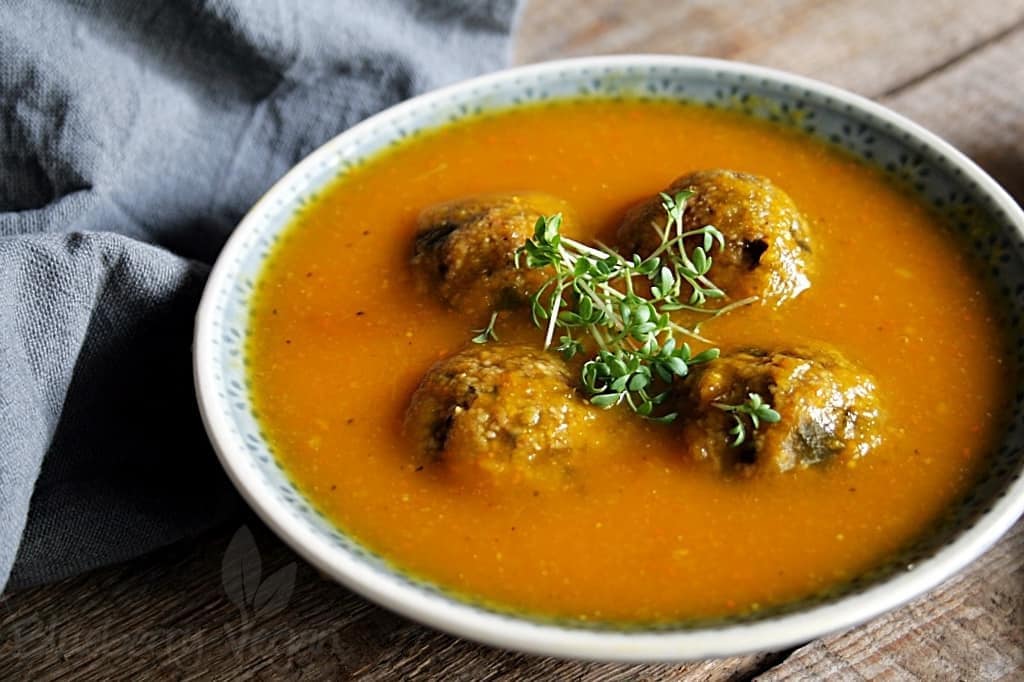 The eggplant balls are also great in tomato sauce as "Lady and the Tramp Pasta". I hope you enjoy this soup.
Love,
Rina
Pumpkin Soup with Eggplant Balls
Zutaten/Ingredients
For the pumpkin soup:
1 big onion
800 g (28 oz) pumpkin - hokkaido
1 bunch soup vegetables - carrots and celery root
1 small piece ginger
1 tbsp oil
1500 ml (6 cups) vegetable broth
salt
pepper


For the eggplant balls:
1 1/2 tbsp flaxseed, ground
4 tbsp water
300 g (10.6 oz) eggplant
100 ml (1/2 cup) water
1 tsp oil
1 small onion
1 clove garlic
1/2 tsp thyme
100 g (3.5 oz) breadcrumbs
1 - 2 tbsp nutritional yeast flakes
1 tsp salt
pepper
1/2 tsp paprika powder, smoked
1/4 tsp cumin
1 tsp mustard
1 dash lemon juice


To garnish:
Zubereitung/Instructions
Pumpkin soup:
Roughly chop onion, pumpkin and soup vegetables. Finely chop the ginger. Heat the oil in a bit pot and sauté the onion until translucent. Add pumpkin, soup vegetables and ginger and briefly brown from all sides then deglaze with vegetable broth and let cook for 20 minutes.
Then purée the soup and season to taste with salt and pepper.


Eggplant balls:
While the soup is boiling make the eggplant balls. Preheat the oven to 200° C (360° F).
Combine the flaxseed with 4 tbsp water and let jelly. Cube the eggplant and cook in 1/2 cup water until soft for about 8 - 10 minutes, stir occasionally. Then transfer to a food processor. Finely chop the onion and press the garlic. Heat the oil in a pan and sauté the onion until translucent. Then add the garlic and thyme and toast for a few seconds until fragrant. Transfer to the food processor along with the other ingredients and mix to a chunky batter.
With your hands form little balls from the batter and place them on a lined baking tray. Bake in the oven for 20 minutes and toss around after 10 minutes.


Add the balls to the soup and arrange in four bowls. Dress with cress and serve.
Tipps/Notes
The eggplant balls are also great in tomato sauce and even better, if they have some time in the sauce or soup to steep. I like the
veggie broth from Cenovis
best, by the way. You can buy smoked paprika powder in well-sorted supermarkets or online:
smoked paprika
. I made the eggplant balls in my
food processor
.