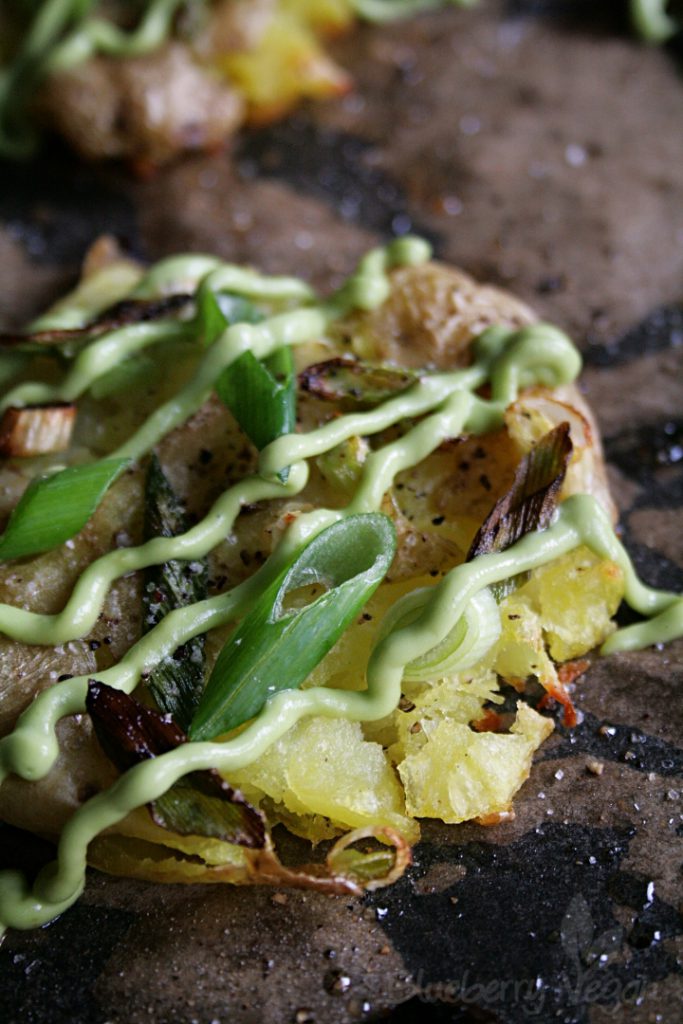 [Advertising: Affiliate Links]
Potatoes are so changeable and in all different ways they are delicious. I don't know anybody who doesn't like potatoes in some form. There's potato salad, fried potatoes, mashed potatoes, hash browns and of course french fries.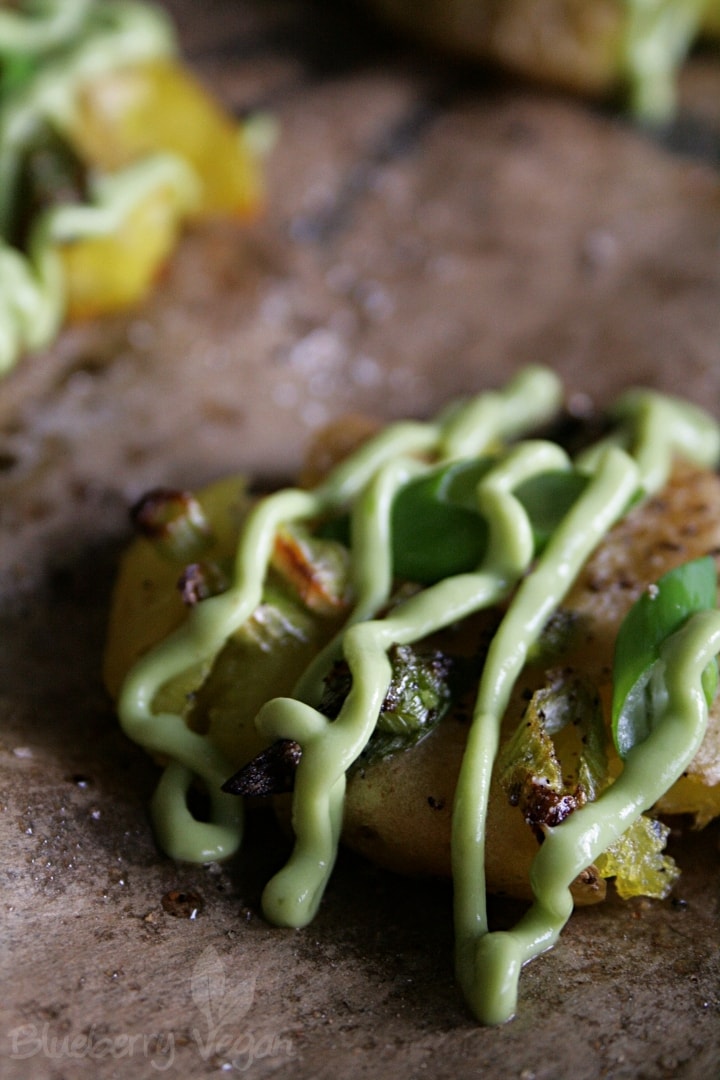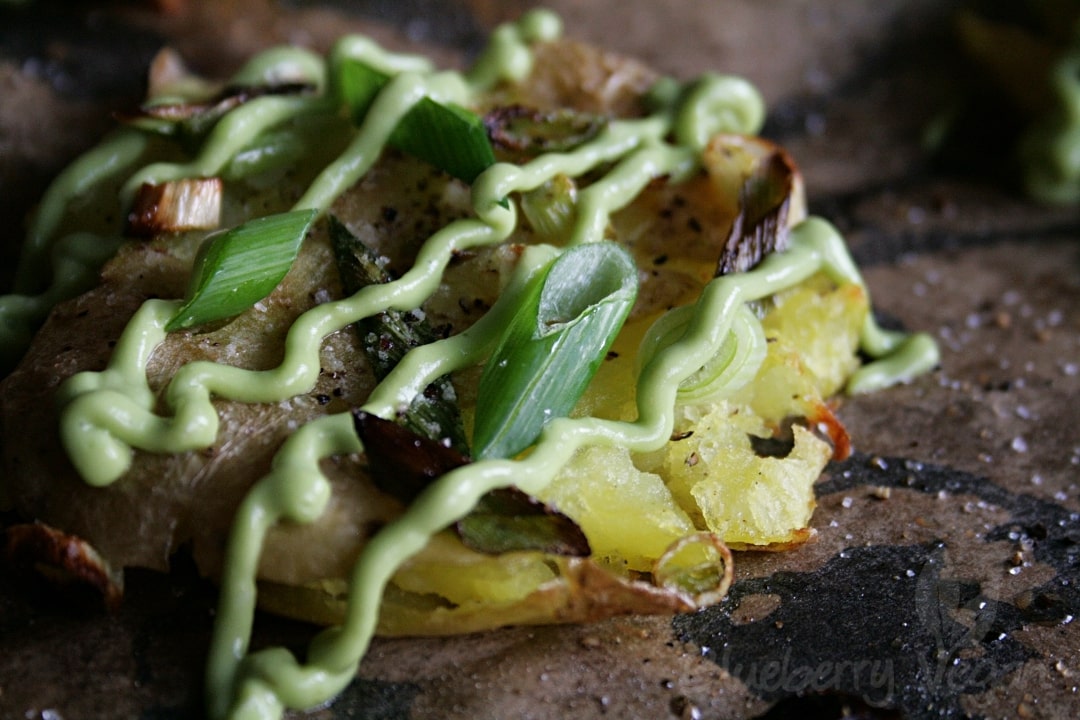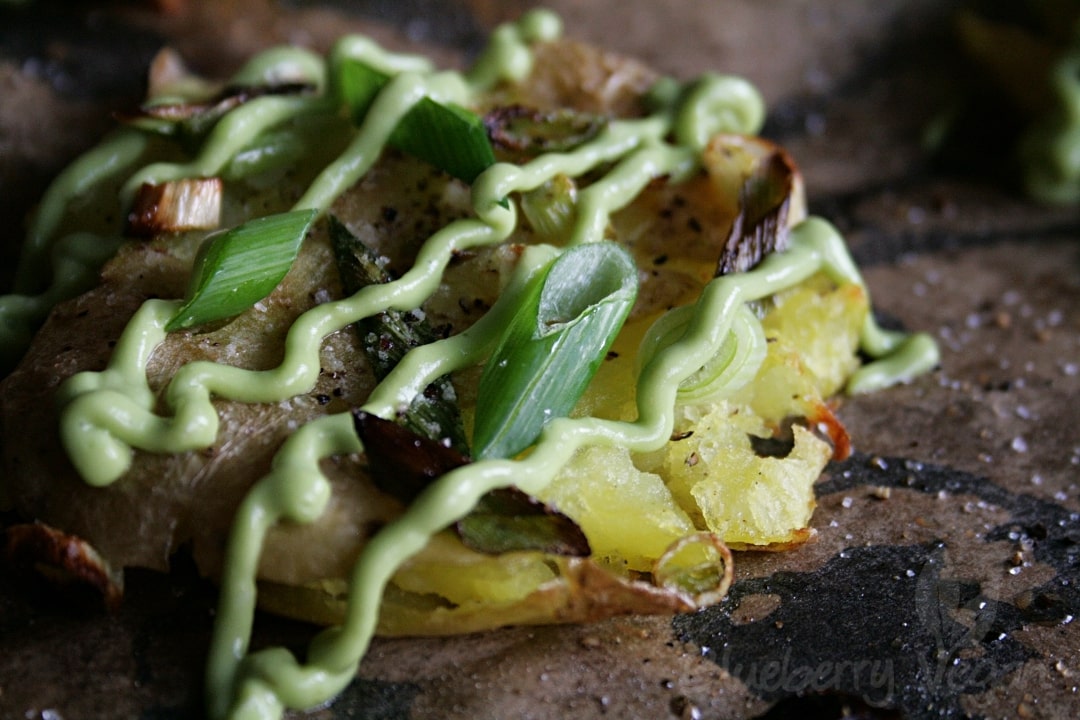 A couple of days ago I was craving potatoes and I made these tasty smashed potatoes. It's a perfect dish if you have cooked potatoes left over. But it is also worth it, to cool some potatoes to smash and bake them, because they are fantastic!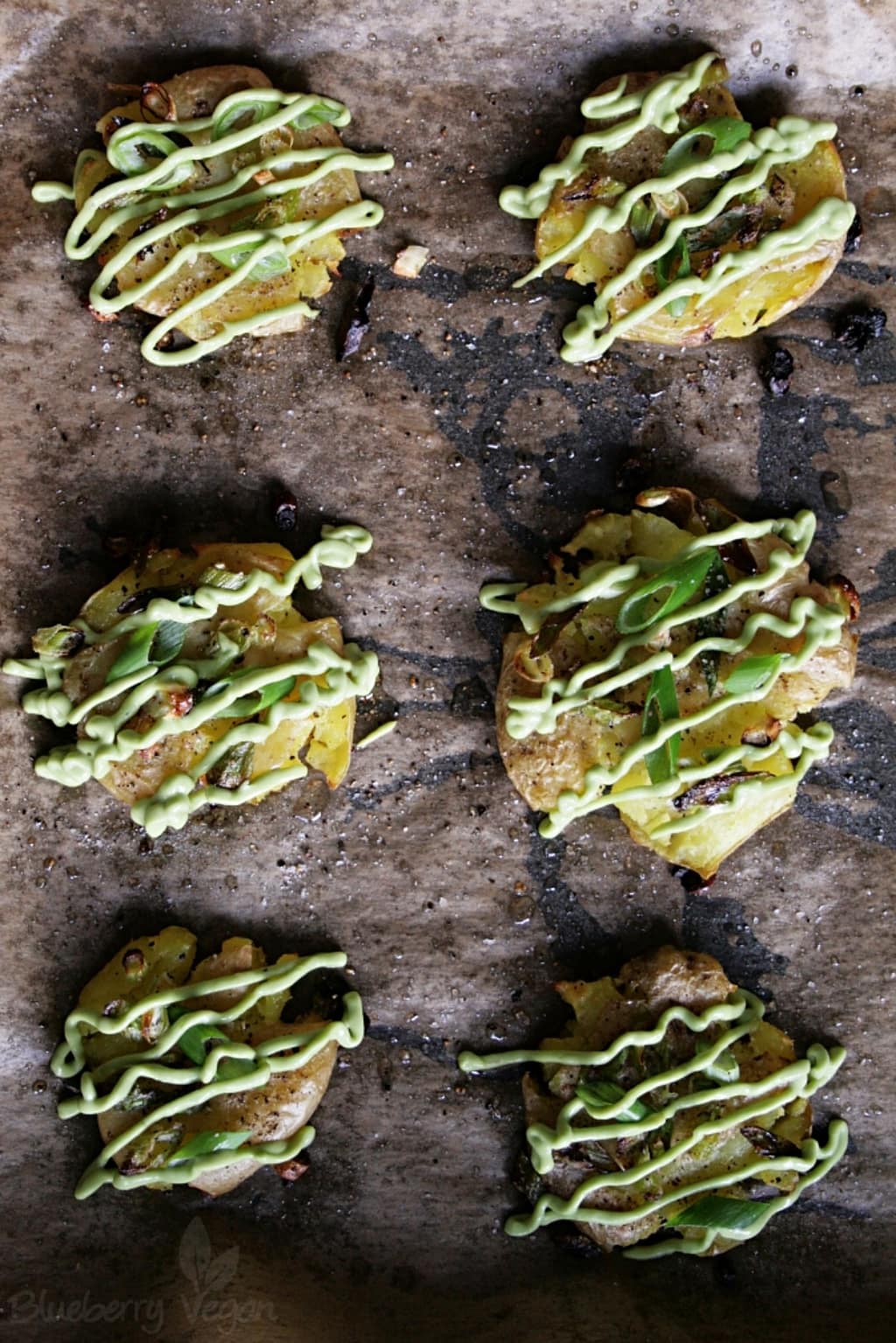 They are so easy to make. Just cook some small potatoes, smash them on a baking tray and bake them in the oven until they are crispy.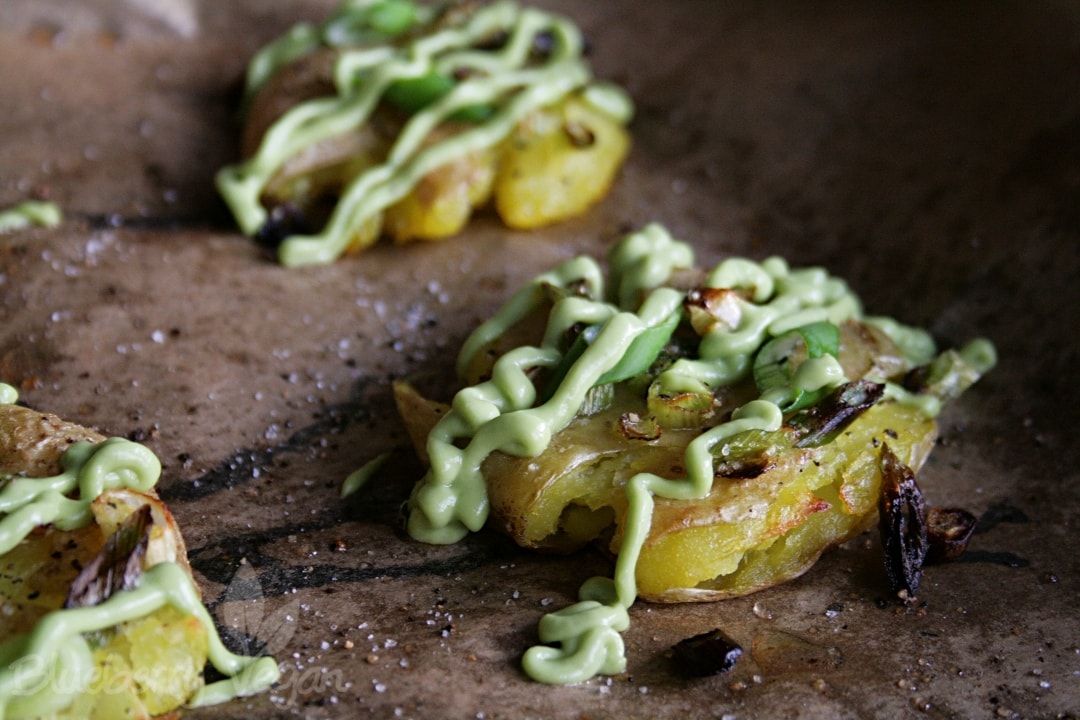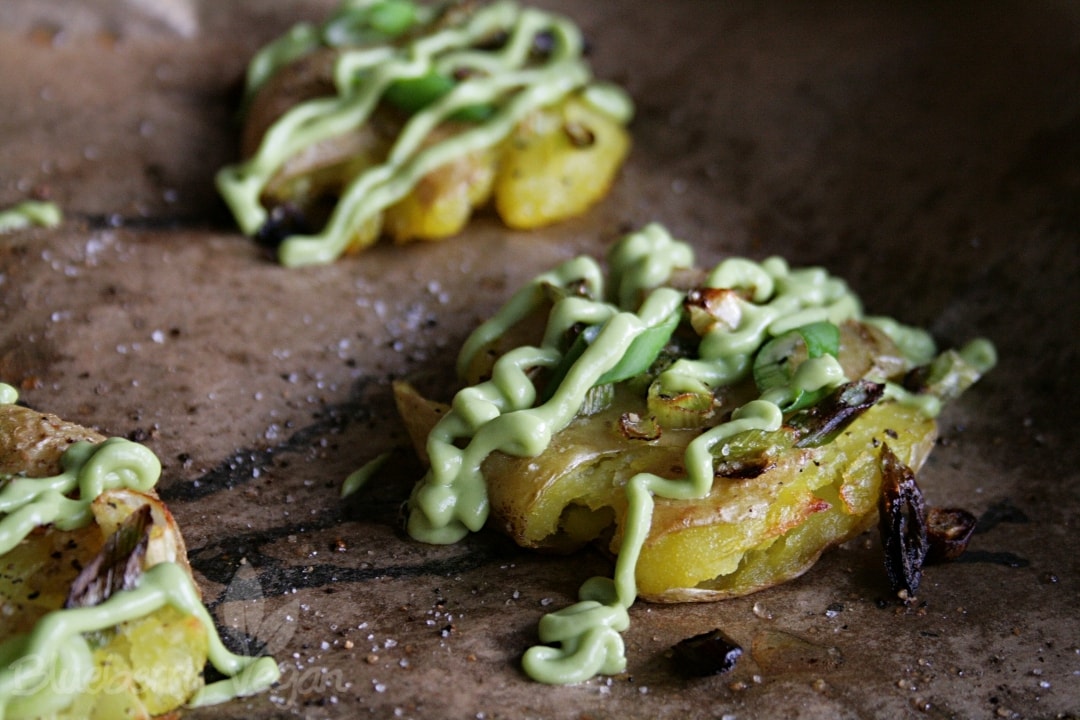 A perfect combo is smashed potatoes with avocado aioli. If you serve the potatoes with a salad you can have this snack as a main dish.
Enjoy!
Love,
Rina
Smashed Potatoes with Avocado Aioli
Similar to the idea of Angela Liddon, Oh she glows
Zutaten/Ingredients
For the potatoes:
750 g (26.5 oz) small potatoes
2 tbsp oil
salt
pepper
4 green onions


For the avocado aioli:
2 tbsp vegan mayo
1 avocado
1 tsp lemon juice
1 - 2 cloves garlic
salt
Zubereitung/Instructions
Wash the potatoes and cook them in salty water until tender. Preheat the oven to 220° C (425° F) and line a baking tray with parchment paper. Cut the green onions into rings.


Drain the potatoes and briefly refresh them. With a spatula flatten the potatoes next to each other on the baking tray, add the onions, season with salt and pepper and sprinkle over the oil. Bake in the oven for about 15 minutes until golden.


Blend all ingredients for the avocado aioli until smooth. To make it easier to add the aioli to the potatoes in a nice way, pour it into a freezer bag and use it as a piping bag by cutting off one small corner.


Remove the potatoes from the oven and spritz over the aioli. Serve immediately!
Tipps/Notes
Make your own
mayo
! You'll just need 5 ingredients and 2 minutes...