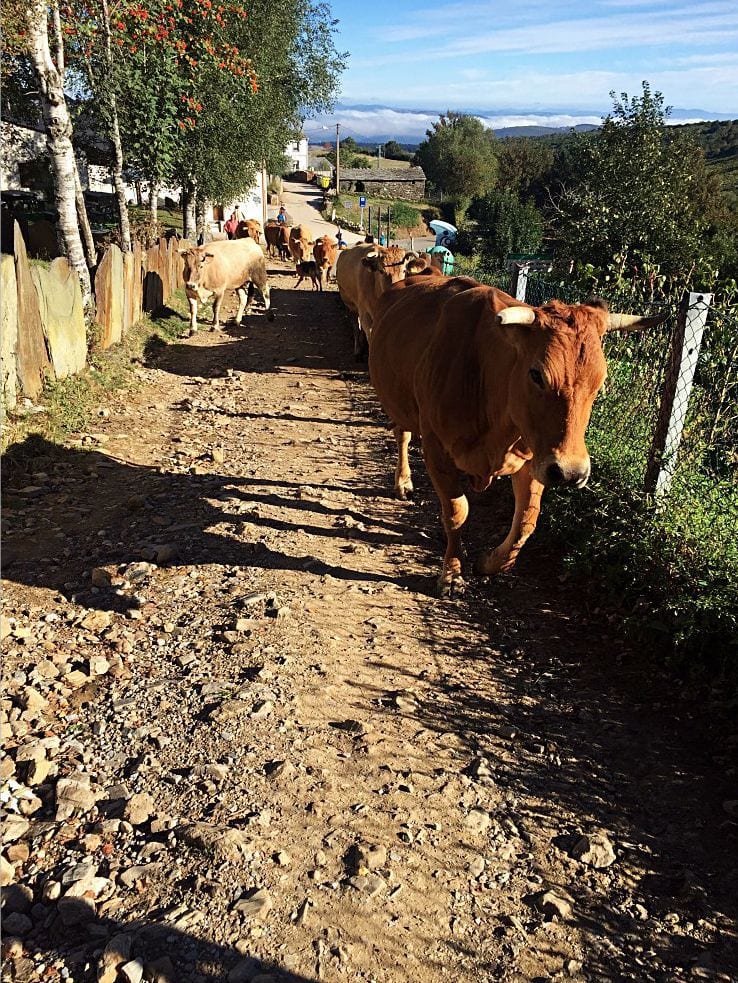 After a short, cold night in the church, we started the day earlier than yesterday and start at 7. The target place is triacastela which is 26 km (16 mi) away. Since we walked all the way up the hill yesterday, it's the descent today. I am not looking forward to it. I hate descents and their pain, they are causing. The remaining days, before I arrive at Santiago de Compostela, I will walk until noon, and then check in at the albergue, where I got. The thrill of getting a bed or not is nothing for me. "I am too old for that shit!""
I am confused, that the trails goes up and down, no steep descent on the first 20 km (12.4 mi), only the last 6 km (3.7 mi) are hard. On the top of the mountain I take a break and have a few cookies. That is all I got last night in O Cebreiro. The sunrise is beautiful and I have a tea with a lot of sugar. It's very cold this morning and around some bushes it seems to be even colder. When you look at the vegetation you can tell how high we are. There are no trees, but lots of gorse, heather and similar plants.
The last 6 km (3.7 mi) I use my hiking sticks to get some of my weight off my knees and feet. This way I make it to the albergue, which opens at 1 p.m.. So I sit in a café and wait the 30 minutes before I check in. It's the worst albuerge so far. There are rooms with four beds, all next to each other on the hall and there are only winged doors, that make a horrible noise. So there is no silence. The beds are so rickety, that I almost knock them over, when I try to climb up with my blisters on my toes.
First I have a long shower and wash away the dirt of two days and then take a nap, while my MacBook, my battery and my phone are charging. My right little toe is one blister again. The first blister didn't heal properly, so there is a new blister forming underneath the old one. That hurts. I can't step on my right foot. So I limb to the supermarket and buy baguette, chocolate and some salted peanuts for my breakfast. I am lucky, that it is open, because it is Sunday.
As I return to the albergue Sam and Julia plan to go somewhere to eat, because the albergue has no kitchen. I throw my dirty clothes with some shampoo in the laundry machine and follow them. I have salad, fries and olives again. I hope this will get better again. In galicia there are fewer albergues with a kitchen, which I pity. The time we spent cooking and eating together, I enjoyed most.
After dinner, I write a bit about my adventures while my clothes are drying in the tumbler. Then I go to bed early, because I am tired and want to get more sleep than yesterday. I hope tomorrow' s going to be a more leveled trail, so that my legs and feet have a rest…
See you tomorrow!
Love,
Rina