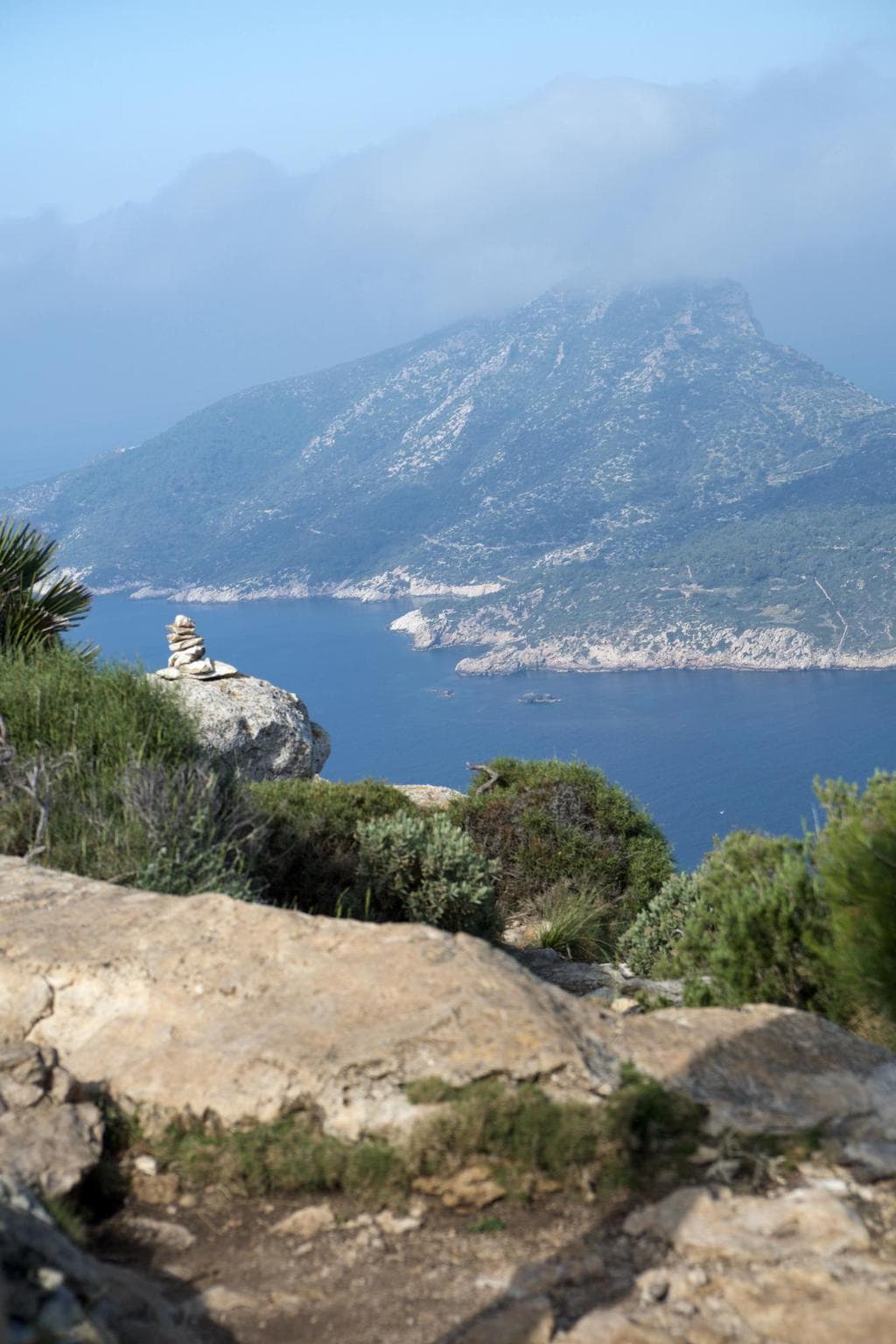 I wake up early this morning and so I gamble on my phone for a while, because breakfast will be served from eight o'clock. The buffet is rich and I can choose between oats with fruit or rolls with margarine, tomatoes and cucumber. I also prepare two rolls to take with me for lunch and then start my hike.
The mini market in which I want to get something for dinner is really mini. They don't offer hummus or guacamole or anything else I could dip a roll in. But I still get a roll and a small can of olives. Maybe there is another shop on the way to get a spread. But I won't starve tonight, because I still have enough fruit and cookies.
I wander around the streets of Sant Elm and then exit the town. It is warm and muggy and I sweat after a few minutes.
Suddenly I feel like being on the Camino de Santiago: Me, alone, in the morning with nothing to hear but my steps on the rocky ground. And I instantly remember the song that Sam, Lara, Jonas, Sandra and several others made up on the Camino. It's called El Camino. I laugh while I hum the melody.
The next 30 minutes I go straight up the hill. It's just up, up, up. Steep, steeper, the steepest. I am so sweaty and gasp dreadfully. But I am rewarded with an amazing view to Sa Dragonera.
While I am taking photos my glasses fog. My touch ID on my iPhone doesn't work anymore, because of my sweaty hands.
I notice that I haven't seen any rubbish lying around on the trail so far. Remarkable!
And now it's time to climb up the rocks! I am asking myself, if this is the right way, but is the only way to go ahead. With my hands and my feet I climb up the rocks that are up to three meters high. Sometimes there is only a gap to step in. Behind me it goes right down the cliff. One misplaced step or leaning to far backwards and I could fall. I am surprised how easy I take this passage. Maybe sometimes you just have to be confronted with a problem and then just go through it, don't think!
As I arrive at the top, I take a banana break. A couple from Austria also rests here and talks about their further hike.
When I continue, I am finding myself going further up. Aren't we there yet? Then the way goes down a bit and I have to climb over a fence. There is a lot of buzzing around me from the high grass and I see the first sign of the trail.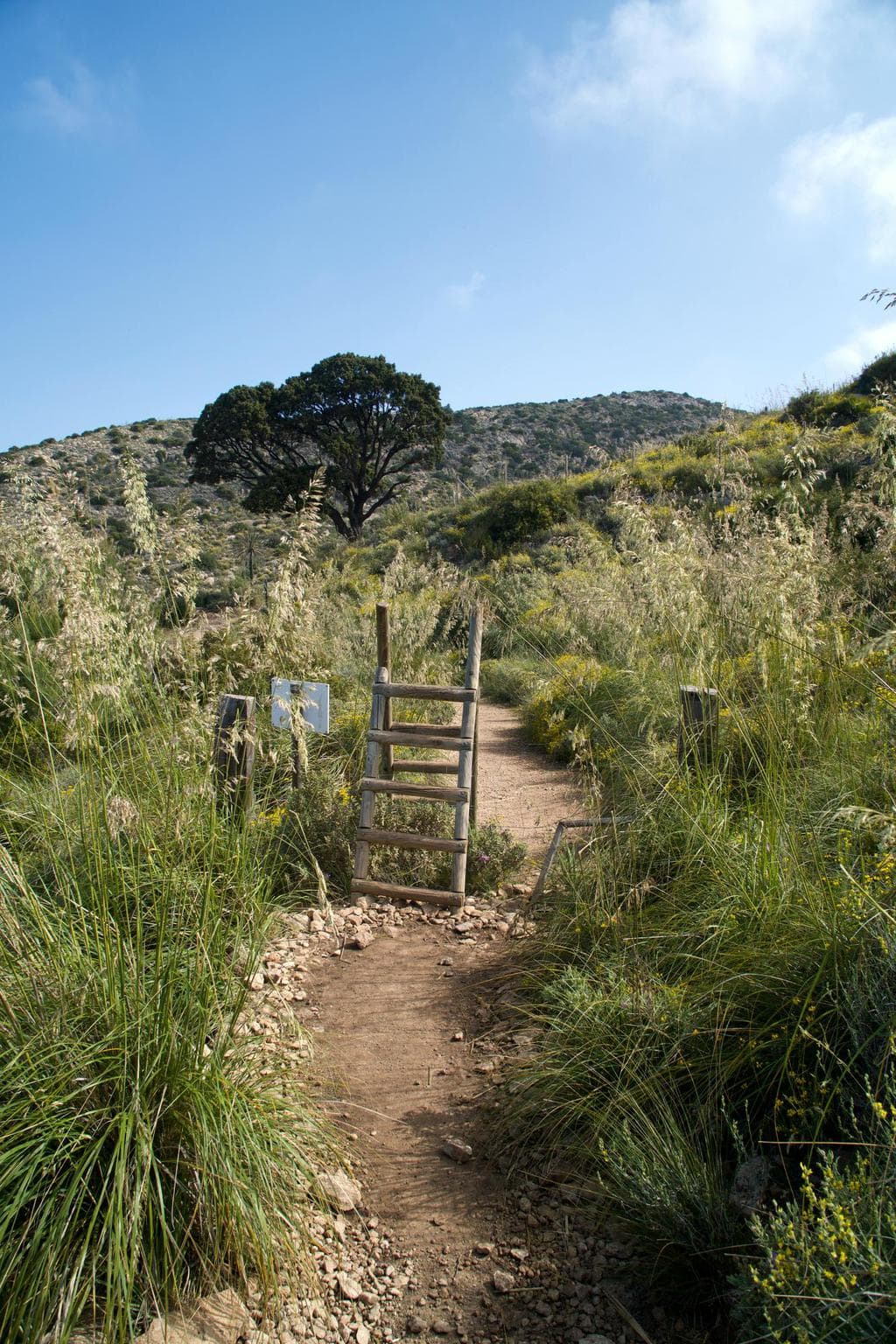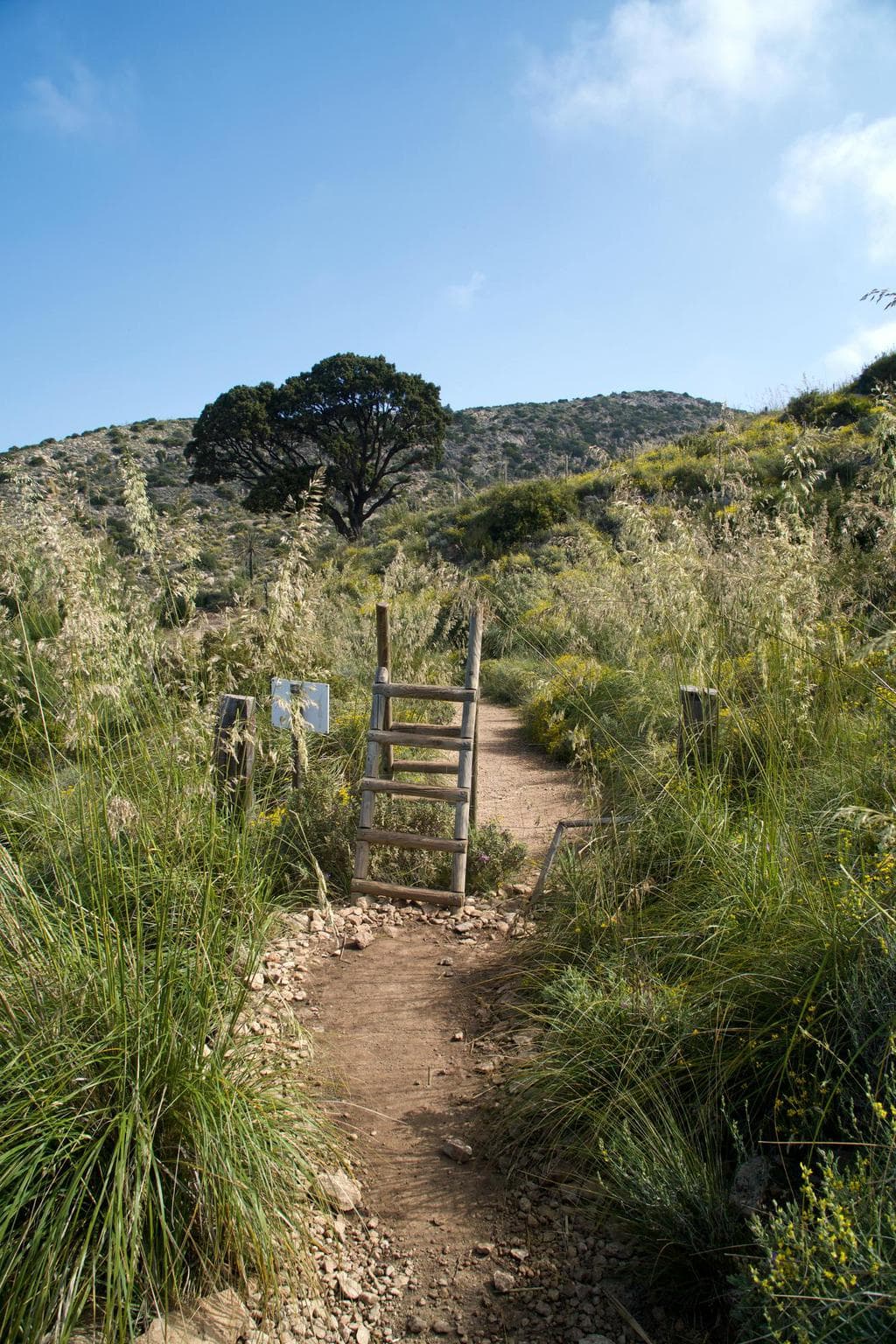 And then it goes… Guess what! Yap, steeply up again. I have to make a lot of stops to get some air. The reception is gone and the grass is higher than I am. The blades are tickling my lower arms. In between gorse is blooming. I only make one kilometer from the last break as I stop again to tape my sore soles. It is so quiet up here. Only in the far there is the sound of the sea and the crackling of the grass blades in the wind.
My legs are getting heavier and heavier as suddenly a trail runner jumps past me like a gazelle… Respect! And once again I ask myself: "Aren't we up the hill, yet?" I am actually after a couple of minutes. I have to concentrate not to trip on the rocky path.
Suddenly clouds are coming over the mountain. What a great view! I think this is the place of Serra Tramuntana that I saw from the plane, as the clouds came over it from the sea. I see some hikers in the far, approaching me.
As I pass the group of day hikers I ask myself, if they are going down the rocks, where I climbed up. I couldn't do that! And there were some older people in this group. So I think there is another way down.
Suddenly I roll my ankle and almost fall down. I find balance the last second and luckily I have boots that cover my ankles, so my tendons are fine. I stop from time to time to listen to the sound: there is nothing! So great! It gets windier and colder. After 2 1/2 hours of hiking I made it through half of the stage.
I hitch down my sleeves, because it gets much colder. Thus the grass blades aren't tickling anymore. I am now on a more broad trail. On the right is an old hut that I am going to look at, although it is the opposite way. After that I am back on the right track.
I am surrounded by mountains and I take a 360° photo for Facebook. It is so great what you can do these days and share it with everyone. It is especially cool for people you can't go here. So they can be "with me", too.
Getting a bit hungry I decide to walk for another hour and then take a lunch break. Suddenly I ask myself, if my accommodation is on the way or if I had to go somewhere else, I don't want to go to far, or even worse, the wrong way. Just when I have reception again I am checking and see, that the finca is exactly on the way. Perfect!
When the way is not as challenging, I babble to myself. Yeah, I do have all my marbles. Just hike straight for some time. I tell you: Thoughts are getting louder. Especially songs and promotion jingles.
After 45 minutes it is only two kilometers to the end of this stage, but I still take a break to have lunch, because there are picnic tables here that kind of invite me. I was just thinking that I am not as exhausted as I usually am, when I sit down an feel exactly what I have done today. I take off my shoes and enjoy my rolls. Britt will be at the finca at four, so I have plenty of time.
A French couple ask me for the way. I guess with a map the way isn't always so easy to find. It is super easy with my GPS track though. I haven't lost my way so far.
After just 15 minutes my feet are dry and as I get up to go ahead it is quite easy. I remember the Camino and how hard it was to go on after a break. I had so sore muscles, that I don't have this time. Maybe I am finally used to this long-distance hiking?! Then I also remember, that most of the time I made double the kilometers, that I made today.
It was good, that I took a break, because the last two kilometers along the road are a bit stretchy. But the view is amazing.
The track says I have to leave the street and go right. Four Spanish guys also seem to look for the way. They ask me for the way, but then don't follow me. Fair enough. The finca is about 400 meters further down the road. (About 45 minutes later they walk past me, as I wait near the finca.)
It isn't 2 p.m. yet, so I have plenty of time. A few quad bikers take a break at the finca and fill the idyll with sound. I would love to sit more comfortable, but they are too loud for me. Somewhere down the road there is a garden with a gate which I lean against. It is much more quiet here. Only a dozen frogs croak like there's no tomorrow.
"What do you want?", a man asks me, approaching me. I say:" I have a reservation." "Check-in is at 5 p.m.." "I know, I have my laptop with me, I get by!" "But not here. We have quests in the rooms [you don't say!] and thus we tell you to come here at 5 o'clock. The hike takes four hours. Otherwise you sit here and disturb the quests". I want to turn around and look for the other half of you (he used the plural), but I don't, because I know that I am alone. "It took me five hours to get here and well, here I am." "Then start later!", he says shortly. "Why don't you come back later?" I look at him incredulously: "Where should I go??? There is nothing around…" "The finca is big", are his last words, while I walk past the laughing quad bikers and follow the GR 221 to sit down above the property on a fallen tree. I am pissed. This isn't how I have imagined my stay here.
The next three hours I spend at the fallen tree. Sitting on it and then lean against it to change the pain in my butt and back from time to time. I edit pictures and write the report to throw together when I have reception again tomorrow.
It is getting cold and I put on my fleece jacket. A few cookies sweeten my work.
The next three hours I see nobody, except for the Spanish guys. I wonder about the French couple. They wanted to go to Estellencs today and should have showed up. Maybe they changed their minds or got lost? As I am sitting here, I realize that I haven't peed once today. I plan to get a big bottle of water and empty it before going to sleep.
At 5 o'clock sharp, I ring the bell at the reception hut and Britt shows up, who is much friendlier. She shows me the sleeping room and I pay her for the bed. All the lower beds are already taken. I wonder how this could happen, since I checked-in one minute after the possible check-in time. It seems as if some people checked in earlier… I am looking forward to a hot shower. The three hours that I sat on the fallen tree in my sweaty clothes got me freezing. The shower skips from hot to cold every ten seconds, but I don't care. I skip washing my laundry, because it wouldn't dry anyway. I sit down outside where four British people are playing canasta. The atmosphere is somewhat different than on the Camino. A women who is traveling with her daughter talks to me a little, but she seems nice. The British people just look at me and another guy talks to me, if I am hiking alone and then tells me, that he respects that.
I hang around in the garden and take some photos of flowers and the ducks, that walk around here. In the far there is the sound of bells that hang around some sheep's necks and that make noise as they jump up and down the hill. If I could jump up and down hills that easily!
In the evening I eat my roll with the olives. As one of the British guys goes for a wine and beer purchasing walk, I ask him, if they only sell big bottles of wine and he confirms my assumption. And not five minutes later I have a glass of wine on the table: "Enjoy!", are his words. What a kind gesture! Later one of the women comes to me to give me a refill, but I decline with thanks, because I want to be fit tomorrow.
And then the man from earlier this day approaches me and asks, if everything is okay. He explains, that he didn't want to upset me, but many quests are compelling about loud hikers bunking in front of the apartments. He read my blog and was fascinated on how detailed I planned my trip. Many people are obviously flying to Majorca and then collect information about the GR 221. His now friendly talking conciliates me with earlier and I enjoy my grapes. I have to eat them tonight, they start to mold.
Around half past seven I start to freeze outside, so that I go inside. I change into my skiing underpants and slip into my sleeping bag. Oh yeah, I am getting warmer. Although I don't mind having no reception I miss watching one or two episodes of my series on Netflix. After brushing my teeth, I grab a dollop of foot cream and climb up on the bed, which is not that easy with one hand full of cream. I get into my sleeping bag and the warmth makes me sleepy. I listen to an audiobook and fall asleep very quickly.
Love,
Rina