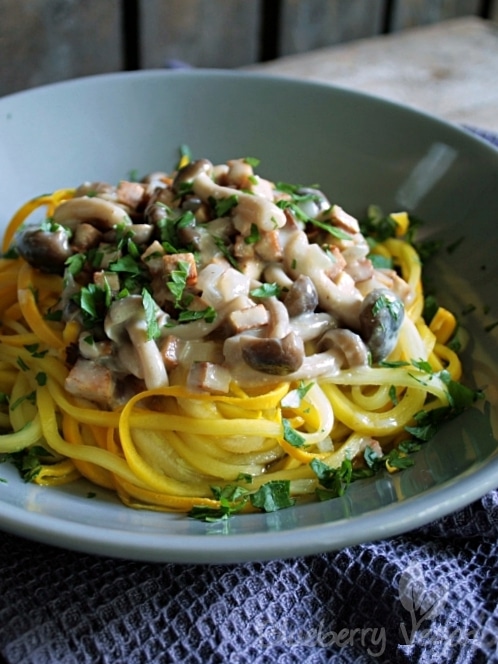 [Advertising: Affiliate Links]
Noodles made from zucchini, called zoodles, are a simple way to make noodle dishes light and easily digestible, so they don't stress you on hot summer days.
But even when it's not summer, but your pants are pinching a little, they are perfect, if you want to enjoy all the flavors in your meals and cut out excess calories and carbs in the evening. I eat zoodles with the same sauces, as I eat regular noodles. When I am really lazy, I combine a spiralized zucchini with a store-bought vegan bolognese sauce and microwave it for 3 minutes. Then I sprinkle over some nutritional yeast flakes as a parmesan substitute. There's no faster way of having spaghetti bolognese.
Today I was in the mood for a carbonara sauce. I also had some shimeji mushrooms in my fridge. So I joined both. The sauce also tastes great, if you omit the mushrooms. If you can't find shimeji, use brown mushrooms instead and quarter them. There are a lot of spiralizers on the market. Since I have a lot of kitchen tools and don't spiralize daily, I chose a cheap and handy one. With this tool you cut the zucchini as if you are sharpen a pencil. So when you buy the zucchini make sure, that they are as straight as possible to get beautiful zoodles. Luckily the zucchini from my garden were only a little bandy.
Enjoy your light meal!
Love,
Rina
Got a craving for mushrooms? Finde more recipes here: pulled mushroom bites, fried mushrooms like from the fair, mushroom potato stew, mushroom pot pies and many more…

Zoodles with vegan Mushroom Carbonara
A low carb noodle dish with delicious, vegan carbonara
Zutaten/Ingredients
2 medium-sized zucchini
1 pk. shimeji mushrooms - alternative 2 handful brown mushrooms
100 g (3.5 oz) smoked tofu
1 small onion
1 small clove garlic
1 tbsp olive oil
1 pk. (1 cup) soy cream
150 ml (1/2 cup plus 2 tbsp) vegetable broth
1 tbsp nutritional yeast flakes
1/2 tsp salt
1/4 tsp Kala namak
1/4 tsp pepper
2 tbsp parsley, chopped
Zubereitung/Instructions
Spiralize the zucchini. Finely cube the smoked tofu and onion, press the garlic. Cut off the wooden ends of the shimeji mushrooms. If you use brown mushrooms, remove the stems and quarter them.


Heat the oil in a pan and fry the tofu cubes until crispy. Add the onions and sautée until translucent. Then add the garlic and mushrooms and sautée briefly. Deglaze with soy cream and vegetable stock and season with the spices. Add a little more salt to the sauce, since the zucchini will need it.


Either fold in the zucchini and heat them up in the sauce for about 2 - 3 minutes or blanch them in salty water for 3 minutes, arrange them on plates and pour over the sauce. Sprinkle with parsley.
Tipps/Notes
The carbonara also tastes great, if you omit the mushrooms and serve it with normal noodles.
Kala namak
is a salt, that adds an egg flavor to your dish. You can replace it with regular salt, if you don't get it. The
nutritional yeast flakes
make your sauce tangy and add protein and b-vitamins to your dish.