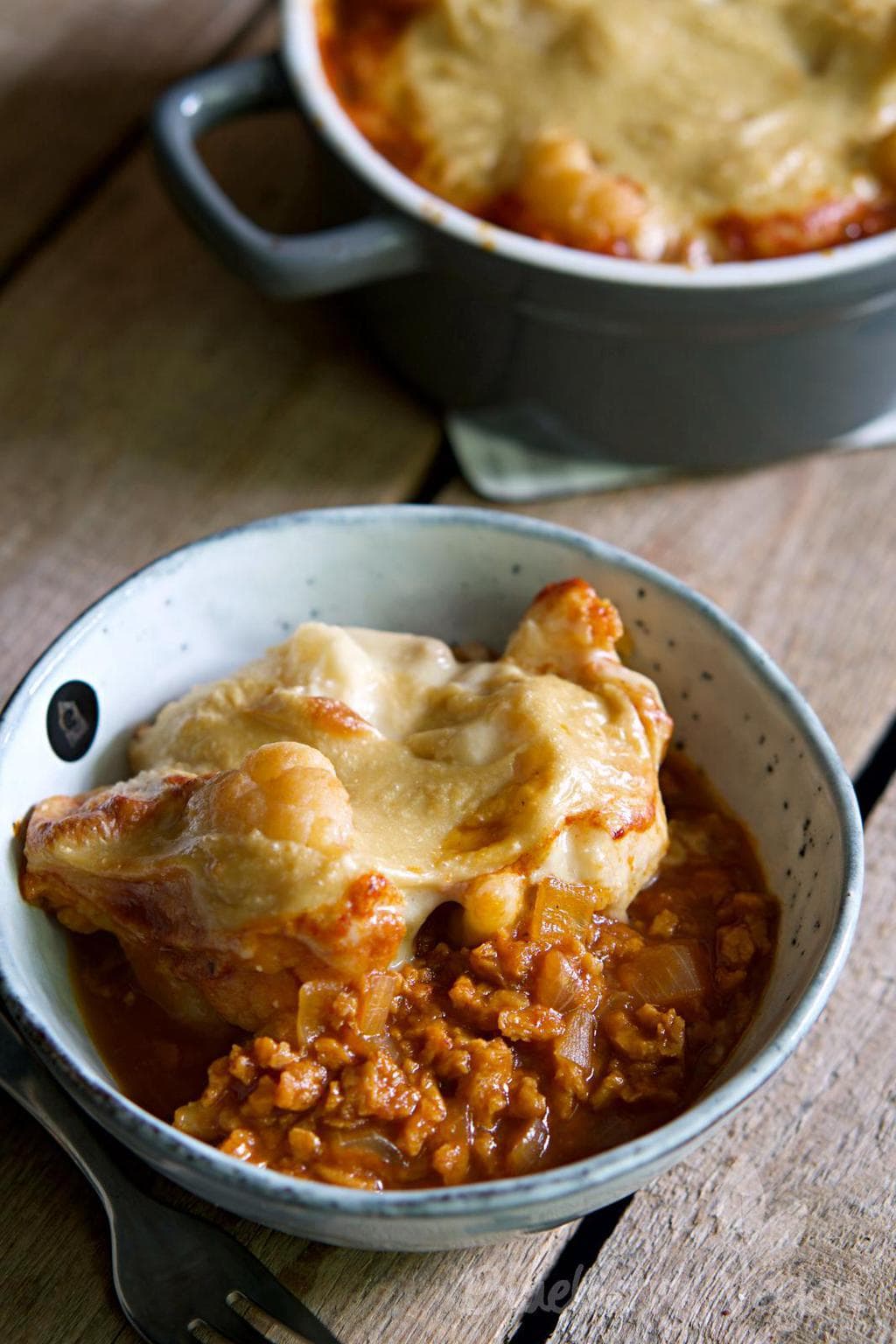 [Advertising: Affiliate Links]
A couple of days ago I bought a beautiful and fresh organic head of cauliflower and I wanted to make something else than cauliflower steaks. So I decided to make this spicy casserole that my mom used to make when I was a child (it was non-vegan though).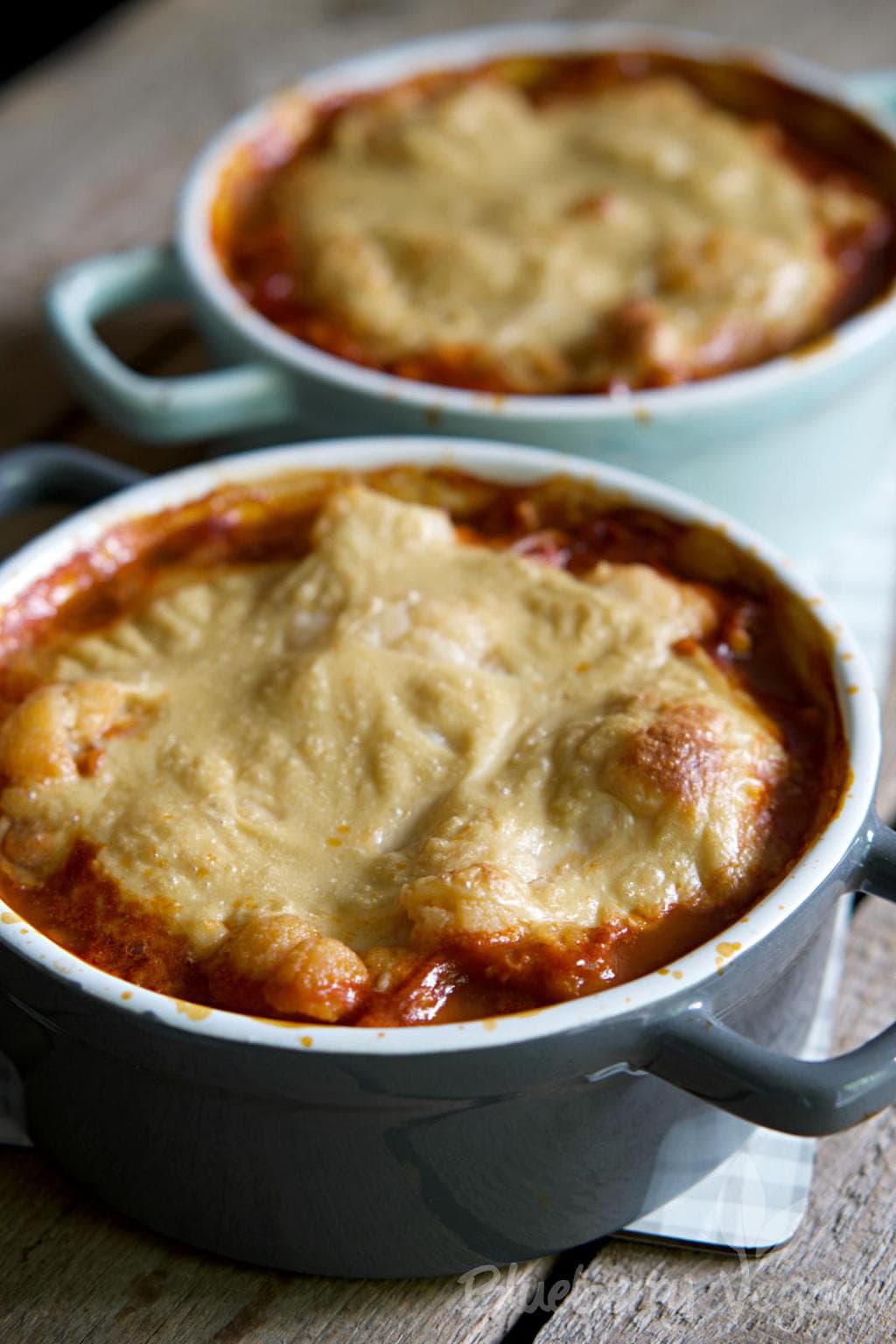 Besides cauliflower you'll need half a bunch green onions, TVP mince and tomato paste. I made a kind of béchamel for baking over. For that I mixed soy milk with a couple of spices and tapioka flour and then cooked it until it thickened.
When you remove the casserole from the oven, it will a little runny, but it firms while cooling down. I like it best once cooled down and then reheated.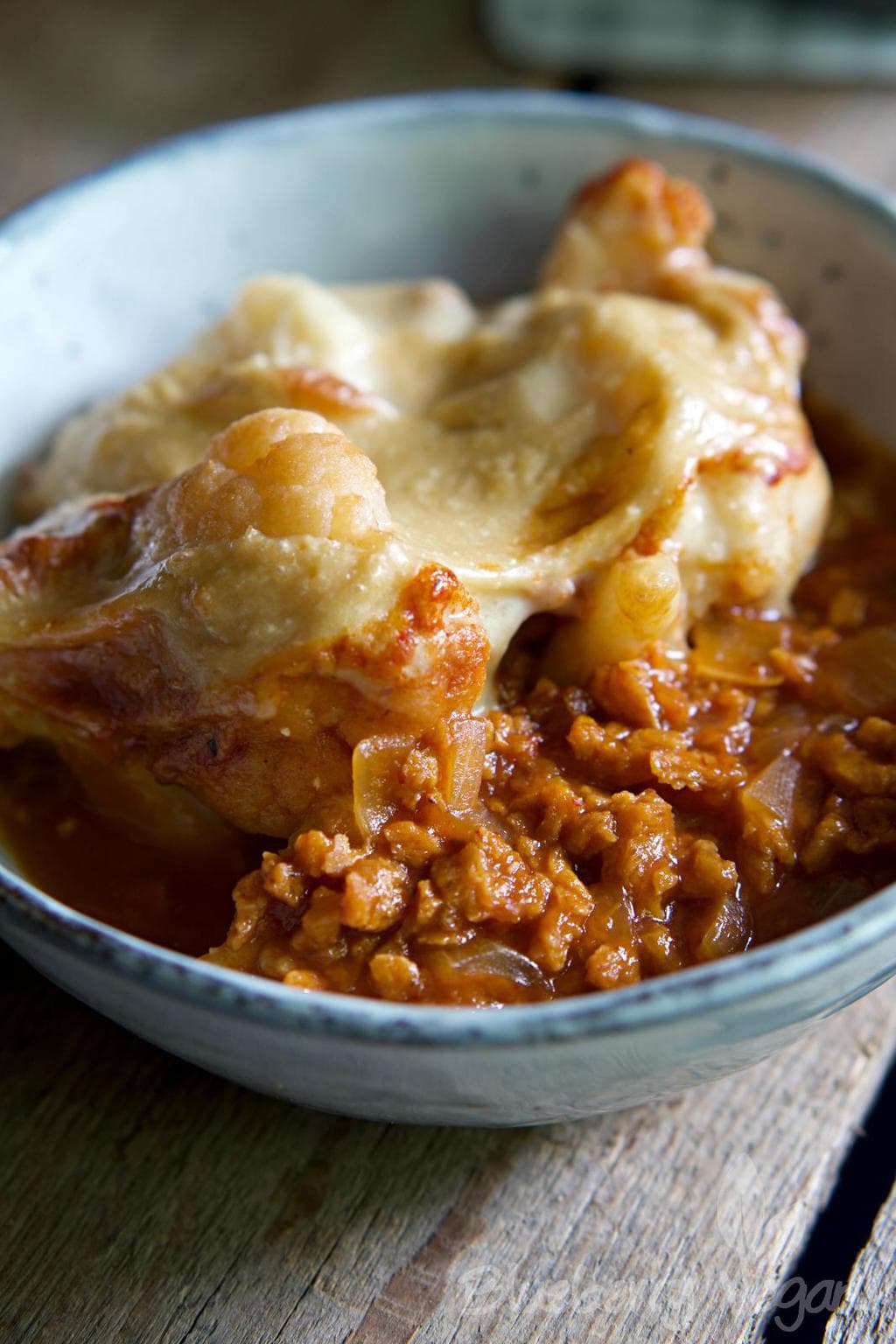 Make sure to season your sauce well, because the cauliflower is unseasoned and this combo is really great! I cook the cauliflower in my microwave. To do so wash the cauliflower pieces and put them wet in a microwave-safe pot and cover. Put on high power and cook for 2 Minutes. Then toss and cook for another 1 – 3 minutes, depending on the power of your microwave.
If you don't have a microwave oven or you don't want to use it, you can also steam the cauliflower or cook it in water.
Enjoy!
Love,
Rina
Spicy Cauliflower Casserole
Zutaten/Ingredients
For the mince sauce:
1/2 bunch green onions
1 clove garlic
1 tbsp oil
1 cup (240 ml) TVP mince
4 tbsp tomato paste
2 cups (500 ml) water
1 - 1 1/2 tbsp instant vegetable broth
1 tsp oregano
1/4 tsp agave nectar
pepper


For the white sauce:
125 ml (1/2 cup) soy milk
1 tbsp tapioka flour - alternative corn starch
1 tbsp nutritional yeast flakes
1 tsp mustard
1/4 - 1/2 tsp salt
1/4 tsp garlic powder
1/4 tsp onion powder
pepper


Also:
Zubereitung/Instructions
Cut the green onions in rings, press the garlic and cut the cauliflower into bite-sized pieces. Either cook the cauliflower in the microwave (see notes) or in water.


Heat the oil in a big pan and sauté the onions and garlic. Then add the TVP mince and tomato paste and stir well. Let brown for a couple of minutes, then deglaze with water and add the spices. Let simmer for about 10 minutes.


While the mince sauce is cooking, shake all the ingredients for the white sauce until combined, pour into a small pot and bring to boil while stirring. Let simmer for 1 - 2 minutes.


Preheat the oven to 200° (390° F). Pour the mince sauce into a casserole, arrange the cauliflower on it and drizzle over the white sauce. Bake in the oven for about 30 minutes until golden.
Tipps/Notes
To cook in the microwave wash the cauliflower and put it wet in a microwave safe pot. Cover and put in the microwave on high power for 2 minutes. Then toss and bake for another 1 - 3 minutes, depending on the power of your microwave. You can buy
nutritional yeast
and
TVP mince
online, if you can't find it in a store. To cook in the microwave I use my
Tupperware rice cooker
.