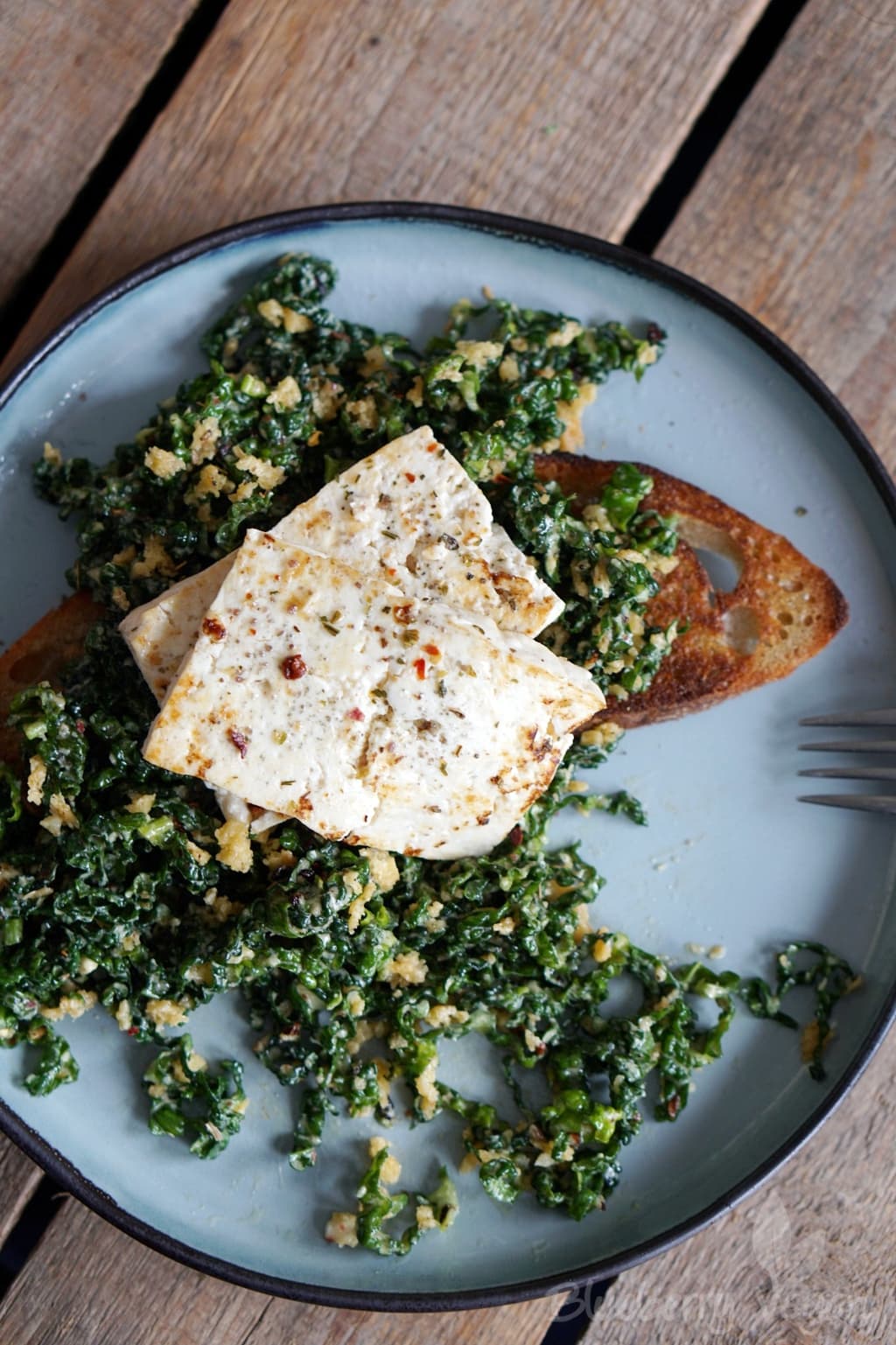 Today I had a quick but soooo delicious lunch…
I am currently super into sourdough baking and bake at least one bread a week. It tastes so incredibly delicious that at the moment I can hardly limit myself to eating bread with just one meal a day.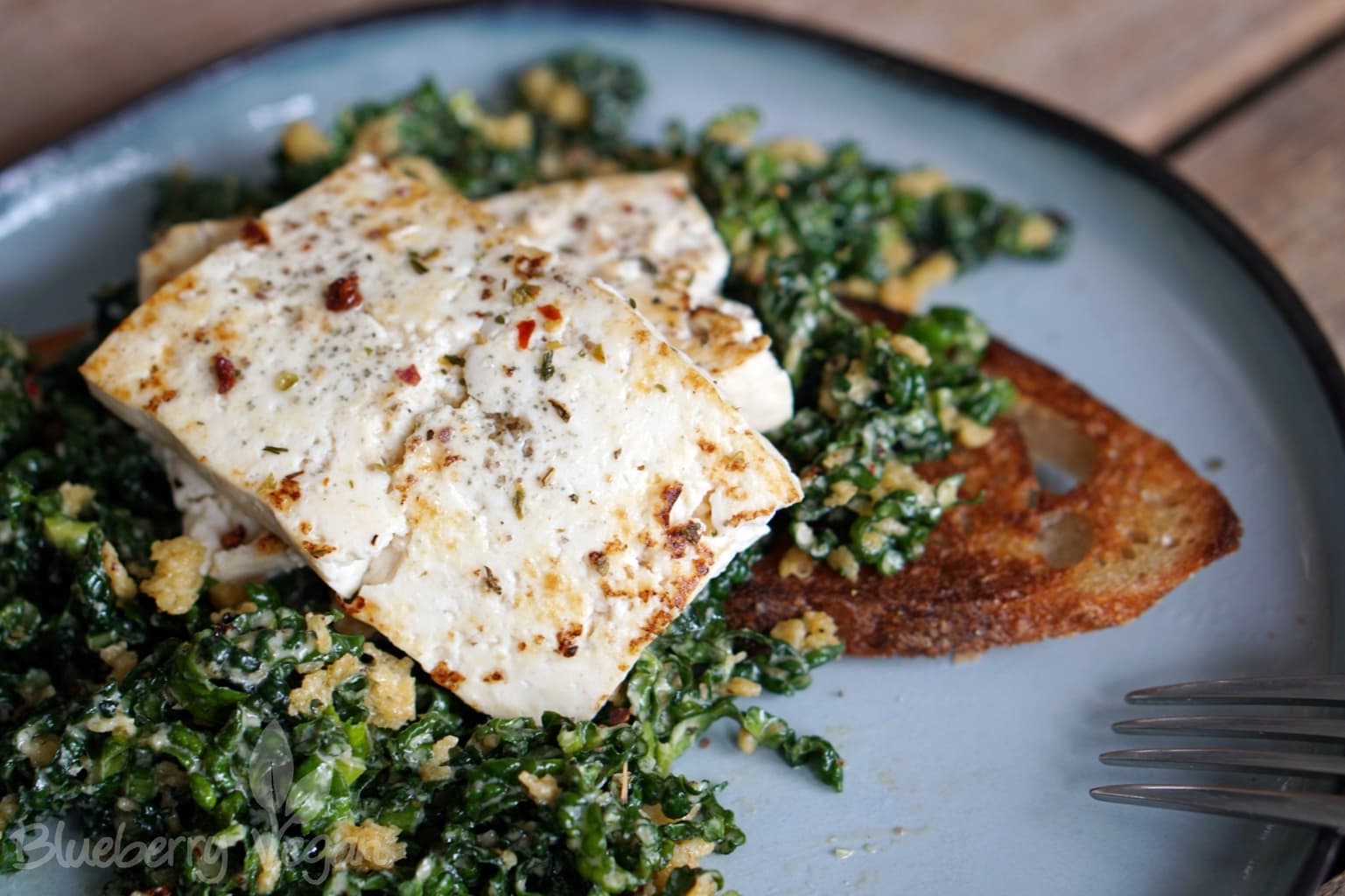 And that's how this lunch came about. A slice of sourdough bread toasted in butter-flavored oil and a tangy salad, topped with soft, fried tofu. When I fry fresh tofu from the Asian supermarket in a pan and sprinkle it with kala namak, it always reminds me a little of a fried egg. It depends a lot on which type of tofu you use. Just take your favorite brand and if you don't have one yet, I recommend going to the Asian supermarket. There you will find many other dainties besides tofu.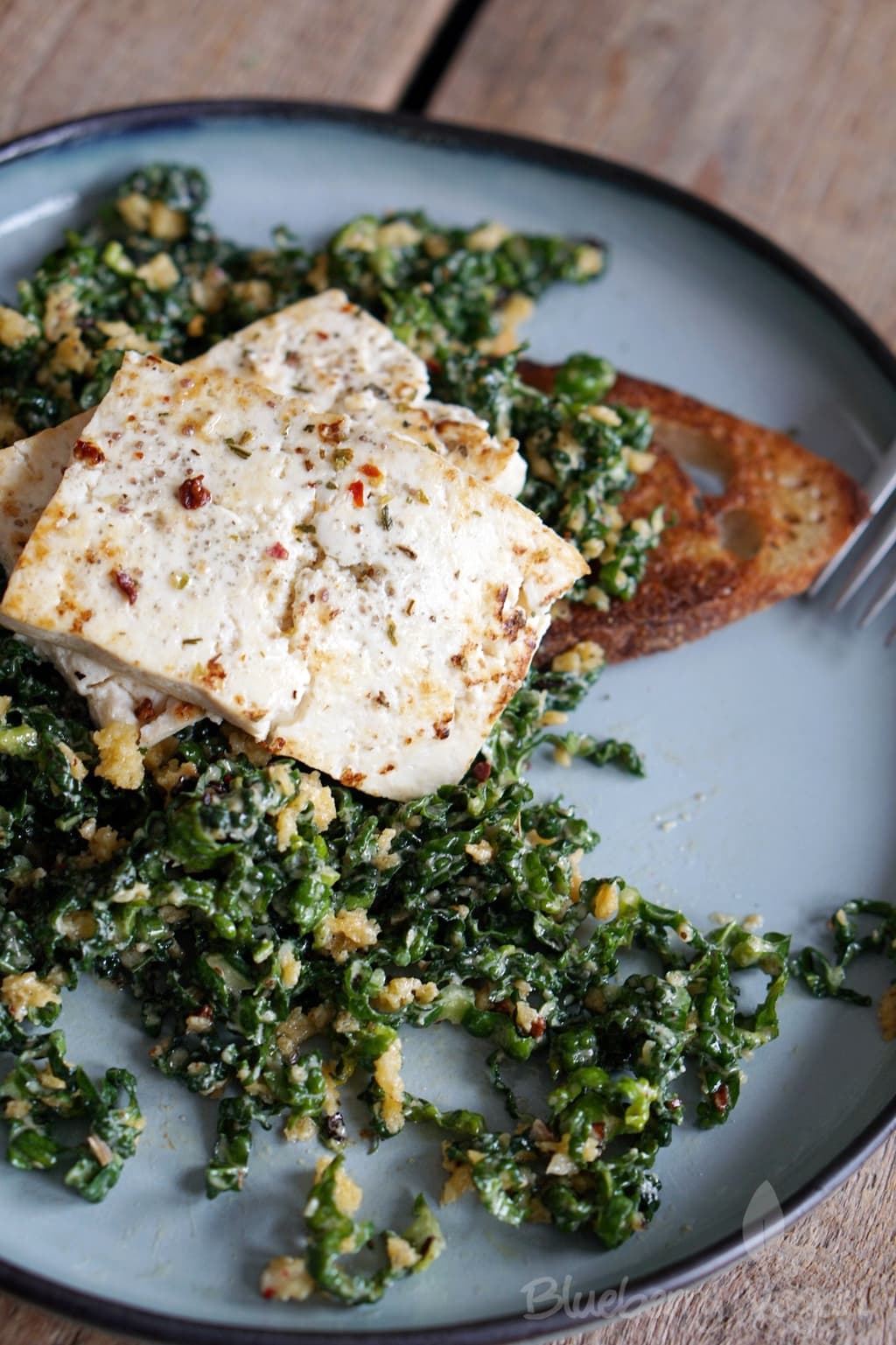 Have fun trying this dish out and enjoy it!
Love,
Rina
Tangy Cavolo Nero Salad with Fried Tofu on Sourdough
Inspired by Anna Jones
Gang/Type:
Main Dishes, Salads, Snacks
Zutaten/Ingredients
For the salad:
1 bunch of cavolo nero
1/2 cup panko, or breadcrumbs
1 tbsp butter-flavored oil
Mediterranean spice mix


For the dressing:
1 handful of cashew nuts, ground
2 tbsp nutritional yeast flakes, heaped
1 organic lemon
2 tbsp olive oil
salt
pepper


Also:
4 slices of a fresh block of tofu
2 slices sourdough bread
1 tbsp butter-flavored oil
kala namak - black salt
Mediterranean spice mix
Zubereitung/Instructions
For the salad, remove the stalks from the cabbage, roll up the leaves like a cigar and cut into very fine strips, place in a bowl.


For the dressing, zest the lemon and squeeze out the juice. Mix together with the remaining ingredients and pour over the cabbage. Add more lemon juice, salt and pepper to taste.


Mix the panko with 1 tablespoon of oil and the Mediterranean spice mix and then toast in a pan until slightly turning brown. Add to the salad and stir in.


Heat the remaining oil in the pan on medium heat and toast the sourdough slices in it. Then increase the temperature and fry the tofu for 2 minutes on each side.


Place the sourdough on two plates, cover with the salad and top with the tofu. Sprinkle with Mediterranean spice mix and kala namak.
Tipps/Notes
Instead of the butter-flavored oil, you can also use margarine or just another oil.