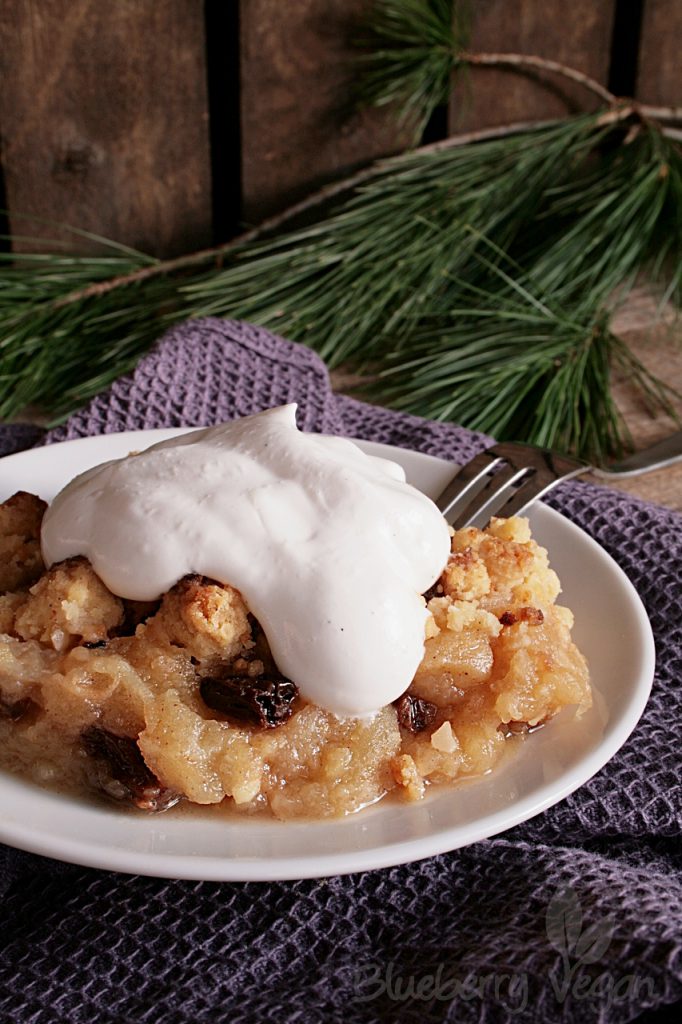 [Advertising: Affiliate Links]
On Wednesday I was in Heiligenhaus at a vegan pot luck. It is always so nice to meet new people and your friends to discuss food or other things. Since the pot luck always is on a weeknight and I have to work, I bring something, that is easy to make ahead. In summer this could be a beluga lentils salad, carrot lox on baguette or cupcakes.

This time I decided to make a wintry dessert. You can also use this apple crumble as a dessert for your Christmas dinner. Especially when the first two courses are a little more work, this simple crumble is a great finish.
For the crumble you'll need apples, some raisins, a bit of rum (flavoring) and cinnamon. You cover that with crumbles made from flour and nuts and bake it in the oven. The smell in your house will be amazing. I served the crumble with vegan whipped cream. Melting cream on warm crumble… Oh my, I am getting hungry again.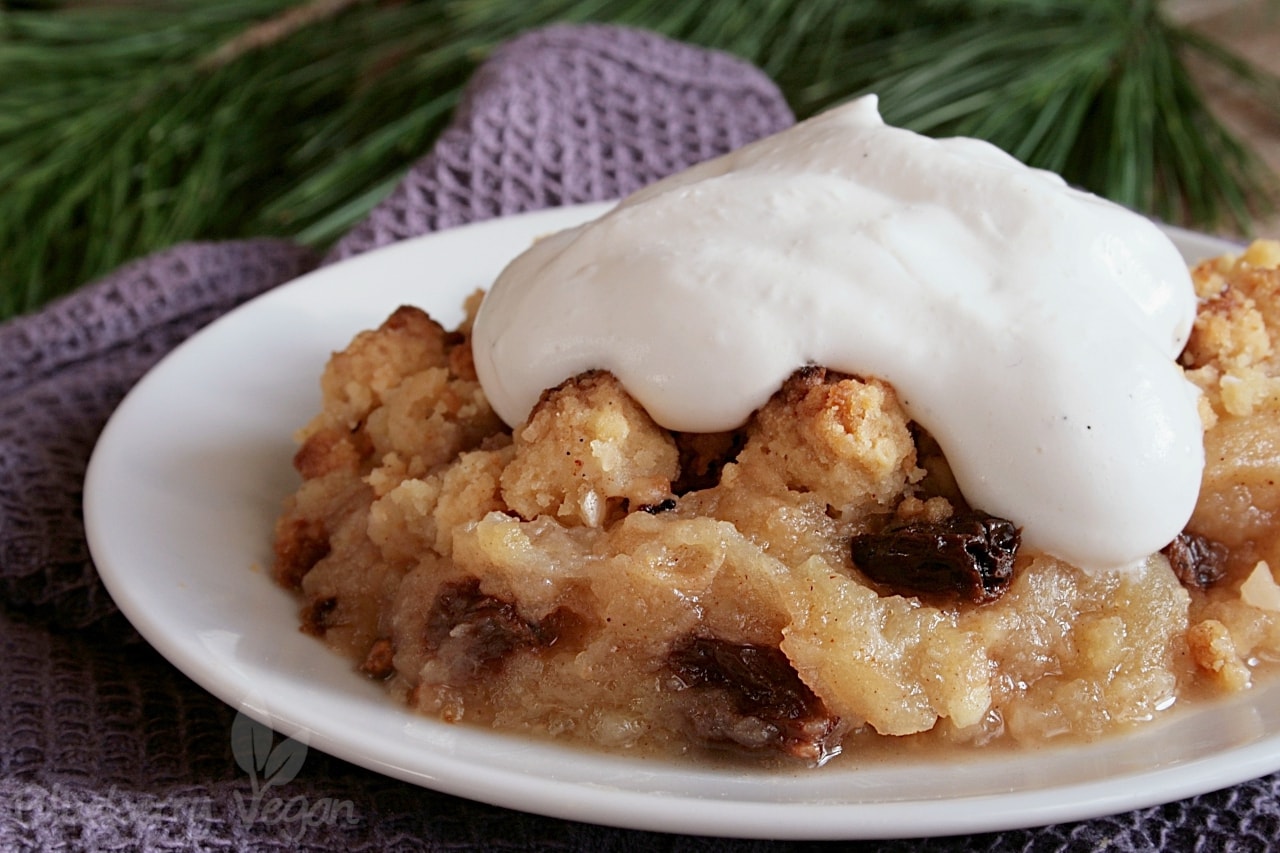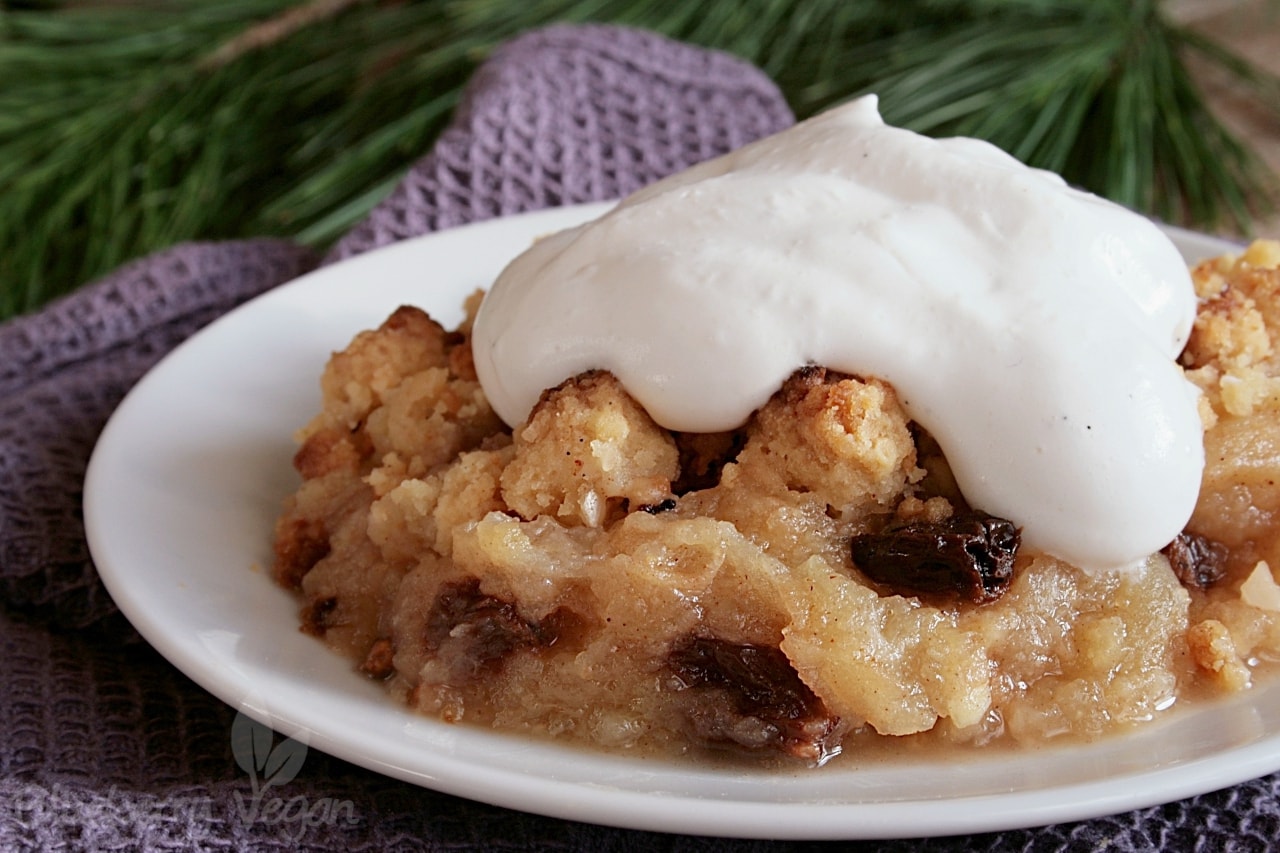 Well, life is what's happening, when you are making plans. Turned out, I had to work late and thus I had no time to make the crumble. So I bought some vegan spreads and brought them as my contribution. But my friends liked the crumble on Saturday, when we met for a Secret Santa night ?
Have fun with the recipe and enjoy your crumble!
Love,
Rina
Are you looking for more fruity desserts? Also try mango tiramisu, chocolate cherry dessert, lemon tiramisu, pear blueberry crumble, vegan Crème brûlée and nice cream.

Winter Apple Crumble
Ergibt/Yield:
6 - 8 Portions
Zutaten/Ingredients
For the filling:
6 apples - Boskoop
1 tbsp lemon juice
2 hands full raisins
1 tsp cinnamon
2 tbsp rum - alternative a few drops rum flavoring


For the crumbles:
75 g (2.6 oz) vegan butter
75 g (2.6 oz) sugar
120 g (4.2 oz) flour
1 pinch salt
1 tsp vanilla extract
4 tbsp almonds or hazelnuts, chopped


Also:
vegan cream - optional
a few crumbs ground vanilla
Zubereitung/Instructions
Preheat the oven to 180° C (360° F).


Peel the apples and cut into small pieces. Mix with the rest of the ingredients and place in a baking dish.


Knead the ingredients for the crumbles until crumbly and pour over the apples. Bake in the oven for 40 - 45 minutes, until golden.


Let cool a bit, then arrange on small plates or in small bowls. Whip the cream and add a big dollop on each serving.
Tipps/Notes
If you don't like raisins, try chopped dates, dried cranberries or cherries instead. Or omit them.