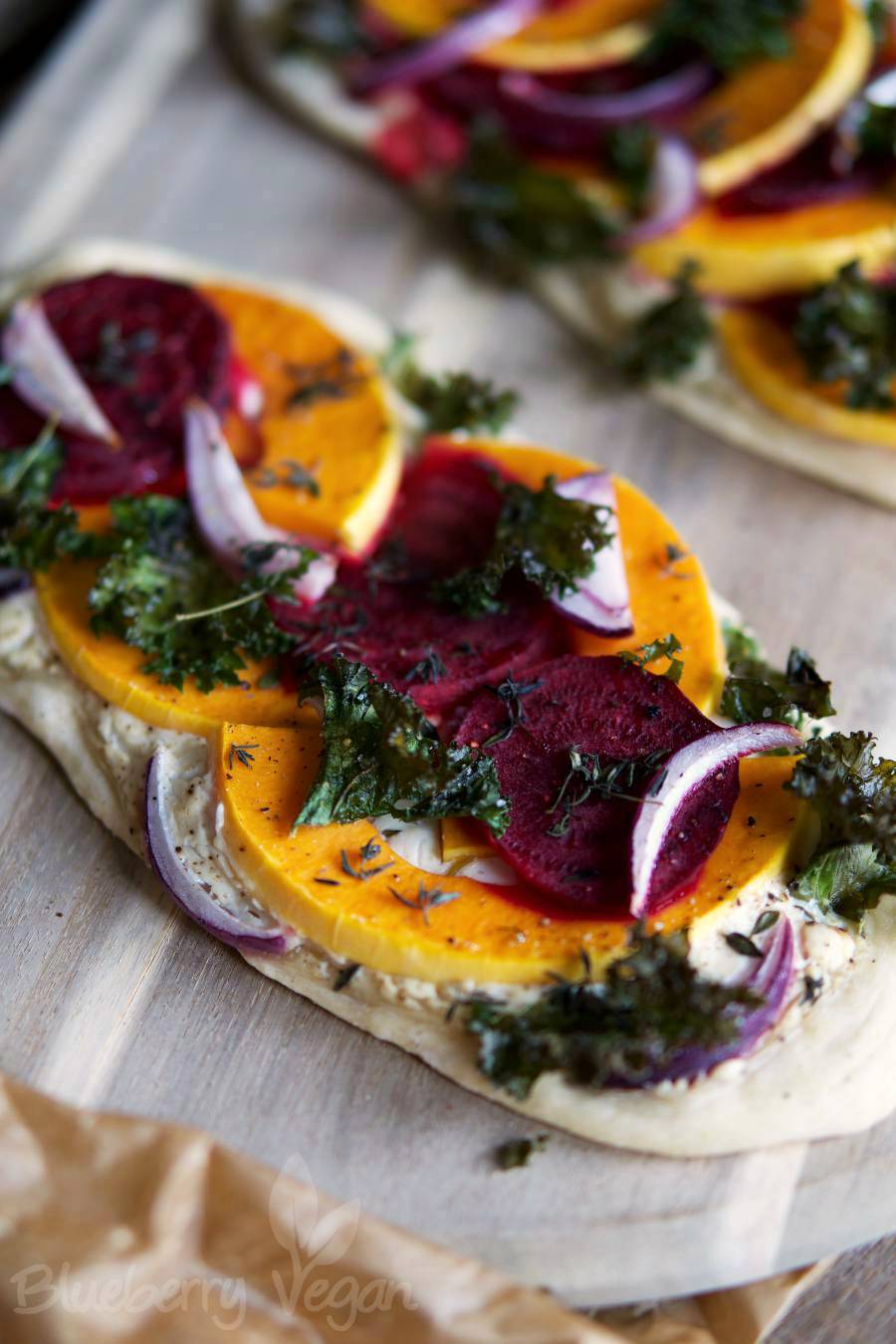 [Advertising: Affiliate Links]
Kale, beetroot and pumpkin on pizza? Oh yes! These wintry pizza boats taste absolutely delicious! Experience crispy kale and juicy beetroot and pumpkin.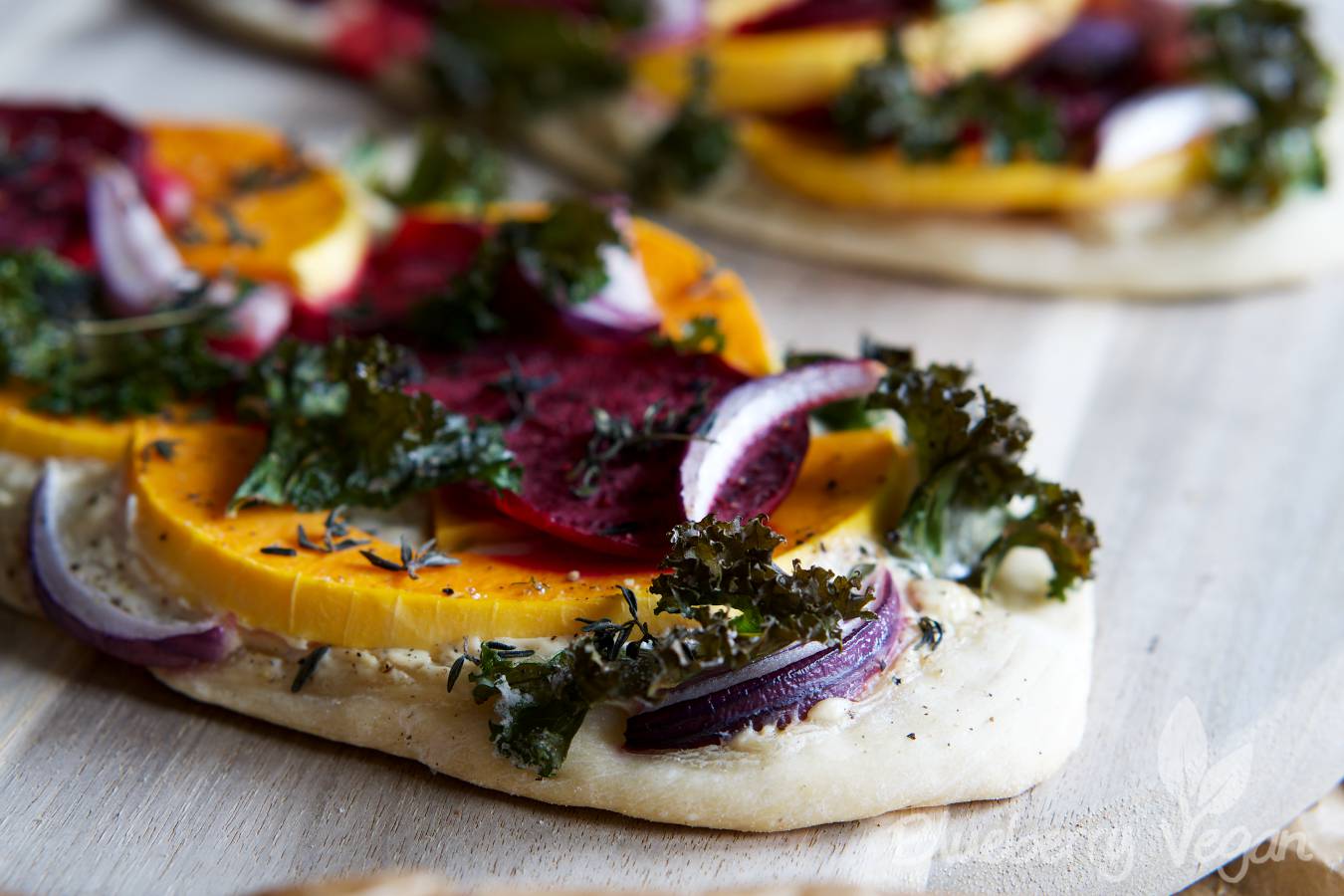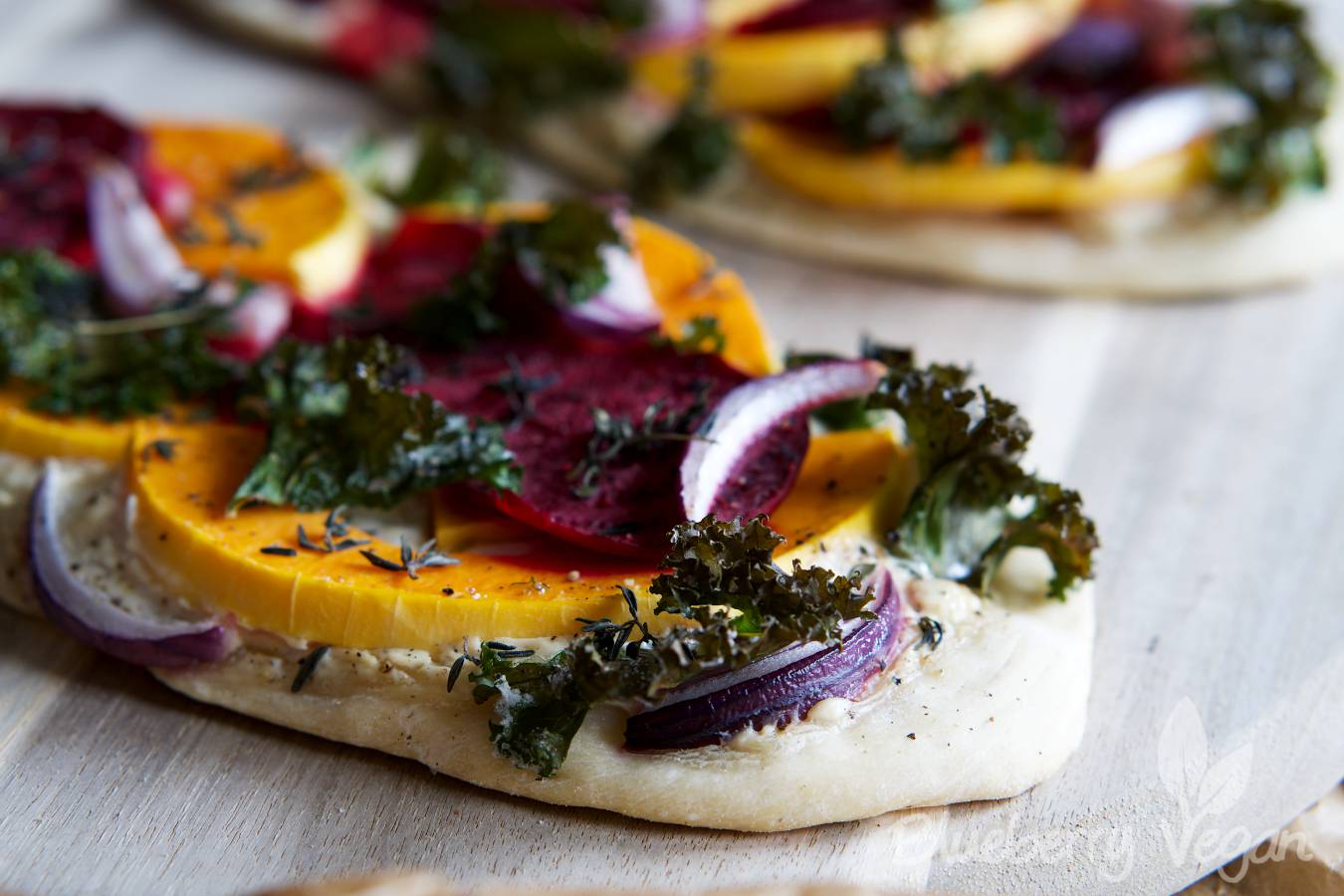 To get the pizza boats really crispy you roll out the dough very thin and heat the oven pretty good, before adding them to it.
Have fun baking and enjoy!
Love,
Rina
Looking for more pizza inspiration? Then also try pizza with my beloved vegan pizza cheese, eggplant pizza, pumpkin pizza, asparagus pizza, quick wrap pizza, pizza wheels with wind garlic and mushrooms and tart flambée pizza wheels.

Pizza Boats with Pumpkin, Beetroot and Kale
Ergibt/Yield:
2 servings - 4 pizza boats
Zutaten/Ingredients
For the dough:
180 g (1 cup plus 2 tbsp) flour
1/2 tsp dry active yeast
3/4 tsp salt
1 tsp olive oil
100 - 120 ml (about 1/2 cup) lukewarm water


For the mousse:
100 g (1/2 cup) soya curd or soya yoghurt
1 tsp thyme, fresh
salt
pepper


For the topping:
150 g (1/2 cup) butternut squash or hokkaido
1 bulb beetroot, cooked
1 red onion
1 stalk kale
9 - 12 sprigs thyme
some oil spray
salt
pepper
Zubereitung/Instructions
Make the dough first. Heat the oven to 50° C (122° F) and turn it off.


Knead all ingredients until a soft dough forms. If it is too sticky add some more flour and if it is too hard and dry, add a few drops water. Knead for at least 5 minutes to make it really soft. Place in a bowl, dust with flour, cover with a kitchen towel and let rise in the oven, the door wedged with a wooden spoon. Let rise for 40 - 60 minutes until it doubled its size.


For the mousse spice soya curd or yoghurt with thyme, salt and pepper. Finely slice the butternut squash and beetroot. Cut the onion in fine rings and tear the kale to small bits. If the thyme sprigs are soft, use them too, if they are hard, pick the leaves.


Preheat the oven to 200° C (400° F) and line two baking trays with parchment paper.
Divide the dough into four pieces and roll out every piece on the dusted counter in an oval shape. Place on the baking trays and spread the mousse on. Add butternut squash, beetroot, onion, kale and thyme. Spray some oil on the pizza boats and season with salt and pepper. Bake one tray in the oven on the bottom rail for about 15 minutes until the dough edges turn brown. Serve immediately.
Tipps/Notes
While you are eating the first batch, bake the second tray in the oven. This way you have a super fresh and crispy pizza on the table. To spray on some oil on the pizza boats I used a bottle that you can refill over and over:
oil spray
.