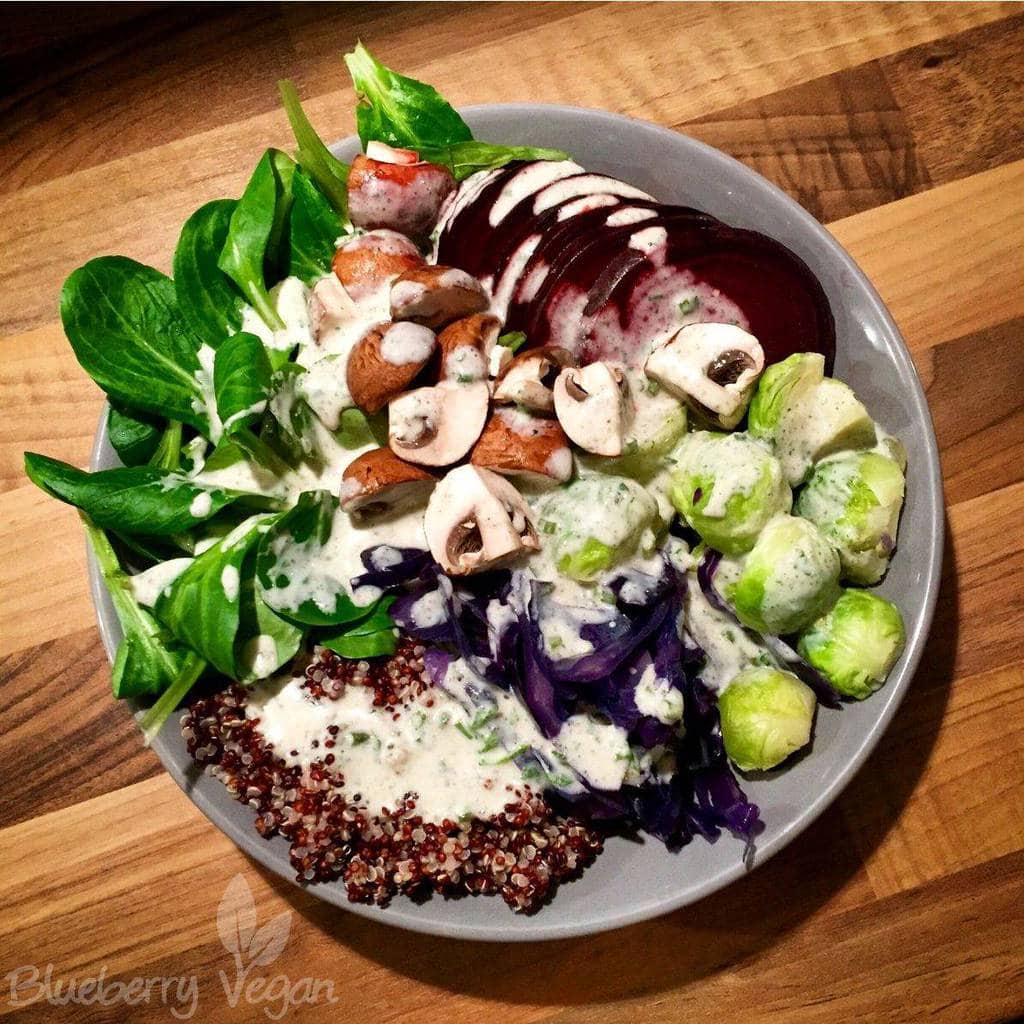 [Advertising: Affiliate Links]
I have a thing for bowls. All kinds of bowls. The hearty ones for dinner and also the sweet ones that you have for breakfast. Today I'd like to share with you my weekday bowl.
What exactly is a bowl?
A bowl follows a ground rule, that can be adjusted individually to your taste or time limit. It consists of three parts: a grain, a green (vegetables) and a protein source, often topped with a dressing.
For the grain you can use rice, millet, couscous, amaranth, spelt, bulgur, but also noodles or potato wedges and quinoa, which I prefer. Quinoa isn't only super tasty and healthy it also contains all the essential amino acids.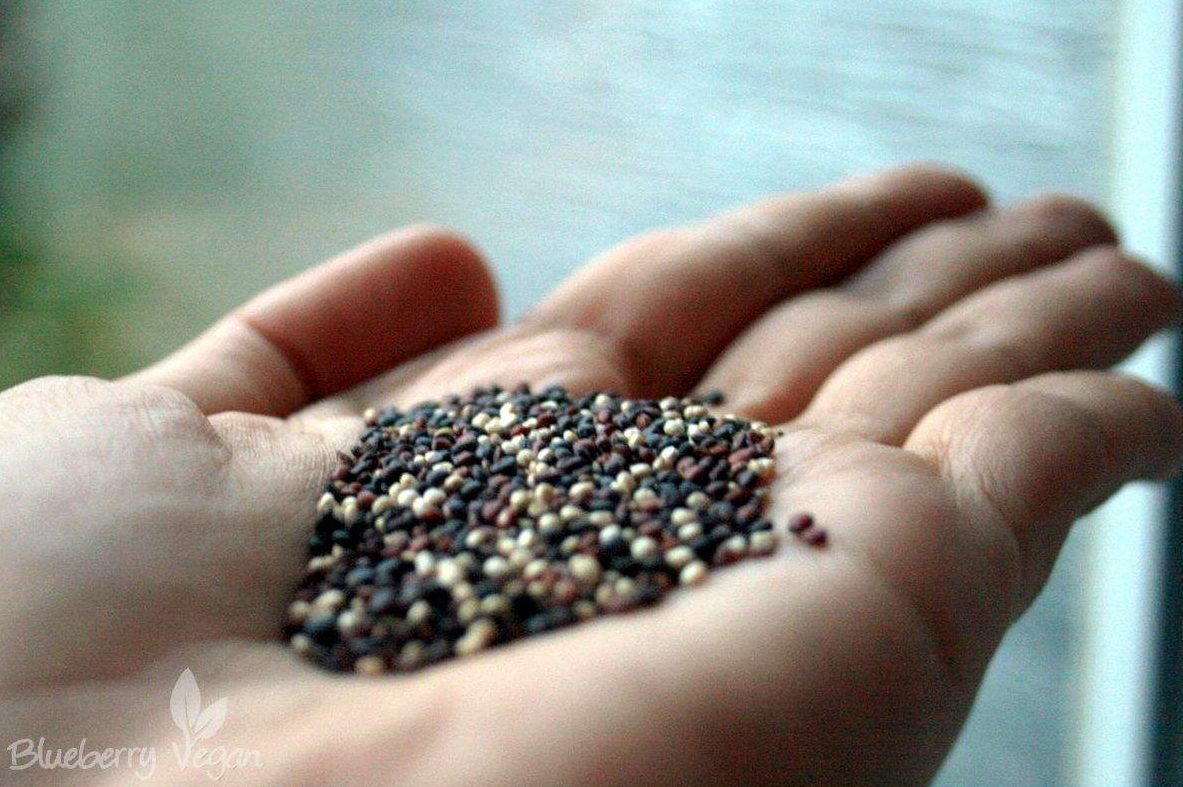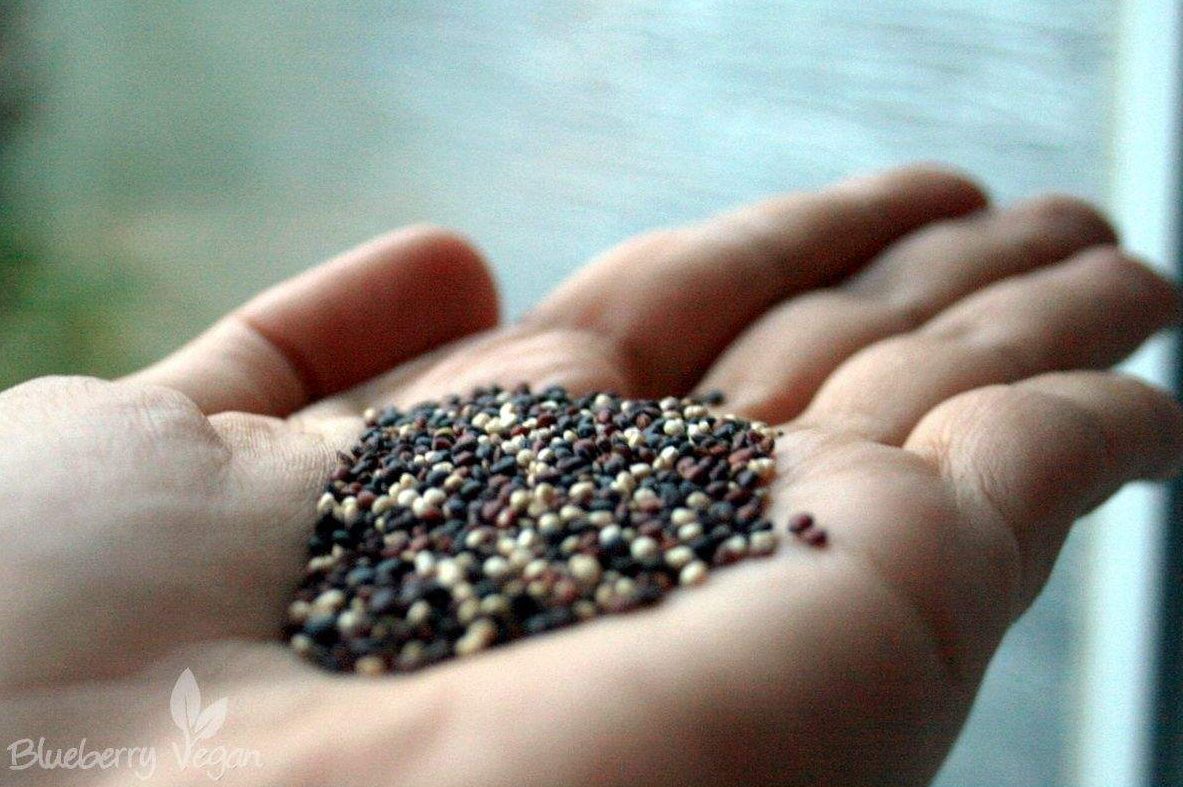 When you choose the vegetables for your bowl you can choose whatever you like. I often use brussels sprouts, mushrooms, spinach, beetroot, avocado, root vegetables like carrots and parsnips, salads, cauliflower, broccoli and many more.
Either I steam the vegetables in my bamboo-steamer direclty above the boiling grains or I bake it in the oven. Also a combination is possible. Just keep in mind that different grains and vegetables have different cooking times.
As a protein source I use legumes, such as roasted chickpeas, hummus, spiced beans and grilled or sautéed tofu or tempeh. Also seitan or textured vegetable protein (TVP) can be seasoned to taste and act as a meat substitute in your bowl.
As you can see, there are countless ways to create your bowl. So this is the recipe for a winter bowl. It combines the earthy taste of beetroot with lemony quinoa and tender mache. Although I love hearty meals during winter, this fresh bowl is a great change.
For this bowl I didn't prepared an extra protein source, since the quinoa, mushrooms and vegan buttermilk dressing contain a lot of proteins.
Enjoy!
Love,
Rina
You want more bowl inspiration? Also try my spring bowl, autumn bowl, bowl with fried oyster mushrooms and tahini dressing, sushi bowl, bowl with peanut tofu and bowl with "fried chicken" cauliflower and Caesar dressing.

Winter Bowl with Beetroot, Quinoa and Mache
Zutaten/Ingredients
For the quinoa:
80 g (1 oz) quinoa
1 tbs lemon juice
salt
pepper


For the vegetables:
2 handful mache
2 tubers beetroot
2 handful brussels sprouts
2 handful mushrooms
2 handful red cabbage
1/2 tsp olive oil
1/4 tsp salt
2 tbs pomegranate seeds - optional


For the buttermilk dressing:
1/4 tsp chia seeds, ground
50 ml (3 tbs) soy milk
25 ml (2 tbs) soy yoghurt
1 tbs herb vinegar
1/4 tsp onion powder
3 capers
1/4 – 1/2 tsp salt
Zubereitung/Instructions
Start with the preparation of the beetroot. Wash thoroughly and cut off the stem. Mix olive oil and salt and rub the tubers with it. Wrap them individually in tinfoil and bake in the oven at 180° C (360° F) for about 40 minutes.


Hence the dressing tastes better, when it can steep, prepare it next. In a blender mix all ingredients until smoothly combined. Chill in the fridge.


Clean and wash the mache, spin-dry it and arrange it on to bowls. Sprinkle over the pomegranate seeds. Cut off the excess leaves of the brussels sprouts and halve them.


Put it next to the finely sliced red cabbage in the steamer. Quarter the mushrooms and put them into the second steamer above the cabbage layer, cover with the lid.


When the beetroot only has 10 minutes left to bake, start preparing the quinoa. Put the quinoa in a sieve and rinse it thoroughly, put it into a pot, add the double amount of water, add the lemon juice, salt and pepper and bring to boil. Place the steamer on top of the pot.


The quinoa is ready, when it soaked up all the liquid. Let it sit while you remove the beetroot from the oven and slice it. Be careful! The steam is hot.


Get the veggies out of the steamer and arrange them in the bowls. Pour over the dressing and serve immediately.
Tipps/Notes
The dressing tastes even better, the next day. So just prepare a double batch and serve it on salad the next day.