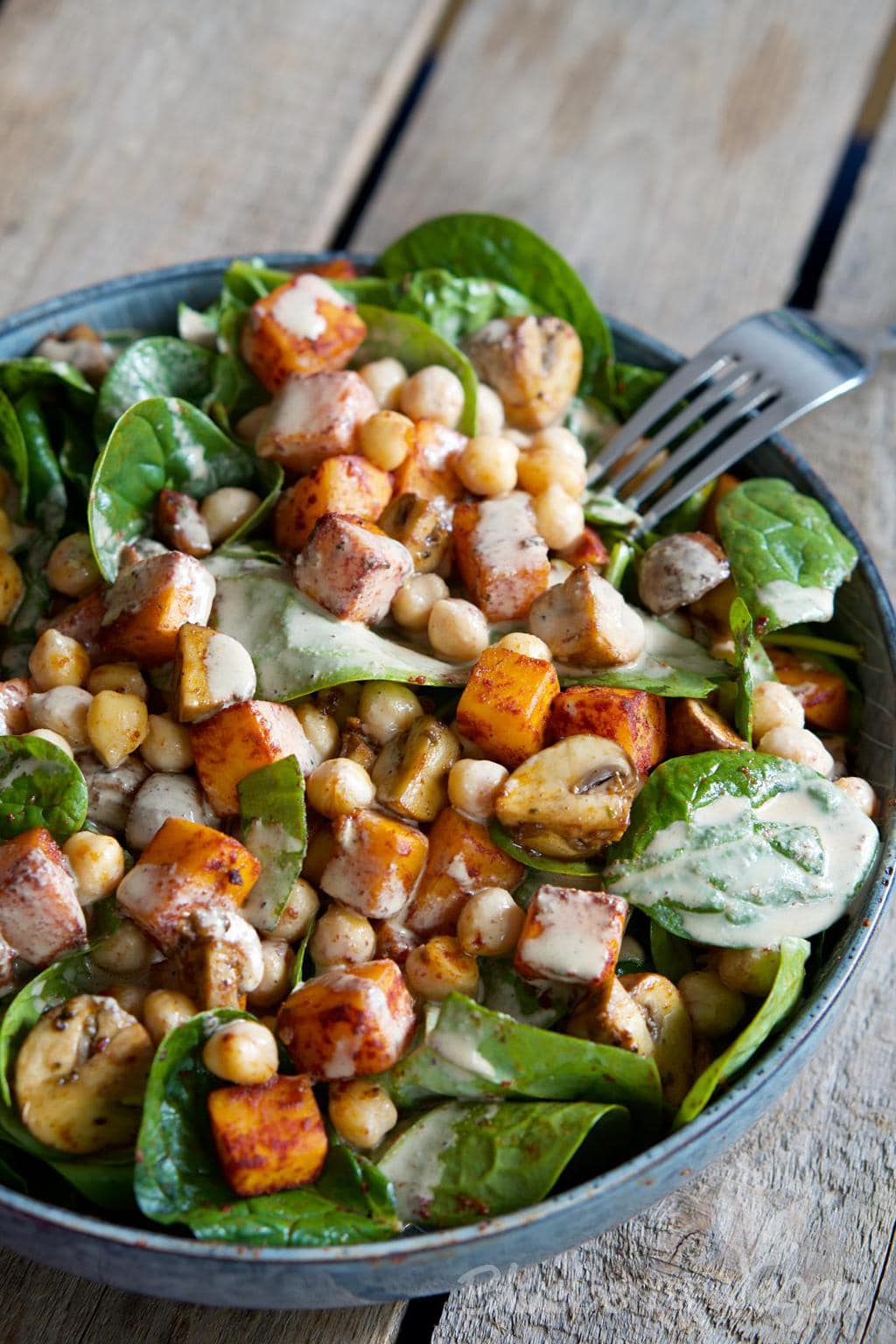 [Advertising: Affiliate Links]
My craving for fresh meals with lots of veggies was so big, that I almost inhaled this big spinach salad with baked pumpkin, balsamic mushrooms, chickpeas and tahini dressing. The last two weeks on the GR 221 I almost lived of bread and cookies and ate much less veggies and legumes than usual.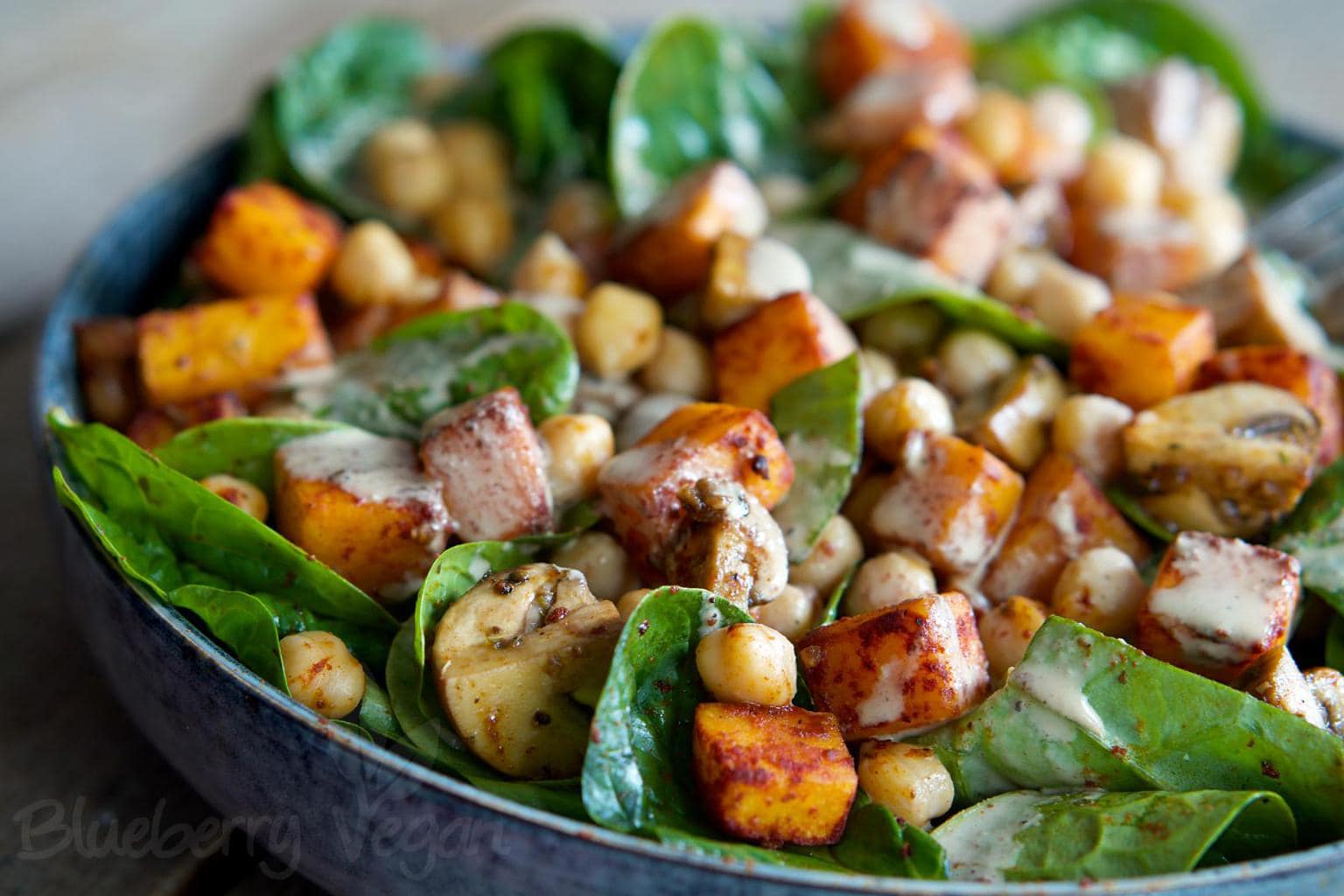 I love coming home after being on vacation and always look forward to get in my kitchen and go crazy again.
This salad is made super quickly and comes on the table lukewarm. Depending on how crispy or soft you like your pumpkin you should alter the baking time. I like it crispy and thus get it out of the oven after only 15 minutes. To mix it up you can use sweet potatoes instead of pumpkin.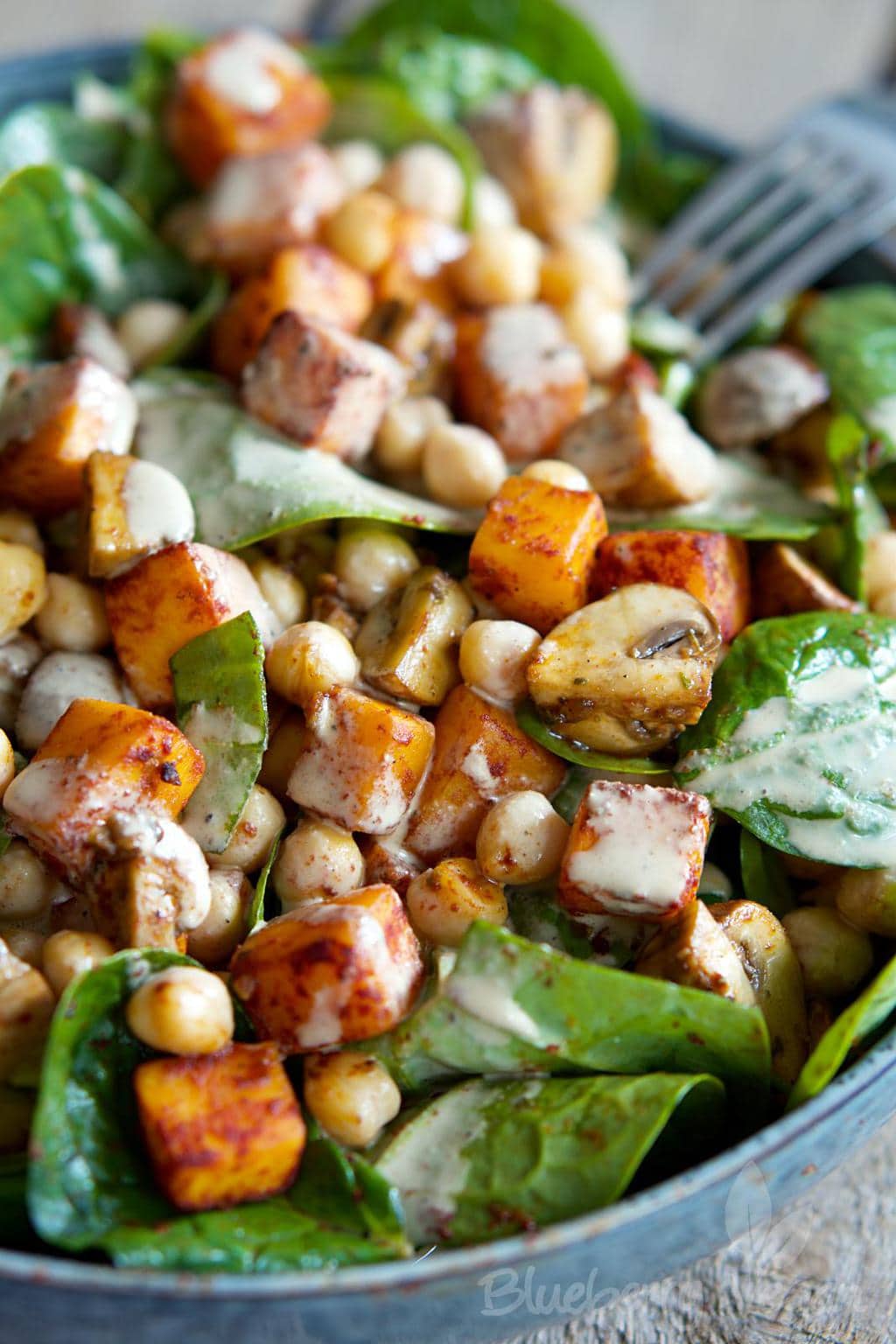 You might already tried this tahini dressing with my bowl with fried oyster mushrooms. This dressing is my absolute favorite and is great with this salad, too.
Enjoy you meal!
Love,
Rina
Spinach Salad with Baked Pumpkin, Balsamic Mushrooms, Chickpeas and Tahini Dressing
Gang/Type:
Main Dish, Salad
Zutaten/Ingredients
For the pumpkin:
For the balsamic mushrooms:
250 g (8.8 oz) mushrooms
1 tbsp olive oil
2 cloves garlic
1/2 tsp Italian herbs
2 tbsp balsamic vinegar
salt
pepper


For the tahini dressing:
Also:
200 g (7.1 oz) spinach
250 g (8.8 oz) chickpeas, cooked
Zubereitung/Instructions
Preheat the oven to 180° C (360° F) and line a baking tray with parchment paper. Peel the butternut squash and cube it into bite-sized pieces. Mix with the spices and bake in the oven for 15 - 25 minutes.


Quarter the mushrooms and press the garlic. Heat the oil in a pan and sauté the garlic in it. Add the mushrooms and briefly fry. Deglaze with the balsamic vinegar and add the spices. Sauté for about 5 minutes while stirring occasionally. Turn off the stove and keep the mushrooms warm in the pan.


Blend all ingredients for the dressing in the Personal Blender or any other blender.


When the pumpkin is ready, mix all ingredients in a big bowl and arrange on two plates. Drizzle over the dressing.
Tipps/Notes
Instead of pumpkin also try sweet potatoes in this salad.
Read more about my
Personal Blender
here.