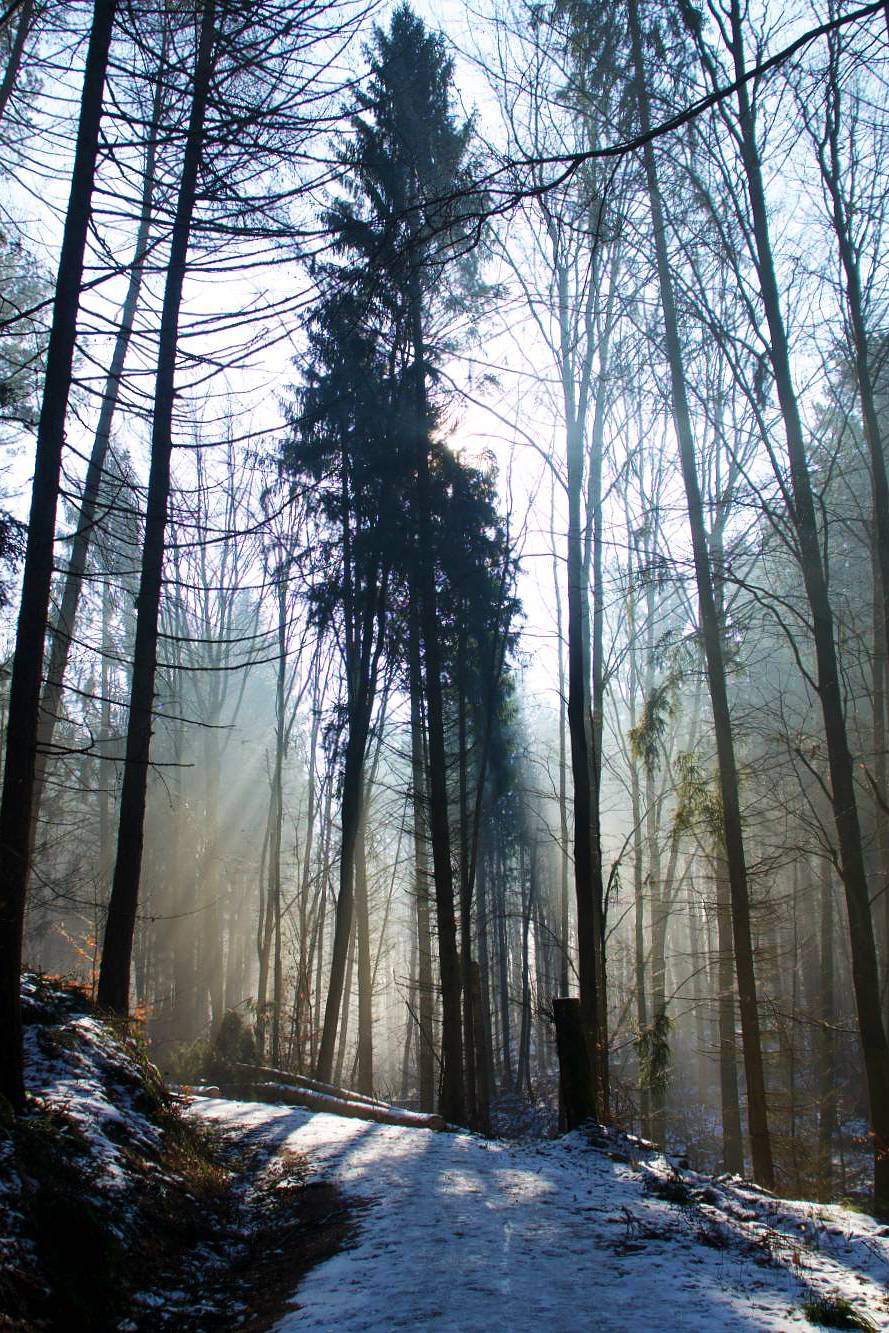 [Advertising: Affiliate Links]
I am in Marburg and what would a vacation be without a hike? No vacation to me. It took me some time to find the right route this time. I wanted a tour that starts in front of the flat I am staying in or at least reachable by public transport. I found a free parking space near the apartment which I don't want to give up. Free parking spaces that are not reserved for residents are rare in Marburg.
After searching for a while I hiked this route:
In this view the break is included. On my phone I see the net hiking stats: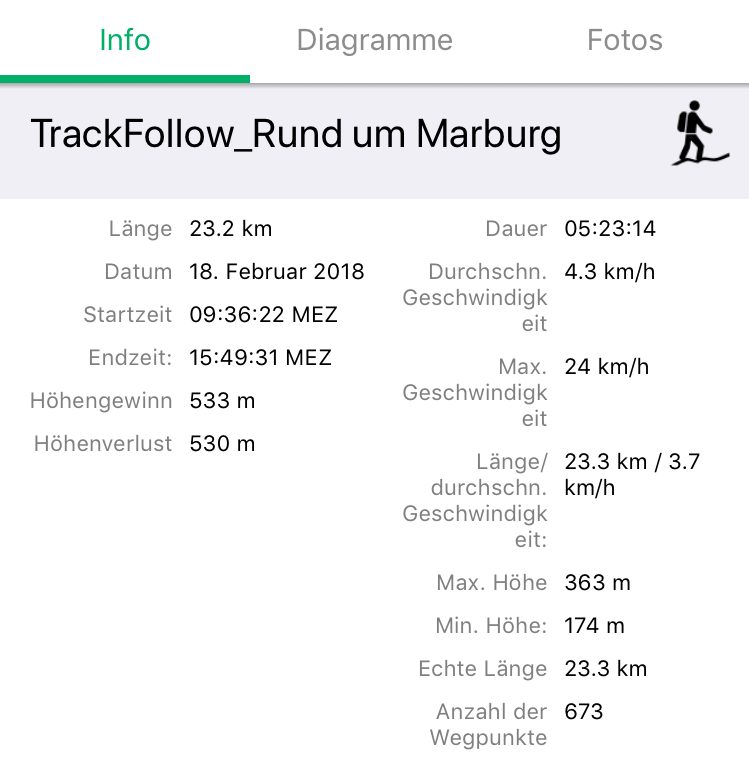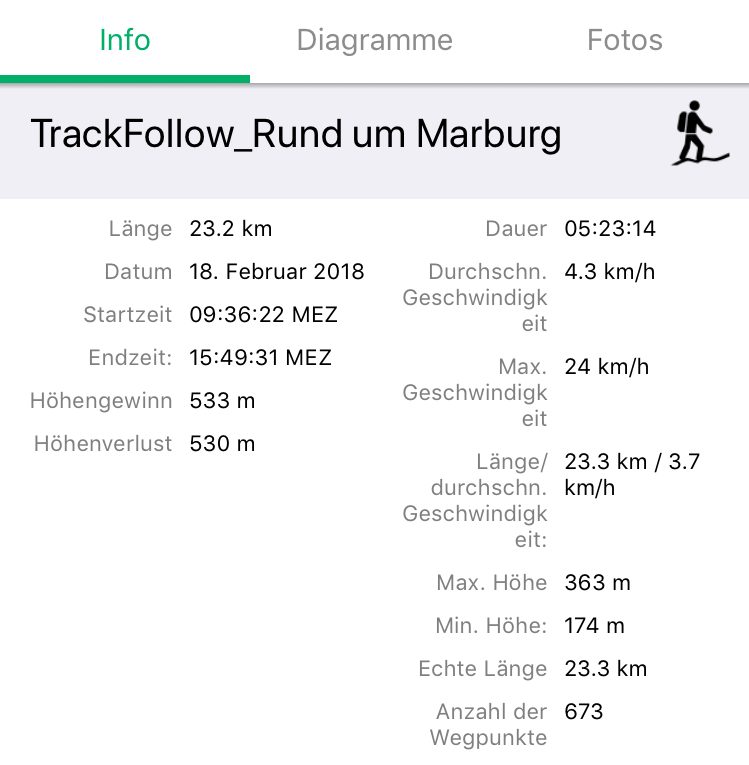 I pack my new backpack with a woolen blanket (as sleeping bag substitute), two heavy books, my drinking bladder, my camping stove, a fleece jacket (for the break) and provisions and thus came up to maybe 10 kg (22 lbs). I can't tell for sure, because the bathroom scale here in the apartment is broken. Since I often go with a full backpack lately, I think I am quite good at guessing. I bought the fleece jacket on the way to Marburg when I came across a Decathlon store in Hagen. On the way to the checkout I spotted a fleece tube scarf and took it. I tried it on this hike and loved it. Thin, warm, but not too warm. Perfect! I am quite pleased overall with my current gear and clothing. It was neither too warm nor too cold. Also I could move and didn't feel cramped or sweaty. I did go to the bother and wrote down all the things that I had on or hike with me. When I started my hiking "career" I had no idea what to buy and what not to. What do I have to look for, when I buy stuff? There are many things that you will have to experience yourself to find your favorites. Those are my favorites at the moment coming to clothing and equipment.
This is my clothing, that I wore today:
Hiking boots from HAIX – on leveled ground perfect. They do rub a little on my heels when going up. I will try another brand next week and get myself a pair of Lowa Ferrox GTX Mid. Because my next big hike is going up and up and up…
Softshell hiking pants from VAUDE – Stretchy fabric in hiking pants is essential for me. This one is a bit thicker for winter.
Socks from SPAIO – those without bamboo! They don't give off fluff as much and thus last longer.
Simple soft bra – no cutting in, no pinching.
Hiking blouse from OCK – much more comfortable to me than any sports shirt, because it isn't as tight and it has ventilation vents on the back. Perfect with a light pullover in winter and solo in summer.
Light, warm pullover from Decathlon – I have this one four times now. I also had it with me on the Camino, back then it was green. I also like to wear it at home.
Rain jacket from Decathlon – they don't offer the one I have anymore. This is the follow-up model: Rain jacket from Decathlon
Any cap – I love the simple woolen beanie I have. It is big enough for my big head and stays there when I move. I got it from a cloth changing party years ago.
Gloves – I only need them during breaks. While I am moving my hands are warm, even at freezing temperatures. I take my biking gloves. They are thin but still warm, water-resistant on the top and breathable on the insides.
No, I didn't forget to note what underwear I am wearing. Somewhere between Camino Francés and Via Baltica I stopped wearing underwear while hiking. It is much more comfortable without and there is no panty to pinch underneath the hip belt. Also my cheeks can move freely and I don't sweat as much in-between. 😉
I packed the following gear:
Wow! Long lists… Was it really only 10 kg? So, now that all things are packed, we can finally start the hike.
At first I go along the river Lahn passing a camping site, a frozen public swimming pool (why didn't they remove the water?) and out of Marburg.
There are some bikers and joggers on the way. No wonder, it is beautiful outside. The sun is shining, but it is really cold. My phone says it's -2° C (28° F).
Greeting someone is here also unknown, like at most places that I was hiking so far. It strikes me that the women run for themselves and the man run in groups of two or three. I think about why this is and realize that I lose myself in thoughts, because the way doesn't offer much to see. I feel a bit like on Via Baltica with its long straight ways on which you can see today, where you will be tomorrow.
After a while I leave the fields and enter Marburg Cappel. The village reminds me of Wuppertal-Ronsdorf in my hometown.
I have to pee. Great! I feel much too exposed here. I speed up a little, although it is going up now. With every step the hip belt is pressing against my bladder. Fortunately I enter a forest after five minutes of hiking fast. I briefly turn around. Noone there… The first available tree covers me a little from the houses around. What a relief!
The trail in the forest is icy. On the edges it is easier to go and not slip. A female runner approaches me, running bravely in the middle of the path.
I come to a crossing at where I could easily cut-off a part of the hike, but I want to go this extra kilometers to go to castle ruin Frauenberg. The light is wonderful and I got distracted by it so that I take the wrong path and take a detour. I don't want to go back. The path is still icy and downhill slippery.
The wood conciliates me with the first, unspectacular part of the tour. It is so quiet. Only a few birds are tweeting in the far and a woodpecker is pecking.
On the way to the castle ruin I come across a small village with a nice hotel at its end, right underneath the castle ruin Frauenberg. There is not much left-over from the castle. The steps leading on the ruin are so icy that I decide to stay on the ground. I don't want to break a leg or wrist! It is warm in the sun and although I am on top of the mountain there is almost no wind. A perfect place for a break to drink a coffee and eat the sandwiches I brought. I watch a family getting up the icy steps on the ruin. "Ohhh, it is foggy! You can't see much", says the little boy disappointed. Jap, that's what I thought when I was in the dusty woods. As I continue my hike after the break there is a bit to see.
The decent from the castle isn't as bad, as I thought. When I go really slow on the edge of the path it isn't too slippery. There is only one thing to do: Bottom out and getting your weight to the front. This way you slide down the hill and not slide backwards and fall. At least in theory. In the parking lot reality is kicking theories ass. I slip so bad, that I almost couldn't catch myself, but I do, I just need one more step to be fully stable and get in that bottom-out pose again. Forget it! This one stability step slides away to the side and bam – I hit the ground. My head feels shattered, also my left buttcheek hurts along with my left arm and wrist. I wait for the appropriate two I-am-getting-myself-together seconds and then slide on my bottom down the hill to a spot without ice. Then I get up and massage the buttcheek by going further. I turn my wrist a couple of times and after about 10 minutes everything is fine again.
The trail is now going through the woods on a broad way. There is nothing much to see. It is quiet again and the snow blanket isn't as trampled as on the path before, so it is easier to go on and to go faster. Suddenly the melody of Pippi Longstocking goes into my head and leaves it only after half an hour later of humming and whistling as I spot a huge hollow tree on the end of the forest. It looks fascinating!
I have to walk past a road now for a while. And incidentally I am on the way to Santiago de Compostela again.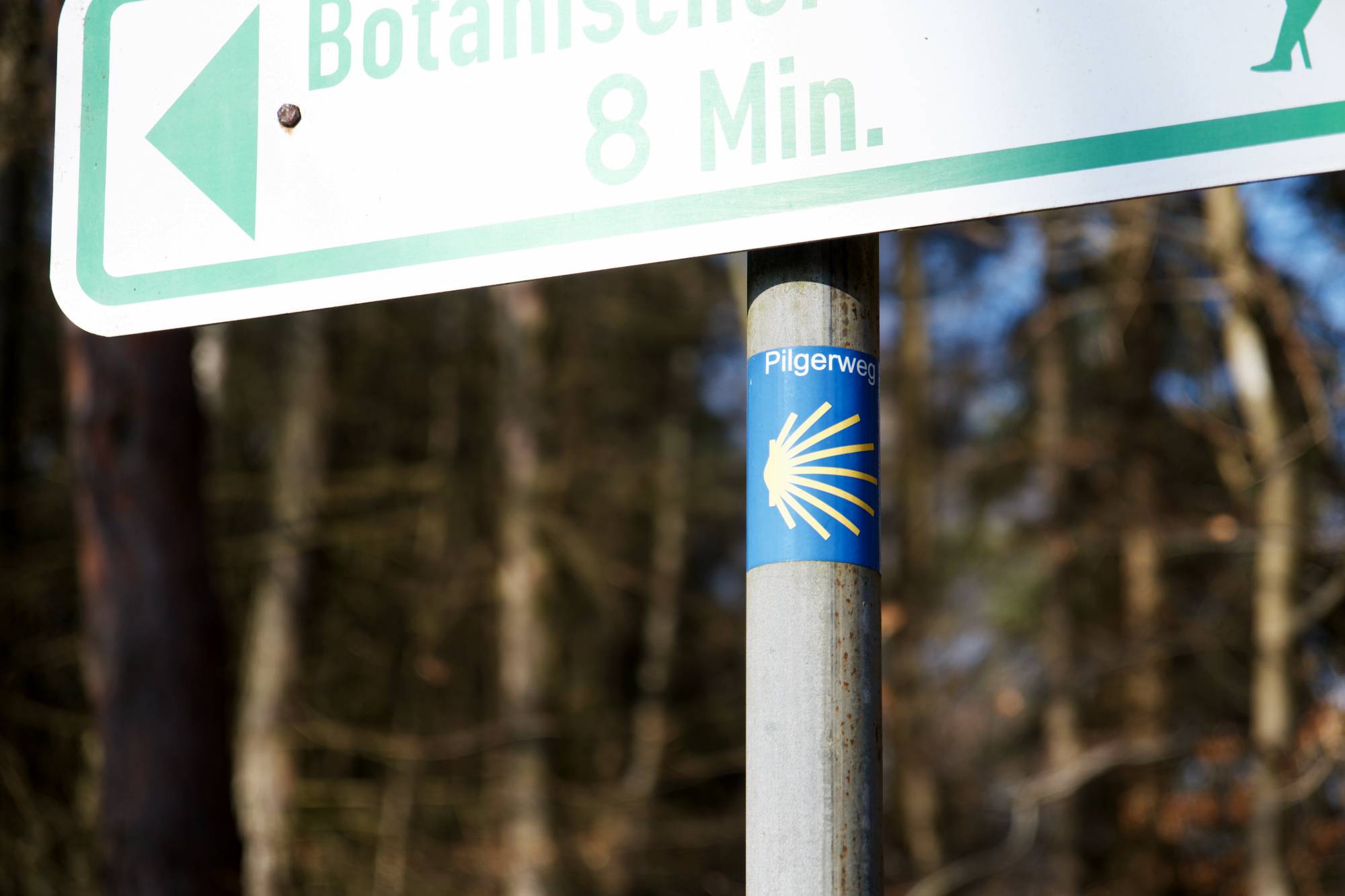 I walk past a clinic, the botanic garden, the Campus Lahnberge of Philipps Universität of Marburg that is, just like the university of Wuppertal not beautiful, so I don't take pictures. And then it is going into the woods again. After now four hours and almost 17.5 km (11 mi) my body starts to ache. The varices in my right knee pit report themselves, my left shoulder doesn't want to carry the weight anymore and the soles of my feet feel the weight with every step now. My left little toe and the vault on my left foot feel a bit sore. I didn't use tape today (since I forgot it at home), which I usually use to cover my little toes, who like to hide underneath their neighbors and thus are easily rubbed sore. I also add a bit tape to my Achilles tendon. That is where the boots rub my heels, when I go up. I stop for a minute and lean forward to get the weight of the pack on my upper back. I try to stretch a little. "When there is a café showing up out of nowhere now, I will take a short tea break", I decide. As I continue my hike there is a café, but I miss it, since I went the wrong path. Who knows what it is good for…
Suddenly I hear noises behind me, that appear to be a mountain biker as they get closer. I step aside to let him go on the slim path with no ice, but he goes past me in the middle of the trail on the ice. "Courageous", is what I am thinking. "I wouldn't do this with my bike, I would slide away immediately and then hit the gr…", is what I am thinking as he falls down. "Are you okay?", I shout as I walk down the hill to him. "Yes, I'm alright. It is the stupid forest and the ice in here", he says. "Yeah, it happened to me too, today", I respond. He also waits the two getting it together seconds before he gets up again. I walk away smiling. A couple of seconds later he swooshes past me – in the middle of the path…
Behind the next curve I smell pines. Damn, I love that smell! The ground is covered with blueberry bushes and I ask myself whether they carry fruit in summers. I see blueberry bushes so often but never with fruit. Am I too early in summer or too late or are all berries already eaten by wildlife?
The last part in the wood is steep. Very steep. A good training for my knees. It seems as if I took the wrong path down, because I get into town more easterly than I thought and walk on the road past the clinic to get to the trail. There are a few nice houses here. I am wondering when a house becomes a villa. "I have to look it up, when I get home", I decide.
I wander the streets of Marburg and then enter a street that I know: Pilgrimstein. "Oh, this is where Shawarma Haus was with vegan Arabian cuisine", I remember. I could write now, that I intentionally took the wrong way to get something to eat, but in fact I am so distracted by delicious food, that I honestly think, this is the right way and walk straight.
"One falafel plate to go, please", I place the order and have to wait for 15 minutes, since the batter for the falafel is made freshly.
While I wait for my food, the guests in the establishment watch me. I get off my backpack and rest it on a bar stool, while I try to get my body parts moveable. Okay, now I get why they are staring at me…
With a bag in my hand and a backpack on the back I walk the last 800 meters (0.5 mi) back to the apartment where I throw everything off me and dig into this delicious plate of heaven. If you ever visit Marburg, be sure to stop at Shawarma Haus. It is tiny, but the food is really good and the staff is very nice.
After a short break, I try to get up again. I feel like on the Camino. Everything is stiff and I can't really move. I have to laugh and a few moments later I see that a Camino friend posted a few audio-recordings from our time on the Camino. What a coincidence!
This evening I don't do as much as getting filled with sound and pictures of Netflix. I edit the photos of the hike, but I leave the writing for tomorrow.
Love,
Rina