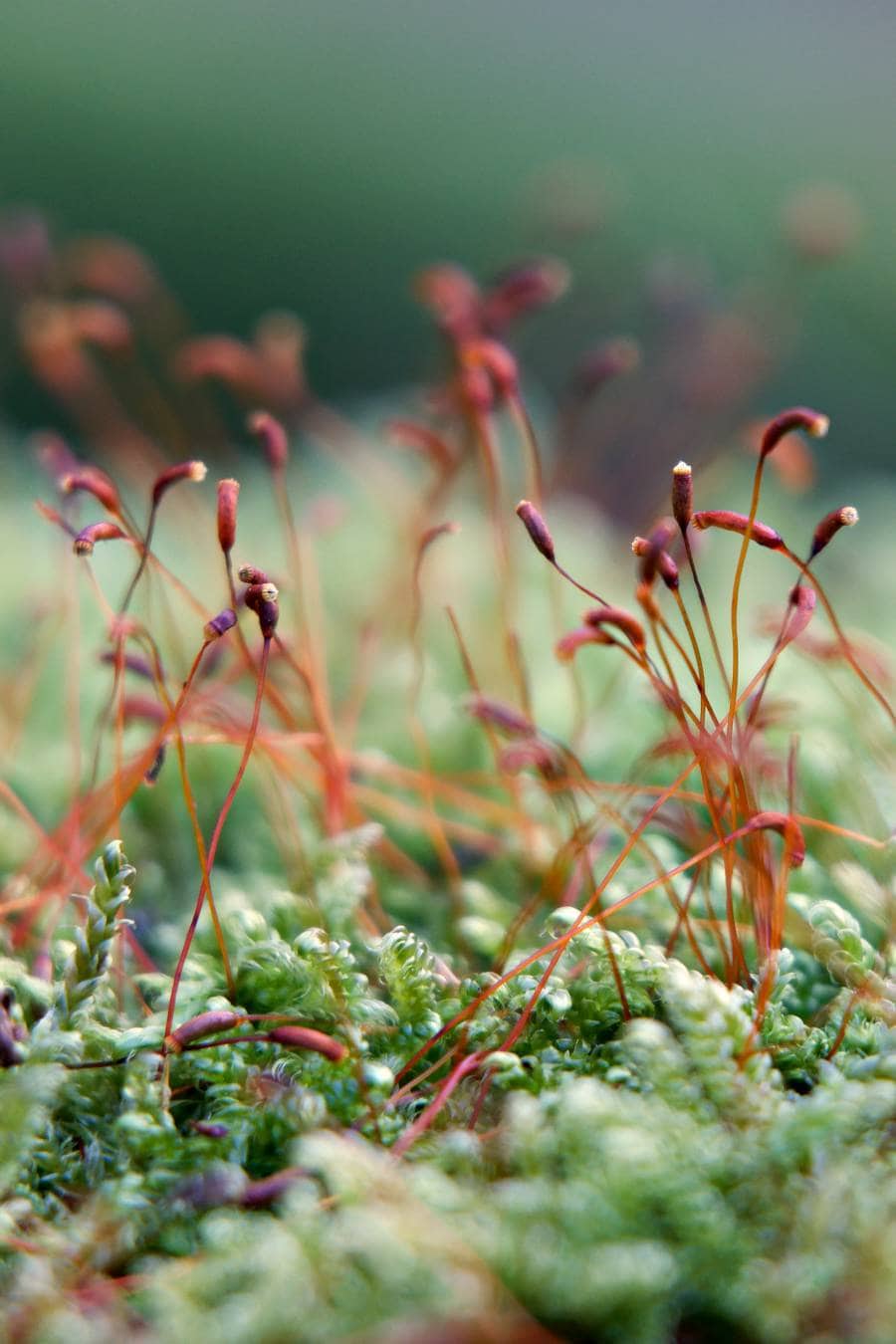 [Unpaid Advertising]
It's been too long, since I was hiking. I just checked: It was in October. In November and December I was too busy at work (and on top of that I was sick) to be motivated on weekends to go outside and hike for hours. Instead I stayed inside to cure my cold. This year this is going to change, because hiking does a lot for my well-being. So I want to plan those breaks consciously and maybe post one or two recipes less.
Early in the morning I wake up. It is Sunday and for the first time in weeks the weather forecast predicted sunshine all day. I spontaneously put on some warm hiking clothes, pack my backpack and search for a nice tour nearby my home. I download the GPX track on my MacBook and then upload it on my phone in my hiking app ViewRanger. This is my preferred way of letting me navigate in the woods.
This is the track I hiked:
If you also want to follow this route you might download the original track, since I went the wrong way once.
After a small bowl of muesli for breakfast I grab my bike and backpack and ride to Wuppertal-Cronenberg where I park my ride at a light pole and start my tour.
At the beginning of my hike I progress slowly, because I take figuratively 1000 picture. I brought my new camera to raise my outdoor photography skills. The sun is still low and the light is wonderful!
After half an hour I made only 500 meters (0.31 mi) and I start to freeze. So I am going fast and for a couple of minutes to get warm again. It is really cold today and the wind burns my face. The thermostat shows 1 degree centigrade over zero (33.8° F).
You can tell there was a storm, a couple of weeks ago. Everywhere are fallen trees, which are perfect for photographing, especially when they are splinted. One tree is broken lengthwise AND broke off above the roots. Here I stay for another 15 minutes taking lots of photos until my cold bottom pushes me forward.
The great light fascinates me again and again. This was the right time for my hike. At first I thought I might be too late, because it was already bright outside, but this light now is even better.
A few times I get off the route and go in zigzags. For one reason there are trees and I want to photograph them and for the other reason there are trees in the way which I can't surpass and have to walk around.
It is so noticeable, that I haven't been hiking the past few weeks. It is about time that I go out more often. Such a hike isn't wellness for your body, but also for your soul, which I, once more, notice satisfyingly today. A quote comes to my mind. I watched a film at Christmas where a father, while in the woods, says to his daughter: "If you ever have worries or sorrows in life, then walk with open eyes through the woods, like now. And in every tree and in every bush, in every animal and in every flower you see the almightiness of god and it will give you solace and virtue." Well, I am not that religious, but I can confirm the power of the forest to heal your soul!
I am not worried and I don't have sorrows, but winter and its darkness are getting to me sometimes. Then a walk in the woods is helping.
Unfortunately I turned off the alarm during my last hike, which indicates acoustically, that I lost the way. I couldn't stand the tone last time. Today it ends in me going the wrong way and not noticing it for quite a while. I turn right and go another way until I am back on the track.
After half the way I want to take a break. But it is so windy there that I would freeze in a minute and the fire would flicker in the wind and take much more time to bring the water to boil. So I go further. After another 20 minutes I spot a stream and a fallen tree next to it and no wind. The perfect place for a break. I get the burner out of my backpack and cook water for a cup of coffee. With that I am having to half-frozen clementine and a banana.
Since I am sweaty I throw over another layer of fleece jacket, which I packed for the occasion. I couldn't have stayed longer than for a coffee, because it is so so cold.
As I pack my things I notice my open jacket pocket and for one moment my heart is in my boots. But then I remember that I put my keys in my backpack. Phew!
It feels now that it is getting colder and colder. My nose runs and is ice-cold. So good I packed my gloves and didn't leave them in my bike bag, I need them now to prevent my fingers from freezing.
The last third is adventurous. I pass a stream with steep edges. I slide away two times and land in the mud. With help of my hiking sticks and the fallen trees around I can pull and push myself up. Then it goes steeply up. So steeply, that I slide down at almost every step I take. So good I packed my hiking sticks! Without them it would be much harder to climb this hill. I don't think of taking photos now.
I clamber up the hill and finally make it to solid ground. I am glad that this episode is over. It was exhausting and I am not the fittest right now.
I walk next to the road for a couple of meters and then turn left into a driveway. Because there is a sign ahead "private property" I think that the way next to it, up the hill that looks like a trail, is the right way for me. Well, I thought wrong. This way brings me to another private property where I spot geese and take a picture of them. Sometimes the detour has its advantages. Sadly the geese are too shy and I can't attract them to come closer. So I turn and walk down the way and then trespass the first property. A few meters ahead I see the sign of the trail again.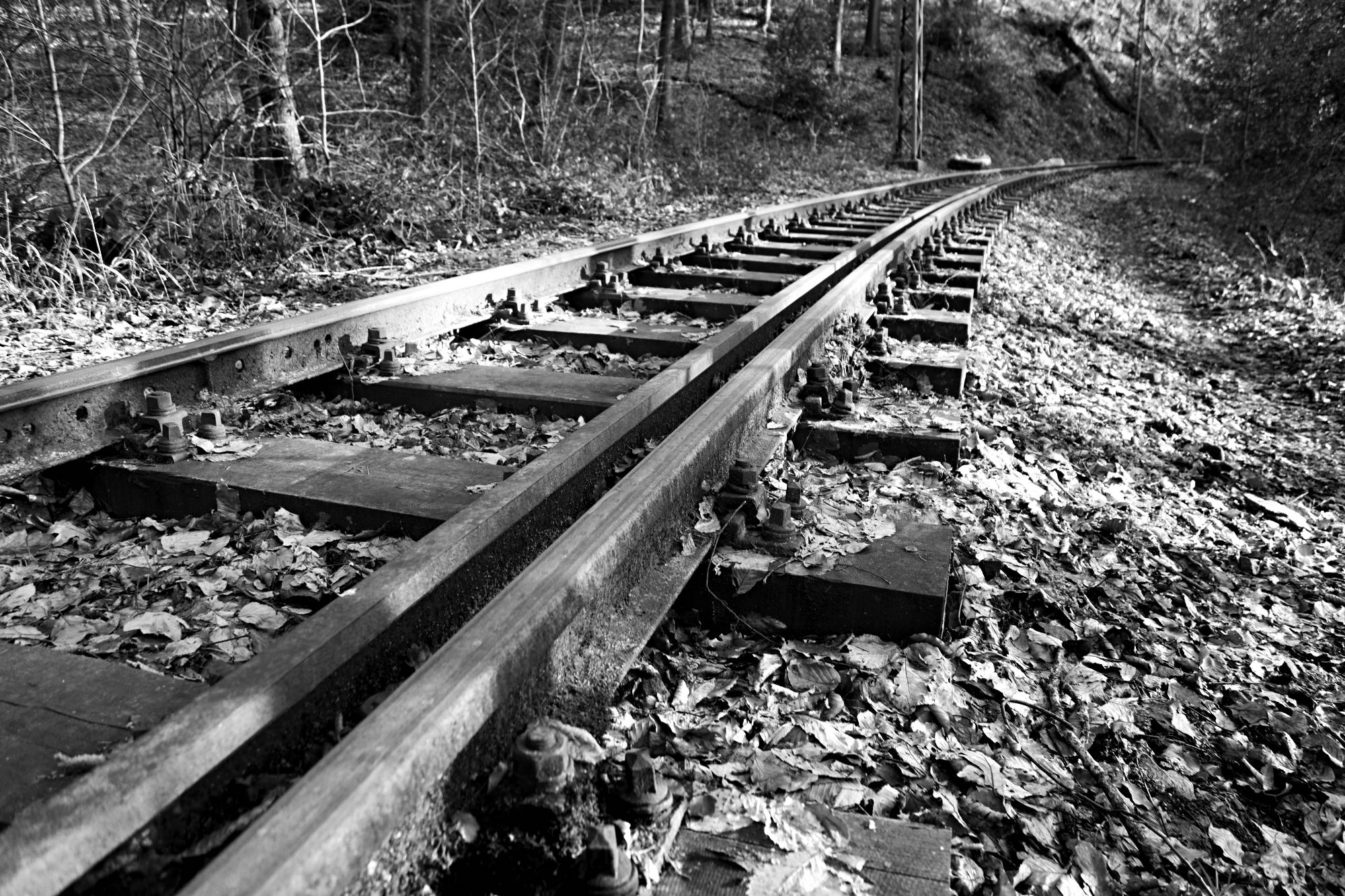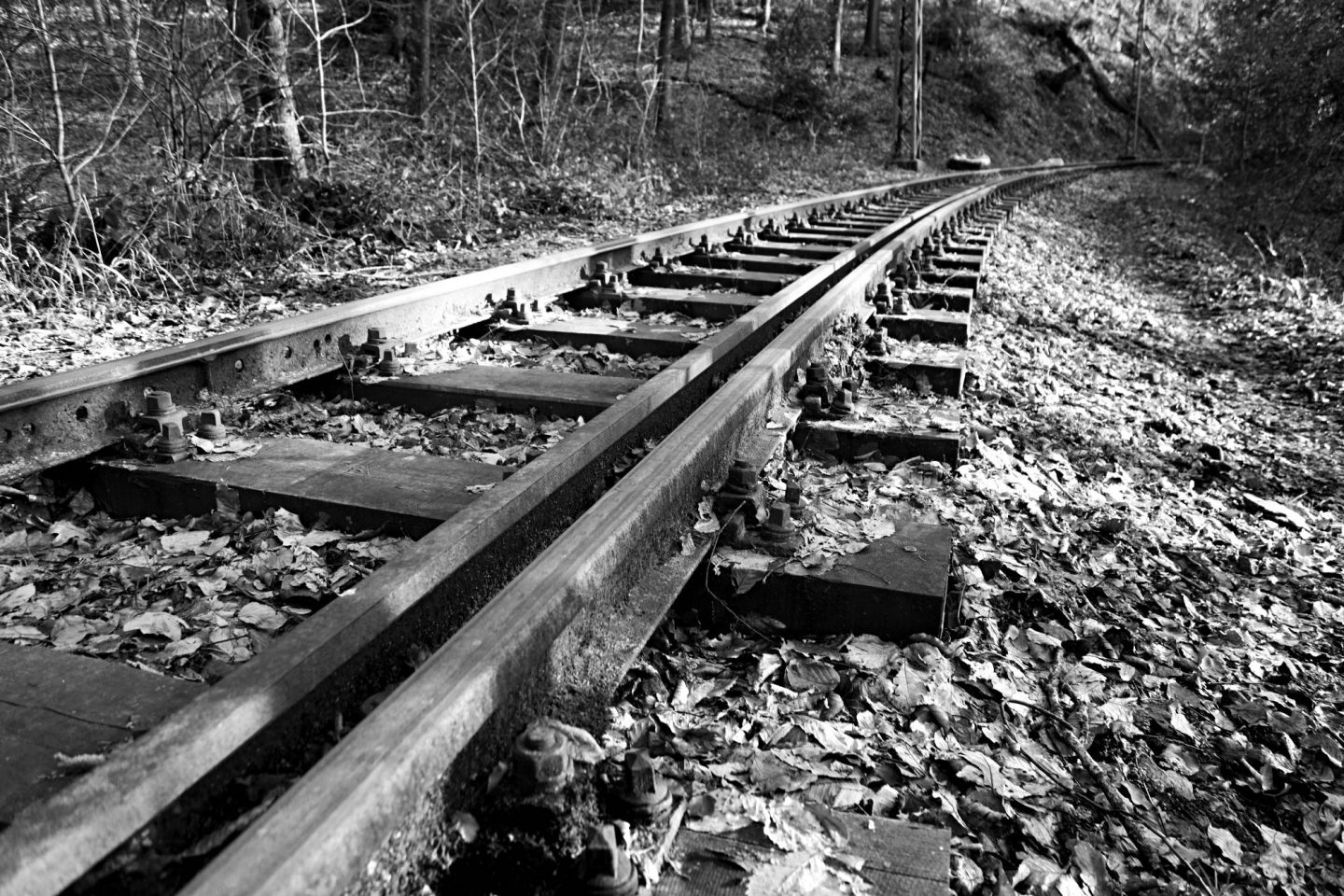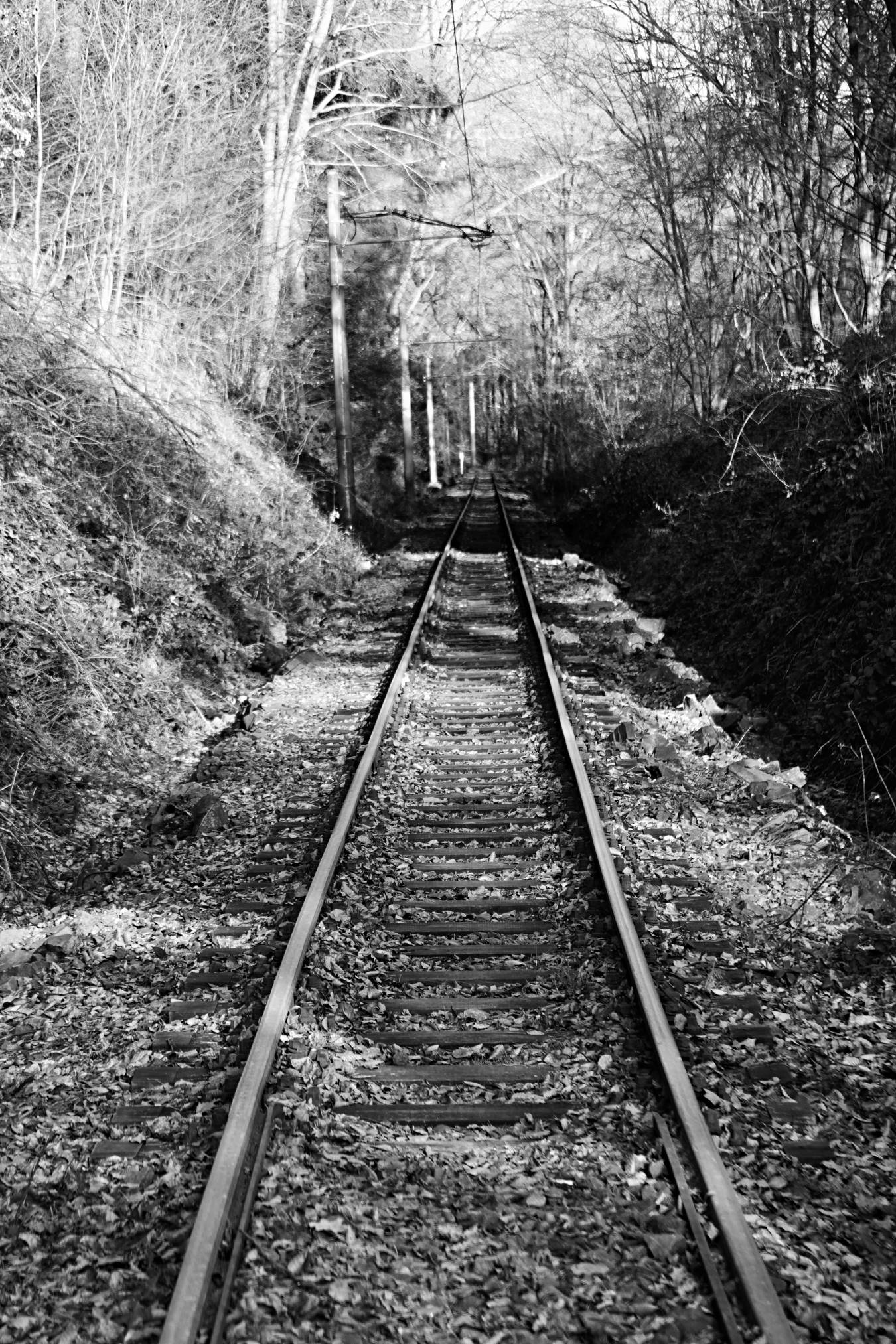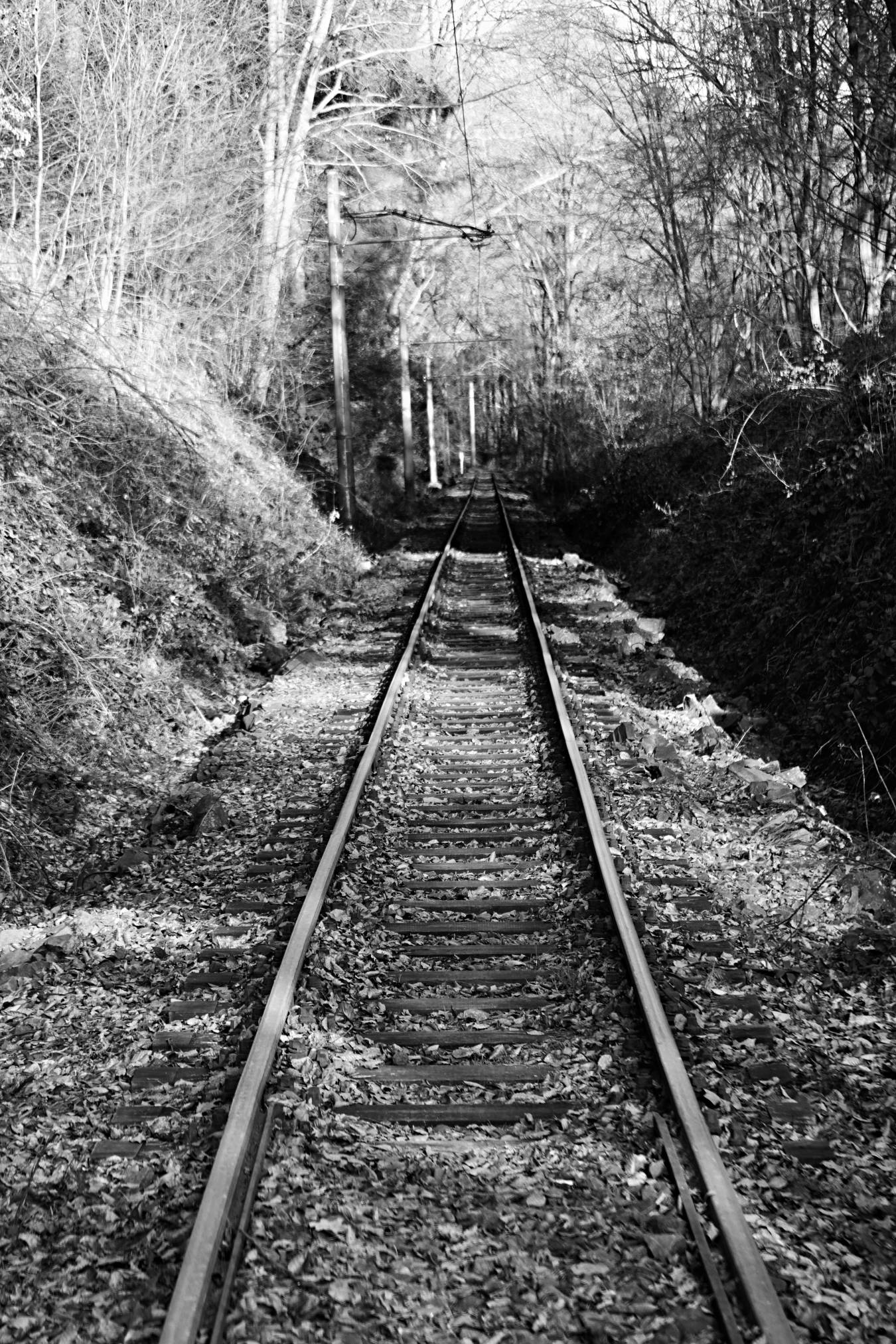 In the middle of the wood I come across the rails of the museum train which is the perfect place to take some pictures. The train comes seldom and where else could I stand on the rails and take pictures? Unfortunately I miss the perfect moment to capture a family walking on the rails in the sun. So bad! That would have been an even greater picture. The woman suddenly turns as if she felt I was taking her picture. I tell her that it was so beautiful how they walked on the rails in the sun and she laughs.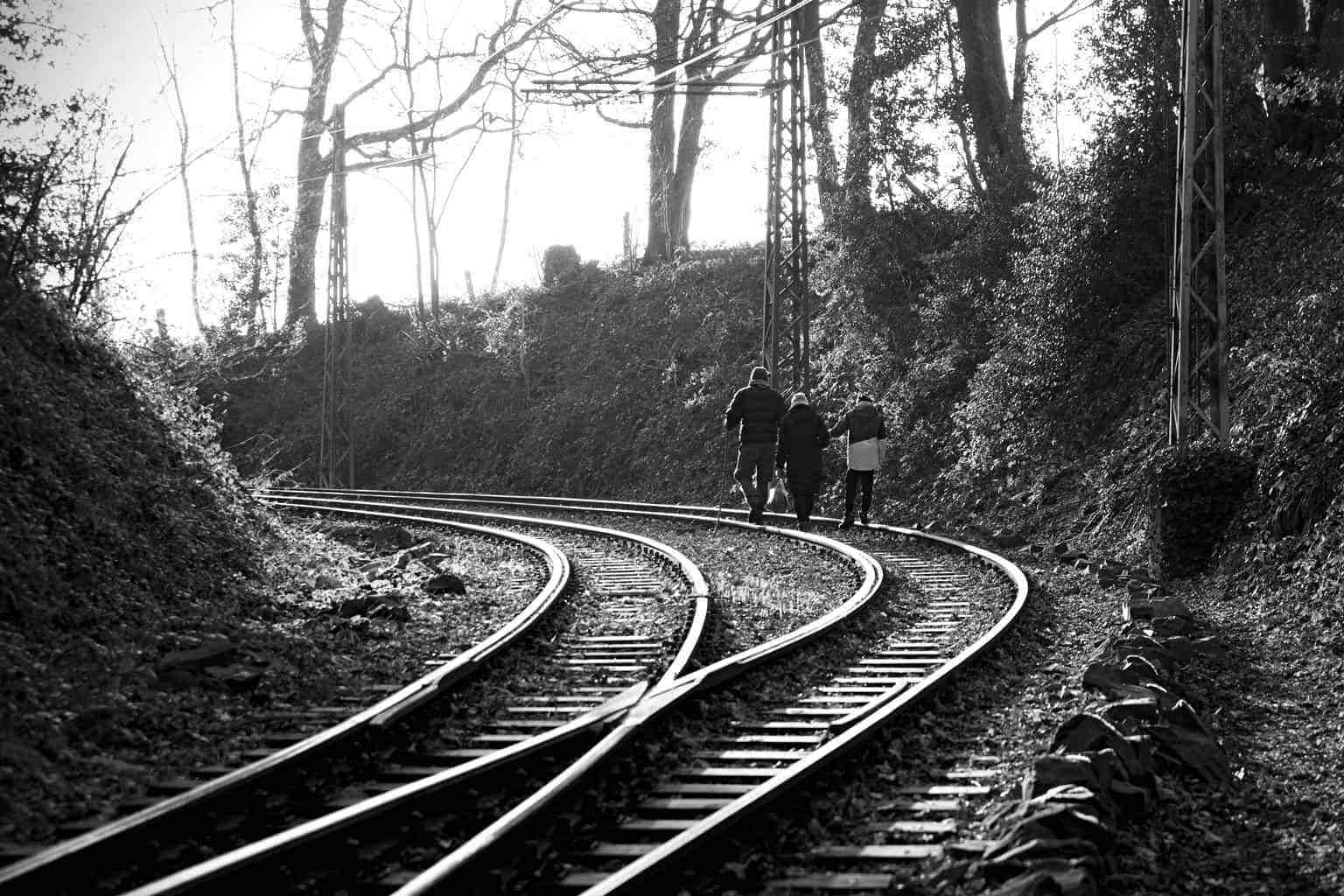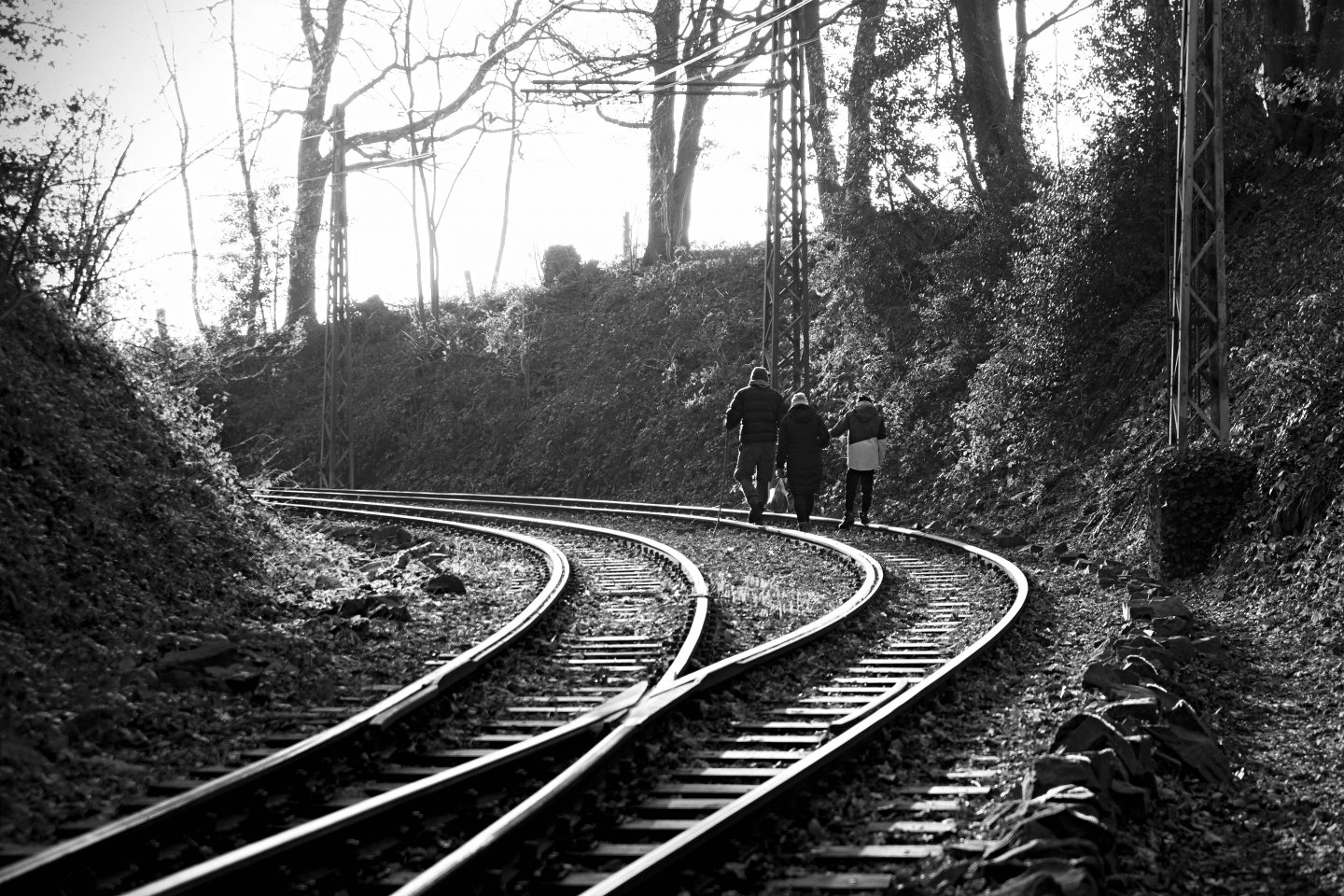 At the end of the tour I walk in the middle of houses and there should be a way ahead. But there is only a big wooden fence. It is not much weathered, so maybe this fence hasn't been there for long. It doesn't really matter. I have to turn around and get on the main road two crossings earlier than the track provides. Soon I arrive at my bike after 4 hours and 40 minutes of hiking. That was not planned! I was going to go to a potluck brunch at 1 p.m. I arrive at home at 3.30 p.m… The track is listed with 2 1/2 hours. While I was taking pictures I didn't stop the watch. Only when I really took a break, I stopped my navigation. I don't know whether it is because of the photos or because I was sooo slow. Sure, there were some ascents, but an average speed of 2,4 km/h (1.5 mph) is fierce. And I am exhausted. I am looking for a bath now!
Love,
Rina