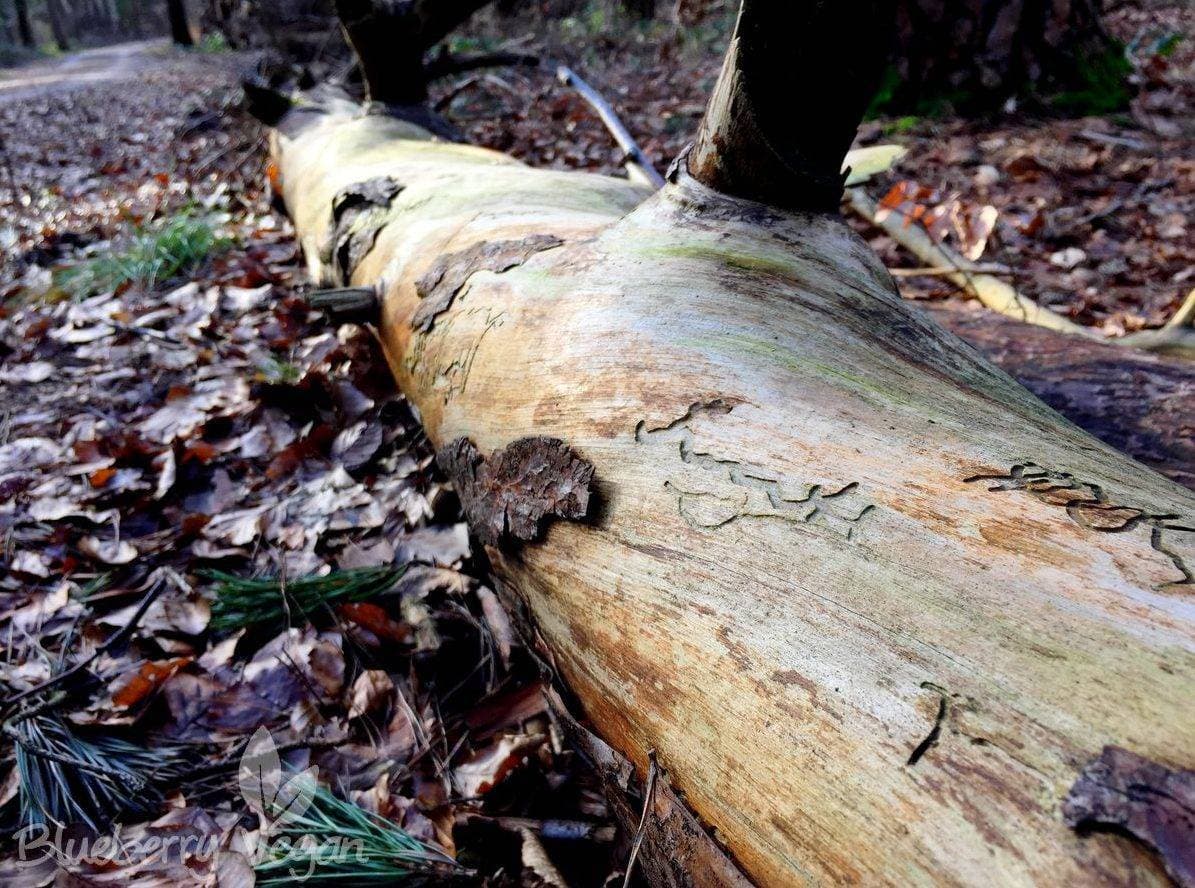 [Advertising: Affiliate Links]
I like being in nature. At water, in the forest, I don't care. Outdoors is all that matters.
This weekend I was hiking with Marten from einfach raus…. Marten is also vegan and an outdoor enthusiast. I met him at a vegan regulars' table in Wuppertal and with him a great vegan clique.
In November we all spent a weekend together. It was great. Read about it here: Hiking in the Eifel.
So this weekend I was hiking with Marten around Rösrath (near cologne). We planned to make a creamed pea soup at our break.
A few impressions from the hike:
Marten found a recipe for the soup online and we veganized it. To make it a bit easier, I cut the fresh veggies at home. Marten brought the cooker and pot.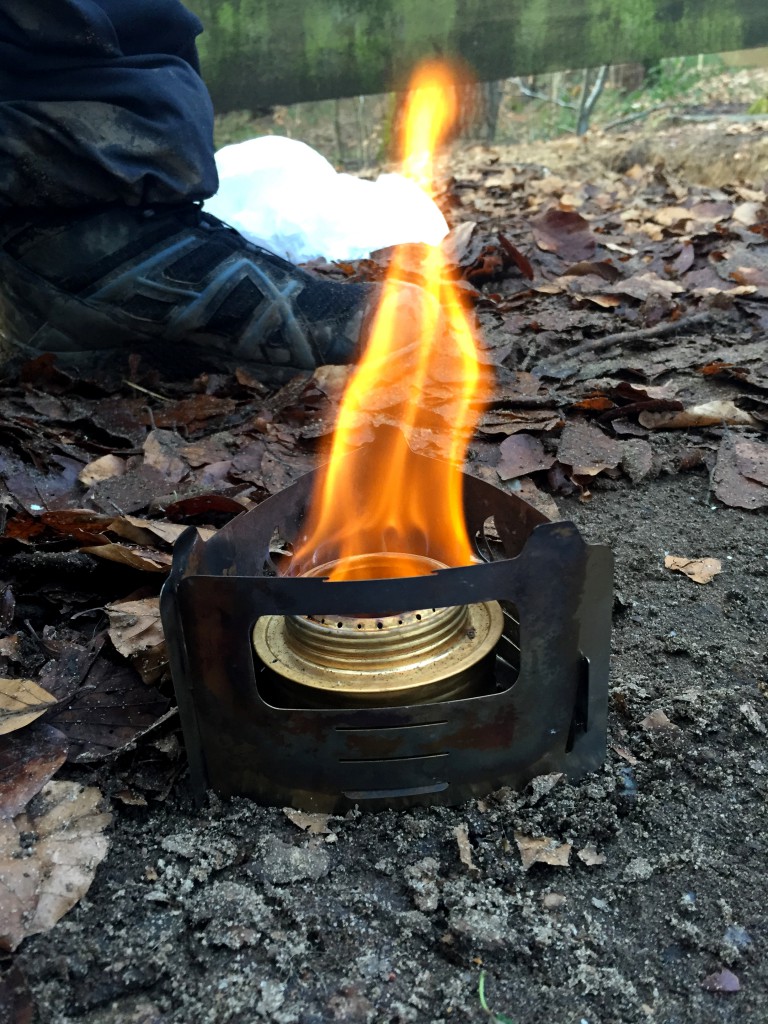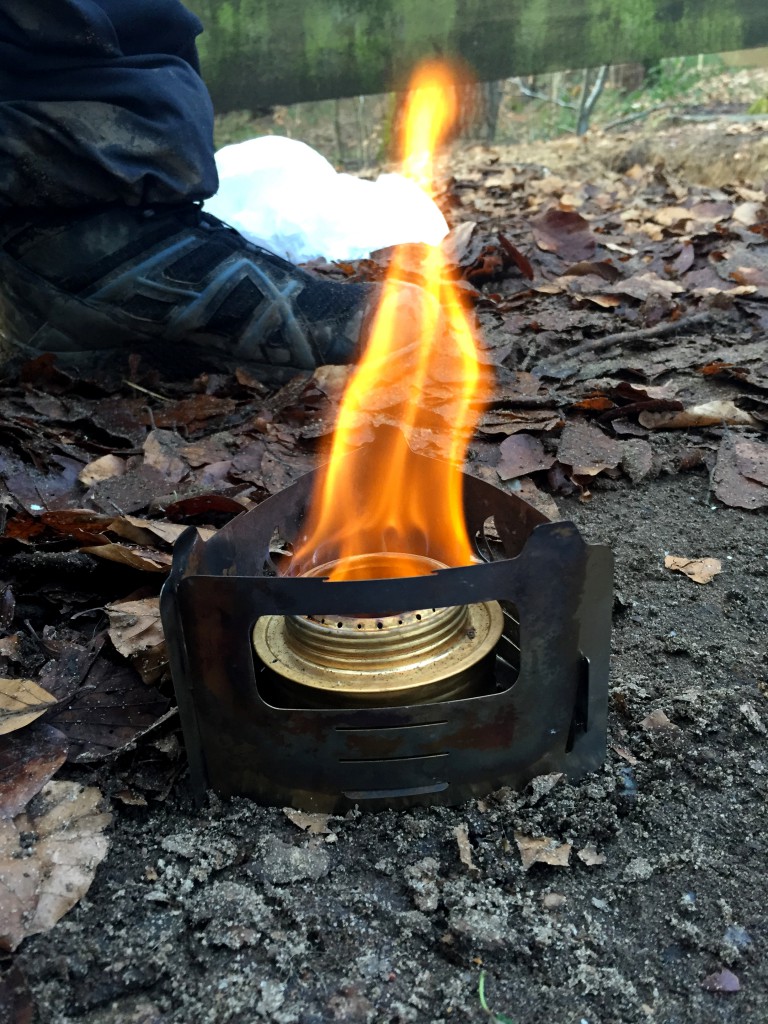 We started with the browning of the onions, garlic, veggie hot dogs and carrots. Then we added water and instant broth.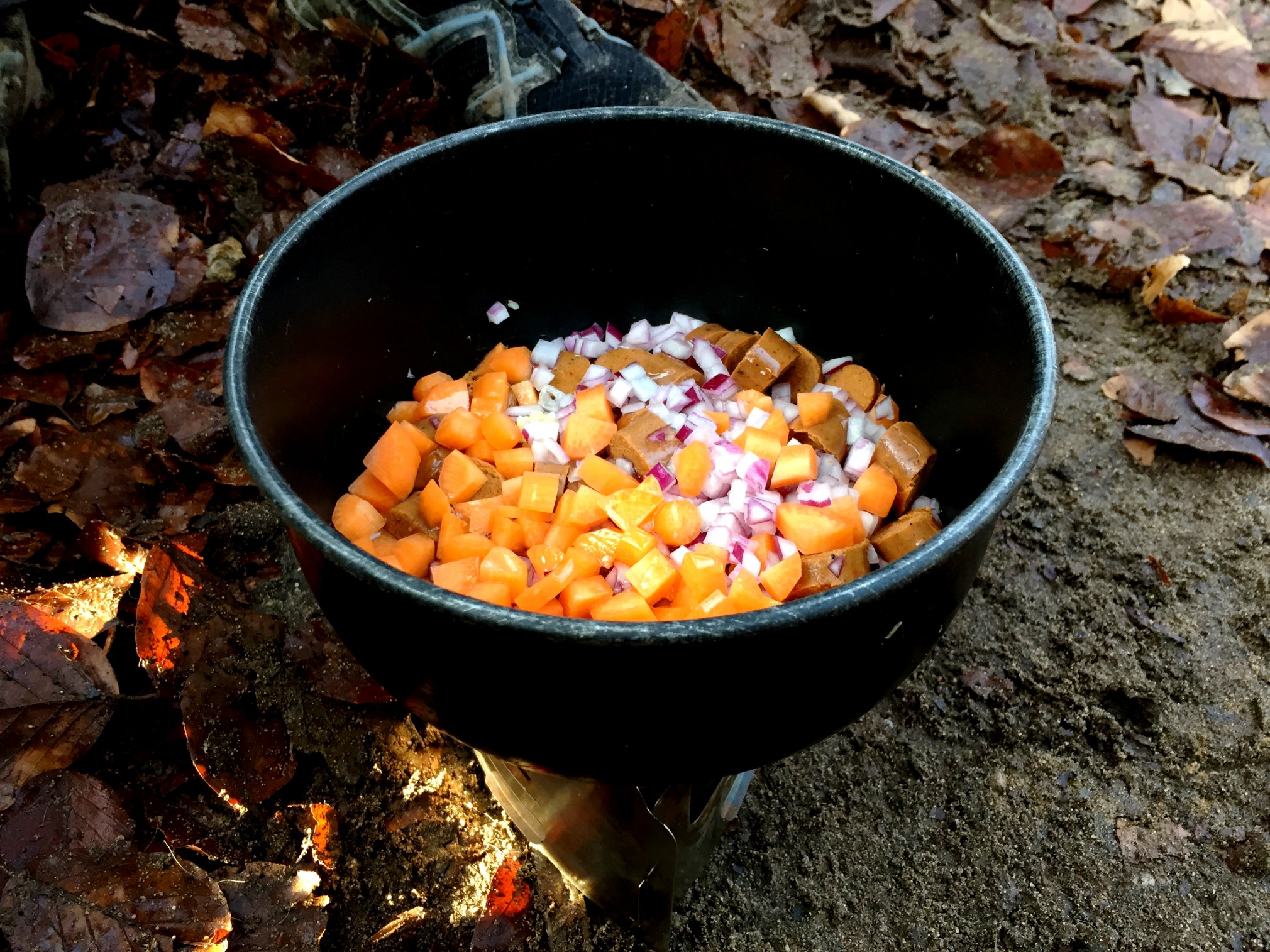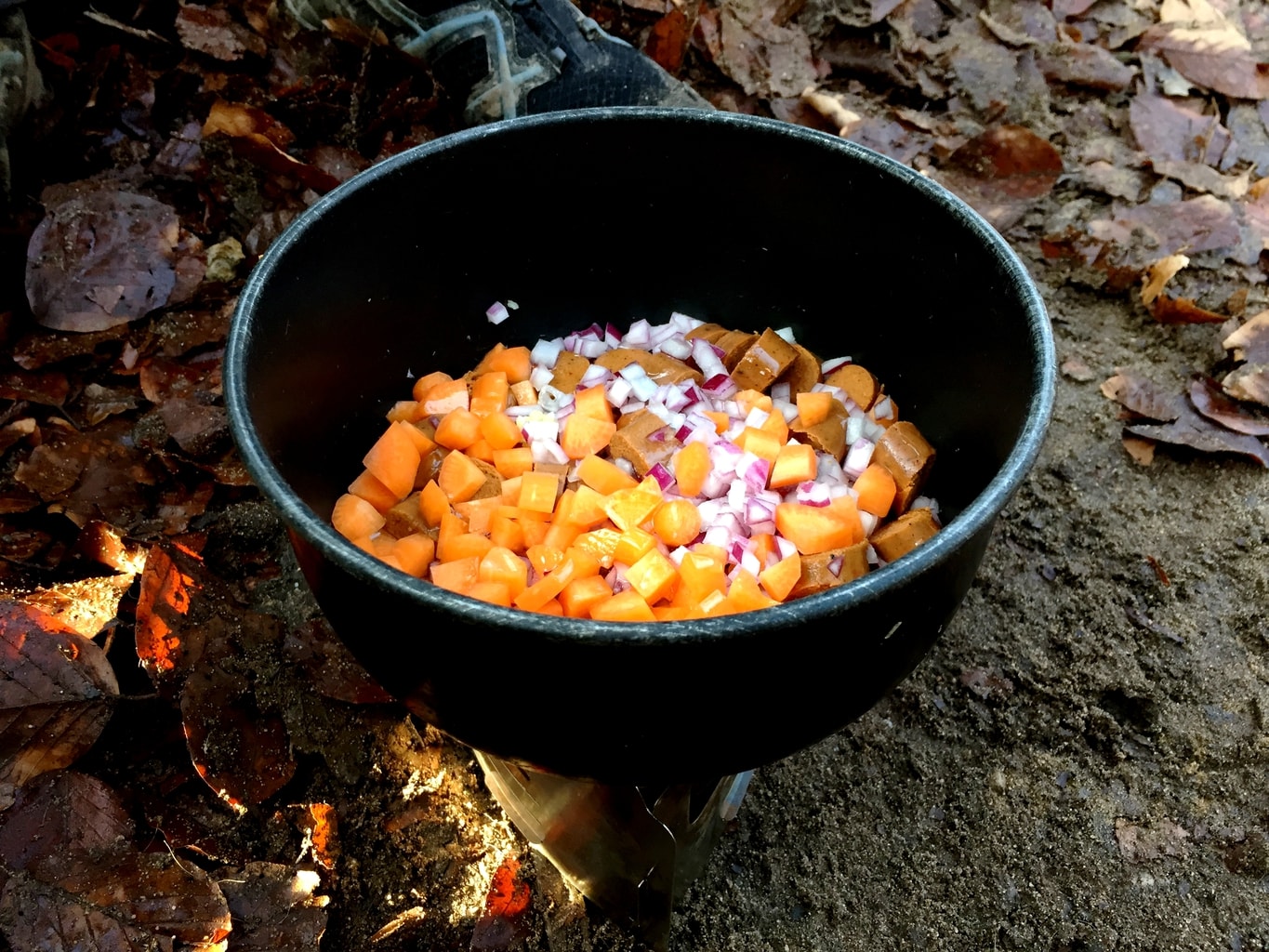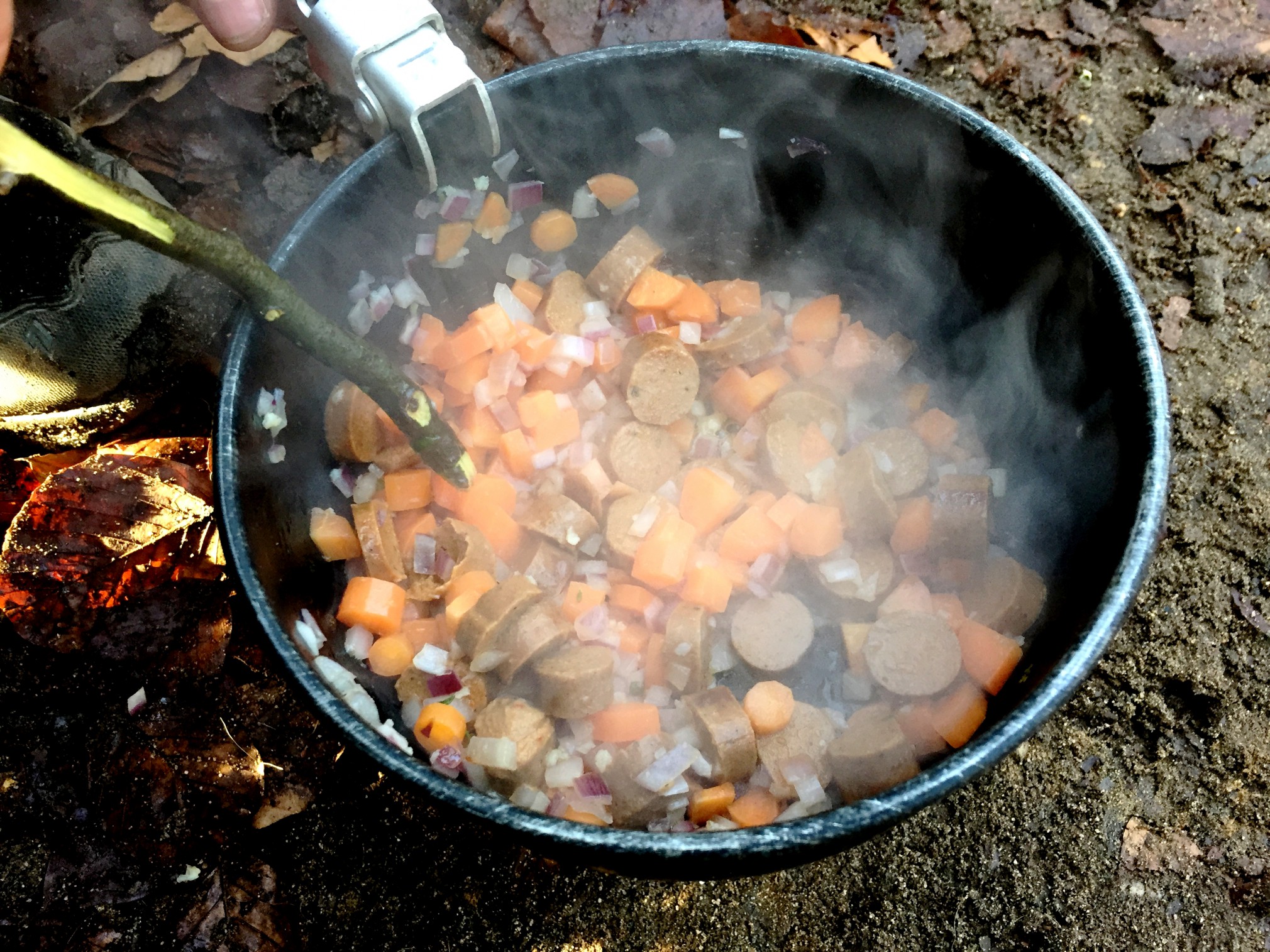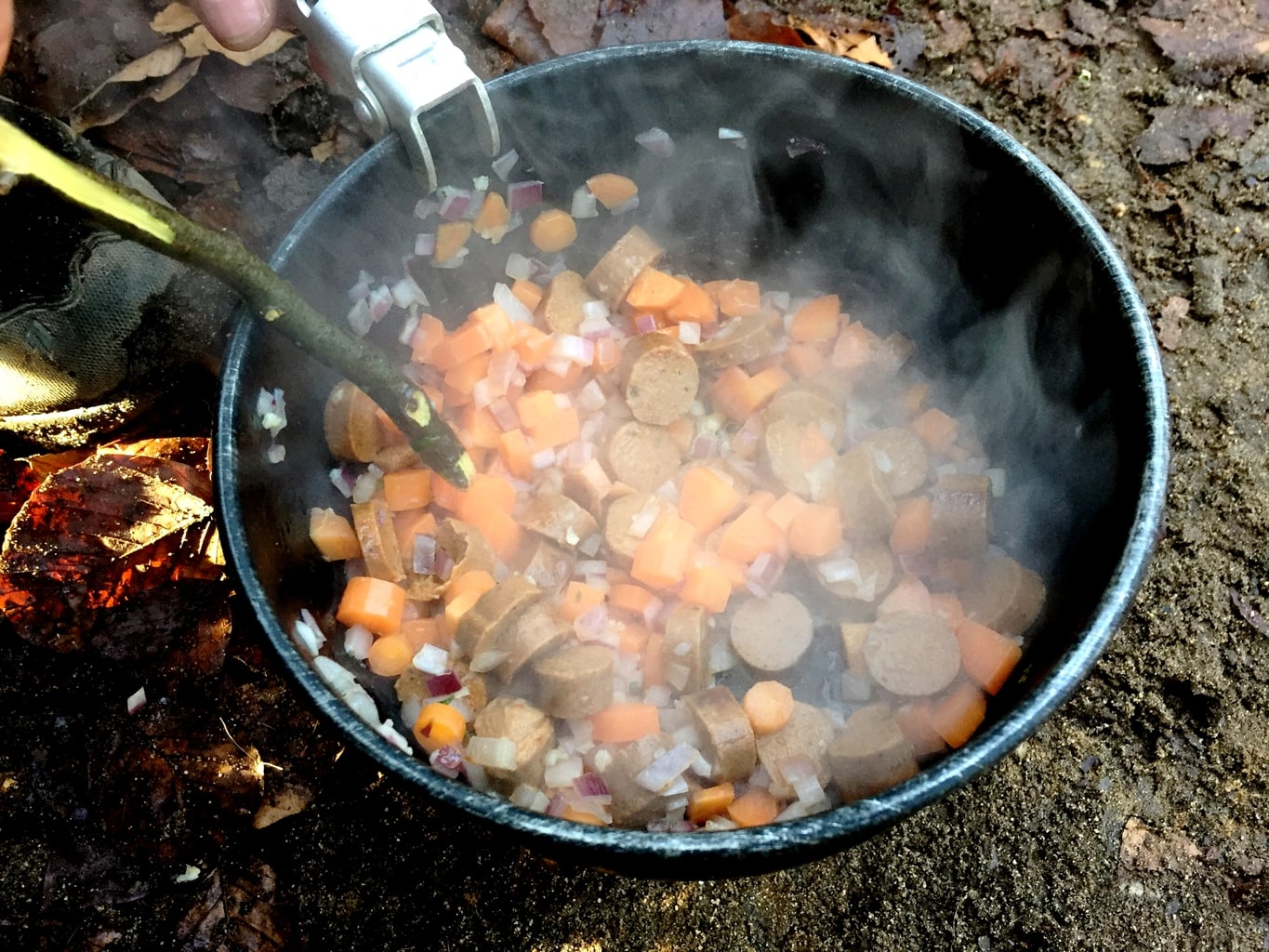 The cooking over an open flame in an aluminium pot was unexpected quick. I thought it would take longer to boil the water.
When the broth was boiling, we stirred in pea puree powder and let the soup thicken. Then seasoned and ate it.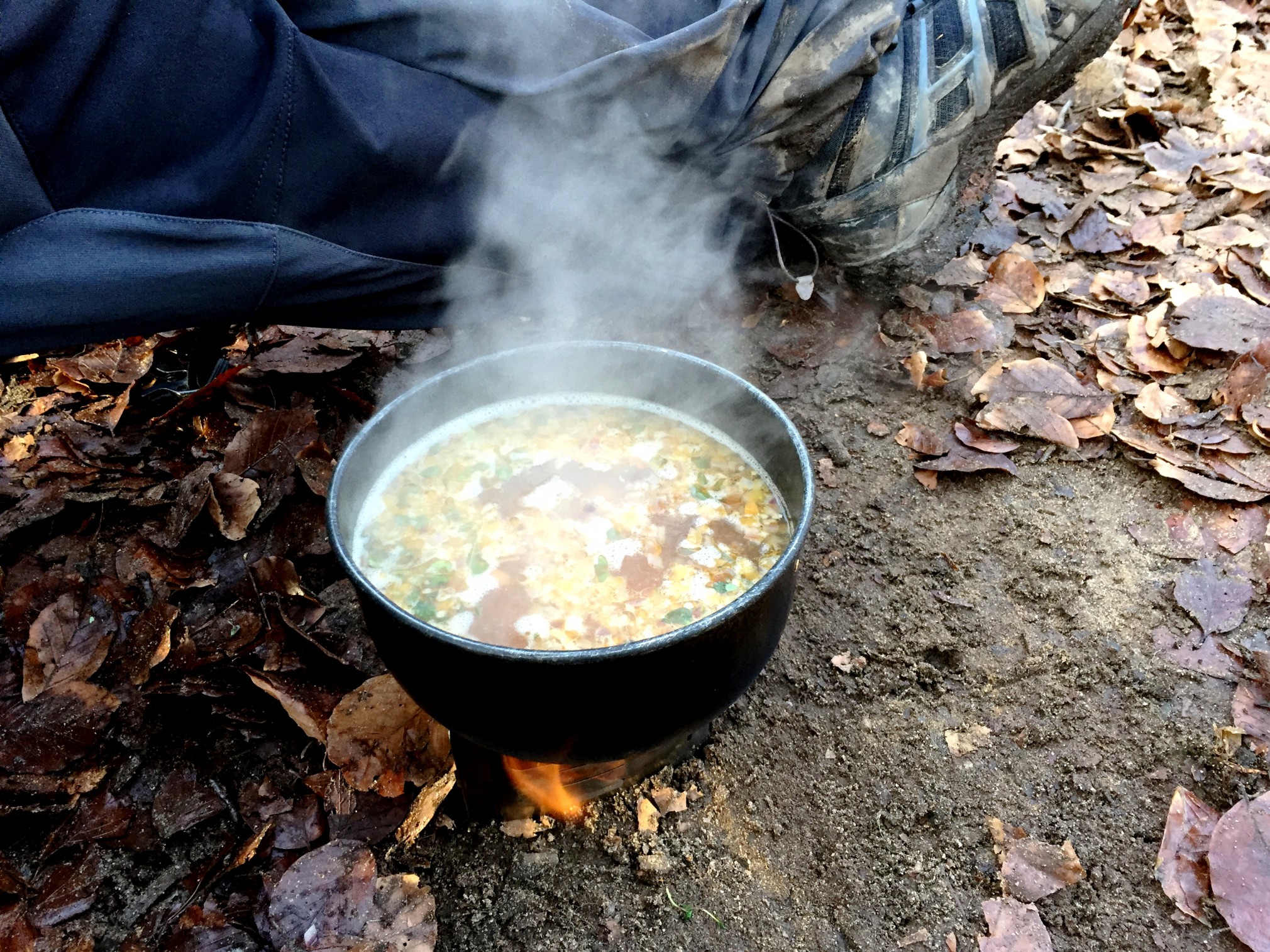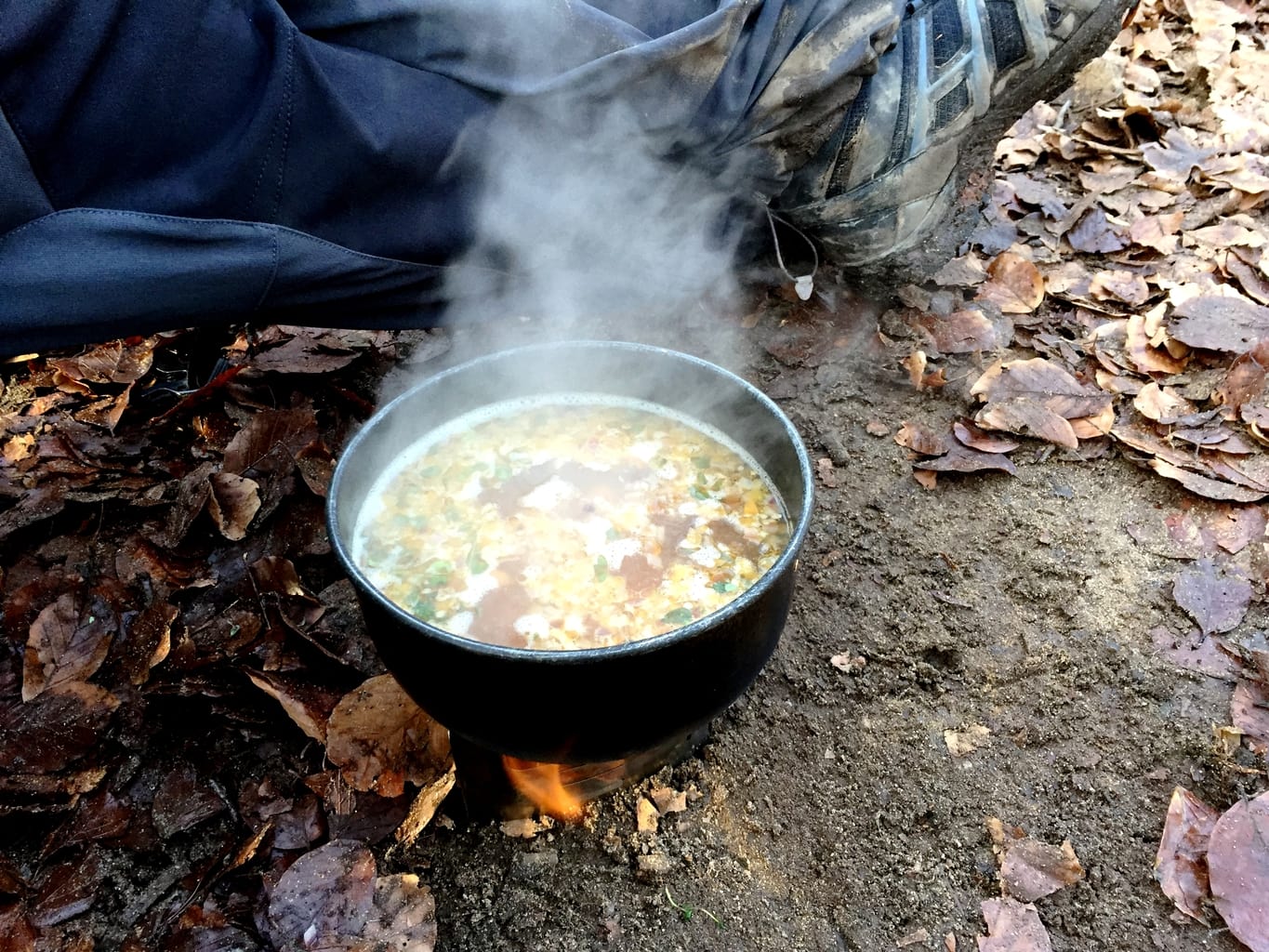 As a dessert we cooked water to make a coffee with soy milk powder and I brought some grapes. Then we continued or hike because it was getting cold.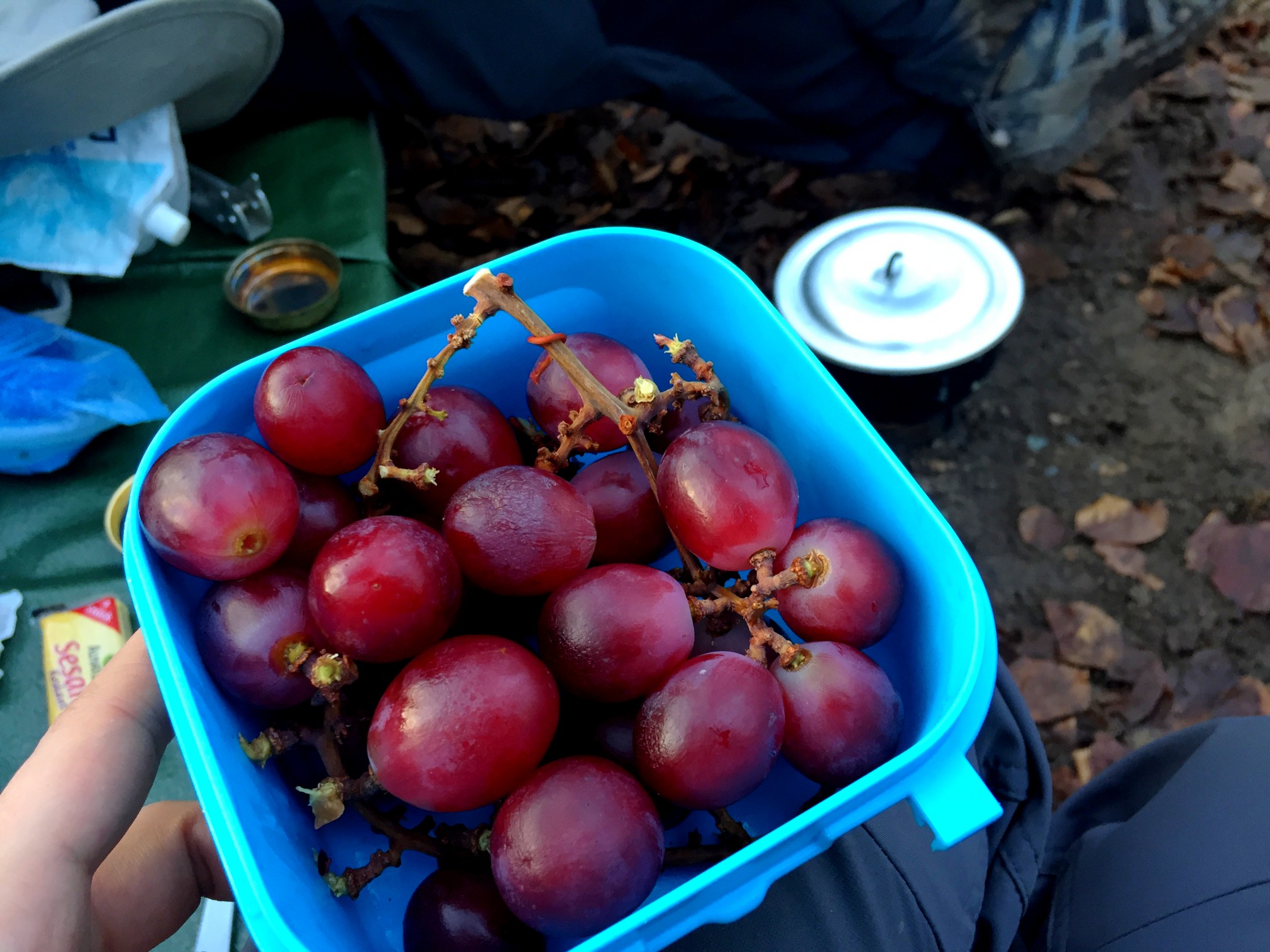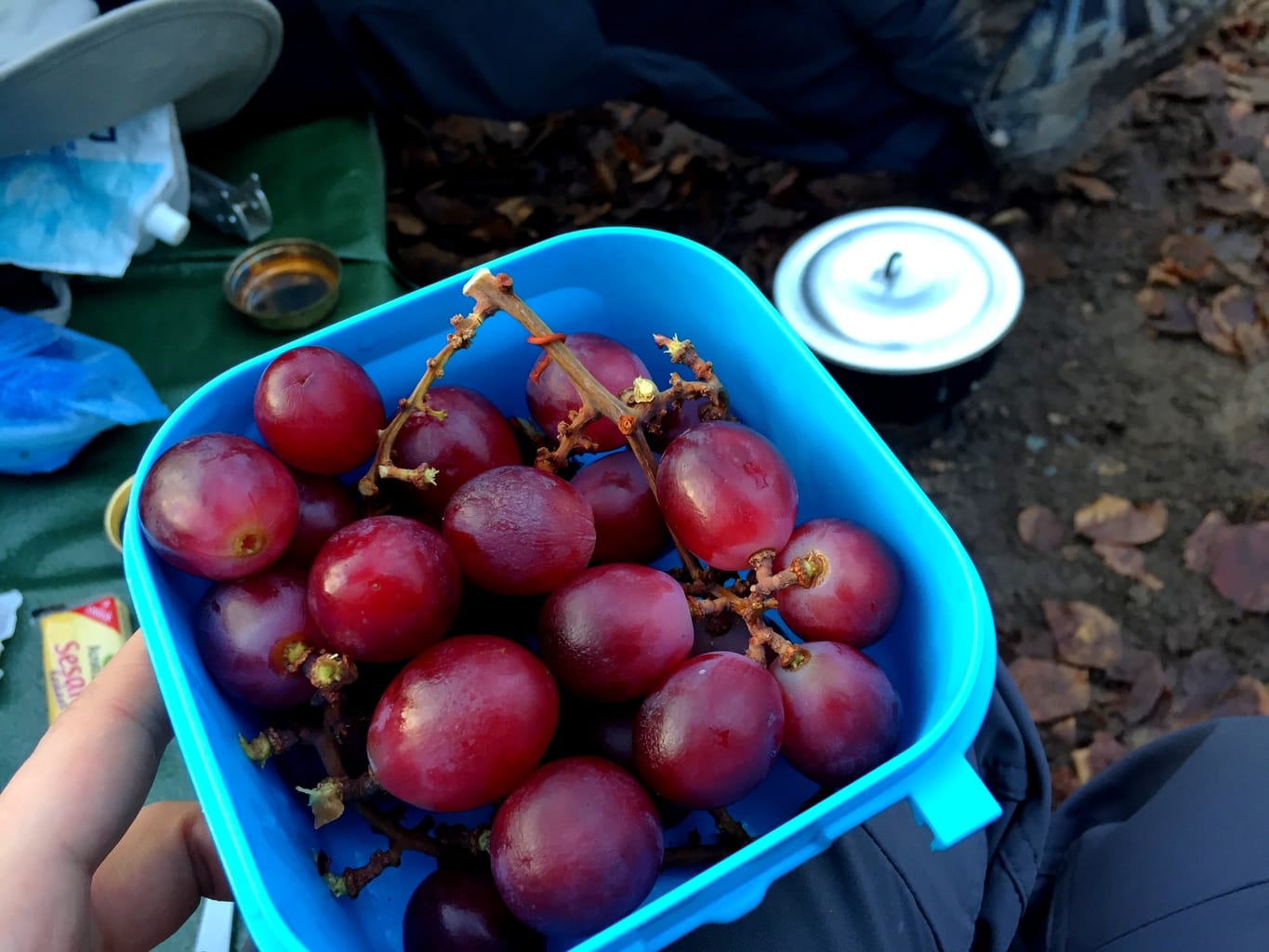 Of course I am sharing the recipe with you.
Love,
Rina
Creamed Pea Soup on the Road
Autor/Author:
Marten and Rina
Zutaten/Ingredients
For the soup:
1 red onion
1 clove garlic
2 medium carrots
150 g soya hot dogs
800 ml water
2 tsp vegetable broth
1 bag pea puree powder
1 tbsp nutritional yeast flakes
1 tbsp fresh thyme
salt
pepper
cayenne pepper
To serve:
Zubereitung/Instructions
Finely cube the onion, garlic and carrots. Slice the soya hot dogs and fry all together in hot oil in a pot.


When they browned a little, deglaze with water and stir in the broth and thyme leaves. Bring to boil.


Then add the pea puree powder and let cook for a couple of minutes. Season with salt, pepper and cayenne. Serve with bread.