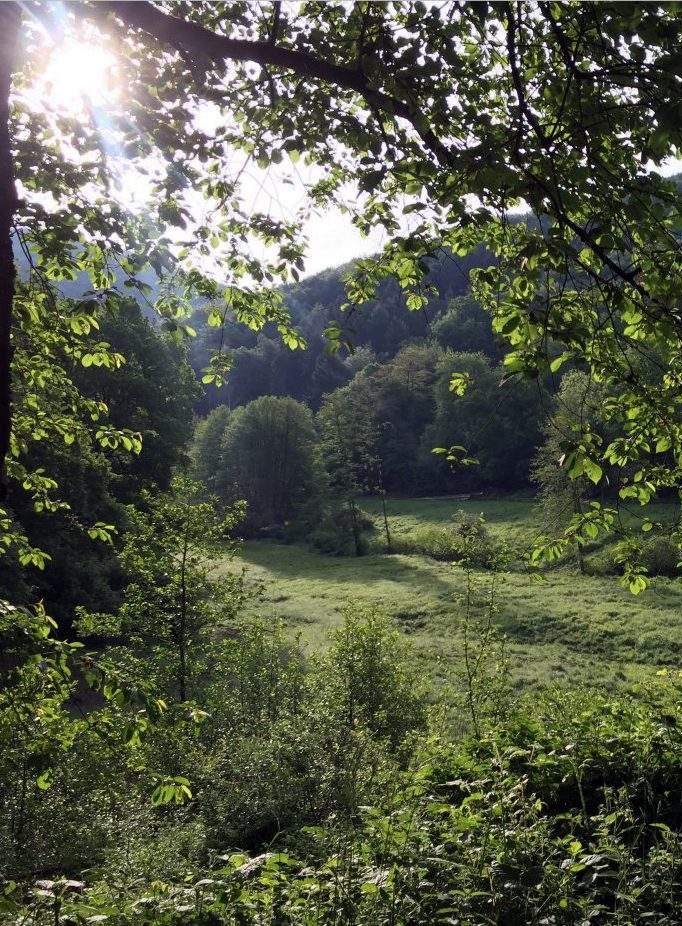 Since we had to abort our last trip due to endless rainfall and still had a couple of days off of work left, Marten from einfach raus… and I went on a two-day hike. The trail was supposed to be not far away from home, but with lovely scenery. Marten proposed the forest near Rheinbrohl.
Part of the trail he created on his own and the other part we were after the Rheinsteig, an official hiking trail. It was a trail with a lots of ups and downs. Once you were down at the Rhine, next thing you know it goes up again to top of the next mountain. And then again. A good cardio, as you see.
At noon we took a break and ready a risotto. And enjoyed the sun, while the risotto was simmering.
After that we had a couple more kilometers to go until we looked for a place to sleep in the evening. Since the landscape was hilly and a couple deerstands made the meadows an undesirable place to sleep, we had to look a while until we found the perfect spot.
Thanks to my earplugs I had a relatively calm night. In the early morning, right after I stuck my head out of my bivouac I heard a rustle. It was two boars looking at us interestedly. Marten clapped his hands twice, they turned around (it seemed a little bored ?) and trotted down the hill. The sunrise and the atmosphere were amazing!
The rest of the trail we followed the Rheinsteig trail, which wasn't so easy with its ups and downs. Much earlier, than we expected, we arrived at the car again and drove home. At this time the weather had changed to dark cloudy and already on the way home it rained again. So we had the perfect timing this time. Yay!
I hope you got an idea of what we experienced and feel motivated to go on a longer hike in beautiful nature yourself.
Love,
Rina