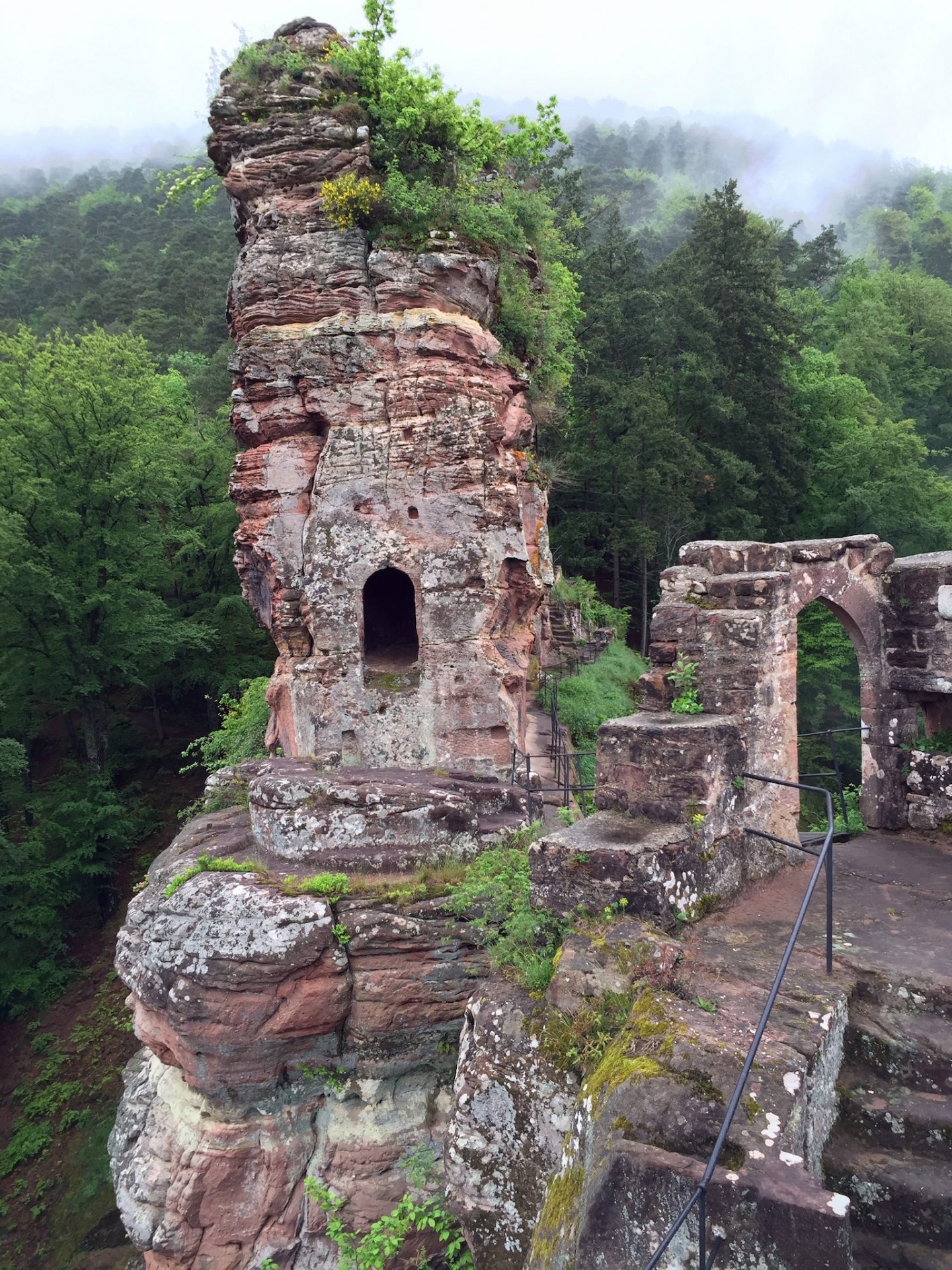 [Advertising: Affiliate Links]
Last week Marten from einfach raus… and I started our big trip. At least it should have been the big trip. But I'll get to that.
For a couple of month now the idea of packing our backpack and hike for a couple of days in a row was in our minds. We decided that the destination will be the South Palatinate/ North Vosges, where a big forested area is found. Away from civilization but near enough, if you have to abort the hike due to an injury.
The 7-Castle-Trail, a geocaching-trail was our template. And in the end we walked this route.
Before we started, we had to pack our bags. I carried with me: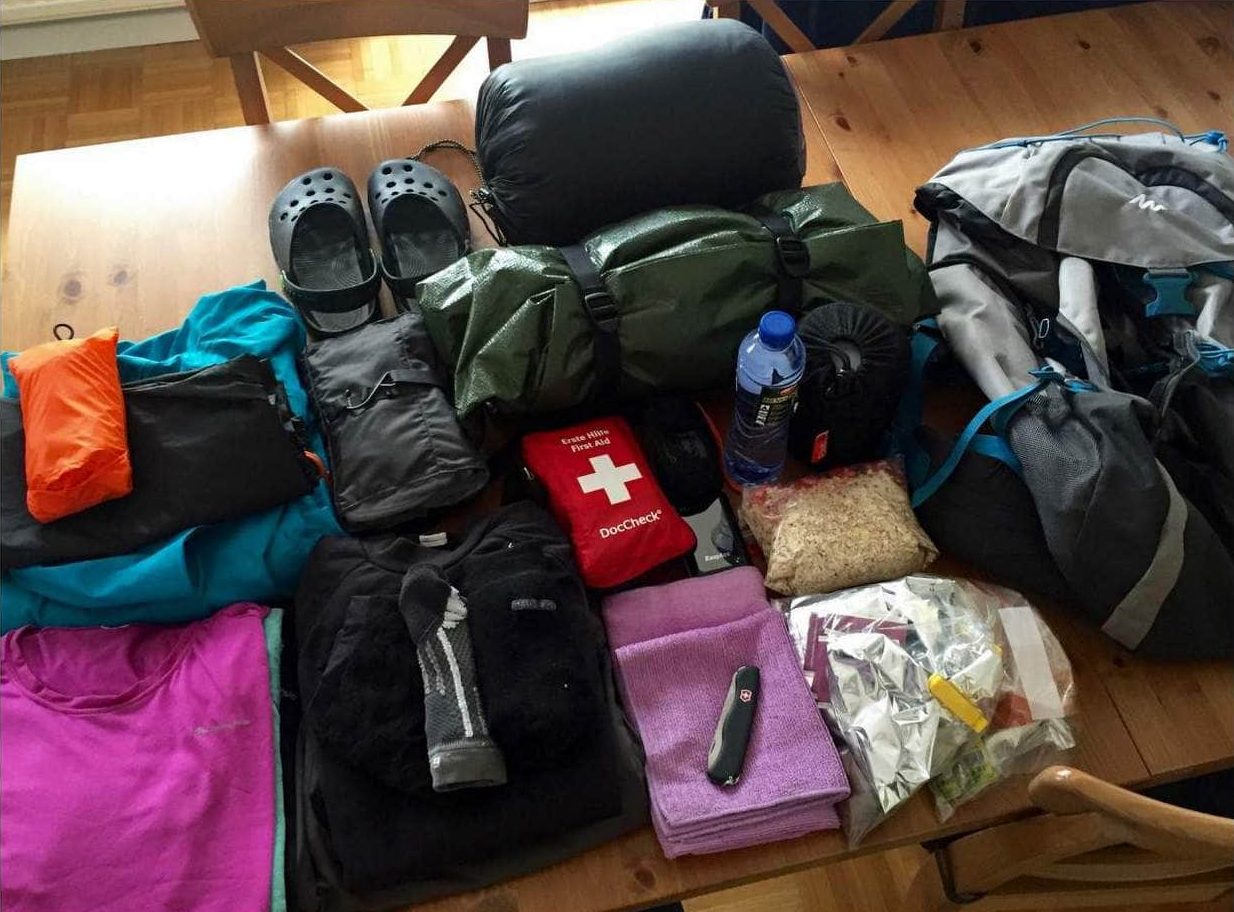 my

sleeping bag

and my

cushion

my

bivouac

my

tarp

my

Esbit-cooking set

(and

two

Fold-a-Cup

cups

and a

spork

)
half a liter spiritus
my

pocket knife

breakfast for a couple of days (oats, chopped nuts, dried fruits, buckwheat and chia seeds)
coffee, tea,

instant soy milk

, instant mashed potatoes and a soy sausage (my emergency meal that I always take with me)
my wash bag with the essential things (a face cream, a soap, contact lenses, a couple cotton sticks, a light tooth brush, thooth paste,

deodorant

, brush and a couple of scrunchies)

pants

for changing
a

shirt

for changing

socks

for changing

underpants

for changing
a

sweater

a

fleece jacket

ski undergarments
thermal socks

rain jacket

rain trousers

rain cap

for my

backpack

shoes for the evenings
electronics (powerbank, mobile phone,

headtorch

)
And additionally I wore a set of clothes (including two buff cloths) and I borrowed some hiking sticks from Marten and used his water filter.
All together weighed 14 kilo, which has to be reduced next time. It was too heavy. My backpack hurt after a couple of hours. And it reduced my fun much.
We started in Schönau where we looked for a parking space and hiked to the starting point of the cache trail.
There we solved the riddle and headed over to the next stop. But we couldn't find the hint to the third stop there. It was because the castle was partly barred due to danger of rock falling.
That's why we decided to continue the tour but not the cache. We had a beautiful view though and it started grumbling because of an upcoming thunderstorm.
Since it was already 7:30 and the thunderstorm was getting closer, we decided to look for a sleeping spot and continue our journey the next day. There was a cave in the castle that we could have used as a sleeping spot, but with the upcoming darkness and thunder I found it creepy. Marten didn't like the cave either. Not because he thought it was scary, but of the smell in it.
So we walked a little further and found a water source to fill up our water supplies. Near that was a mountain shelter that we designated our bed for the night with roof on top. Marten cooked some pea soup and then it dawned and started raining. It rained almost the whole night with only a few breaks. In the morning the rain stopped for a couple of hours.
We got up early, had some oats and coffee for breakfast and got some more water from the source. Then we went to the next castle ruin.
Somewhere in the forest during midmorning we crossed the german-french border and arrived at Froensbourg, which was the most amazing ruin that we found during our hike.
The rest of the day was foggy with a mystery atmosphere in the forest.
And it started raining again…
This time already at noon. But thanks to our good clothing we arrived at the car almost dry underneath. There we discussed the next night.
We decided to sleep in the car, since it hadn't stop raining and the weather forecast predicted continuing rainfall. Marten, the clever guy, remodeled his kangoo with a wooden cage and a mattress on top, to sleep on. Beneath it there is space for boxes containing cooking devices and food supplies. It was quite comfortable. I must confess. We cooked some dinner and fell asleep quickly.
How the next days went on and why it was almost the big trip, you can read in part II of the hiking in the South Palatinate – The Dahner Rocktrail.
Love,
Rina