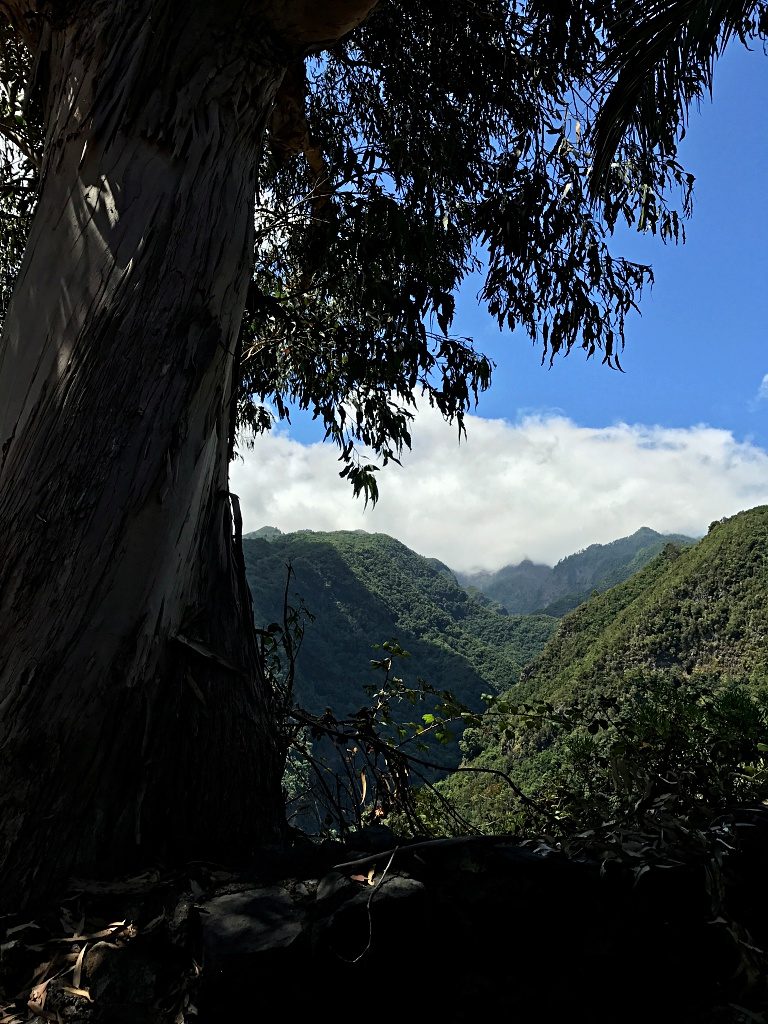 Since I travelled two times this year already (I have been to Freiburg and hiked the Via Baltica) and I decided to buy an e-bike, I couldn't really afford another vacation. But with this summer (cold and rainy) in Germany I am so glad, I decided to do it anyway and planned to stay for 12 days on La Palma. The costs weren't that high by the way and I simply had to have a little more sunshine before the dark and grey winter months start.
What kind of vacation would it be to me without hiking? You're right, an incomplete one. Two days before I left, I almost accidentally bought a hiking guide-book since I had a voucher for an outdoor shop and exchanged that for a Vaude rain poncho and this hiking guide-book.
I already had looked online what tours to do, but this way it's even easier. I downloaded the GPX tracks to the routes I want to hike on my phone and today I start with tour 14 and 15. Tour 15 starts at Los Tilos, brings me to Los Sauces and back.
Tour 14 is a short trip to the waterfall Cascada de Los Tilos. Since the tour is only to complete while walking through the waterfall, I passed on that. Another reason are three girls, that also took the trail right in front of me. They scream all the time and take selfies. The selfies, ok. But what's with the screaming? Do you know 'How I Met Your Mother?' I would classify these girls as woo girls. So I take a couple of pictures and go back to where I started to start the longer tour no. 15. Since I don't have reception and the GPS also seems to have trouble locating me, I only have this zig-zag track for you.
Here are a few impressions of the Cascada de Los Tilos:
The next tour begins behind the house at Los Tilos, where you can find information and a small exhibition about flora and fauna on La Palma. Here's the track:
The trail immediately goes straight up in serpentine. Almost all my tours do, so I am not surprised. The heat is killing me. Fortunately I walk in a laurel forest, that keeps the direct sunlight away from me. After 40 Minutes I take a look at my phone. I did 1.3 km (0.8 mi). What?? 1.3 km in 40 minutes? I know my stamina isn't the best, but I thought it would be above average and I don't have much baggage to carry this time. But the trail is very steep. And every time I stop to calm down my racing heart, it takes less than 30 seconds to have it racing again, when I continue.
Suddenly I hear a loud rustling. Either I am totally exhausted or I really see a rooster. Yes, it is indeed a rooster and a couple of meters ahead my way there is a hen with her baby chicks pawing the ground. I slowly walk past them and they walk a bit away, but don't panic. I take another 2 minute break and drink some water. It feels like I can't drink as fast as I sweat… I am so exhausted, that I get goose bumps.
Then, after about 50 minutes, I see a light at the end of the tunnel. Literally: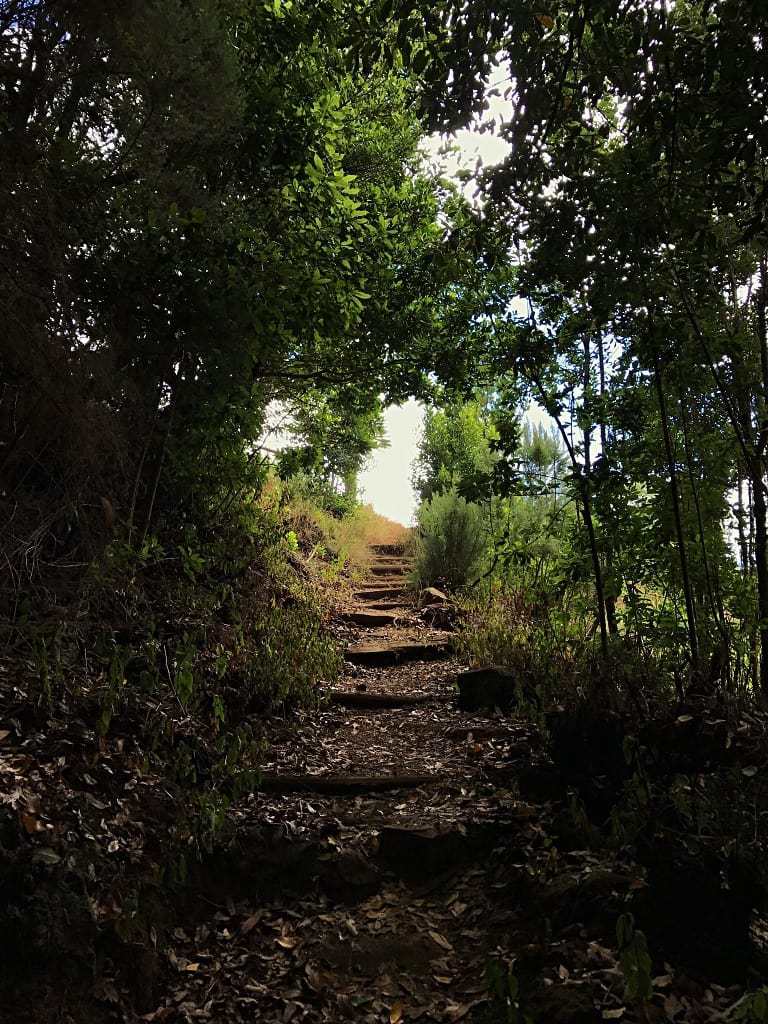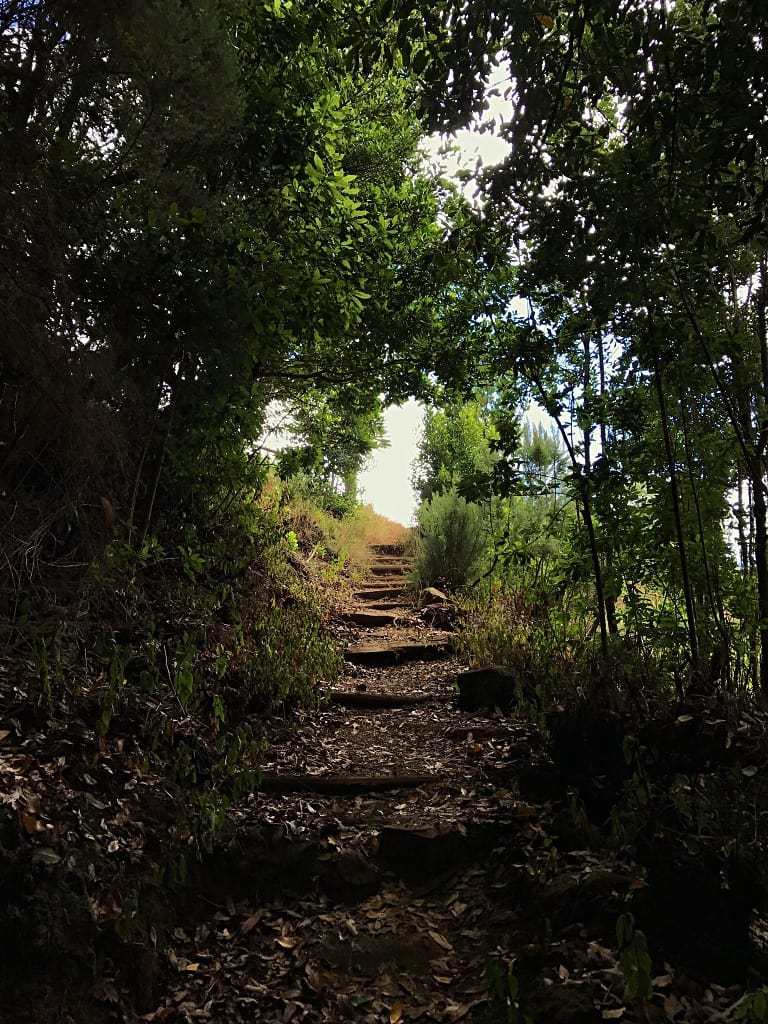 Sweaty, with a racing heart and totally done I hope that this would be the end of the ascent. As I walk through that gate and look to my right I almost pass out. I haven't thought of having such an amazing view.
That's the way it is. If you work hard, you get rewarded!
Nobody is around and also on my way up I met no-one. But I am not alone. Numerous of lizards rustle in the bushes. They are way too fast as if I could take a picture of them. I take a couple of photos and videos of the gigantic view, drink some water and then proceed my hike. It goes slightly down in serpentine. I leave the forest behind.
Then the trail is rocky and steep downwards, which reminds me of the Camino Francés. Luckily I don't have to carry as much luggage I did back then, that would end in knee pain. At the end of the descent I view and smell another Camino memory: eucalyptus trees. The scent infatuates me and I decide to stop here and have lunch in the shadow of these trees. I eat mushrooms in almond cream on spaghetti, that I made last night. I keep the melon for later. I take a look at my phone. I have done 3 out of 8 km (1.7 mi out of 5 mi) so far. I have never been this slow. Sure, the ascents and descents take time and so does taking pictures.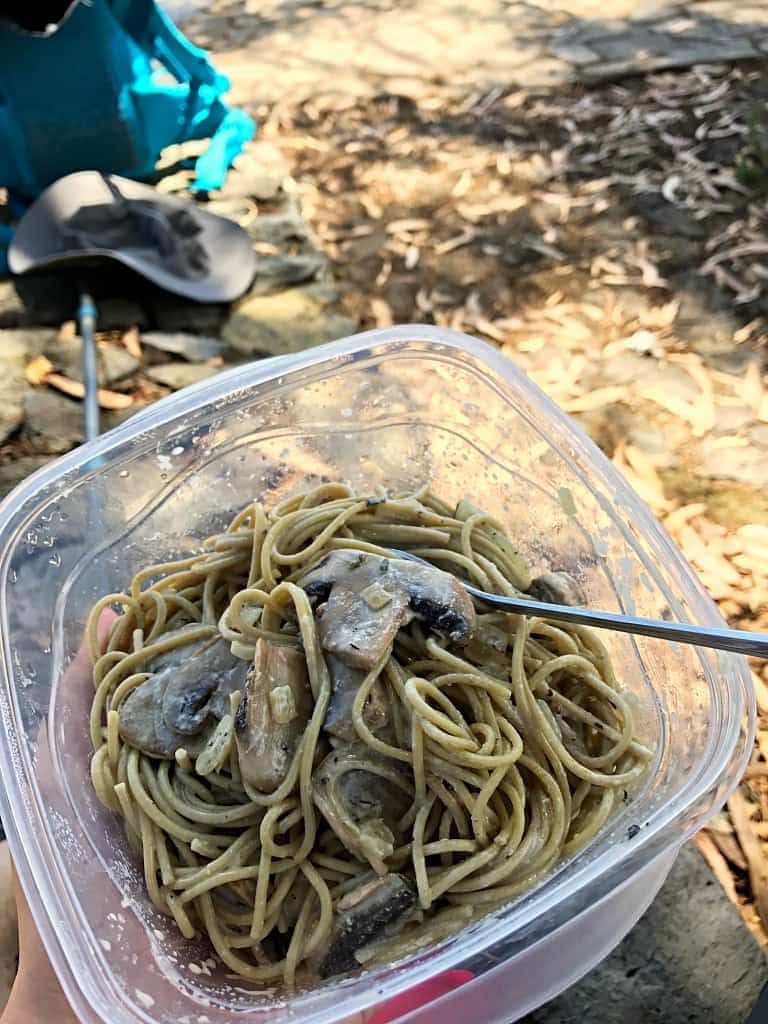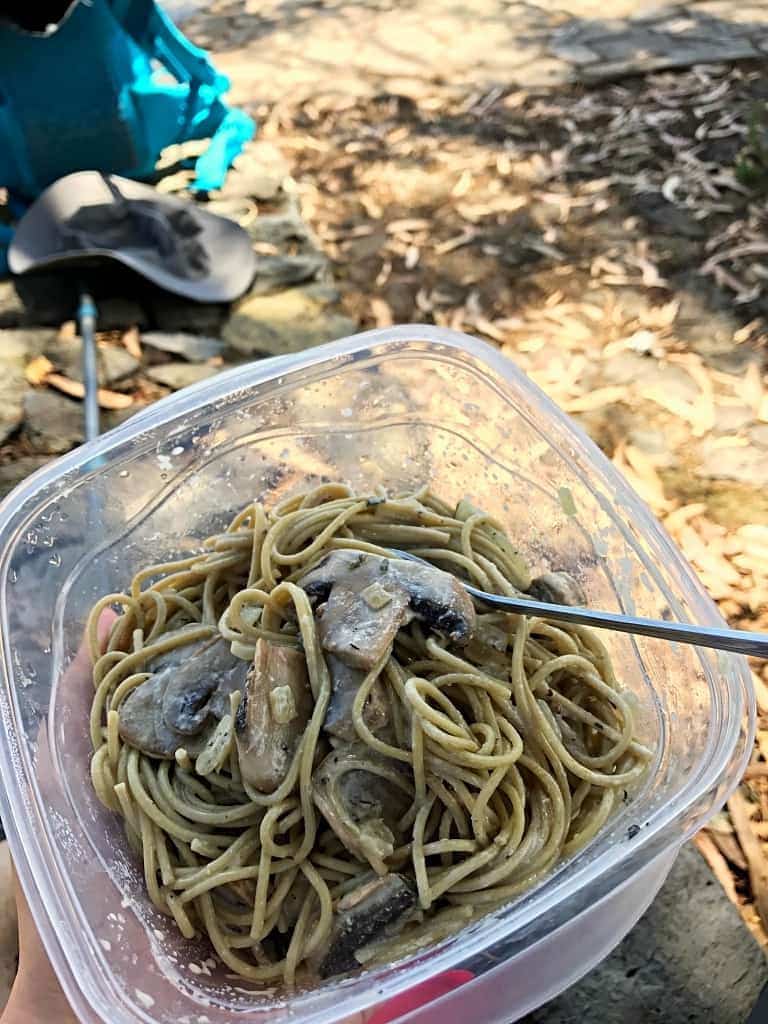 Then the descent continues to Los Sauces. I get ahead very slowly again. For one reason it is steep again (I have to re-tire my shoes to prevent sliding to hard forward with my toes) and for the other reason there is so much to see. There are fruits everywhere and the people planted lots of flowers.
I arrive in the city center and the sun is burning. I am so glad that I packed my hat. I enter a supermarket and look for ice. They only have ice cream. But I get an ice pop at the gas station 200 m (0.1 mi) further. After only 10 minutes I leave the city and turn into a street that I walk for the next few kilometers.
The rocks are amazing that edge the street. Fascinating how the rock layers are visible.
Then the trail goes away from the street and I enter Lizard Paradise. There are much more lizards than on the whole way so far combined. The trail is small, rocky and steep. I have to concentrate not to slide away. That would be dangerous, since the abyss to my left is going deeper with every step I walk up. Despite my hiking stick I side-slide two times and twist my hip. Luckily in both directions, so the hyperextension is balanced. But I don't fall and that is the main thing. The sun is giving her best and I am thankful for my hat. Because there is no shadow around.
The trail is getting harder and harder to walk on and I have trouble to get through the bushes that overgrow the now small path. Then some rocks determine the end of this trail. There hasn't been anybody walking here for month. I think to myself, 'that can't be the right way' and on that thought my phone rings the alarm for departure of the trail and agrees with me.
So I have to go back. The way back is a glissade and I have to be so careful, not to trip on the debris and fall over the abyss. Finally I am on the right trail again and the alarm stops. I continue the way back and plan to walk along the street back to Los Tilos, when the alarm starts again. Where should I change directions??? There is nothing but the abyss! I turn off the alarm and take a turn into the street to Los Tilos.
The way along the road is anything but nice. I am tired and the road goes up again, it's hot, the sun is burning relentless and there are almost no shadows. I get goose bumps again and my heart is racing. I have to pull myself together and breathe deeply to prevent my throat from swelling and taking my breath. I stop every couple of meters and try to calm down my heartbeat. I am exhausted and think about holding up my thumb to get one of the few car drivers to take me up the hill to my car. But I resist, take a short break in one of the small shadows that a trees throws and proceed.
After 40 minutes of this torture I see the first parked cars. Now it's only 400 meters (0.25 mi) to my car. In the end I am very proud to have done it on my own again. I take a short break and have some melon before I drive home. I want to get some tofu at Lidl on the way home over Santa Cruz de La Palma, since I am in this area. If someone has told me three years ago, that I will have cravings for tofu, I would have called him insane! The rest of the day I will rest, eat and wash my clothes, to get them ready for my next hike.
I will report…
Love,
Rina
P.S.: Lidl La Palma doesn't have tofu… But I found some at Hiper Dino in Los Llanos.