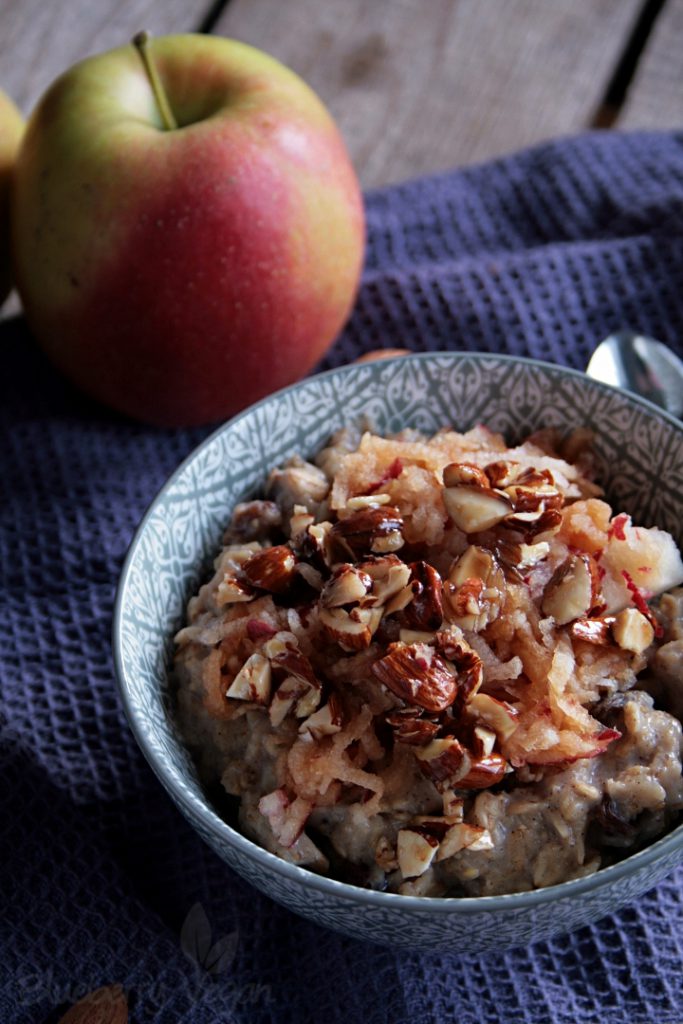 Brrrr… It's so cold outside! If it's that chilly in the morning, I definitely need a warm breakfast. Oatmeal or Porridge is my choice then. Not only because it is super healthy, but also because you can change it easily to your taste.
Basically you can use the ingredients you like most. My favorites are chocolate porridge with peanut butter and banana, blueberry porridge and this apple pie porridge. If you are more of a savory person also try my hearty porridge with tomatoes, mushrooms and spinach.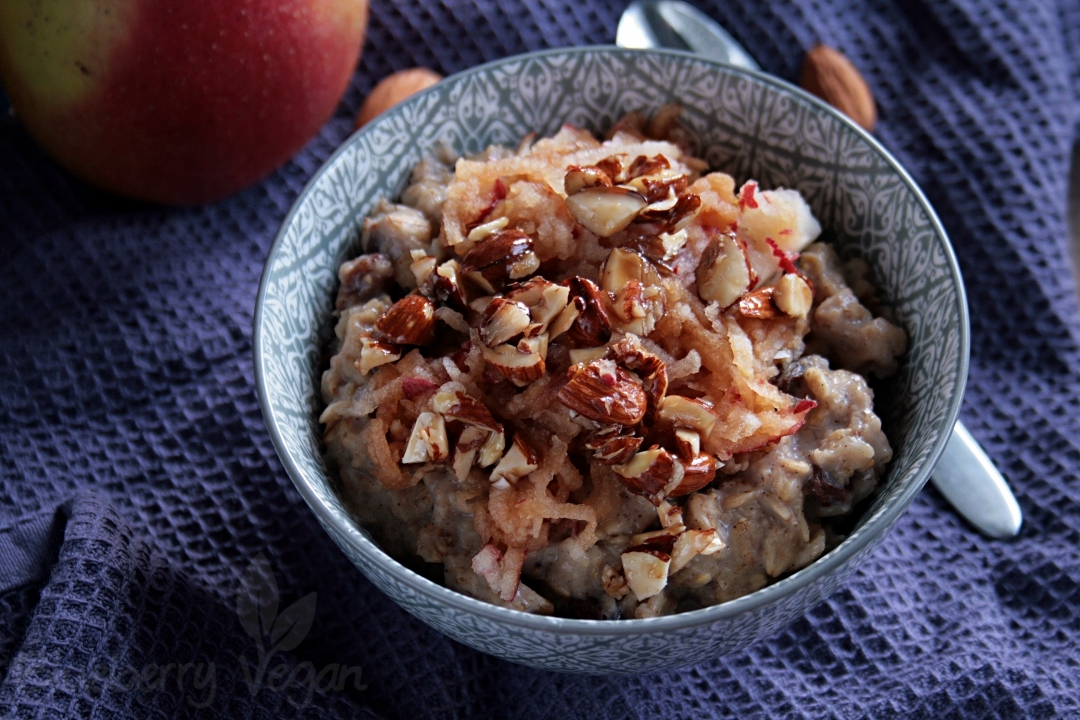 When the morning starts with the taste of apple pie it can only be good, right? I used a mixture of rolled oats and quick oats. This way the porridge is soft but still has something to chew. I you like our porridge more mushy, use more quick oats and if you like it more textured, use only rolled oats.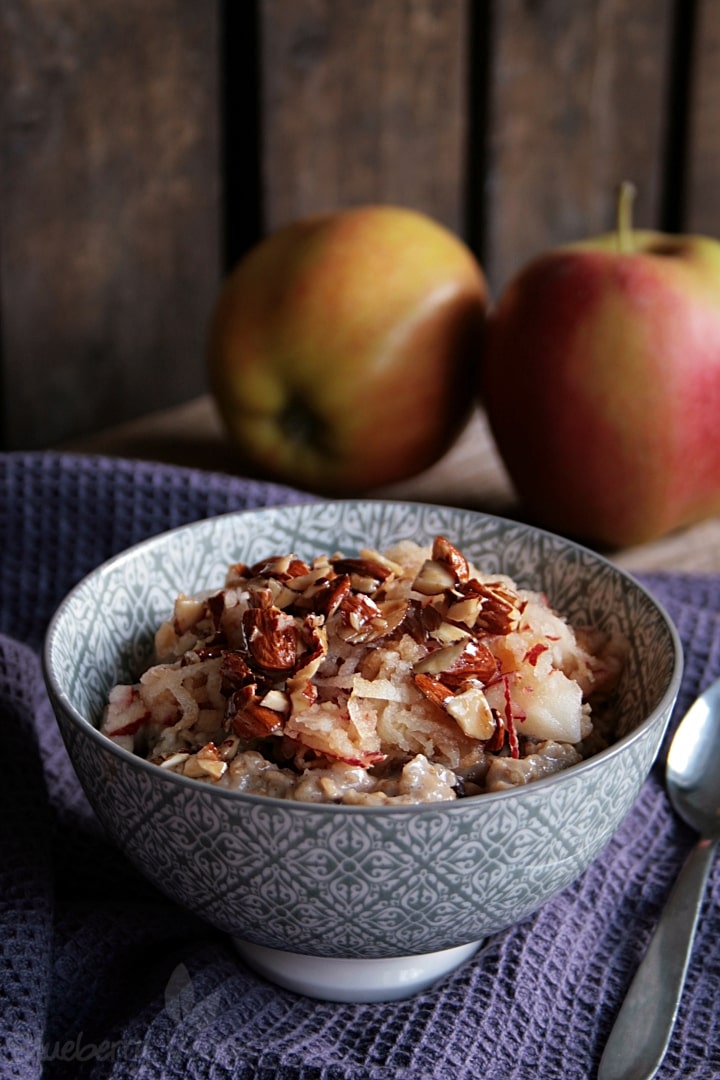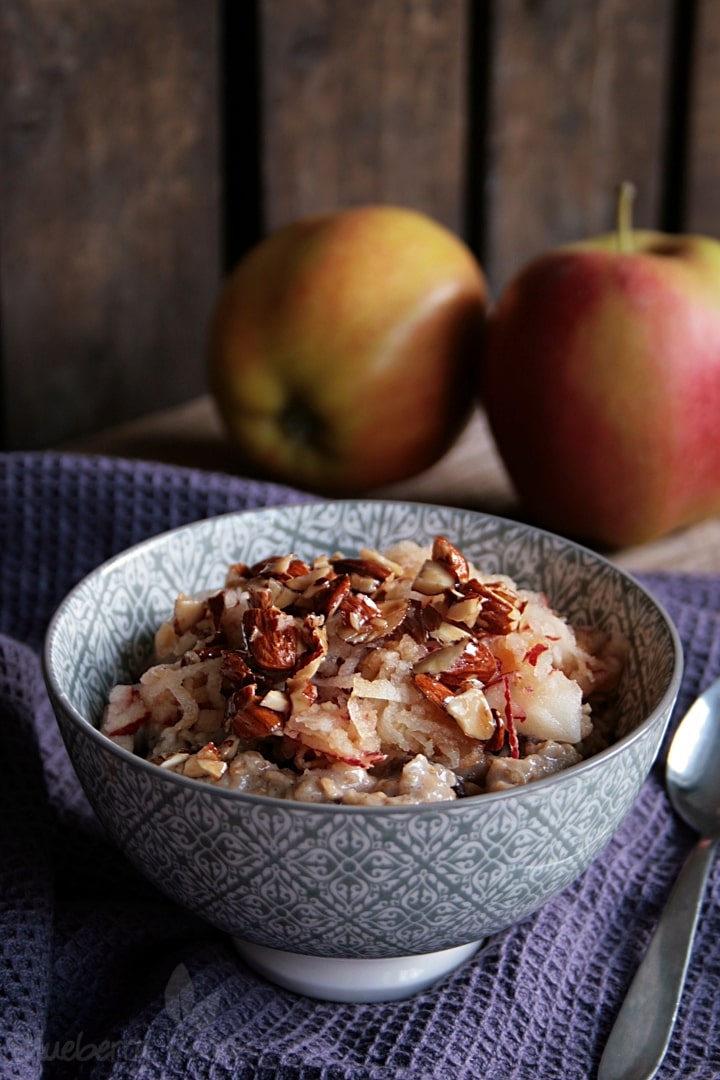 I wish you a good start to your day and don't get too cold!
Love,
Rina
Apple Pie Porridge with Glazed Almonds
Zutaten/Ingredients
For the porridge:
400 ml (1 2/3 cups) non-dairy milk
100 g (2/3 cup) oats - rolled or instant
2 tbsp raisins
1/4 tsp cinnamon
1 pinch of vanilla


For the almonds:
2 tbsp almonds
1 tbsp maple syrup


Also:
Zubereitung/Instructions
Combine all the ingredients for the porridge in a pot and bring to boil. Let simmer for 5 minutes, stir occasionally. Then turn off the stove and let the porridge rest for 3 minutes.


While waiting for the porridge, chop the almonds roughly and toast in a pan for 1 - 2 minutes. Then add the maple syrup and stir them for 1 - 2 minutes to glaze them. Transfer to a sheet of parchment paper and let cool. Grate the apple.


Arrange the porridge in two small bowls, add the apple and sprinkle over the almonds. Add a pinch of cinnamon and enjoy.
Tipps/Notes
Better clean up the pan right after you finished, or the sugar will turn into concrete 😉