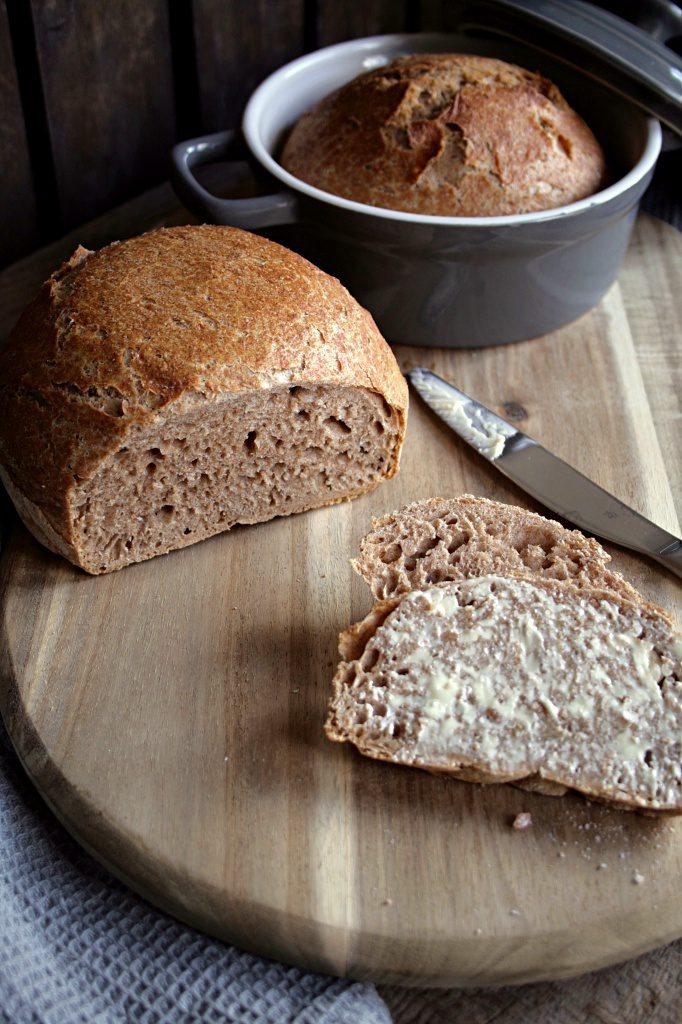 [Advertising: Affiliate Links]
There is nothing better than freshly baked bread, is there? I love it how the crust crackles, when you squeeze it. On my freshly baked bread I only want some vegan butter and salt. That's all I need to be happy.
A bread from the bakery is too big for me (yes, also the small ones) so I bought two small ceramic pots with lids to bake bread in them. This way I can freeze one bread while I'm eating the other. So I always have fresh bread at home.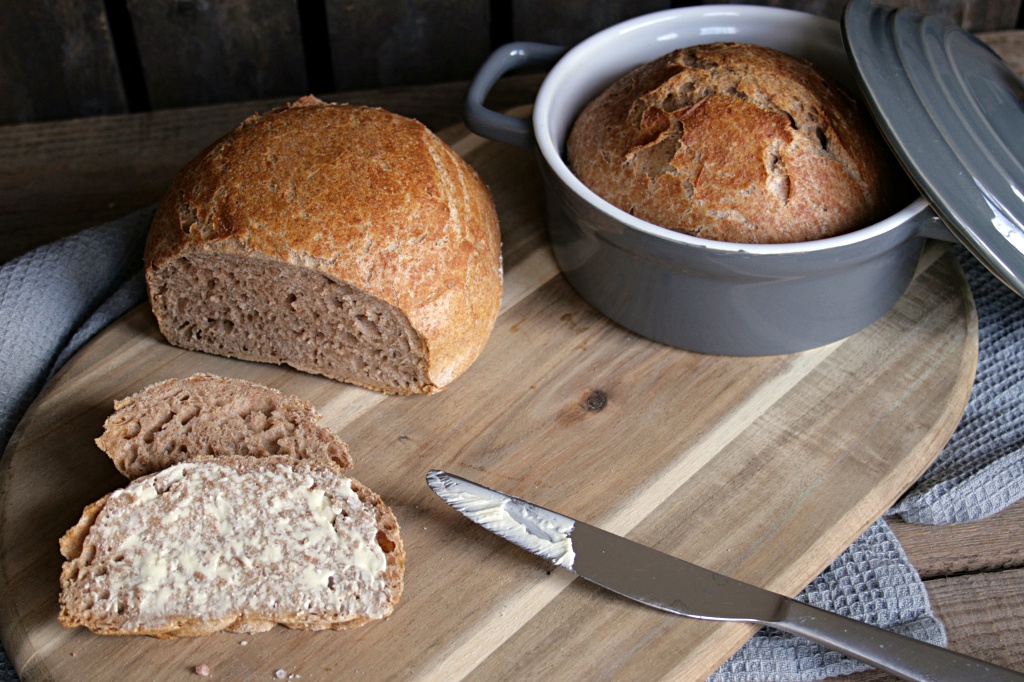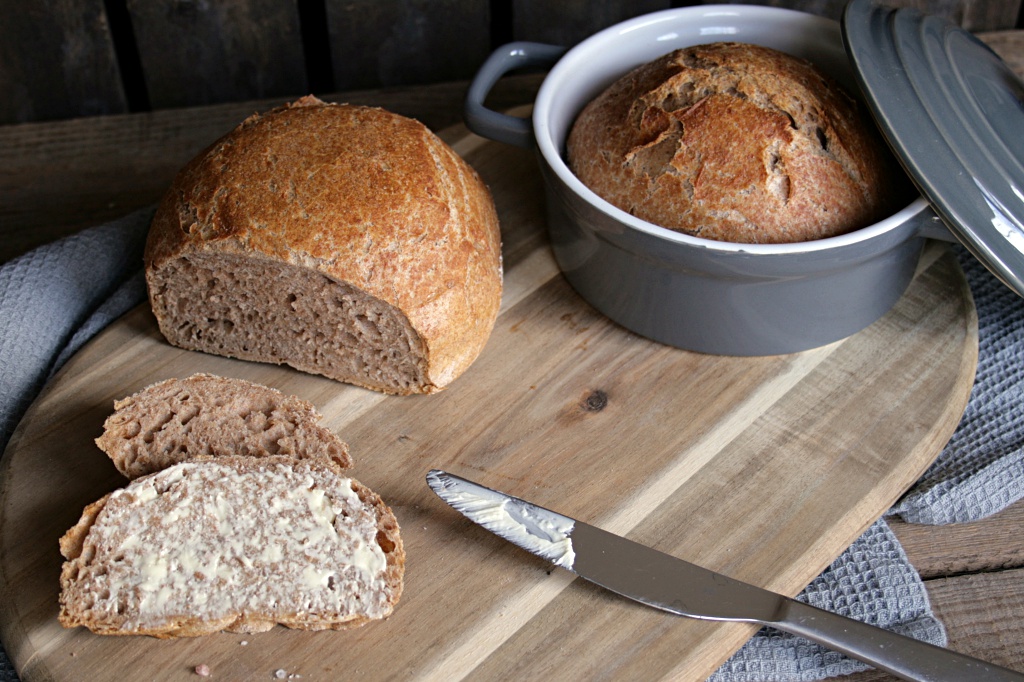 You can make the bread so easily at home, even if you don't have bread baking experience. Just mix the ingredients, give it a long rest, fold the dough several times and place it in the hot pots. Cover with the lid and bake in the oven. That's all.
So if you want to make this bread plan ahead one day and get yourself a pot or casserole or two. If you want to make one bigger bread instead of two smaller ones, I recommend you keep it in the oven a while longer.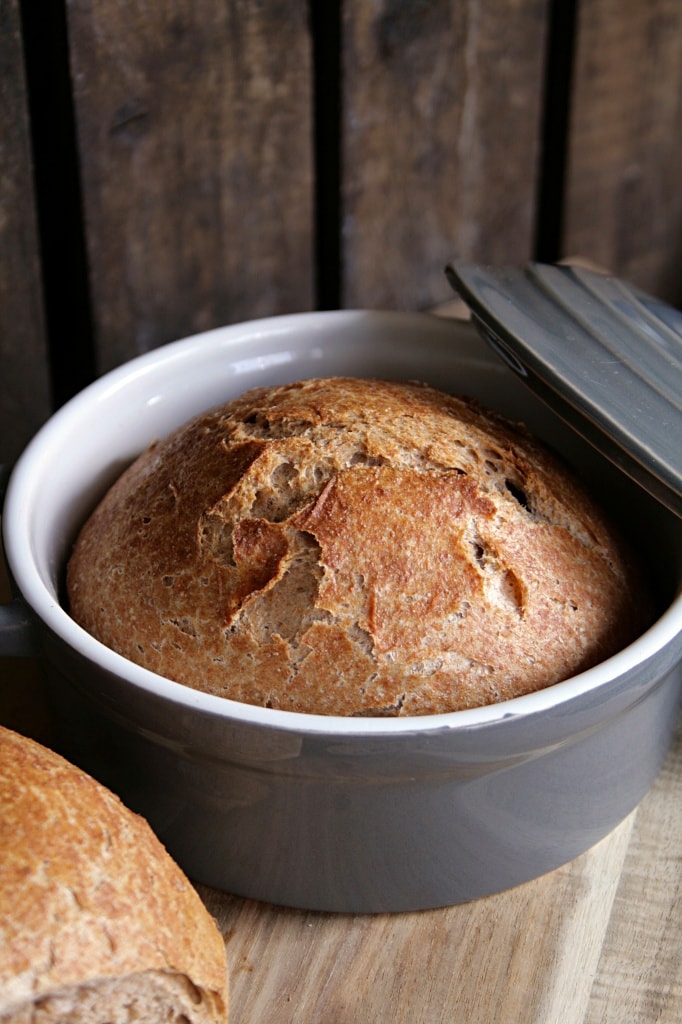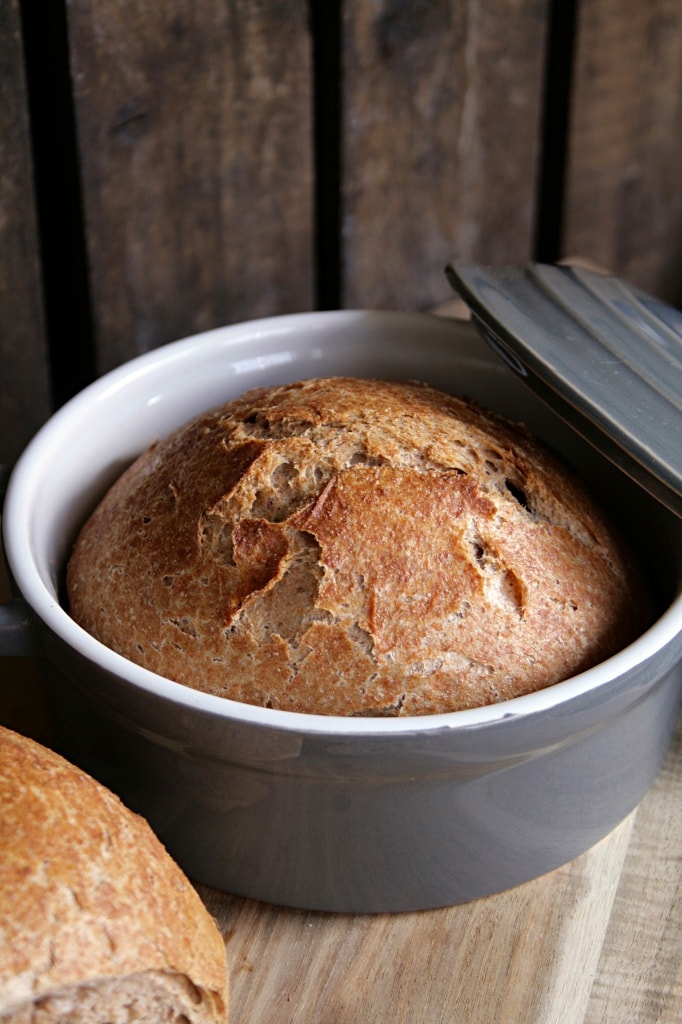 Too bad, I can't send a smell via the internet… I'd love to send you this one. Also try this bread with 3 tbsp seeds. It is great, too!
Love,
Rina
Crusty Wholemeal Bread from the Pot
Ergibt/Yield:
2 small breads
Zutaten/Ingredients
400 g (14.1 oz) wholemeal spelt flour or white spelt flour or a combination
1 3/4 tsp salt
1/2 tsp dry active yeast
320 ml (1 1/3 cups) water


To taste:
3 tbsp flax seeds or pumkin seeds or else
Zubereitung/Instructions
Mix all ingredients in a big bowl with a spoon, cover with a lid and set aside. Let rest for 12 - 24 hours.


Preheat the oven with two ceramic pots in it (in the lower third of the oven) to 230° C (450° F). You don't have to heat up the lids.


Dust the working surface with flour and use a spatula or dough scraper to gently get the dough out of the bowl. Fold the dough four times then halve and place into the hot ceramic pots. Cover with the lids and bake for 25 minutes.


Remove the lids and bake for another 15 minutes or until desired tan. Remove the breads from the pots after baking and let cool on a cooling rack. Then store in the pots or freeze.
Tipps/Notes
If you want to make just one bigger bread, bake it for 30 minutes with the lid and another 20 without. I bought the ceramic pots at Xenos, but I have also seen very similar ones online: 
Ceramic Casserole
.