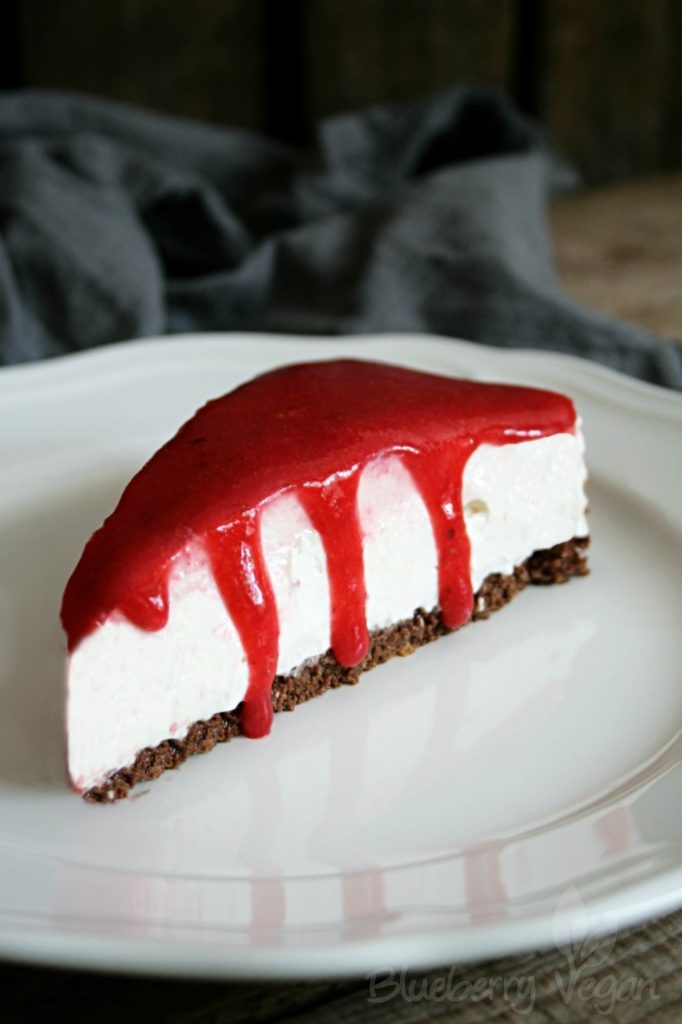 [Advertising: Affiliate Links]
I love cakes that need no baking. Most vegan unbaked cakes are made with a pile of cashews. Or they use agar gum to keep them in shape. But I wanted it simpler and creamier. Back when I wasn't vegan I made those cakes with a mixture of curd and whipped cream with some stabilizer.
Cake that wobble a minute after touching them aren't my favorites, so I didn't use agar gum. I made the mousse with vegan curd, vegan cream cheese and soya whip. It is cut-able but still super creamy and soft.
I made a thick fruit sauce as a topping. You can easily adjust the thickness of the sauce by using more starch. You can any fruit you like. Best are berries, cherries, peaches, and mango.
Enjoy!
Love,
Rina
You want to make more cakes? Take a look at those: lemon cake, strawberry cake, apple pie, chocolate dark beer cake, fruit streusel cake, chocolate orange cake and chocolate cake for chocoholics.

Vegan Cream Cheese Cake with Crispy Base and Fruit Sauce
Zutaten/Ingredients
For the base:
200 g (7 oz) rusks
250 g (8.8 oz) chocolate spread


For the cream cheese mousse:
600 g (21.2 oz) vegan cream cheese
400 g (14 oz) vegan curd
300 g (10.6 oz) soy whip
4 pk. stabilizer for whipped cream
2 tbsp powdered sugar
1 tsp vanilla extract


For the fruit sauce:
500 g (17.6 oz) fruits - strawberries, cherries, blueberries, raspberries, mango, peaches or apricots
sugar to taste
1 tbsp starch, slightly heaped
1 pinch ground vanilla
Zubereitung/Instructions
Process the rusks in a food processor until crumbly. Add the chocolate spread and process until combined. Pour the mixture in a springform pan (ø 26 cm / 10 in) and press it on tightly. (A freezer bag as glove prevents the base from sticking to the hand)


For the mousse whip the cream with 2 pk. of stabilizer. In another bowl mix the cream cheese and curd (drain excess water first) with 2 pk. stabilizer, powdered sugar and vanilla extract until smooth. Then fold in the whipped cream and spread evenly on the base. Place in the fridge.


For the fruit sauce puré the fruits, add sugar, if needed and mix with vanilla and starch. Bring to boil and let simmer for one minute. Let cool until lukewarm then pour over the cake.


Keep the cake refrigerated for at least 2 hours before serving.