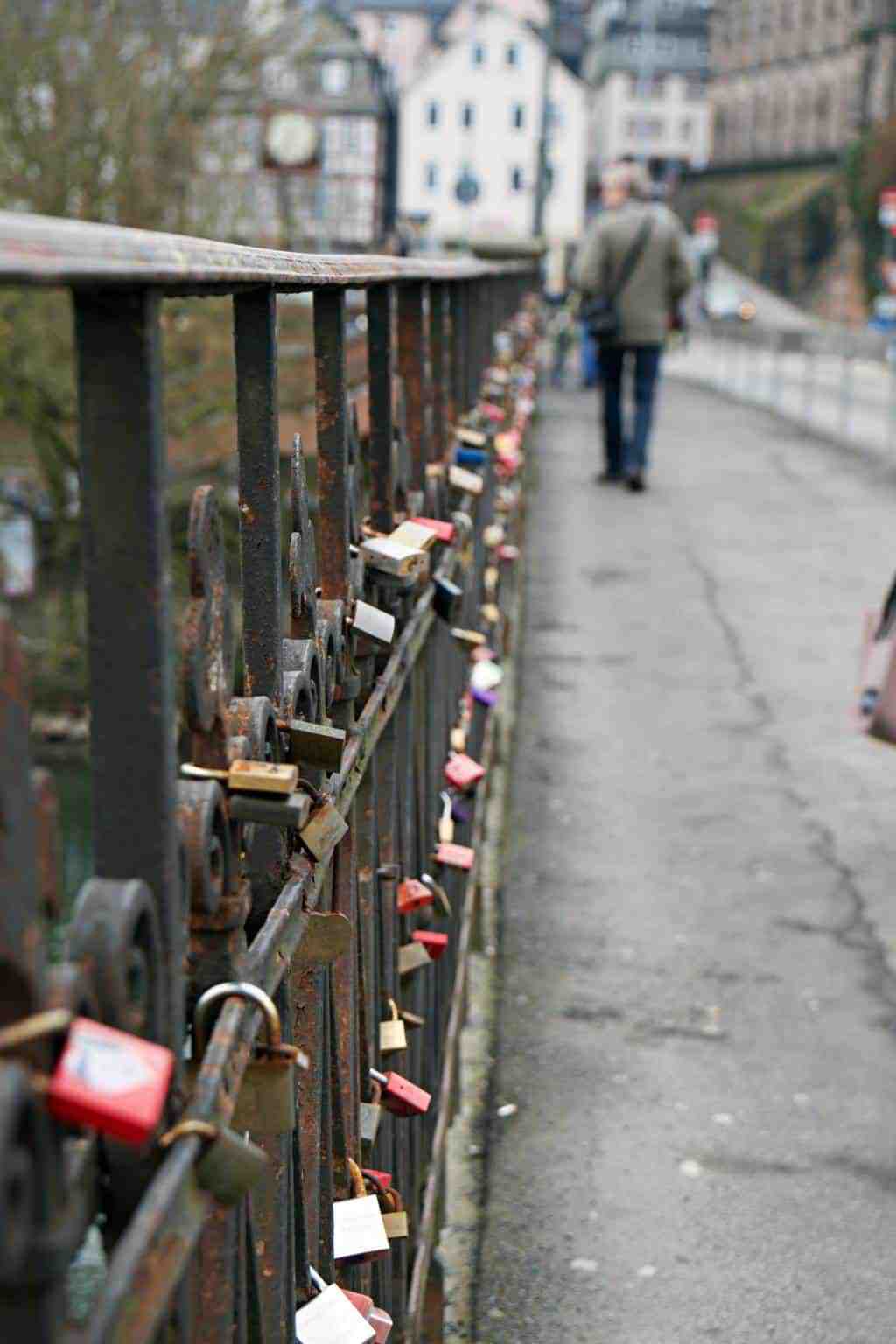 [Unpaid Advertising]
I have been in Marburg the last couple of days. Besides going on a long hike around Marburg I also discovered what the city has to offer.
I was blessed with good weather. It didn't rain once and the sun was out almost all of the time. But it was really cold. From -2° to 2° C (28° to 35° F) on days. But when the wind wasn't too strong it was okay to be outside for a while. At least as long as I kept moving.
I stayed in Angelika's one-room apartment. She went and got some vegan grocery for me, isn't that sweet? I loved her apartment and although it isn't much bigger than my living room I felt home there. I found this place at Airbnb.
What is there to see in Marburg?
The nicest place is probably the old town also called Oberstadt. With its small alleys and old buildings it invites you to stroll around. I love the little old-school-style movie, but unfortunately didn't find the time to watch a movie there.
The Landgrafenschloss (castle of Marburg) lies above the city and provides a great panorama over Marburg. In the castle is a museum, but I didn't go in, because it was so nice outside.
Right underneath the castle is the church St. Mary. It was so warm in it and I loved the light in it. Especially the colored light dots on the ground and walls that the windows projected.
The second church is even more known: Elisabeth Church. It is in the city center. Is that why it is more known or popular? I didn't like it as much as St. Mary Church. I only took a few pictures, because there was a service about to start.
And also away from the sightseeing hotspots beautiful things are waiting to be discovered. You just have to go thru life with open eyes.
And now to the important things:
What is there to eat as a vegan in Marburg?
I was eating out much more than I usually do on vacations. But also a couple of supermarket-dishes landed on my plate.
I would definitely recommend Shawarma Haus. It is tiny and yet great. The food was amazing and the owner or employees were very friendly. I ordered a falafel plate to take home. If I lived in Marburg, I would definitely eat there at least once a week.
Also delicious were the tapas at Tapas&Co. Besides vegan tapas they offer vegan chili and tortillas. Since I often eat chili at home, I decided to eat two cold and two warm tapas. Too bad they don't offer Pimientos de Padron, I missed them a bit.
Slighty too greasy was the bean burger at Burgerlokal. When I entered the establishment I smelled the fat already and unfortunately the food was too. It wasn't too bad either, but compared to burgers in the same price range (at Hans im Glück, for example) I have eaten better burgers. The bread was sticky and the patty dry from too much bread crumbs. I feel so sorry, because the guys there were really nice!
Right after I arrived in Marburg I strolled around a bit and found a cozy café: Bistro Early. I had lunch there and ordered olives with bread and Penne Arrabiata. Although I expected a bowl of mixed olives and the olives were blackened they were tasty. The Penne Arrabiata was fine despite the fact, it wasn't spicy at all. I added lots of salt and pepper to get it somehow spicy. The employees were also very friendly there.
Phew, as I am writing this, one could think I am too picky. Honestly? You could serve me hummus with bread in a dog bowl and I would love it as long it is well seasoned and the bread is fresh. What some restaurants offer their guests it not always up to my quality claims. Dear restaurateurs use good ingredients (for example real black olives) and don't be shy to season!
Eating out once a day seemed enough and so I had several meals that I got from the supermarket. For example vegan sushi from EatHappy at Rewe, where I also got the edamame quinoa salad.
Also yummy and bought at Rewe was a salad mix that I whipped up with some LikeMeat chicken-free chunks and Sylter salad dressing from Zum Dorfkrug.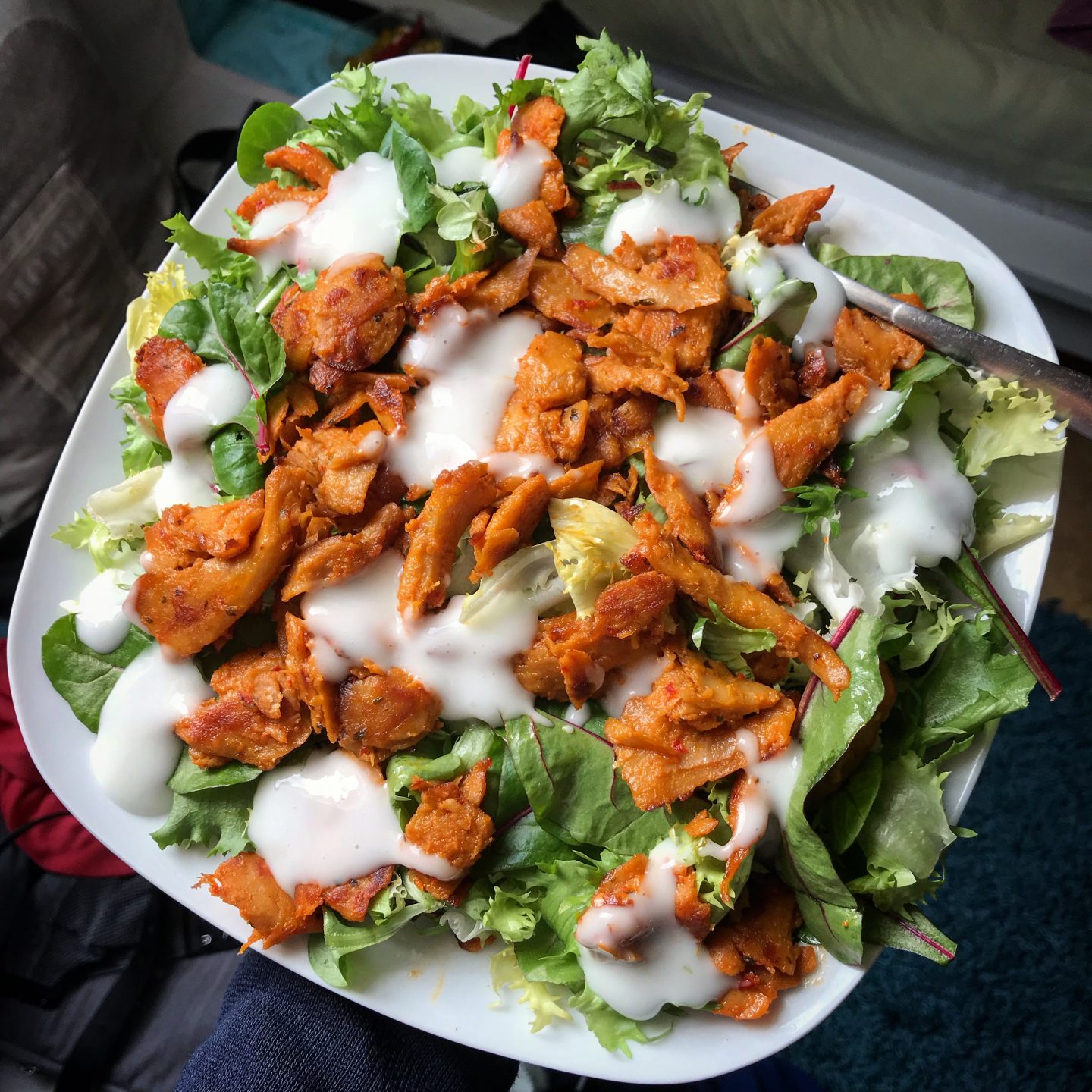 To keep things easy, my breakfast was the same every day. A bowl of muesli with soy yoghurt, banana and blueberries. Since the freezer in the apartment was broken I used fresh blueberries as an exception.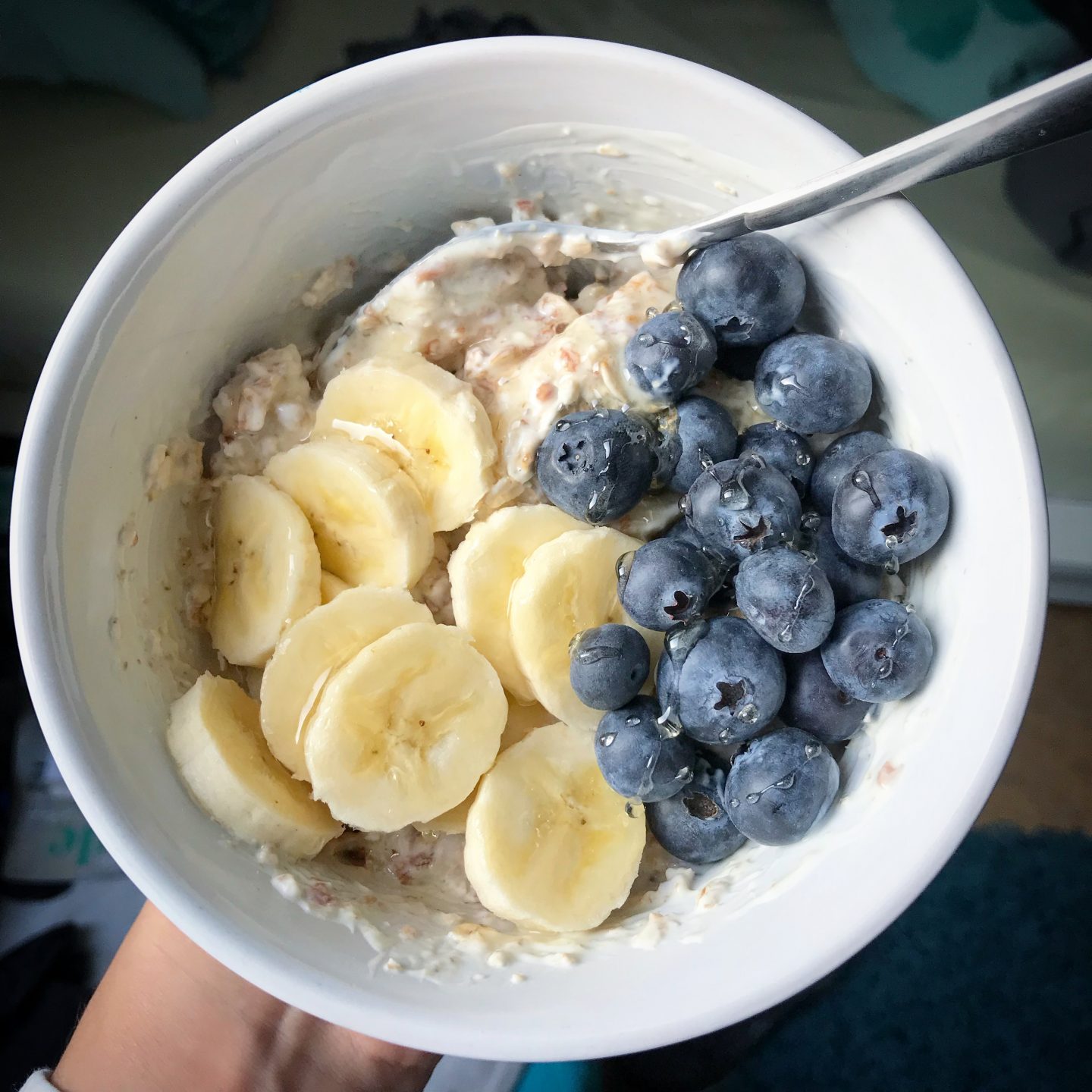 Of course I also had sweet treats and somehow I became a miser. Usually I don't care how much I spent on groceries. I have spent 10 EUR for a pound of green organic asparagus, because it was perfect. But this time it got stingy. After one dinner I was in the mood for some ice cream. So I went to the place where I saw vegan ice cream earlier. They were closed, of course. Since I got so many vegan things at Rewe already, I went there and bingo! They offered the new non-dairy Ben&Jerry's Chunky Monkey. It was also on offer for 4,99 EUR instead of 6,79 EUR. On the way to the checkout I glimpsed the non-brand vegan chocolate ice cream for 2,99 EUR regularly. Get that! So I got rid of the Ben&Jerry's and took the other ice cream. I just didn't appreciate that price difference. I understand that the one is made with almonds instead of soya and thus is more expensive in ingredients, but I don't have anything against soya… Maybe prices will get more reasonable some day and I will try it.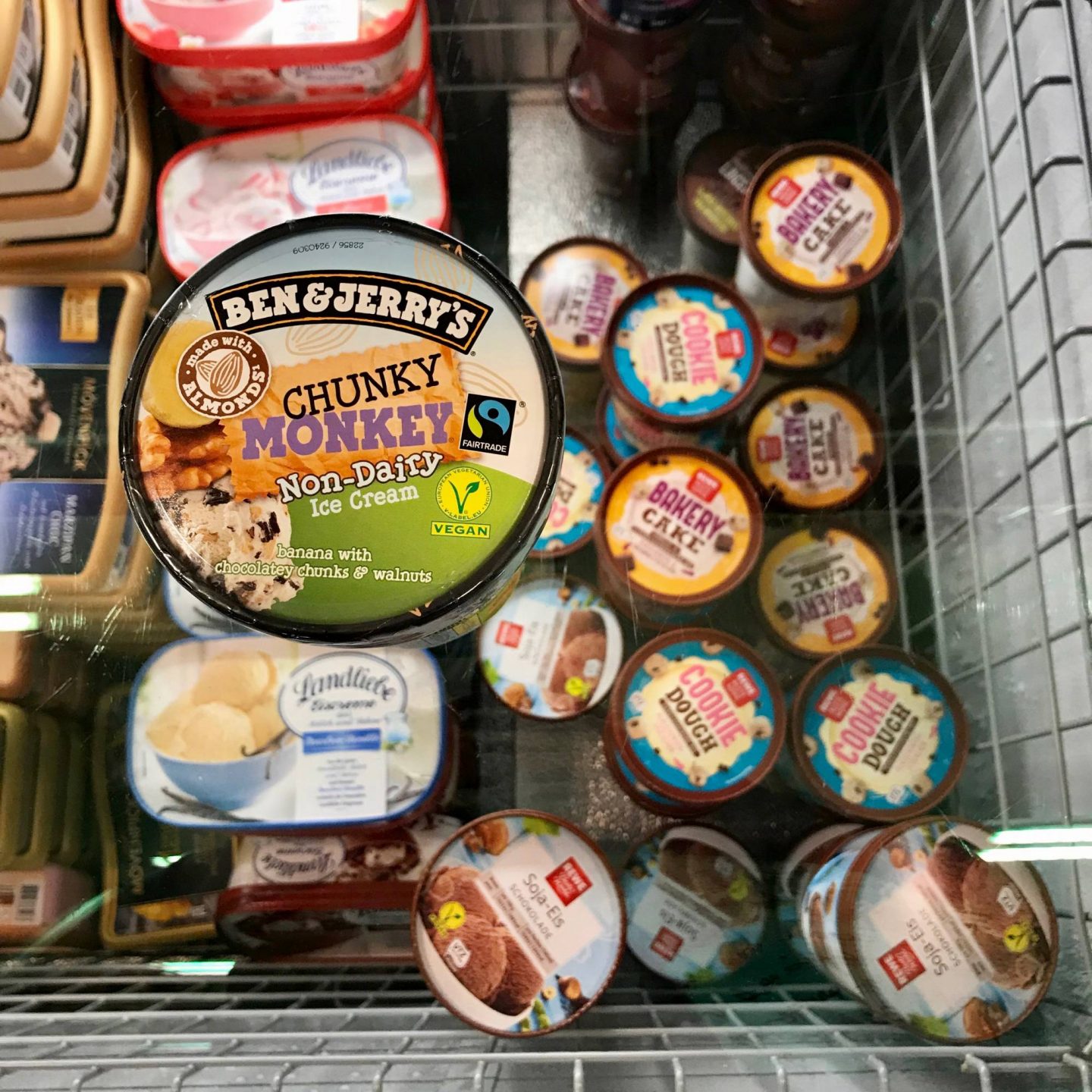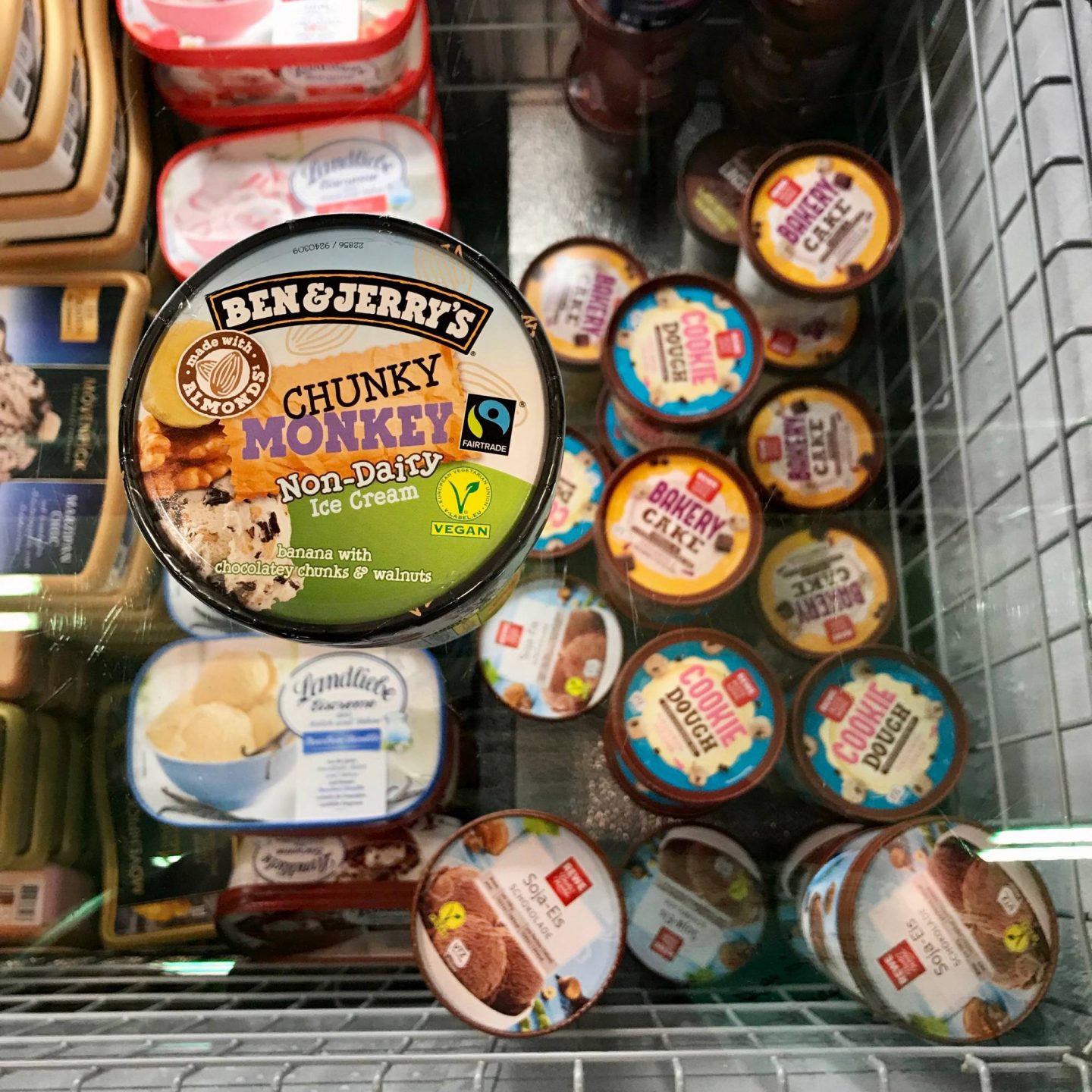 I got to Marburg by car and was so lucky to find a parking space that was for free and not reserved for residents. So I can't offer you parking tips.
All in all I had a great stay in a beautiful Marburg.
Love,
Rina