[Unpaid Advertising]
Last week I visited London with my friend Dustin. It's a great city! I enjoyed my short stay very much. Of course, three days are too short, to get to know the real London. So I just got a peek. We didn't plan to do many sightseeing, just wander around, get in London mood and eat good food. And that's what we did. I loved the Christmas lights in London.
I haven't look up where or what to eat, before I started the trip. So I just browsed the Instagram account vegansofldn – Vegans of London and picked what looked good.
On the way from the airport to our flat, I already got hungry, which wasn't a surprise, since I skipped breakfast. Next to the underground station in Brixton there is a Sainsbury's, where we bought some fruit, muesli and soy milk. Their offers in the to-go aisle made my lunch. I bought a quinoa edamame salad and falafel with humus. We shared a baguette and some piri-piri humus with that. I was pleasantly surprised with how good it was.
In the evening we decided to go to Dou Dou, a vegetarian Thai Chinese All you can eat buffet in Camden. It's quite small and offers very delicious vegetarian and mostly vegan dishes. For only 6.90 £ we filled our bellies. They had cold salads and several warm dishes with or without soy meat.
My breakfast in London was muesli with berries and soy milk. Usually I don't buy berries in winter, but they smiled at me at the supermarket and since I was on vacation, I figured that it would be okay for once ?.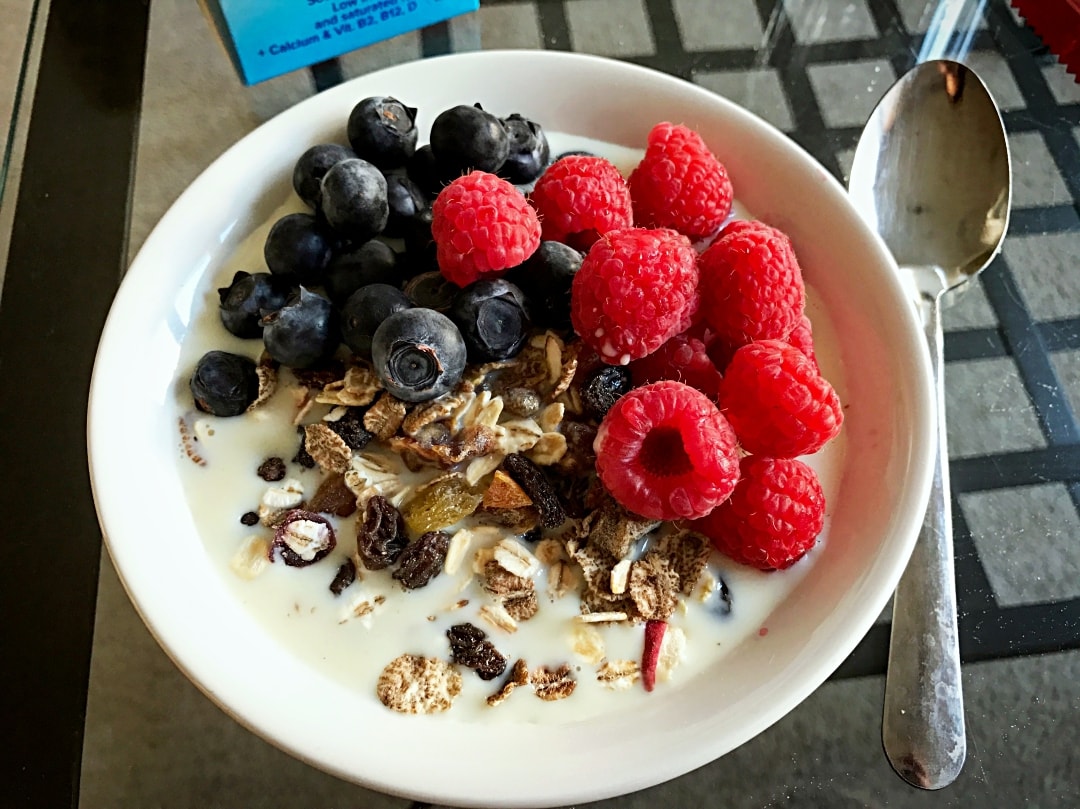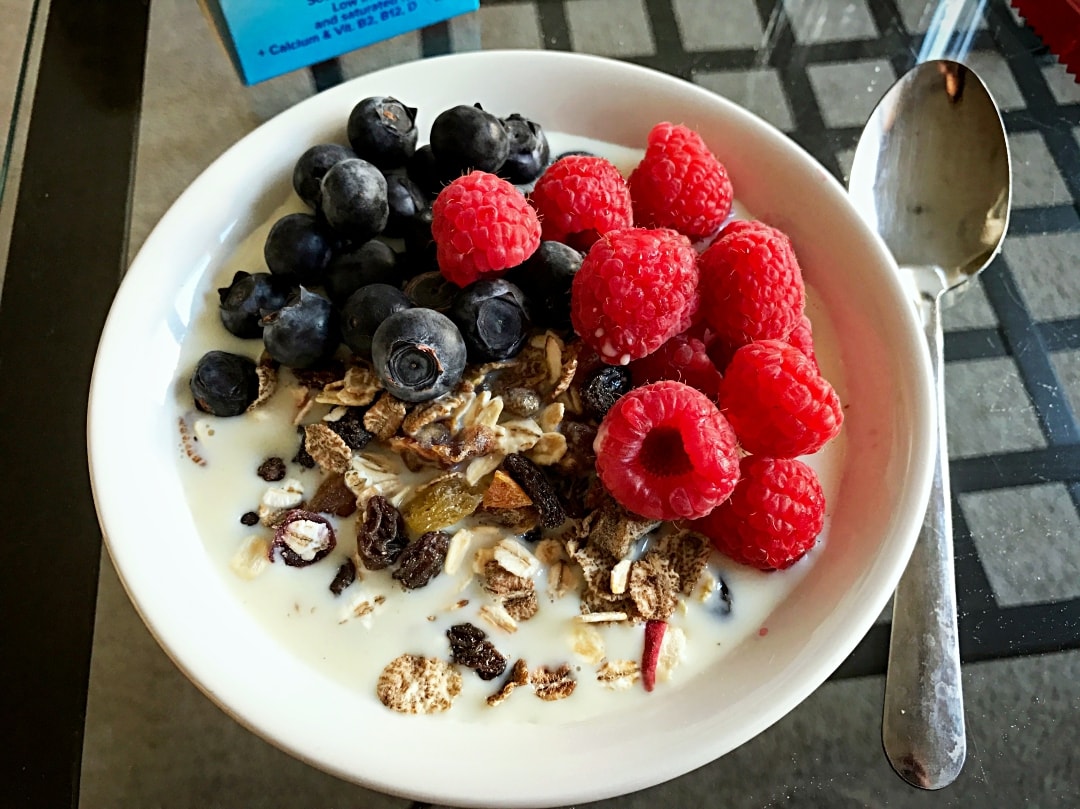 I really liked my visit at Borough Market, at which a lot of animal products are offered, such as meat and cheese, but it also has great vegetable stalls. I had to pace myself not to get the mushrooms and make creamed mushrooms for dinner.
On the outside you can get street food from all over the world. The smells that mix there, are heavenly. I had a lot to look at and be amazed. You should definitely visit Borough Market when you are in London and have a thing for food.
Walking to Tower Bridge, there were little huts aligned the street, just like on a German Christmas market. You can buy presents and food there. I liked the cookies and cronuts hut. But unfortunately they weren't vegan.
In the evening we drove to Soho, after visiting Piccadilly Circus. I must say, I love Soho. The buildings are smaller and lots of different and cute shops make me feel cosy there. We ate at Vegan Hippo, where I ordered the jackfruit burger with kale chips and Dustin had the gyros wrap. Both tasted very good! Also the price was reasonable at 7.50 £.
On the last day we drove outside to go to Kew Gardens to calm down a little. I bought a sushi box at Wasabi to have for lunch later. 5.95 £ for this portion is not much, I think and it was good.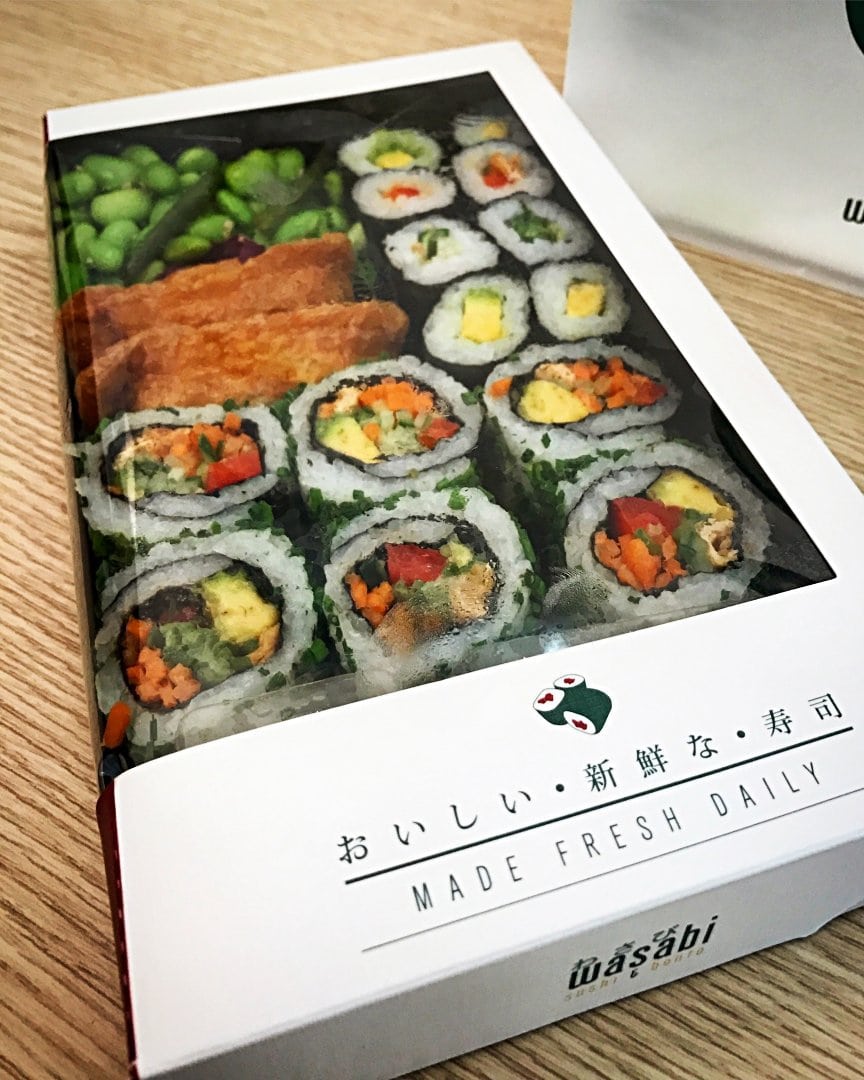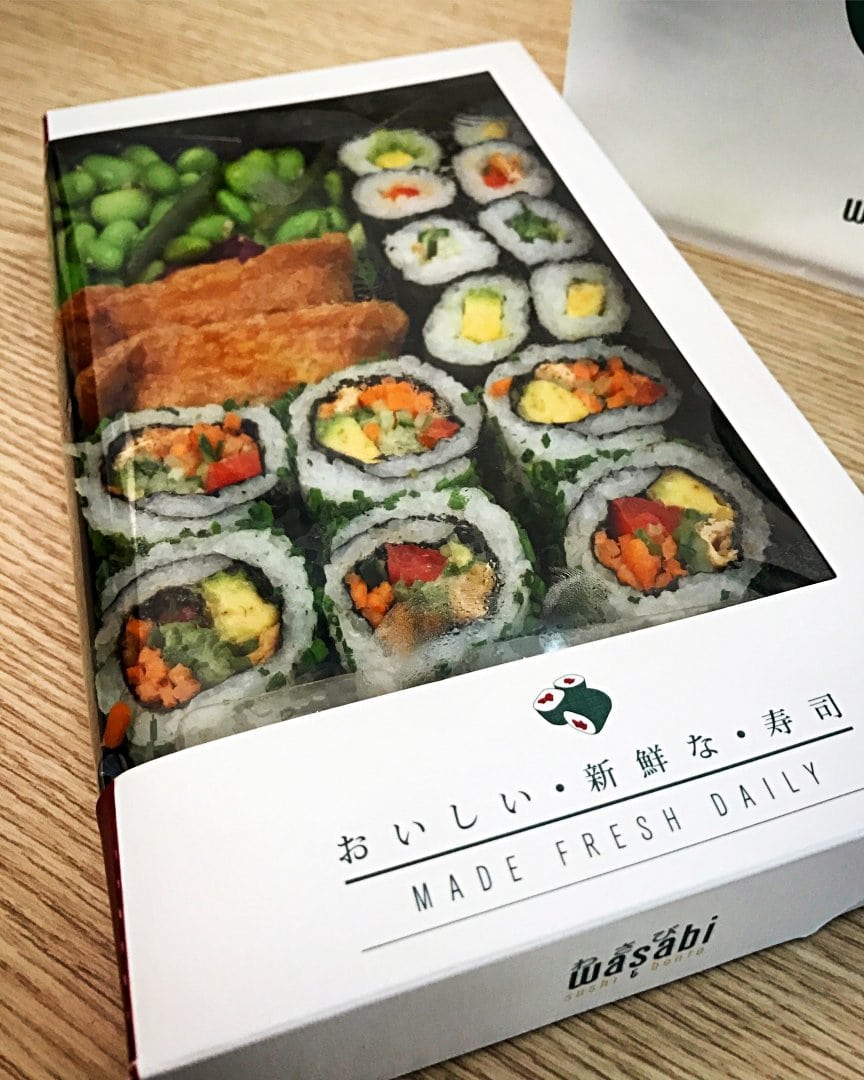 In the late afternoon we headed to the airport. I also got something there as a vegan. The quinoa salad was quite expensive at 4.25 £ and the miso dressing wasn't spicy enough, to flavor the salad. The quinoa salad that I had from Sainsbury's was so much better. But the edamame chickpea cashew mix with salt and pepper was really good. I bought the latest issue of vegan living to help me pass the time.
Unfortunately our flight got canceled, so we had to stay another night in London at the Holiday Inn nearby the airport. The dinner options were limited, due to my unannounced appearance. So I had salad, veggies and potatoes for dinner and granola with orange juice and wholemeal toast with tomatoes and salt for breakfast.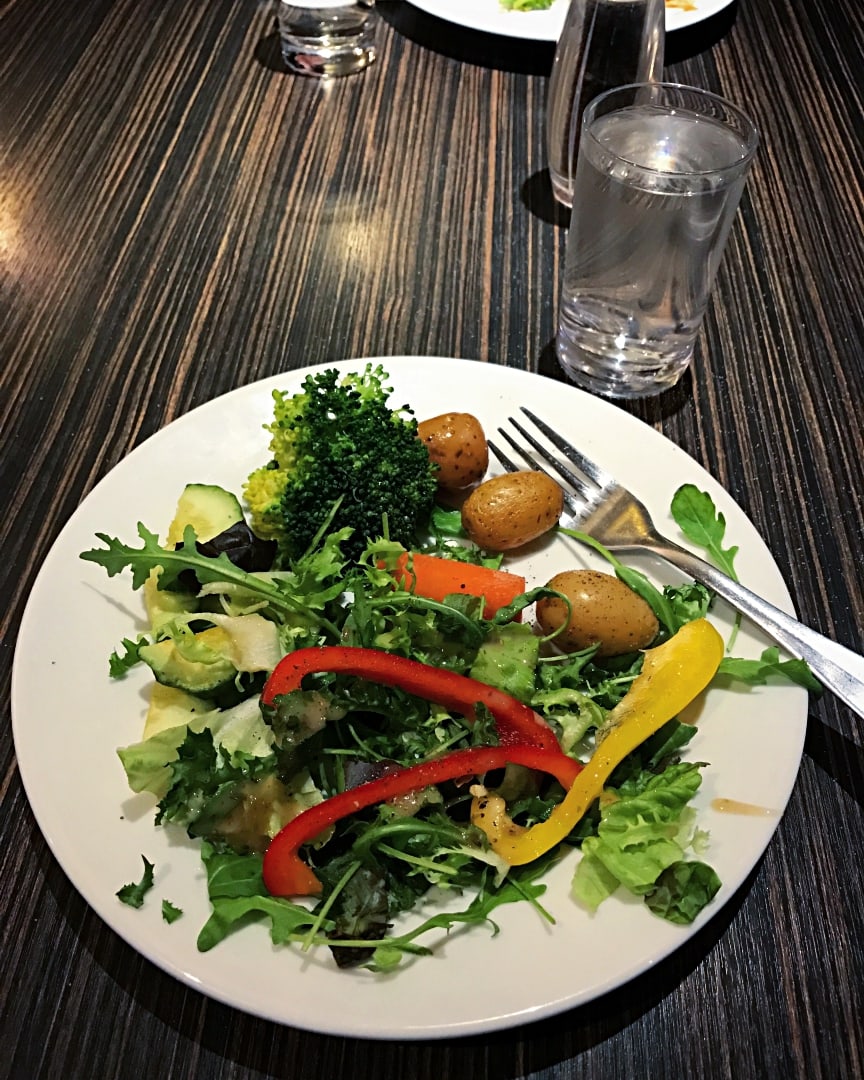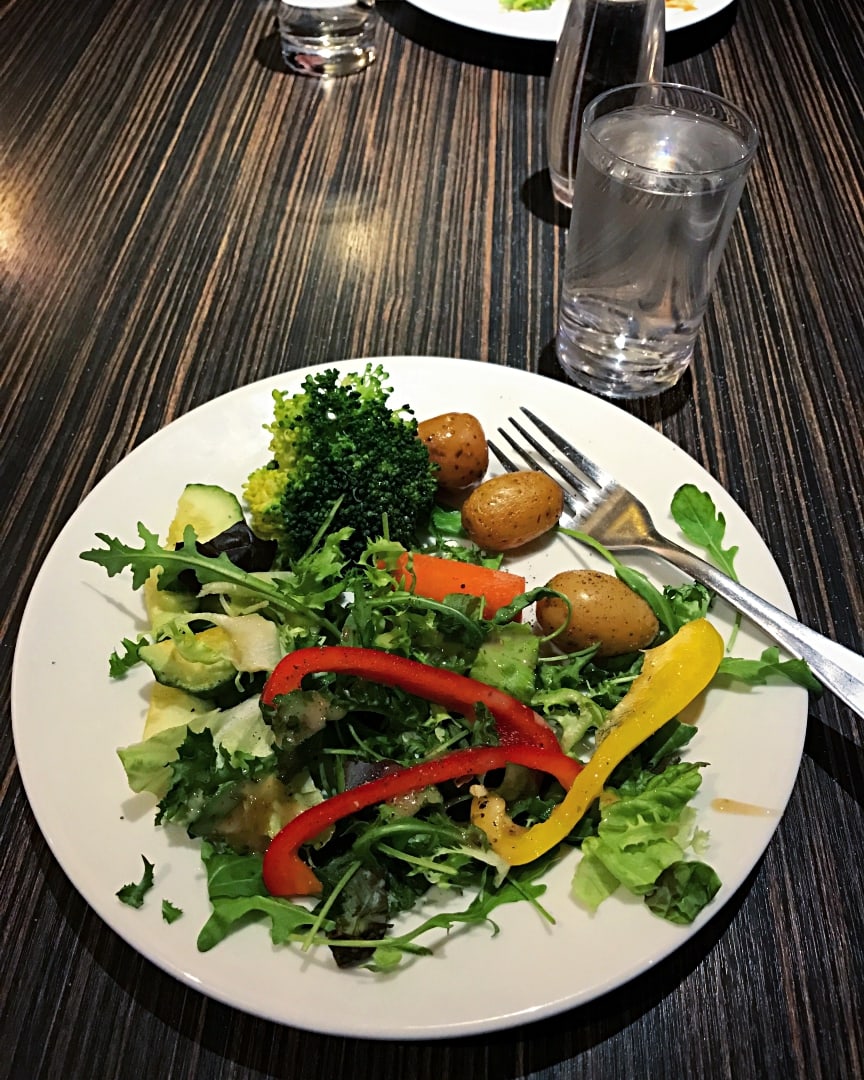 Back at the airport, we checked out Yo! Sushi. I had some maki with cucumber and avocado and noodles with veggies. Both tasted delicious and in the evening, after several delays, I finally made it home.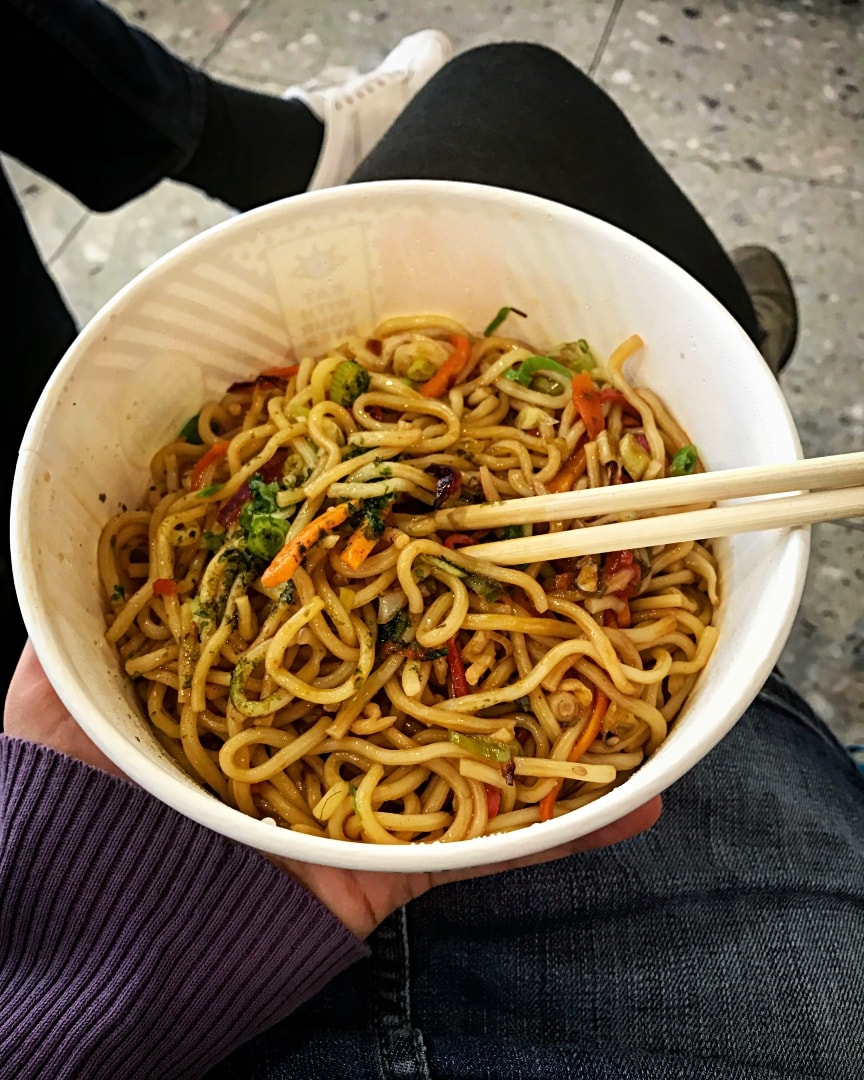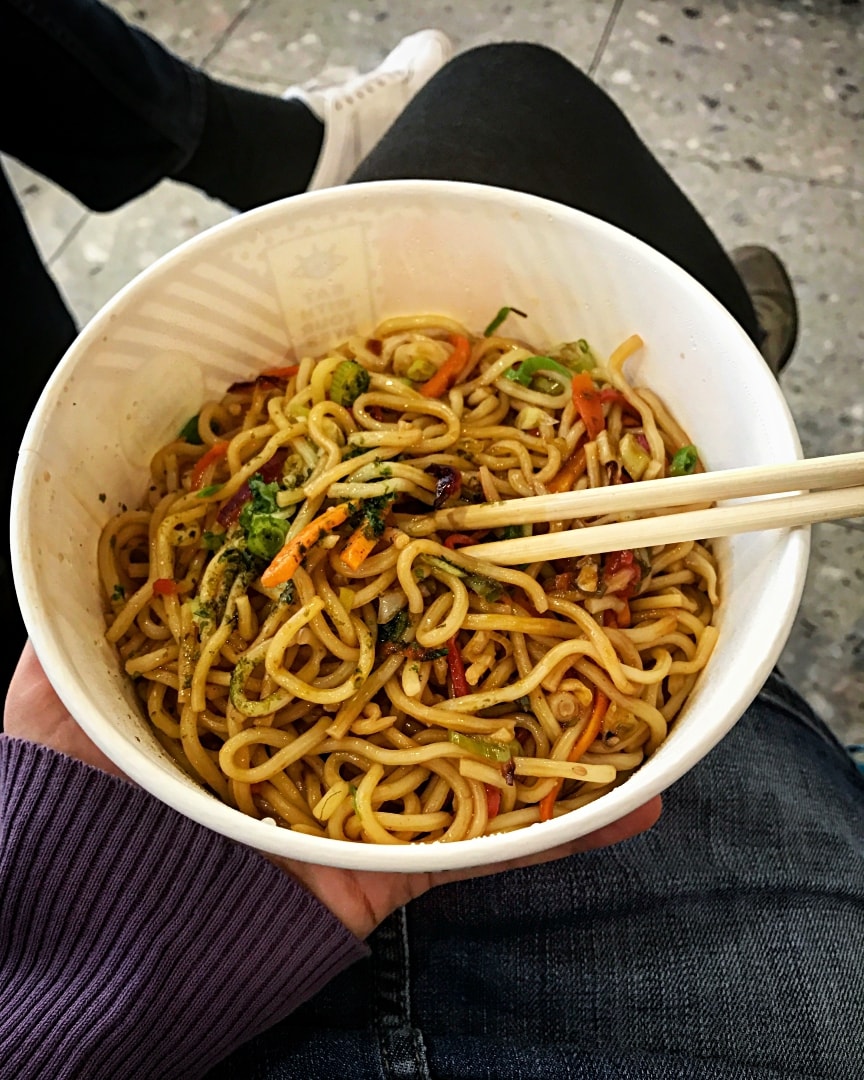 I will definitely visit London again, to check out more restaurants with vegan food. The food, that I had in this city was damn good. I'll be back!
What are your favorite places in London?
Love,
Rina