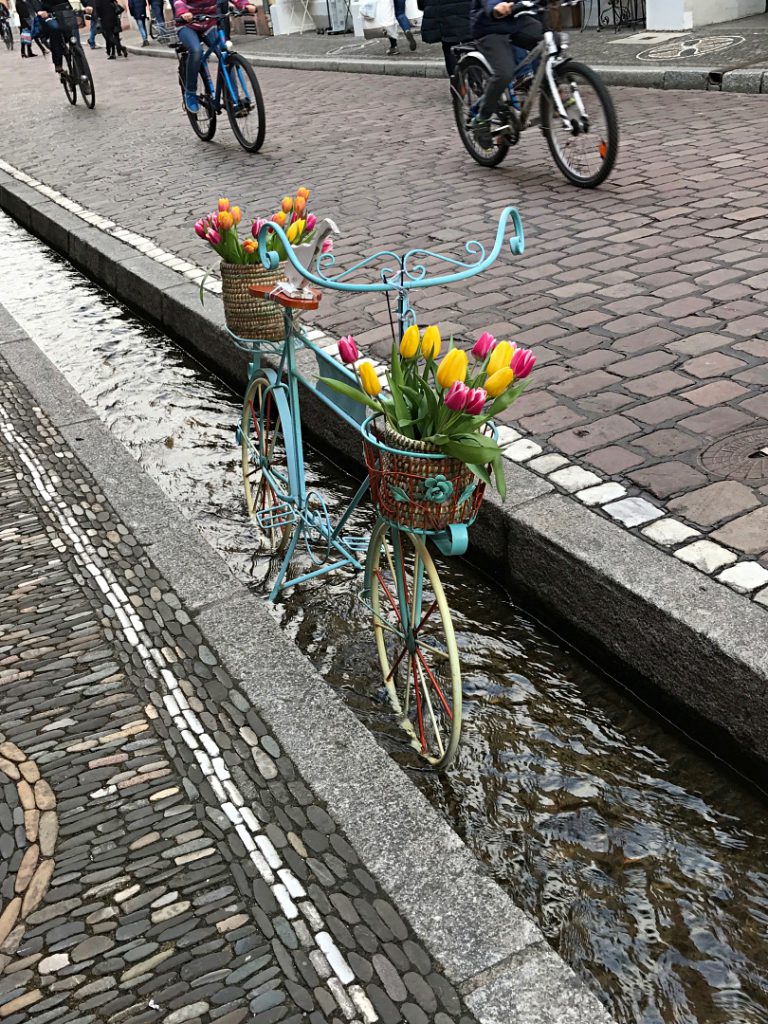 [Unpaid Advertising]
I am having a week off from work this week and it doesn't fell like a vacation, when you are not traveling. So I visited Freiburg for a couple of days. Why Freiburg? I heard it's supposed to be beautiful there. ( Yeah, sometimes you can hook me that easily.) And it really was.
I rented a loft, in which is a photo studio. There is a bed hanging from the ceiling, so that you can sleep in the loft. The toilets are on the end of the hall, the shower on the floor downstairs. I had no idea about that, when I rented the loft, but it was ok with me. I am still used to share a bathroom as I was on the camino. The loft is furnished sparsely and personal but cosy and lovely. The bed is hanging from the ceiling, as I was saying, and a big sofa invites to relax.
When I arrived early in the afternoon, I was greeted by the neighbor's cat, that obviously likes to eat a lot (who could blame it?). And thus it was pretty hard to get rid of it, when I wanted to eat my sushi, that I prepared in the morning. So I lured it with a piece of vegan cheese and locked it out. It screamed for 15 minutes, before it gave up. It wasn't easy, but I resisted to let it in again.
After my lunch I reserved a table at El Haso, a vegan restaurant, that I chose to have dinner there. After a couple of minutes relaxing after my 4 1/2 hours drive, I started my sightseeing in the old town. I walked for a couple of hours discovering the sights and small streets and what they had to offer. I also visited the Alnatura whole foods store and bought a couple of things for breakfast, wine and chocolate. I took my time to browse, since we don't have an Alnatura in Wuppertal.
In the evening, I went to El Haso. It took me a couple of minutes until I found the entrance (I simply didn't notice the stairs), but then I finally got something to eat. The staff at El Haso was very friendly and the food excellent. I had hash browns filled with leeks with creamed beluga lentils and beetroot carpaccio and a mixed salad as a side. I chose the homemade lemon ginger lemon and all was really great.
The restaurant is in a vaulted cellar, which creates a special cosy atmosphere. I felt very comfortable there.
Source: el-haso.de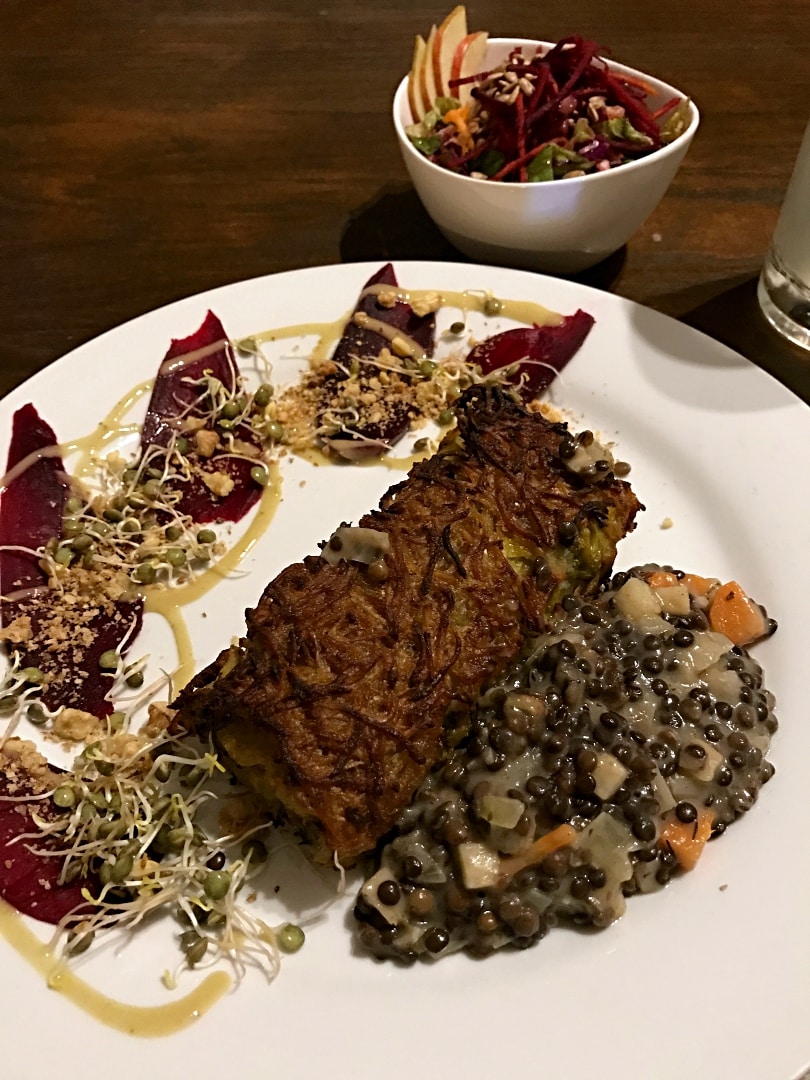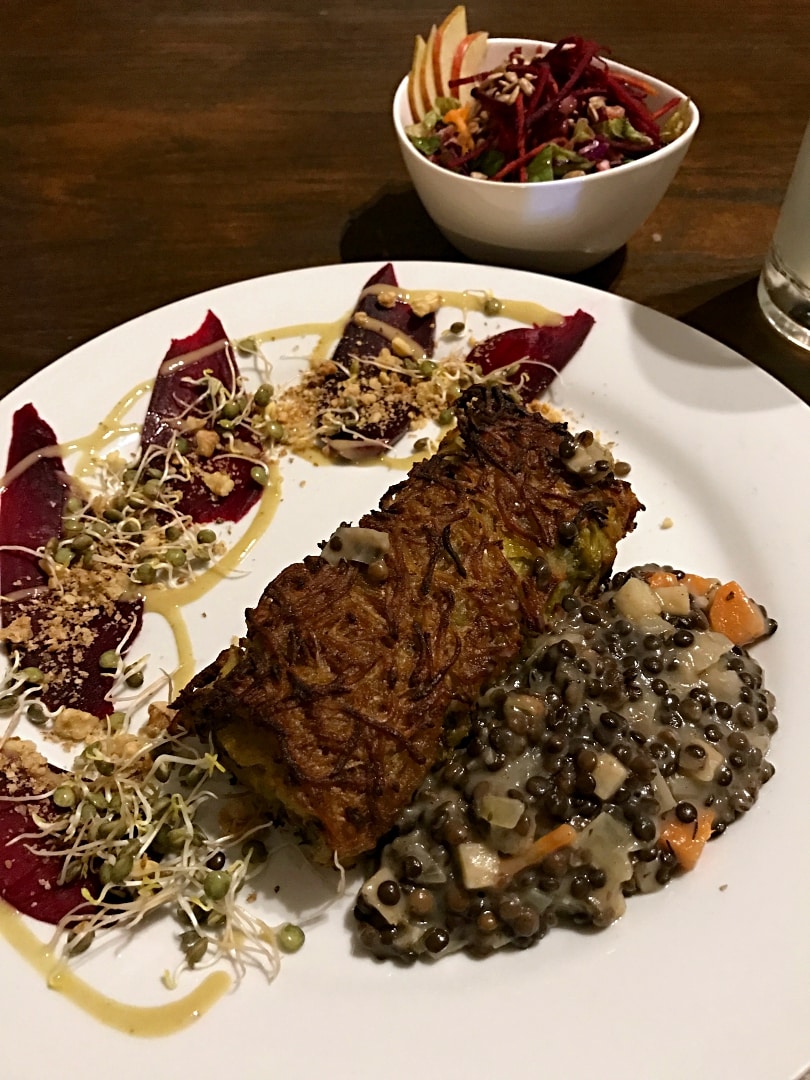 On the second day I grabbed my hiking boots and walked around mount Schönberg. Read about my hike and see the pictures here: Hike around Mount Schönberg near Freiburg
I also tried what Amara has to offer. Amara is a fast food restaurant with coffee shop in the other room. I liked it very much. It was cosy, child friendly and welcoming.
I decided to order the vegan kebab, which was a lahmacun with "meat" to me. It was delicious! The yufka-wrap is homemade and you can tell. I also liked, that they add fresh parsley to their filling. I love parsley.
On the third day I was so exhausted from the hike, that I decided to stay on that couch and watch series all day. I went to the supermarket, which was only a 10 minutes walking distance away and bought some fresh produce. I already had withdrawal symptoms from not cooking. So I made oven veggies and ate them with an amazing hummus. Also the salad topping from Alnatura was really great. The mix contains roasted soy beans, which taste really great.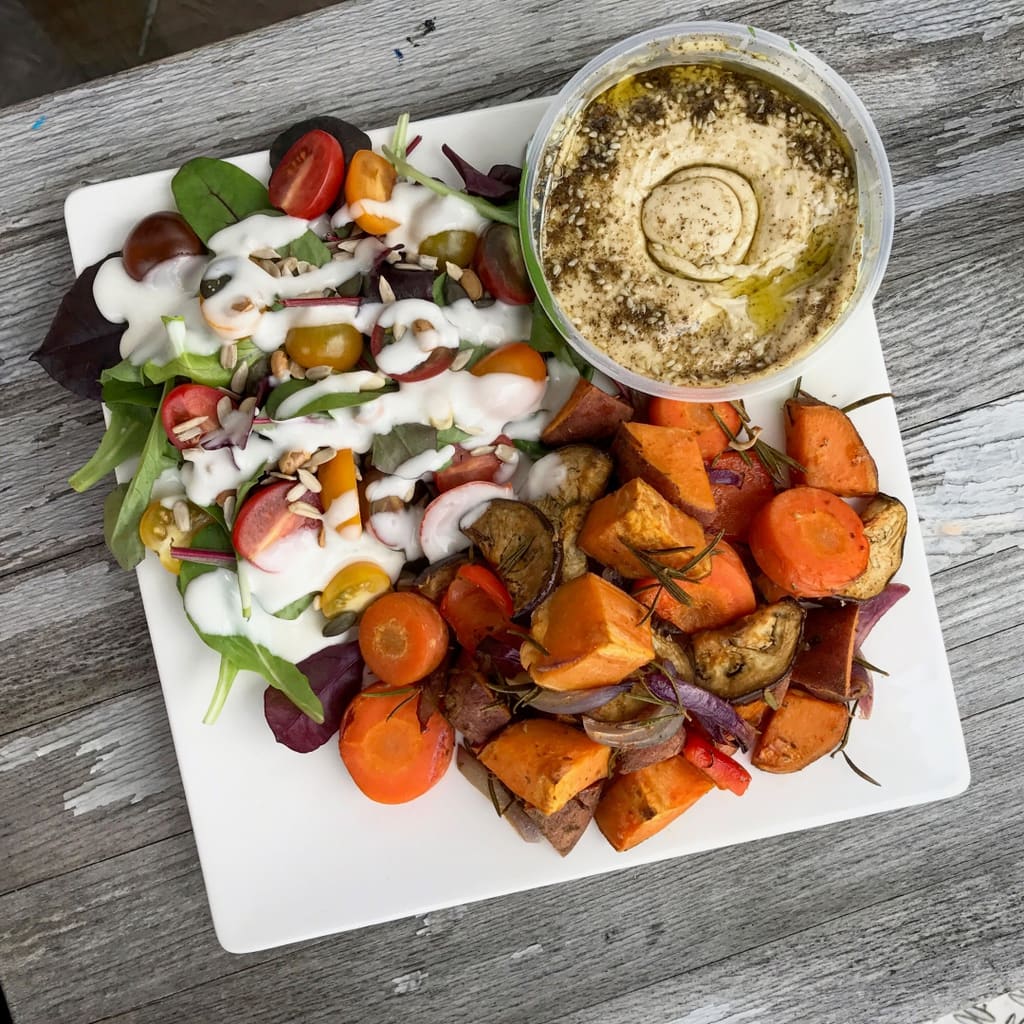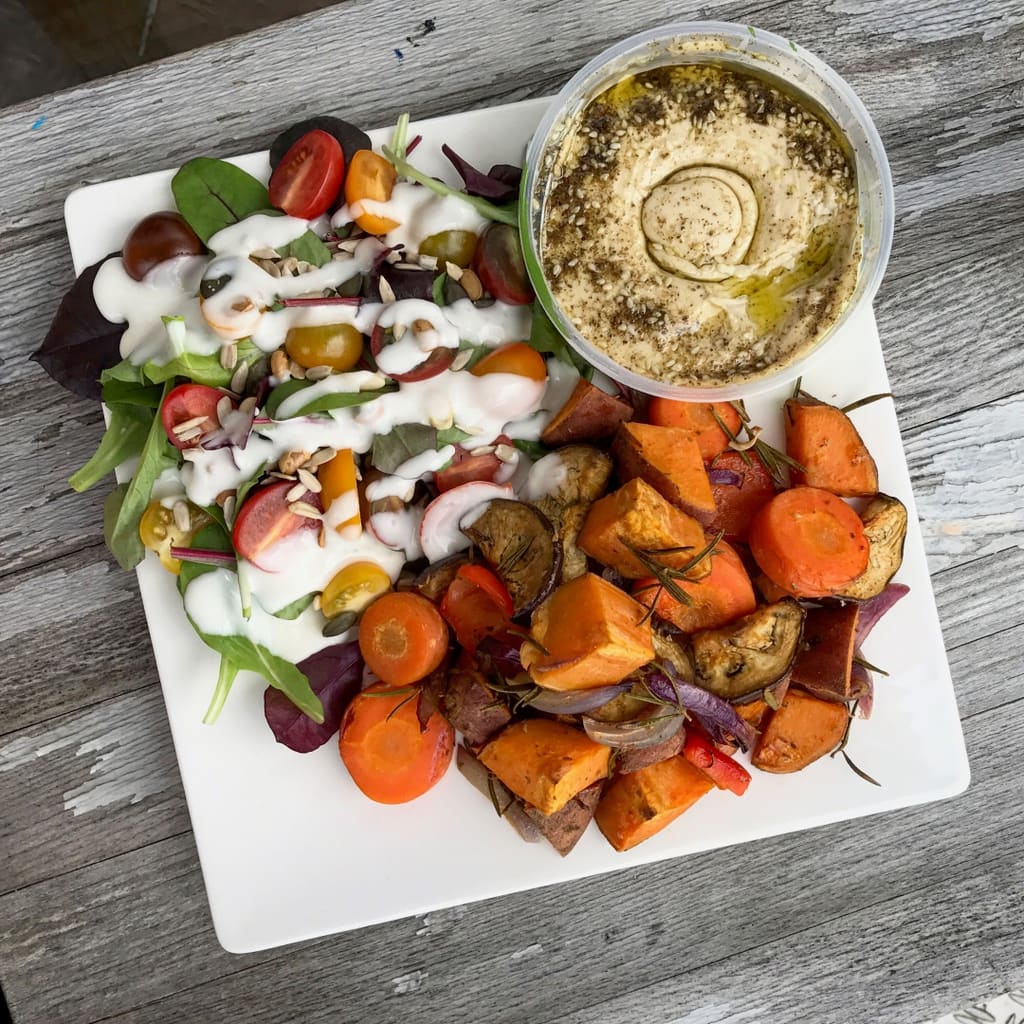 You find the recipe for oven veggies on this blog, by the way.
My breakfast was, like almost always when I am on vacation, muesli with fresh fruits. It's so much easier to have a simple muesli in you apartment, then search for vegan breakfast options on the go. I had half of an avocado left-over, so I brought it on the trip and had it on a spelt roll, that I purchased at Alnatura.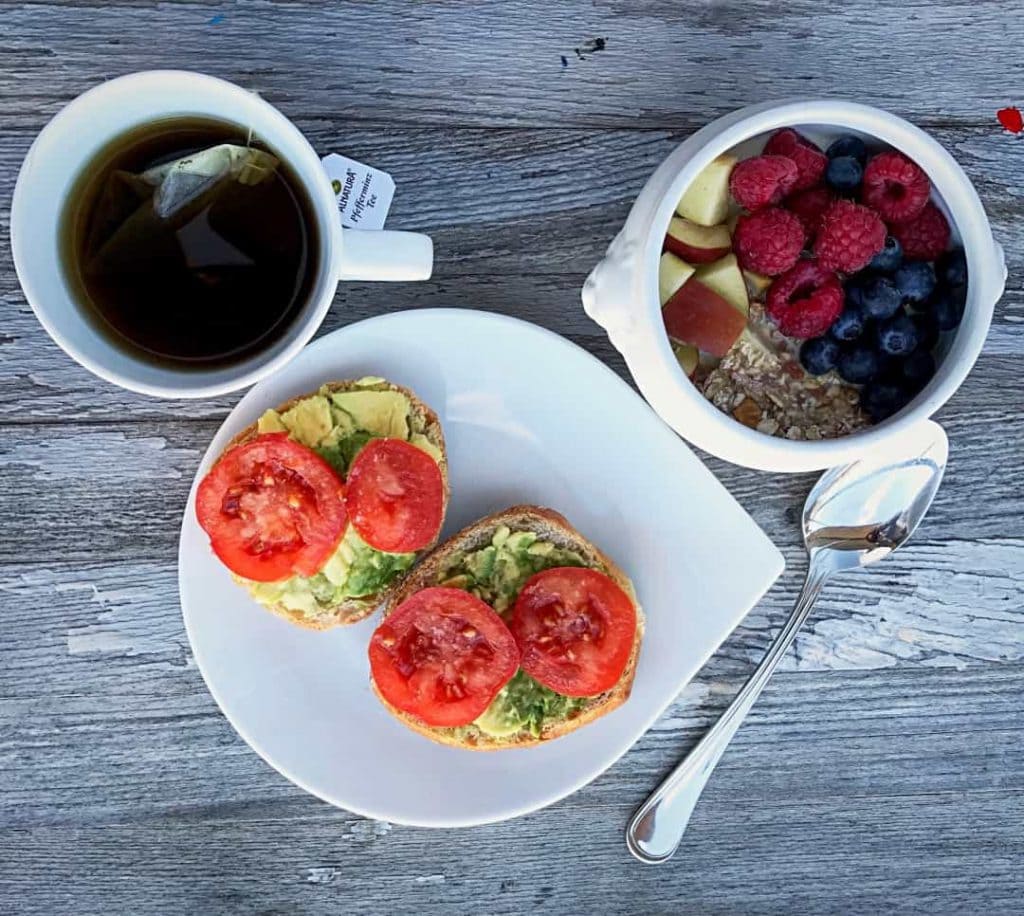 On the day of my departure it was windy and rainy. There was a lot of noise going on outside and so I woke up early at 5.30 a.m.. Since the weather forecast wasn't predicting any change of weather, I decided to hit the road early. So I arrived at home before noon and first took a nap on my couch.
I liked Freiburg very much. And I hope to re-visit again!
Love,
Rina