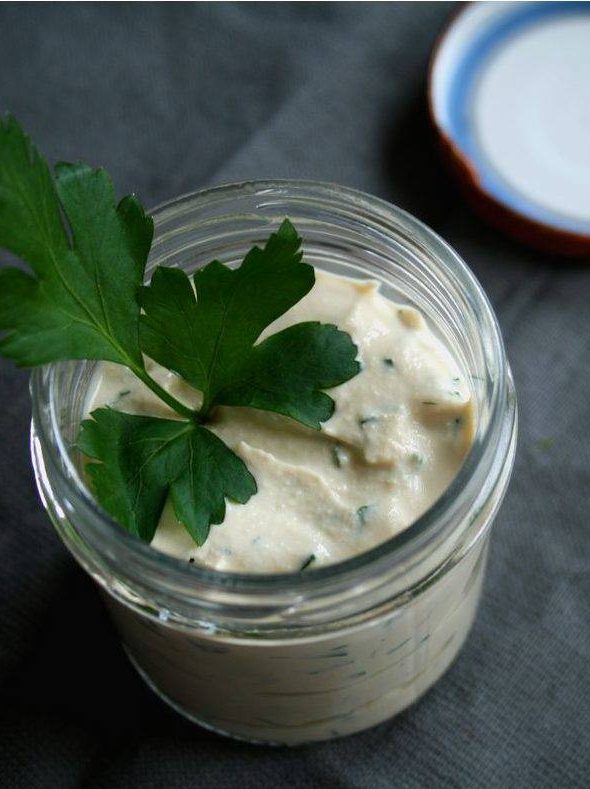 [Advertising: Affiliate Links]
I tried quite a few cream cheese alternatives by now. But I haven't found a product yet that tastes good and doesn't have too many nasty ingredients.
Without thickening agents, artificial aromatics or lots of saturated fats is this tofu cream cheese. You can make it plain or with herbs. Both need time to develop their flavour. I am looking forward to spring, when I find wild garlic. This makes this cream cheese to die for.
The cream cheese tastes best on freshly baked baguette or bagels.
Enjoy!
Love,
Rina
Looking for more spreads? Also try tofu spread with dried tomatoes, goat tofu, butternut cheese sandwiches, vegan liver wurst and avocado mustard dip.

Tofu Cream Cheese
Ergibt/Yield:
1 small jar
Zutaten/Ingredients
For the plain base:
100 g (3.5 oz) white tofu
1 tbs unsweetened soy yoghurt
1 tbs lemon juice
1 tbs pepperoni brine
1/4 tsp salt


For the herb cream cheese:
1 roasted garlic clove, alternative 1/4 tsp garlic powder
1 tbs chives
1 tbs parsley
Zubereitung/Instructions
Blend all basic ingredients until smooth. I use my small food processor for that, but a immersion blender should work, too.


For the herb cream cheese blend the garlic clove with the basic ingredients, then stir in the chopped herbs.


Pour the cream cheese in a screw top jar and keep refrigerated. Let it rest for 1 hour, before you enjoy it.
Tipps/Notes
Use the cream cheese within a week.
To roast the garlic cut of the top of one head garlic, sprinkle with olive oil and wrap in tin foil. Bake in the oven at 180° C (360° F) for about 40 minutes. I tasted several pepperoni from different brands. I like 
this one
most. It adds the perfect spiciness to your cream cheese. I used this
food processor
to make the cream cheese.