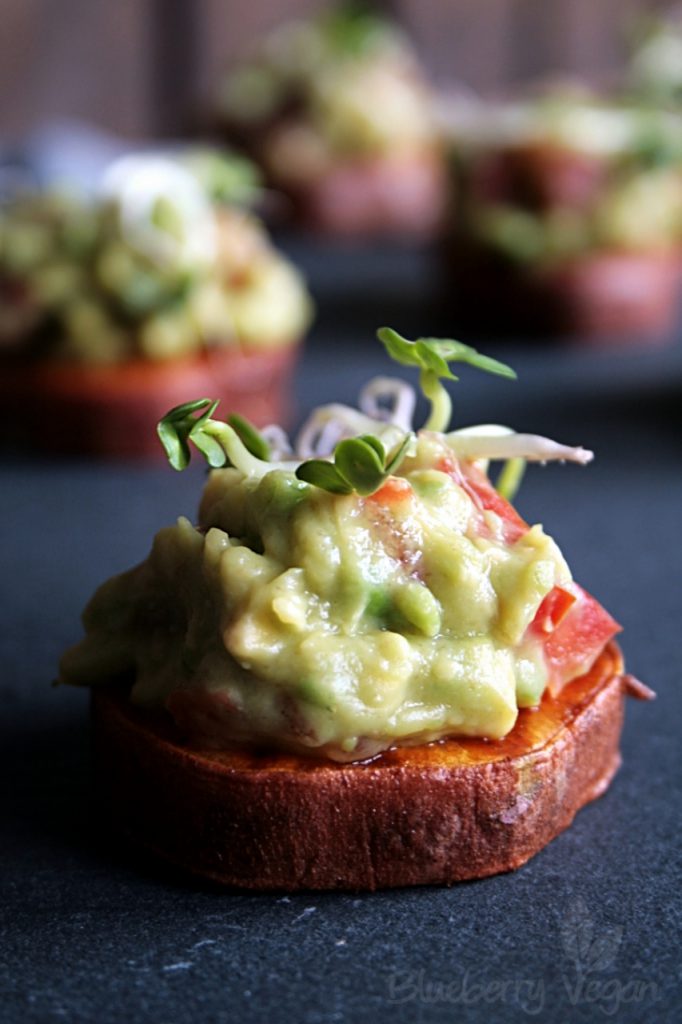 A couple of days ago I wanted a little snack. But not only a slice of bread with tomatoes or something like that, I wanted something fancy. I remembered that I have seen a pin about sweet potato toast on Pinterest.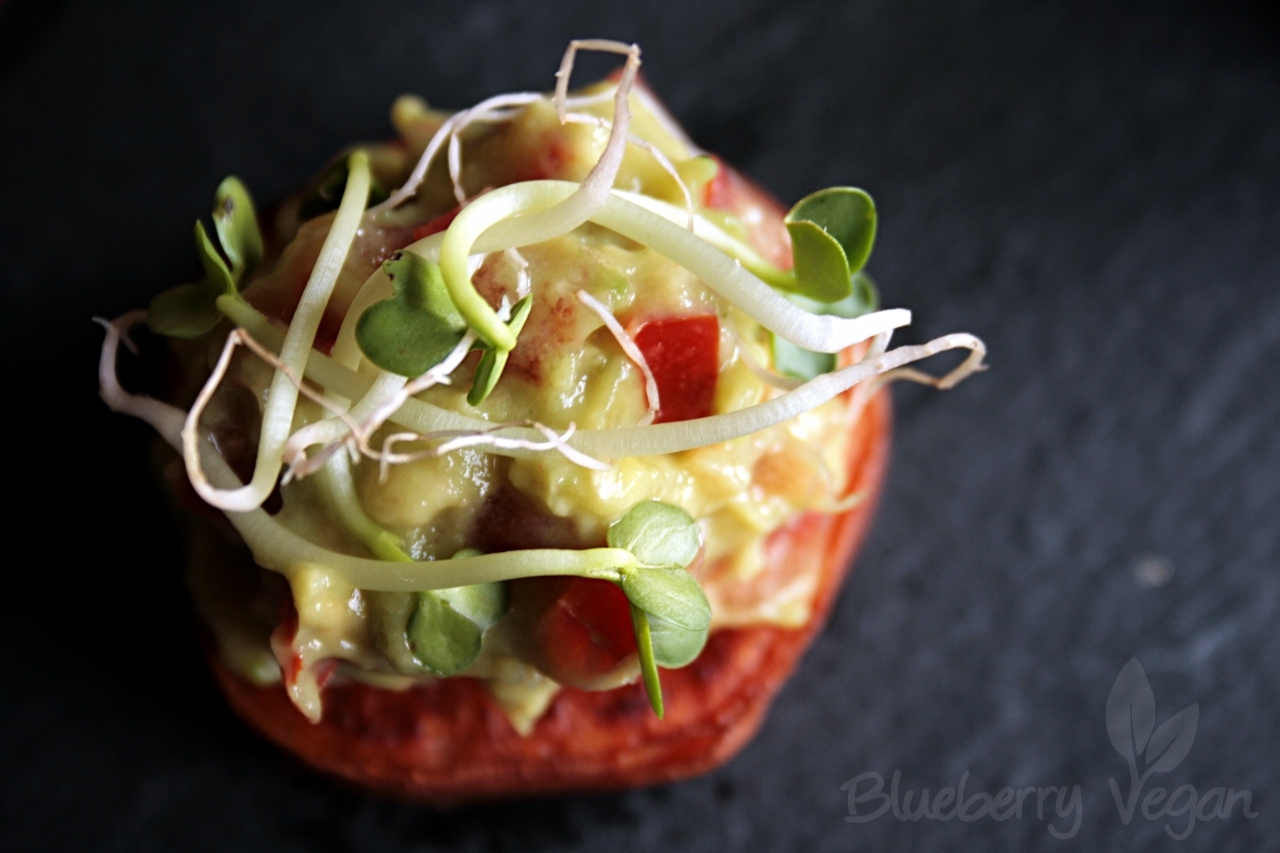 I had to try it. Since I had a long, thin sweet potato, I didn't slice it lengthwise, but sliced it in round chips. I toasted one slice in the toaster on medium heat for three times. It started to burn at the edges, but wasn't even close to done. So I threw in a second slice on low heat. But after the fifth round the slice was dry and not done. So I gave up, heated a little olive oil in a pan and fried the sweet potato slices in it until golden. What can I say? They were done. And juicy ?.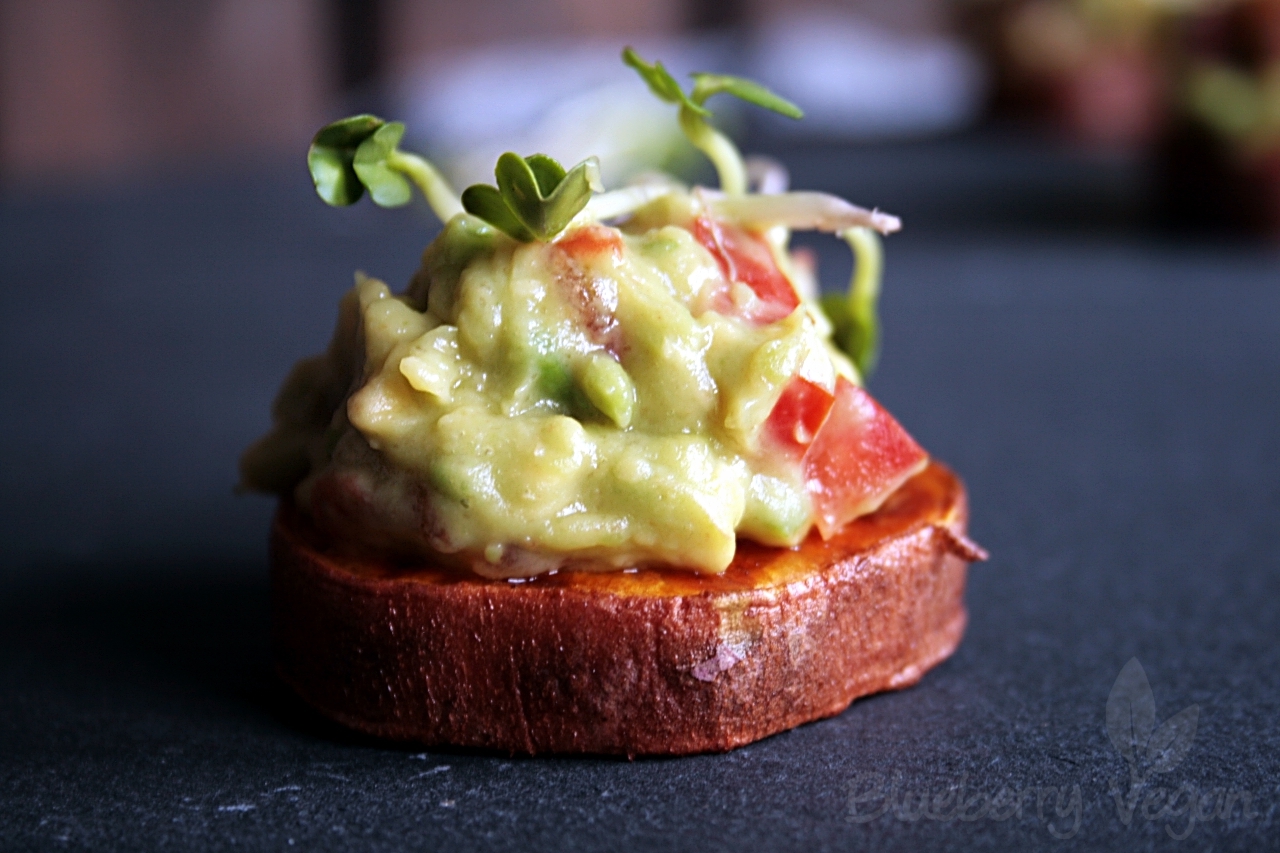 I sprinkled some lemon juice over the potato slices and a bit of salt. Then topped with a classic guacamole and some radish sprouts. This sweet potato bites are also great as an appetizer or a canapé on a buffet.
Enjoy!
Love,
Rina
Hungry for more sweet potato? Also try stuffed sweet potato, salad with sweet potato, jackfruit sweet potato curry, spinach sweet potato bowl and chili with sweet potato.

Sweet Potato Bites with Guacamole
Ergibt/Yield:
2 - 4 Portions
Zutaten/Ingredients
For the sweet potato slices:
1 medium-sized sweet potato
1 tsp olive oil
1 pinch salt
1 dash lemon juice


For the guacamole:
1 avocado
1 tomato
1 - 2 tbsp lemon juice
1 small clove garlic
1/4 tsp salt


Also:
1 hand full radish sprouts - optional
Zubereitung/Instructions
For the guacamole de-seed the tomato and finely chop, press the garlic. Pour the avocado in a small bowl and mash with a fork, combine with the rest of the ingredients and set aside.


Brush the sweet potato and wash thoroughly. If the skin is too thick, peel it. Then cut into half-inch-sized slices. Heat the oil in a pan on medium heat and fry the potato slices in it for 2 - 3 minutes, until golden.


Drizzle some lemon juice over the sweet potato and slighty salt them. Pour a teaspoon of guacamole on each slice and garnish with radish sprouts.