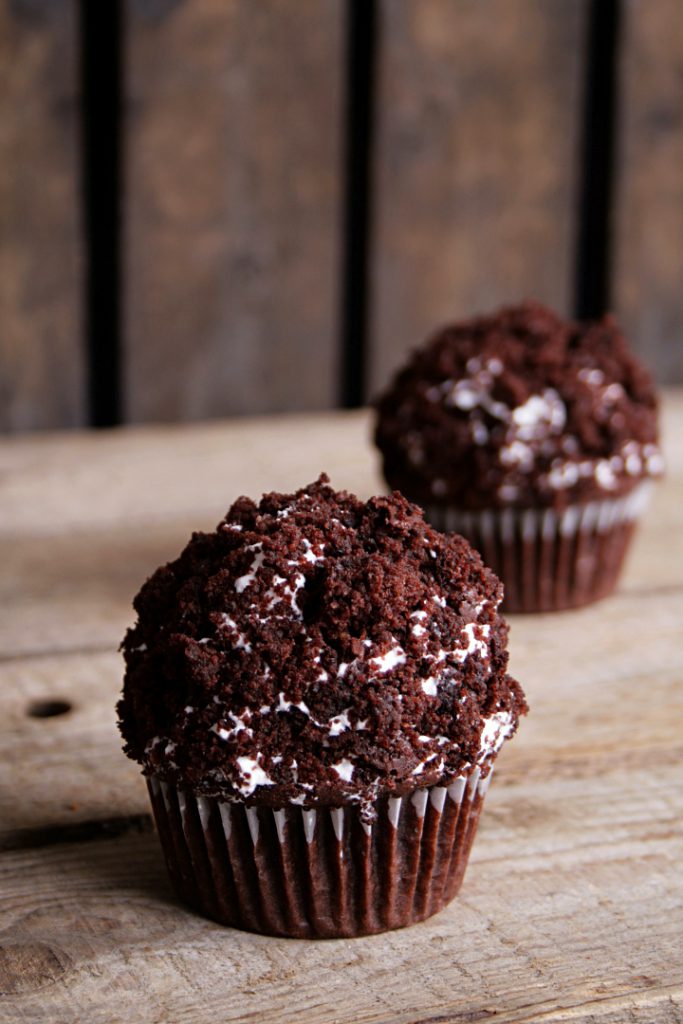 [Advertising: Affiliate Links]
Aren't these muffins adorable? And they don't only look good, they taste even better. If you will, this is a two-in-one recipe, because the simple chocolate muffins are also great without whipped cream.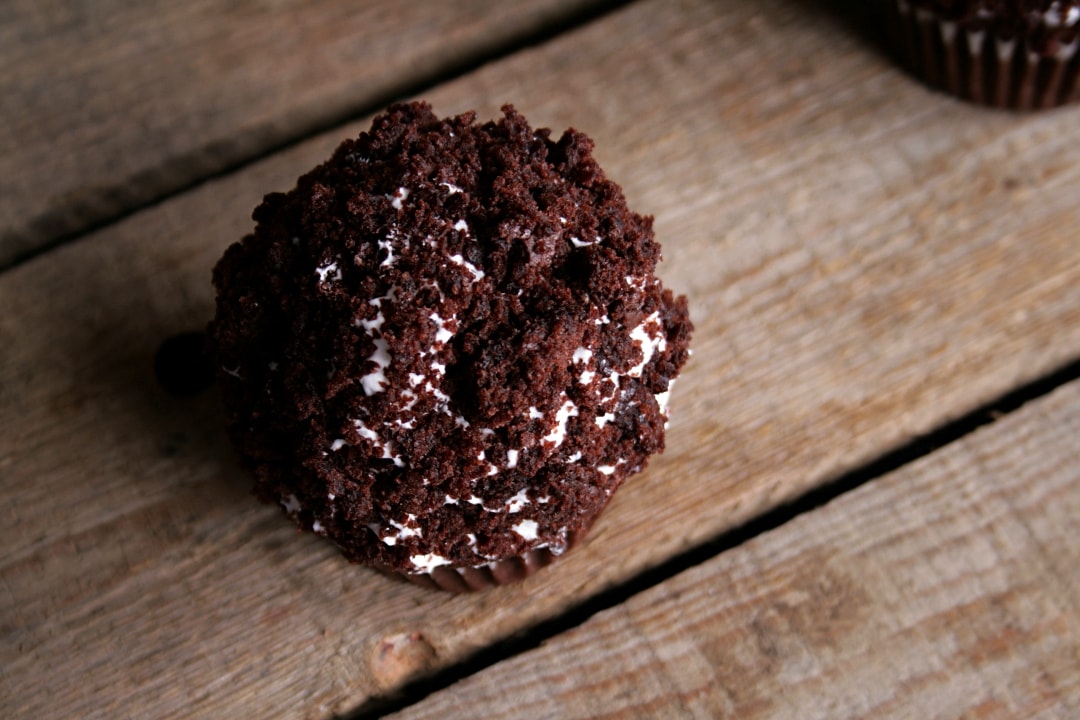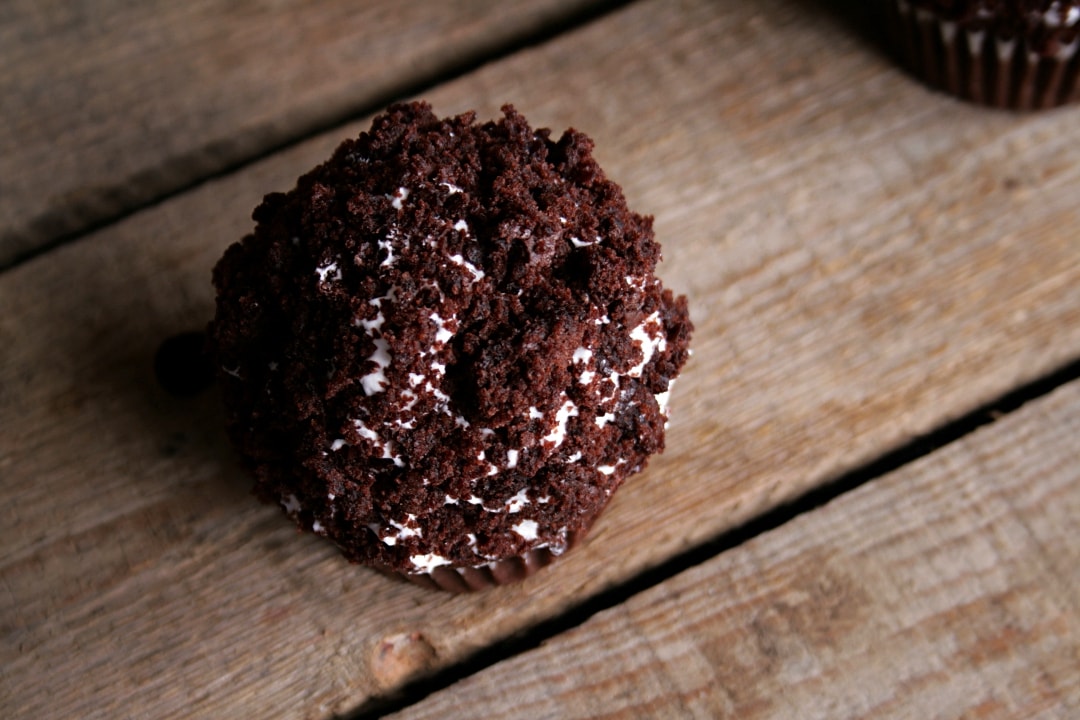 I got the idea, when I woke up last Saturday morning and it had snowed. When I went for a run everything was covered in snow, only a few moles (or one?) was already up and left some mole hills. So I decided to make molehill muffins as a dessert for the pizza party, I was invited that night.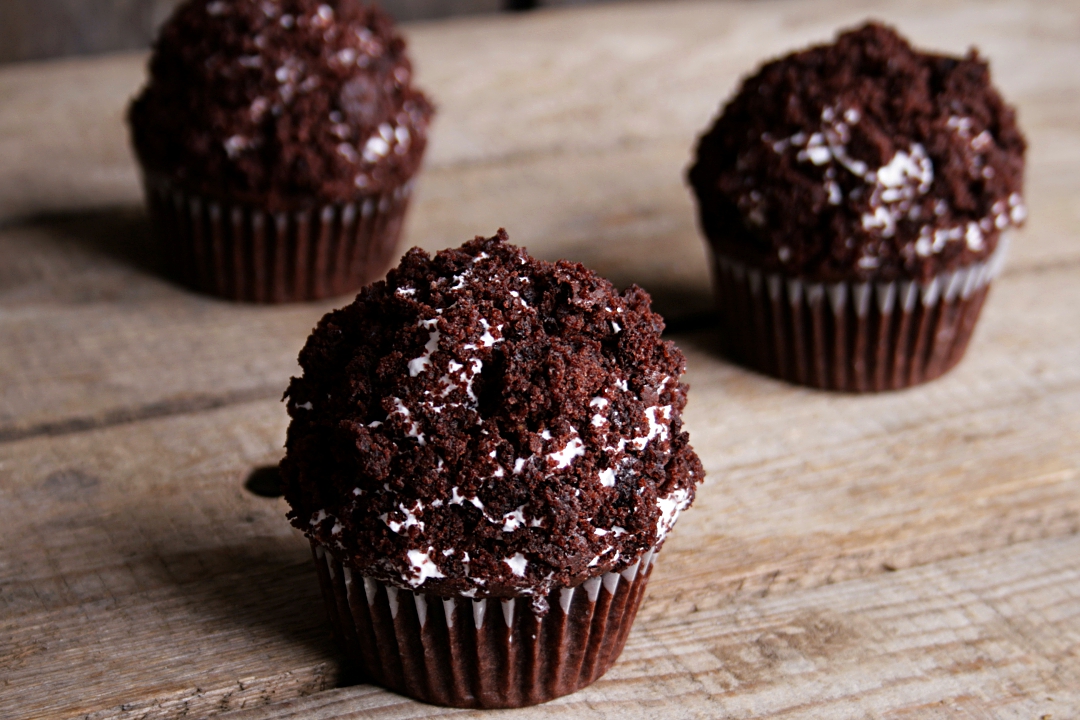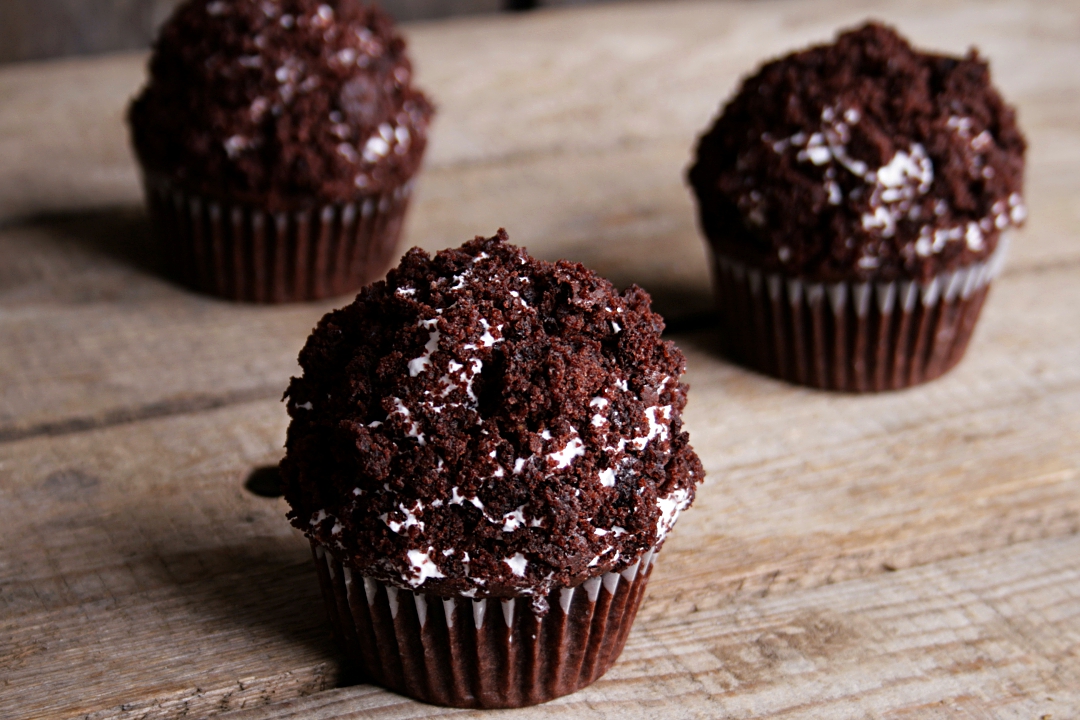 To make the muffins, you'll first have to bake some chocolate muffins. They are super easy to make and turn out fluffy and delicious.
To turn them into molehill muffins, cut off the tops and fill them with banana slices and whipped cream. The get the perfect amount of whipped cream and to arrange it easily, I used my ice cream scoop.
Then crumble the tops in a bowl, take a hand full in one hand and dip one muffin, whipped cream first into the crumbles. Press on and form a molehill.
I like the taste of Soyatoo cream and the firmness of Schlagfix, so I combined these two. In the end I had some whipped cream left over and mixed it with the left-over crumbles, poured it in two glasses and decorated it with banana and cacao nibs. It was a delicious dessert and nothing was wasted.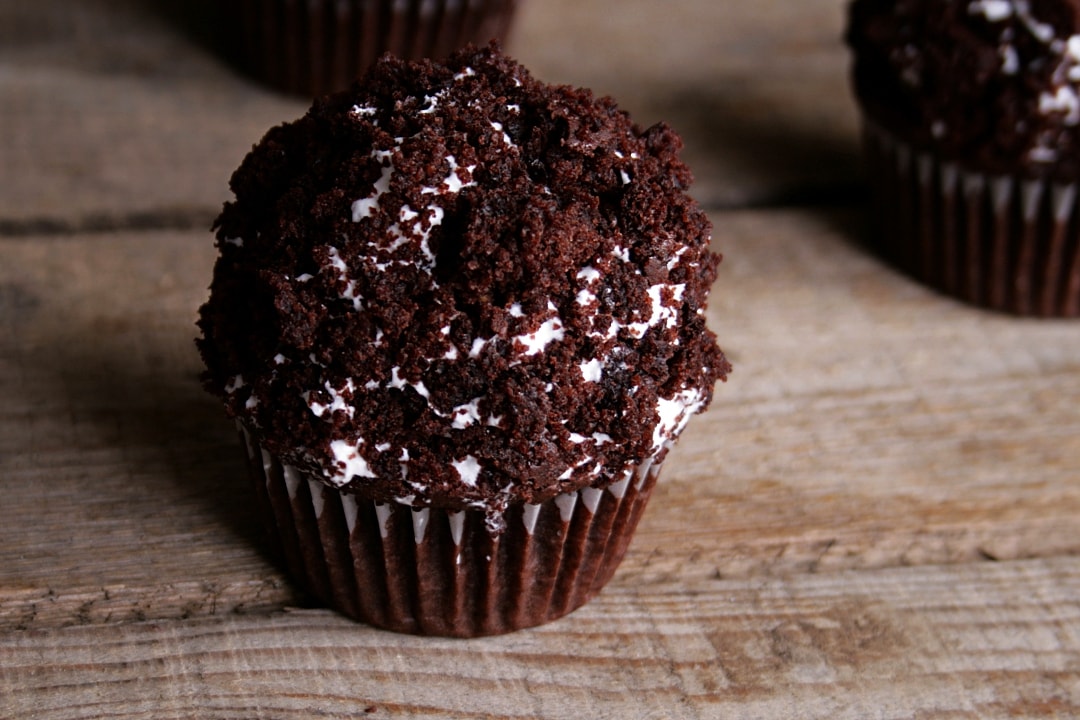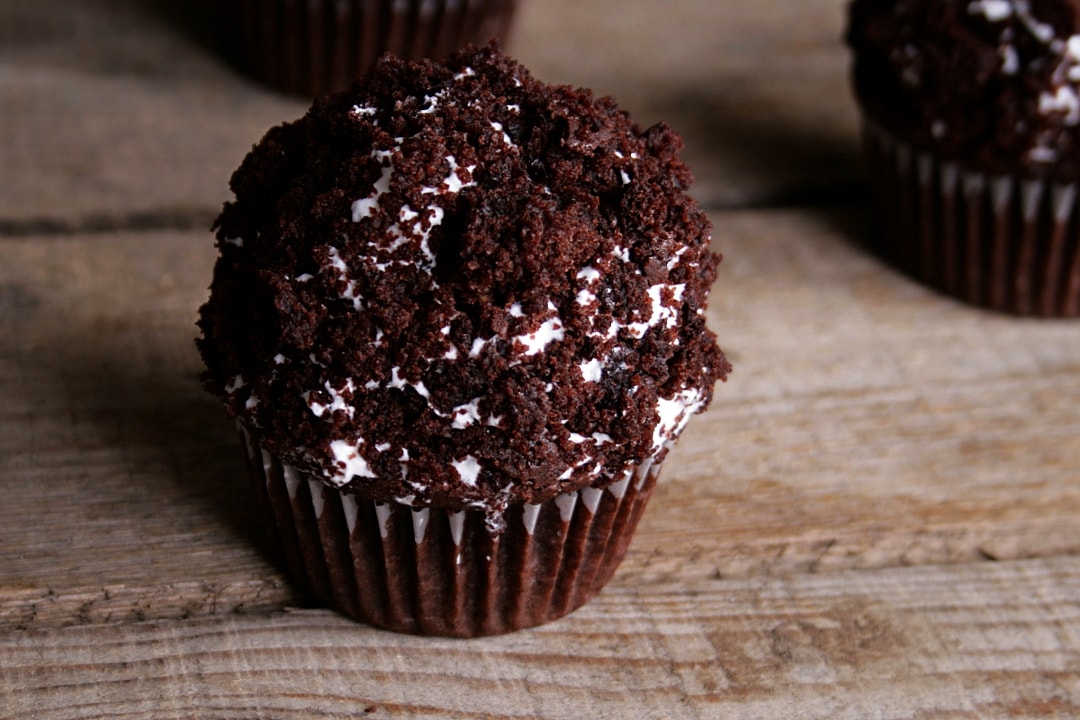 Have fun baking and indulging!
Love,
Rina
Molehill Muffins
Zutaten/Ingredients
For the muffins:
2 tbsp flaxseed, ground
6 tbsp water
250 ml (1 cup) soy milk
1 tsp apple cider vinegar
2 tsp vanilla extract
60 ml (1/4 cup) neutral tasting oil
250 g (8.8 oz) white flour - spelt or wheat
140 g (4.9 oz) sugar
2 1/2 tbsp cocoa powder
1 1/2 tsp baking powder
1 tsp baking soda


For the topping:
400 ml (1 2/3 cup) vegan cream to whip
(1 tbsp powdered sugar, if needed)
1 tsp corn starch
1 pinch vanilla, ground
2 small bananas
Zubereitung/Instructions
Preheat the oven to 180° C (360° F) and line a muffin tray with paper liners.


Combine the flaxseed and water and let jelly. Also combine soy milk and apple cider vinegar and let curdle.


Combine all dry ingredients in a bowl with a whisk. Then add the wet ingredients and quickly combine. Don't overmix or your dough will get tough.


Pour the batter in the paper liners and bake in the oven for 20 - 25 minutes, until a toothpick comes out clean. Let the muffins cool in the tray for 5 minutes, then remove and let cool on cooling rack.


Whip the cream with vanilla and starch and sweeten with powdered sugar, if needed. Finely slice the bananas and cut off the muffin tops.


Arrange three slices of banana on each muffin. Add a heaped spoon of whipped cream. Crumble the muffin tops in a bowl.


Take a hand full of crumbles and dip in a muffin, whipped cream first, and press on. Keep the muffins in the fridge until serving.
Tipps/Notes
To pour the batter IN the paper liners and not around them, I use an ice cream scoop with 
ejection function
, that I have bought years ago. I ground the flaxseed in my 
Personal Blender
.