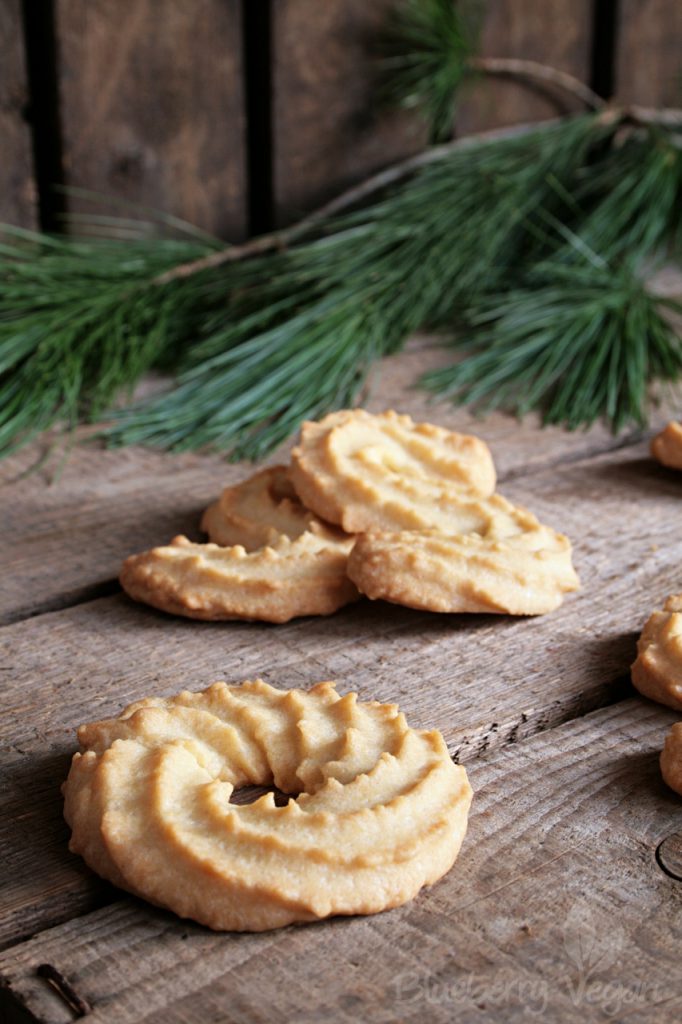 [Advertising: Affiliate Links]
I finally recognized, that Christmas is around the corner. The people around me are having mulled wine and baking cookies for weeks now and I started the season yesterday by putting up some Christmas decorations and baking one of my favorite cookies. I baked two trays of spritz cookies.
The dough comes together really quick and has to rest in the fridge for an hour. If you made spritz cookies before, the dough might seem a little softer, than you remember it. That's because I like it, when the cookies spread a little and the "stubbles" aren't so spiky.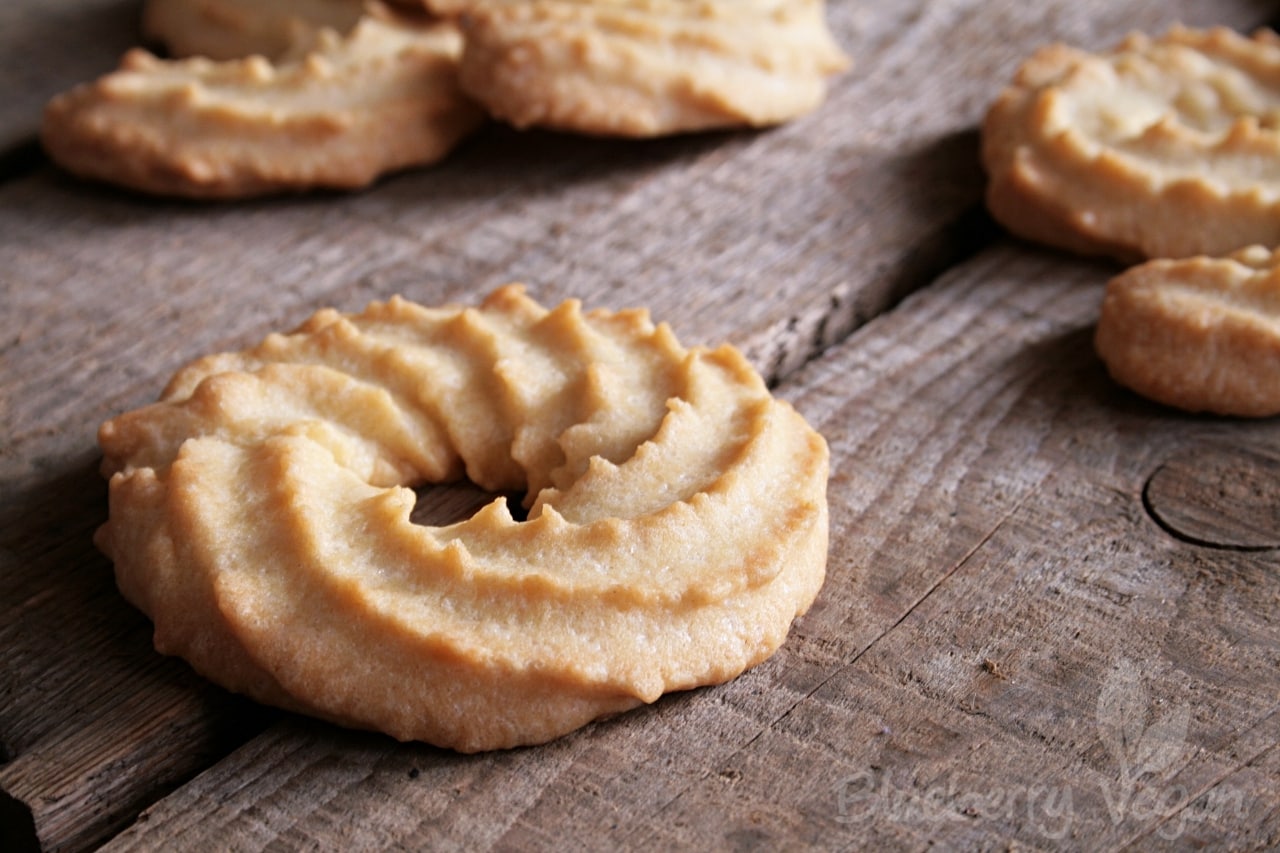 I used an old-fashioned meat grinder to make the cookies. I chose the star outlet for the cookies and ground 4-inch long dough ropes and placed them in s or o shape on the lined baking trays. You can also use a spritz cookie press, of course and lay the cookies in the shape you like. When I was a child, my sisters and I formed the letters of our names.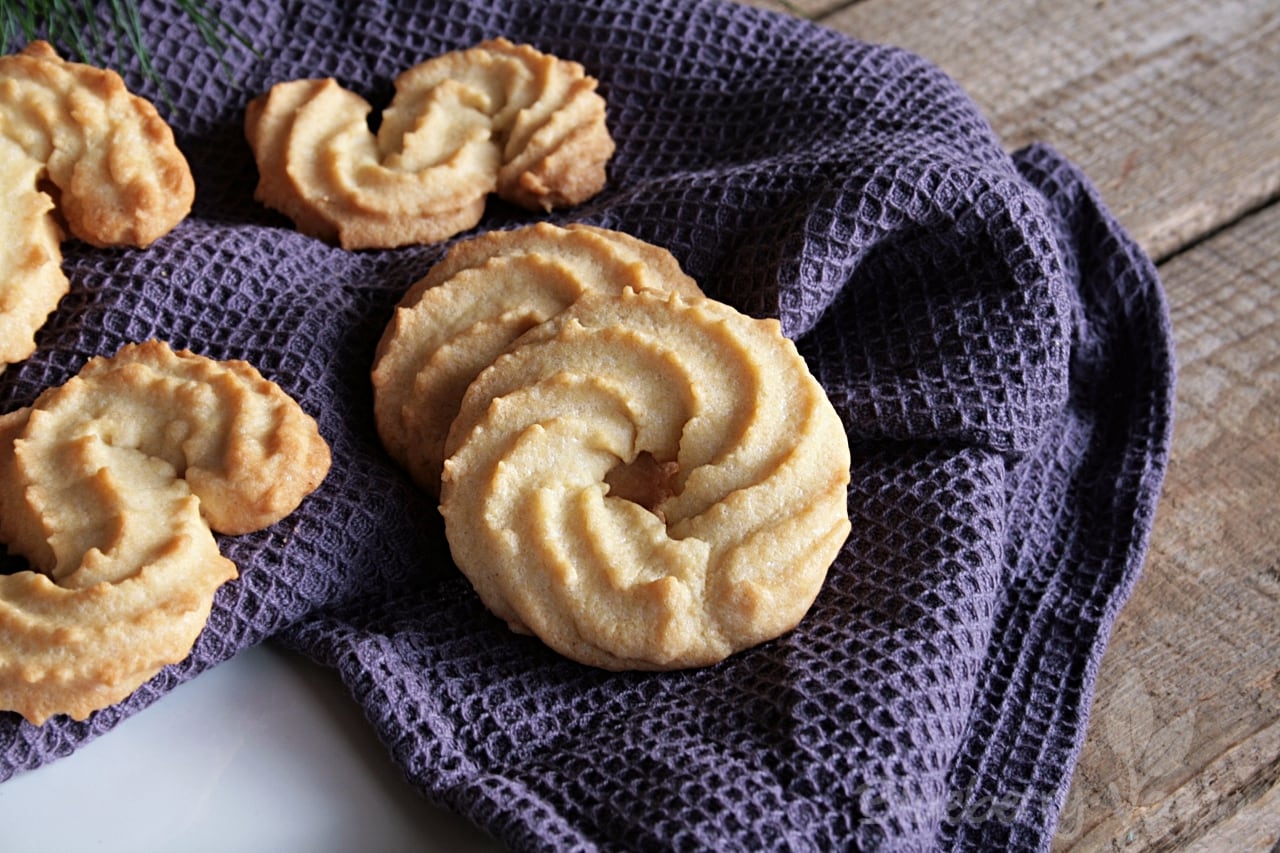 If you want to make the cookies a present, try to arrange them in a jar, add a bow and some spruce sprigs. That looks nice!
Have fun baking the cookies and have a lovely first Sunday in Advent!
Love,
Rina
Want more cookies? Also try quick chocolate cookies, chocolate chip cookies, no-bake oatmeal cookies, chocolate orange cookies, granola cookies, coconut macaroons and spitzbuben cookies.

Spritz Cookies
Ergibt/Yield:
ca. 20 Kekse
Zutaten/Ingredients
250 g (8.8 oz) flour
125 g (4.4 oz) sugar
130 g (4.5 oz) vegan butter
1 tsp baking powder
2 tbsp non-dairy milk
2 tsp vanilla extract - alternative ground vanilla
Zubereitung/Instructions
Knead all ingredients until a smooth dough forms and no sugar pieces are left. Wrap in clingfilm and refrigerate for one hour.


Preheat the oven to 180° C (360° F). Pour the dough in a meat grinder or cookie press and form 4-inches long ropes. Place them on lined baking trays in the preferred shape and bake in the oven for 12 - 15 minutes until golden.


Remove from the tray immediately by pulling down the parchment paper and let cool completely.
Tipps/Notes
If you store them in a glass, they stay moist. If you store them in a metal container they are getting crisper. In both they stay fresh for around 2 weeks. If they last as long… Did you know, that you can make
vanilla extract
easily yourself?