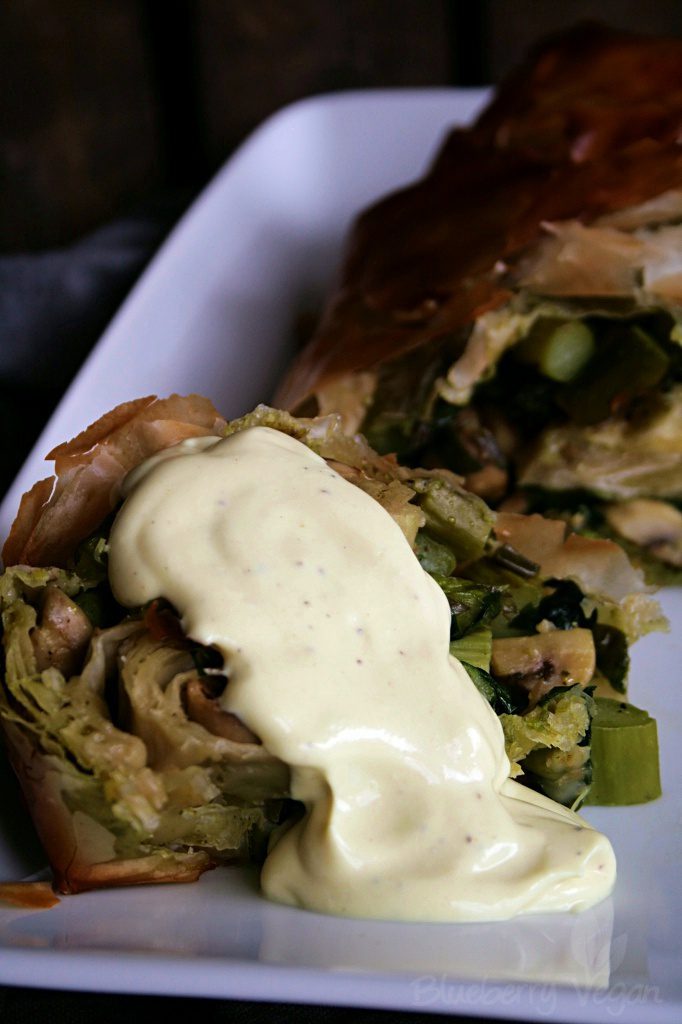 [Advertising: Affiliate Links]
Spring is finally here!!! And this means, I can eat lots of asparagus again. I am excited! I like the green spears best, because they are more aromatic and easier to cook with. You don't have to peel green asparagus, just cut off the wooden ends.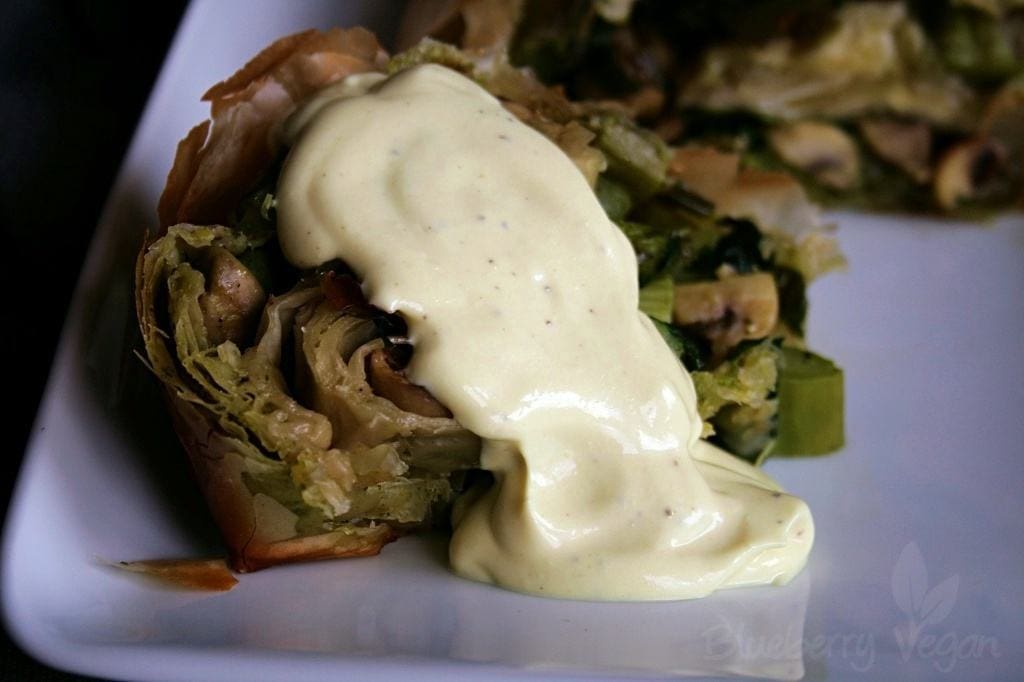 New asparagus season, new asparagus recipes. I wanted to make something new with asparagus and when I found a package of phyllo dough in my fridge, I thought of asparagus strudel immediately. I thought mushrooms will be great with asparagus and since the wild garlic is growing big in the forest near my home, I threw some in as well.
The best sauce for asparagus is Sauce Hollandaise. But what exactly is a Sauce Hollandaise? I had always been on a diet back then and knew only a light-powder to mix with water. (How could I?) So I googled it.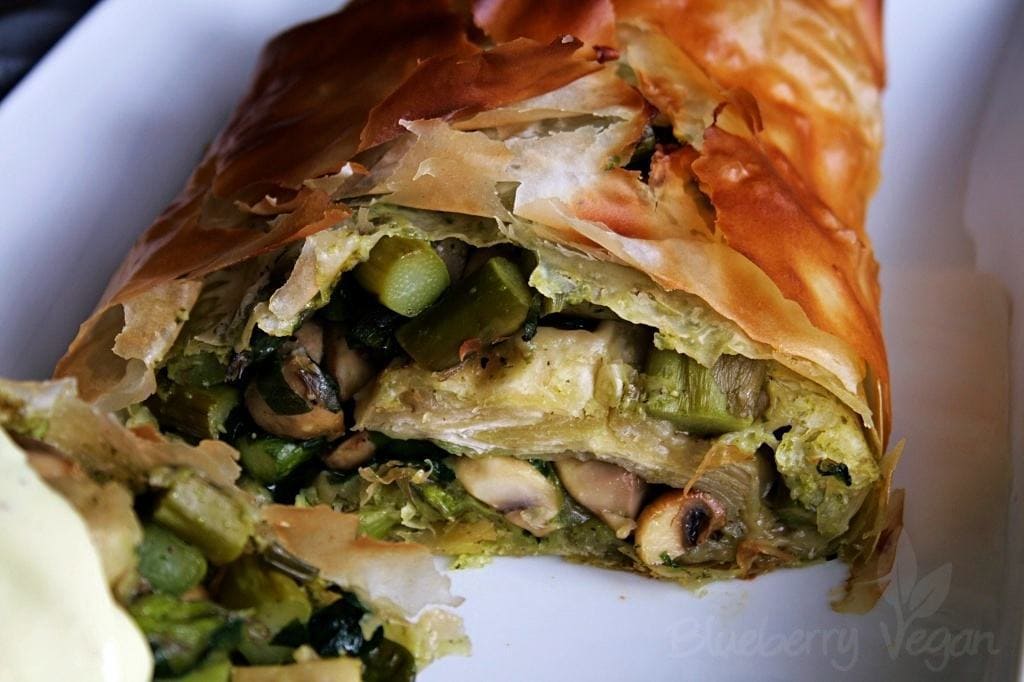 Wikipedia says: "To make hollandaise sauce, the eggs yolks are separated and added to a butter base with small amounts of water, vinegar or lemon juice with pepper, heated together slowly over a double boiler. […] Whisk together with a wire whisk until frothy. […] Remove from the heat source and begin adding warm, melted, clarified butter to the mixture. If the sauce cools too much the butter will begin to thicken." – Sounds kind of like a runny mayo with butter instead of oil… I can do mayo! So I changed my mayo recipe and used lemon juice instead of vinegar, omit the mustard and replaced the oil with melted butter. Wow! This worked at the first attempt and tasted great. I added some mustard. With or without mustard – I like both, you decide!
I hope you enjoy this dish!
Love,
Rina
Asparagus Mushroom Strudel with Wild Garlic and Sauce Hollandaise
Ergibt/Yield:
3 - 4 Portions
Zutaten/Ingredients
For the strudel:
1 bunch green asparagus
250 g (9 oz) white mushrooms
1 tbsp olive oil
salt
pepper
10 leaves fresh wild garlic
1 package phyllo dough
2 tbsp wild garlic pesto


For the Sauce Hollandaise:
200 g (7 oz) vegan butter
100 ml (1/3 cup plus 1 tbsp) soy milk
1/4 tsp kala namak
1/4 tsp turmeric - just for the color
1 1/2 - 2 tsp lemon juice
1/2 tsp mustard - optional
salt
white pepper
Zubereitung/Instructions
Cut off the wooden ends of the asparagus and cut the spears into small pieces, quarter the mushrooms and cut the wild garlic in strips.


Heat the oil in a big pan and sauté asparagus and mushrooms in it for 8 - 10 minutes, stir occasionally, season with salt and pepper. Then add the wild garlic and let cool. Preheat the oven to 180° C (360° F) and line a baking tray with parchment paper.


Place the strudel sheets over each other and brush the top layer with wild garlic pesto, leave a border of one inch. Place the filling on the lower third of the strudel sheets, fold over the short part, fold in the sides and then gently roll up and place on the baking tray.


For the Sauce Hollandaise melt the butter until liquid. Brush some butter on the strudel and bake in the oven for 25 - 30 minutes until golden.


For the Sauce Hollandaise in a blender (where steam can escape) or a high container with an immersion blender mix soy milk, melted butter, kala namak and turmeric until thick. Season with lemon juice, salt and pepper. Transfer to a pot and bring to boil. If the sauce is too thick, add more soy milk.


Carefully slice the strudel in thick slices, arrange on plates and drizzle over the sauce.
Tipps/Notes
The phyllo dough can tear, if the filling is too hot. Better let it cool for a while.
Left-over Sauce Hollandaise firms up in the fridge like a cream cheese and tastes good on bread or veggie slices.
Kala namak is a black salt, which adds an eggy flavor. You can buy it online:
kala namak
.
Since the mayo doesn't thicken with every soy milk, it might also not work with every soy milk for the Sauce Hollandaise. But it will work with this brands: – Alpro organic (I always use this one) – Alpro unsweetened – Alpro original calcium and original fresh – Alpro light and light fresh – Provamel soy natural – Provamel soy calciumPlease tell me, when you found a soy milk that works or also when it doesn't. I'll refresh this list then.