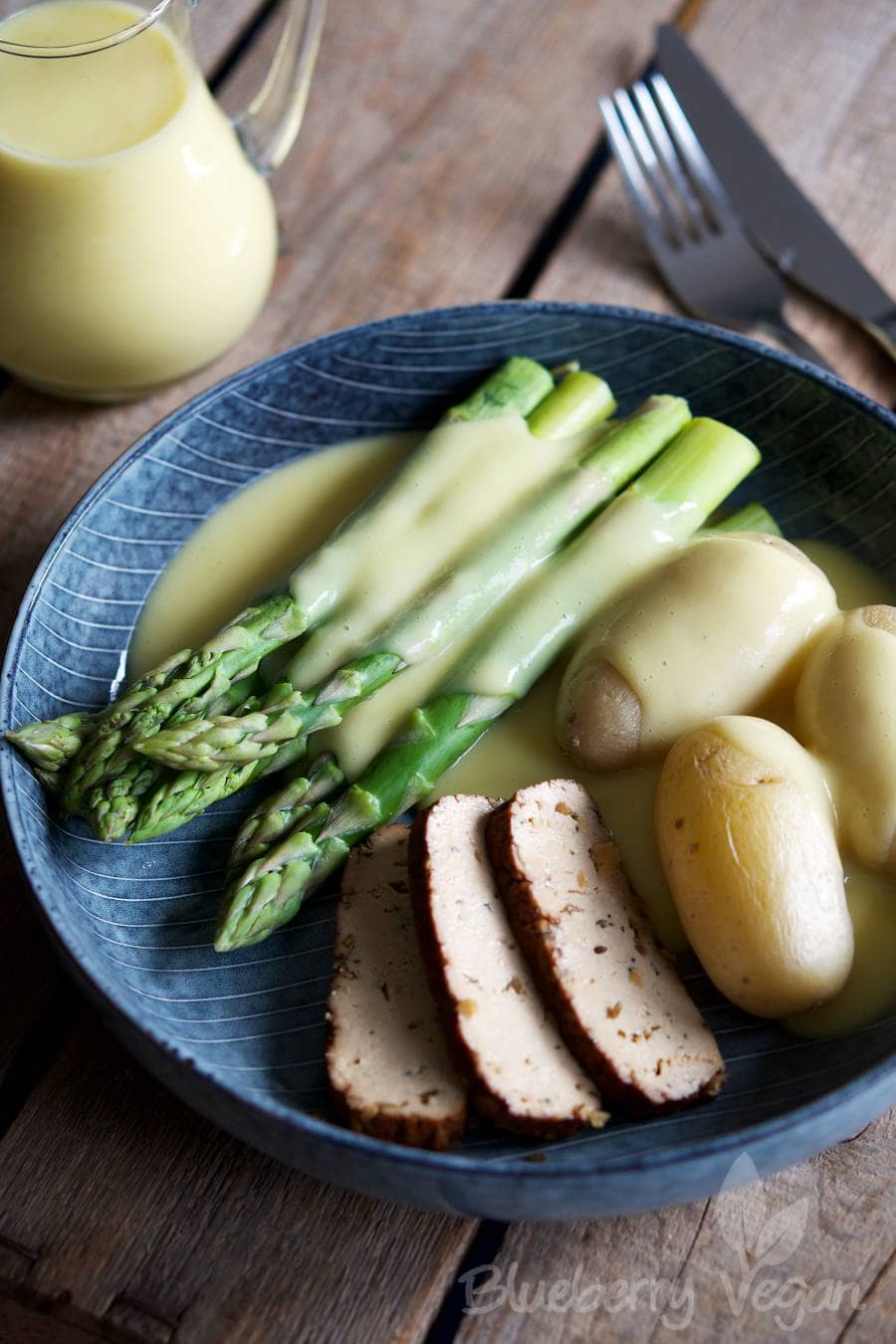 [Advertising: Affiliate Links]
Finally it is starting to be spring again. Oh, how I love this season! The first flowers break through the ground and the days are getting noticeable longer again. Yesterday I heard a familiar sound and saw a swarm of cranes flying above my head. Welcome back! I go to work in daylight now and some days even return in daylight. So great!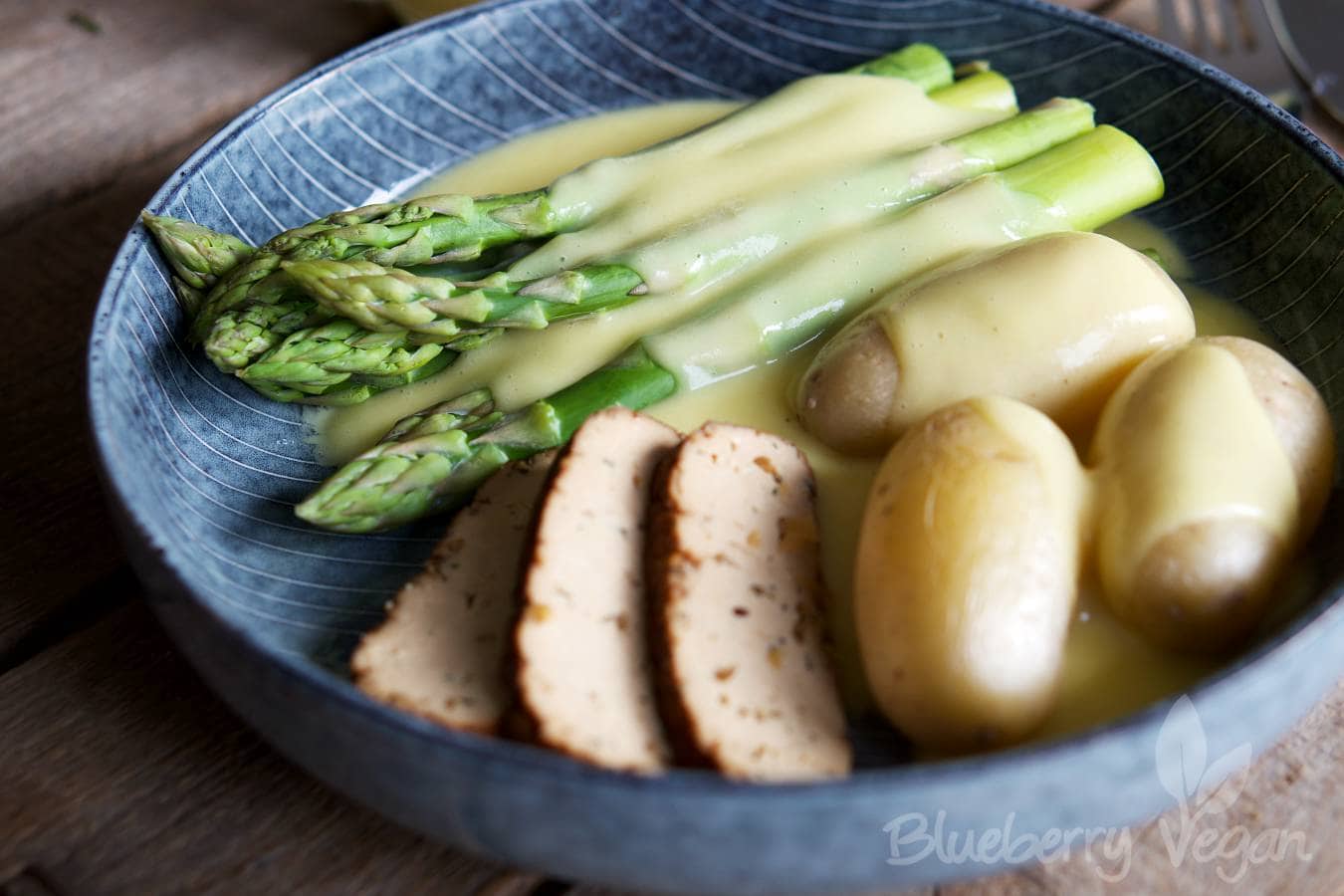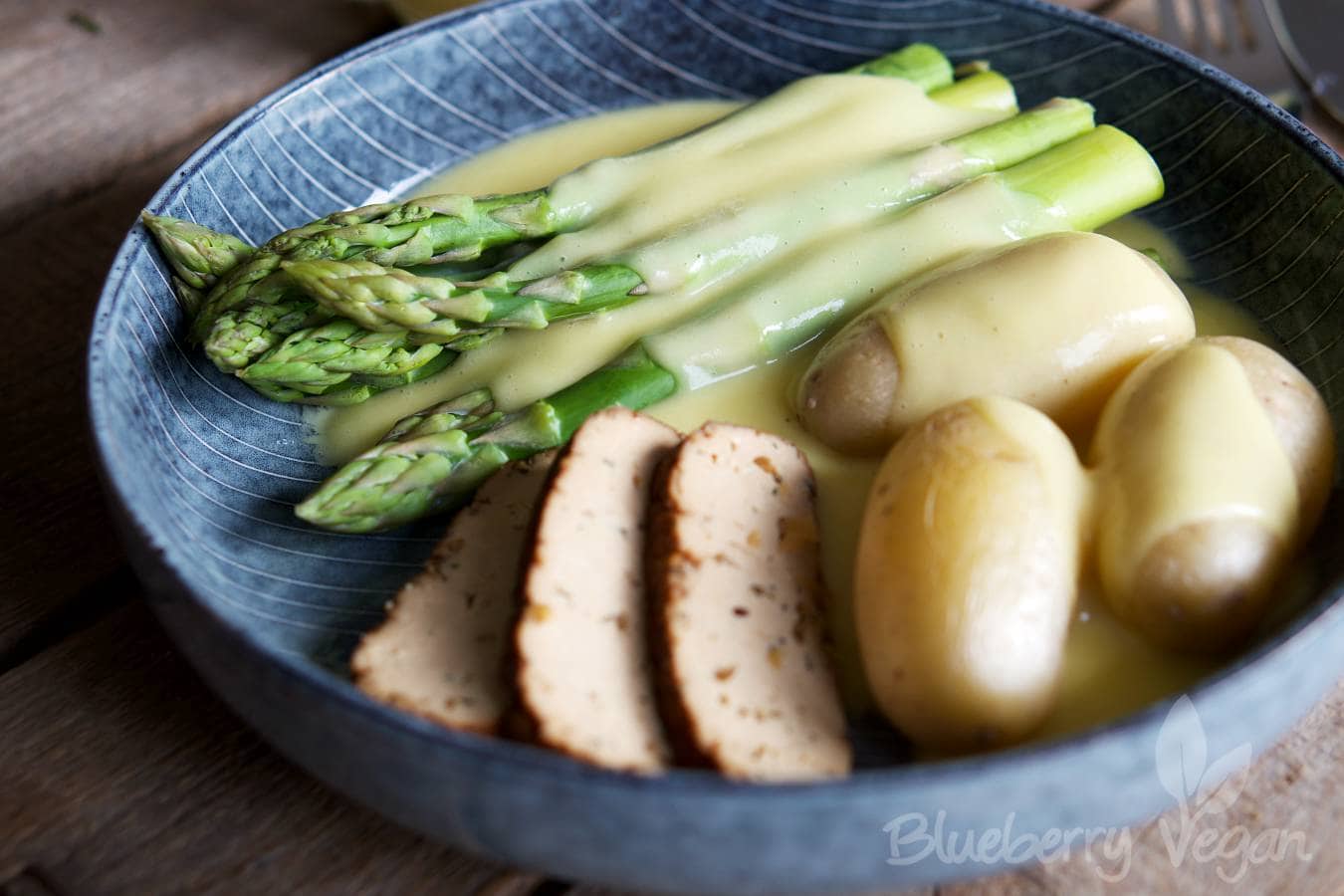 When it comes to food spring has to offer great veggies, the best is asparagus. I like the green stalks best. I have my first asparagus of the season the classical way with potatoes and Sauce Hollandaise before I make dishes like Asparagus with Soya Beef in Creamy Green Pepper Sauce, Asparagus Garlic White Pizza, Asparagus Tarte with Yoghurt Mustard Mousse or Asparagus Mushroom Strudel with Wild Garlic and Sauce Hollandaise.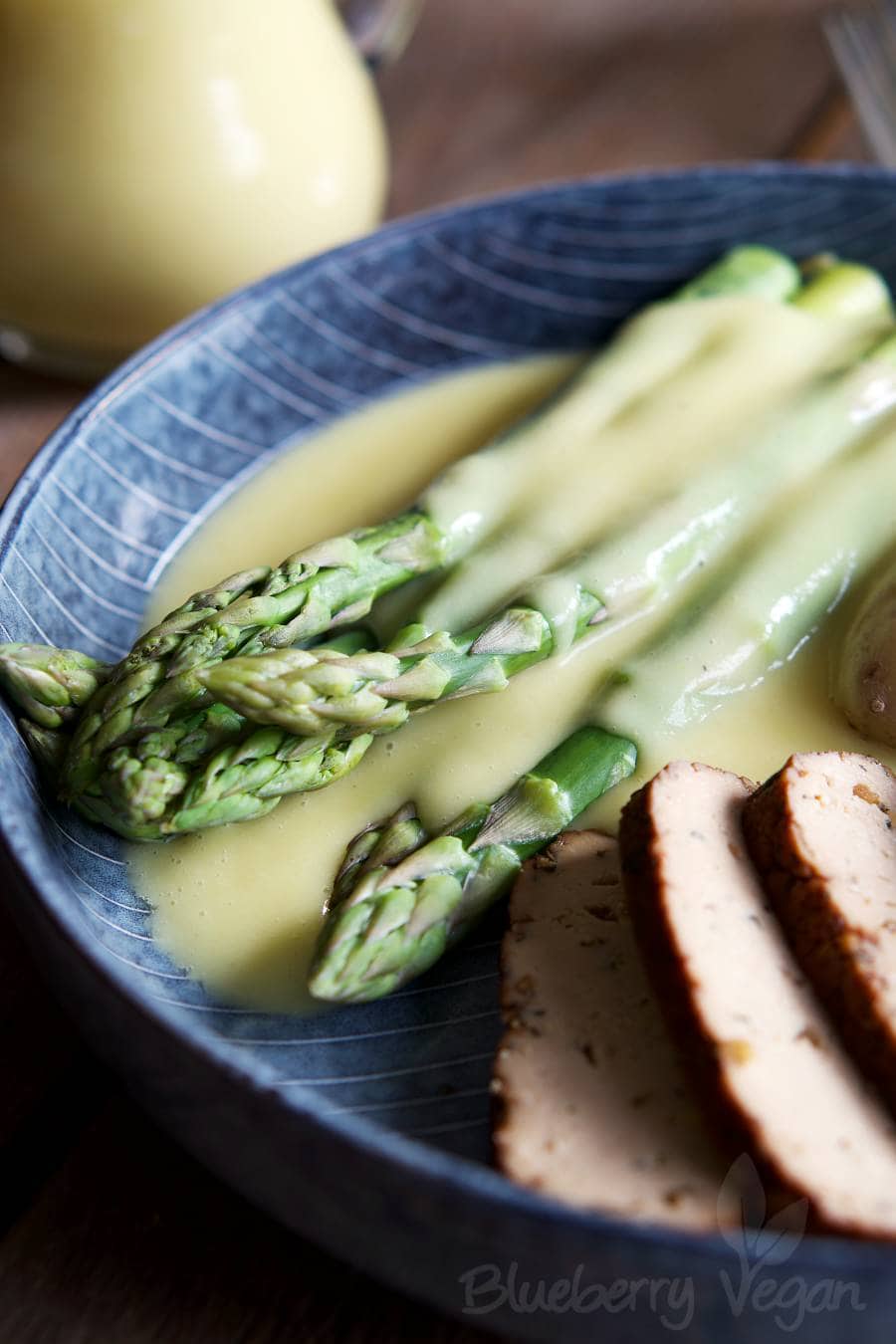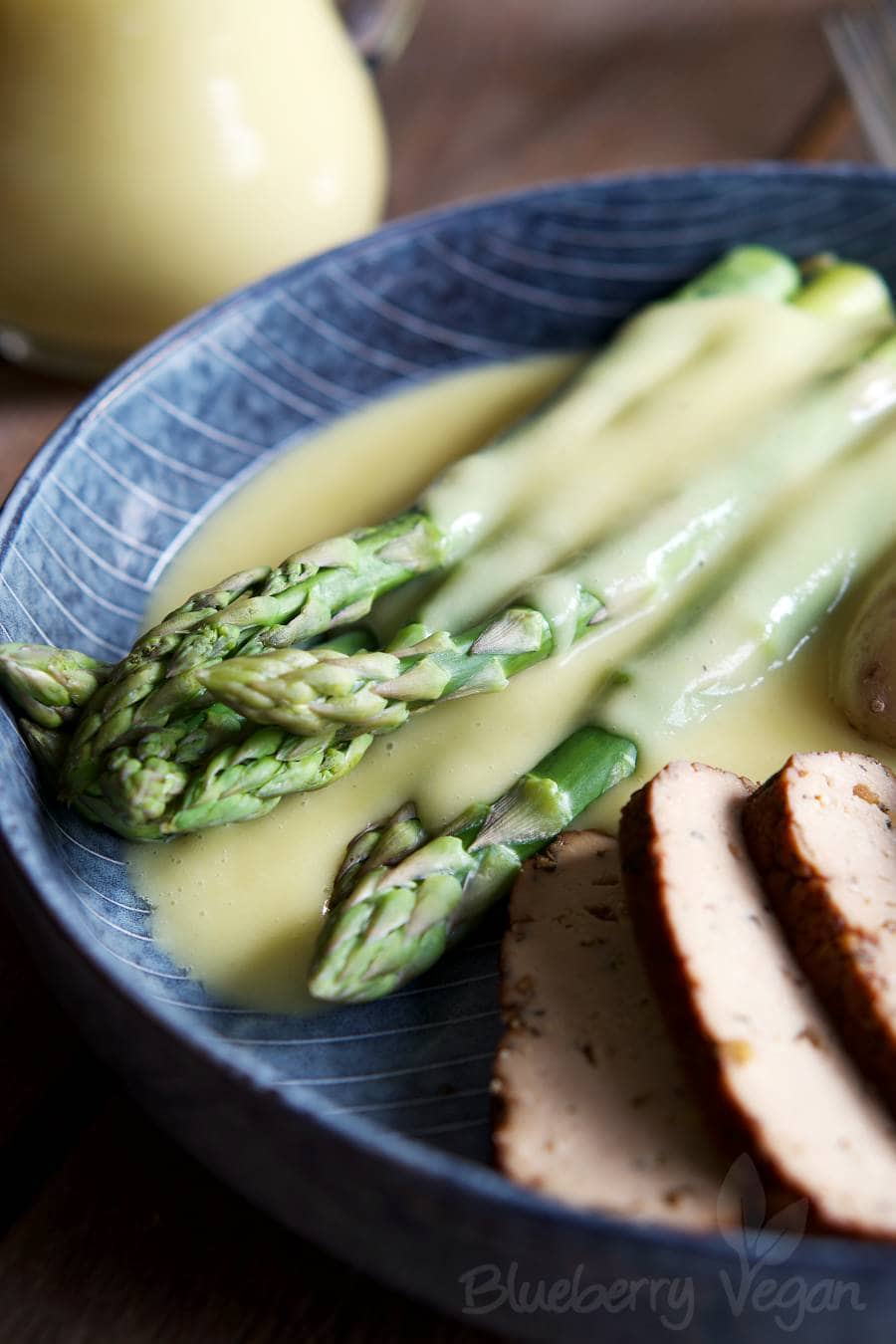 This year I created a phenomenal Sauce Hollandaise for my first plate of asparagus. You know the base for the sauce. It is the cheese sauce made from potatoes and carrots. To turn it into a Sauce Hollandaise I omitted the carrots and added lemon juice and Alba oil. Alba oil is a Swedish rapeseed oil mixture that tastes like butter. Since some people like more lemon then others I decided to note the amount of lemon juice to 1 1/2 – 2 tablespoons. Decide how you like it and add as much lemon juice as you prefer. To round off the taste I added a pinch of Kala Namak for that eggy-note.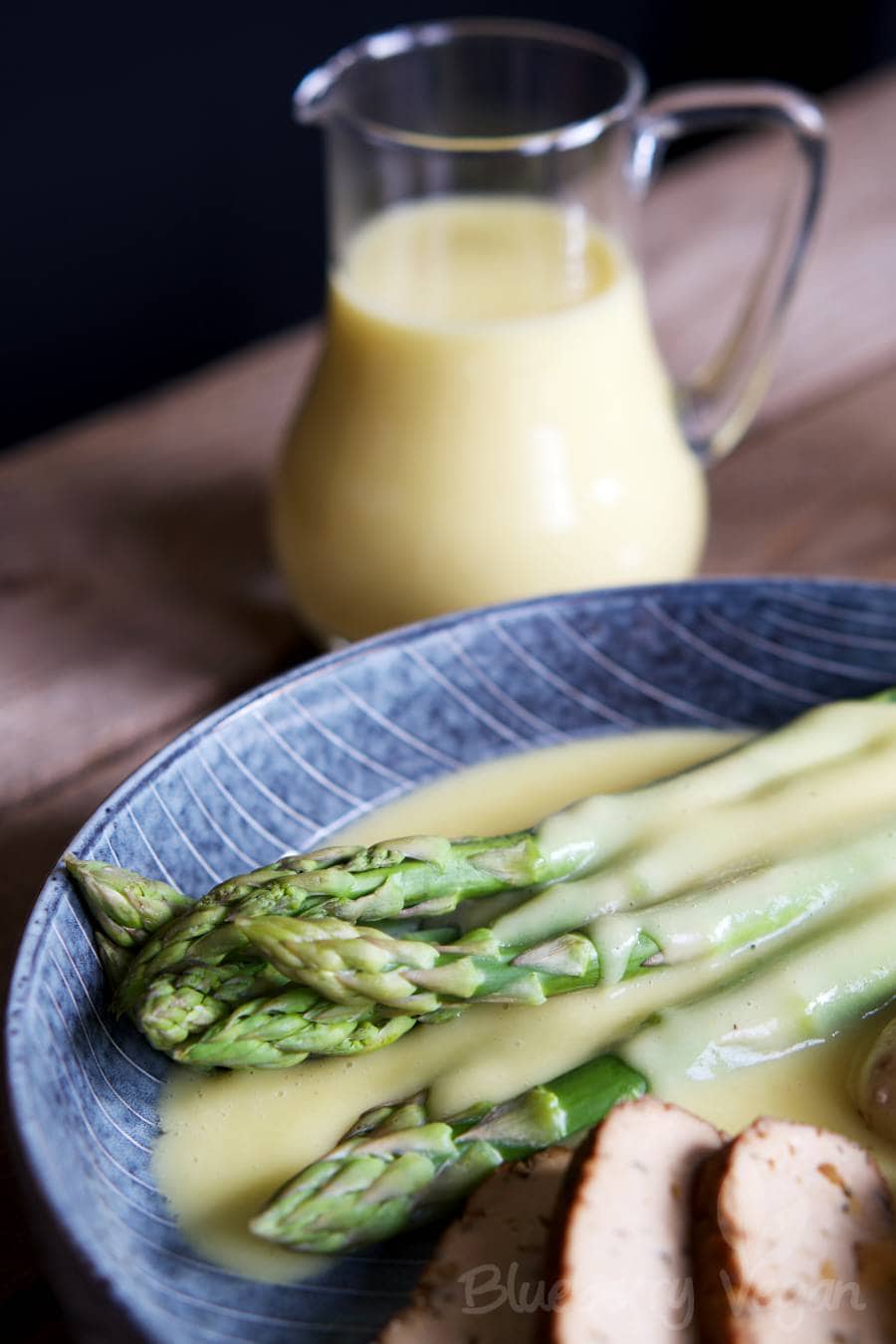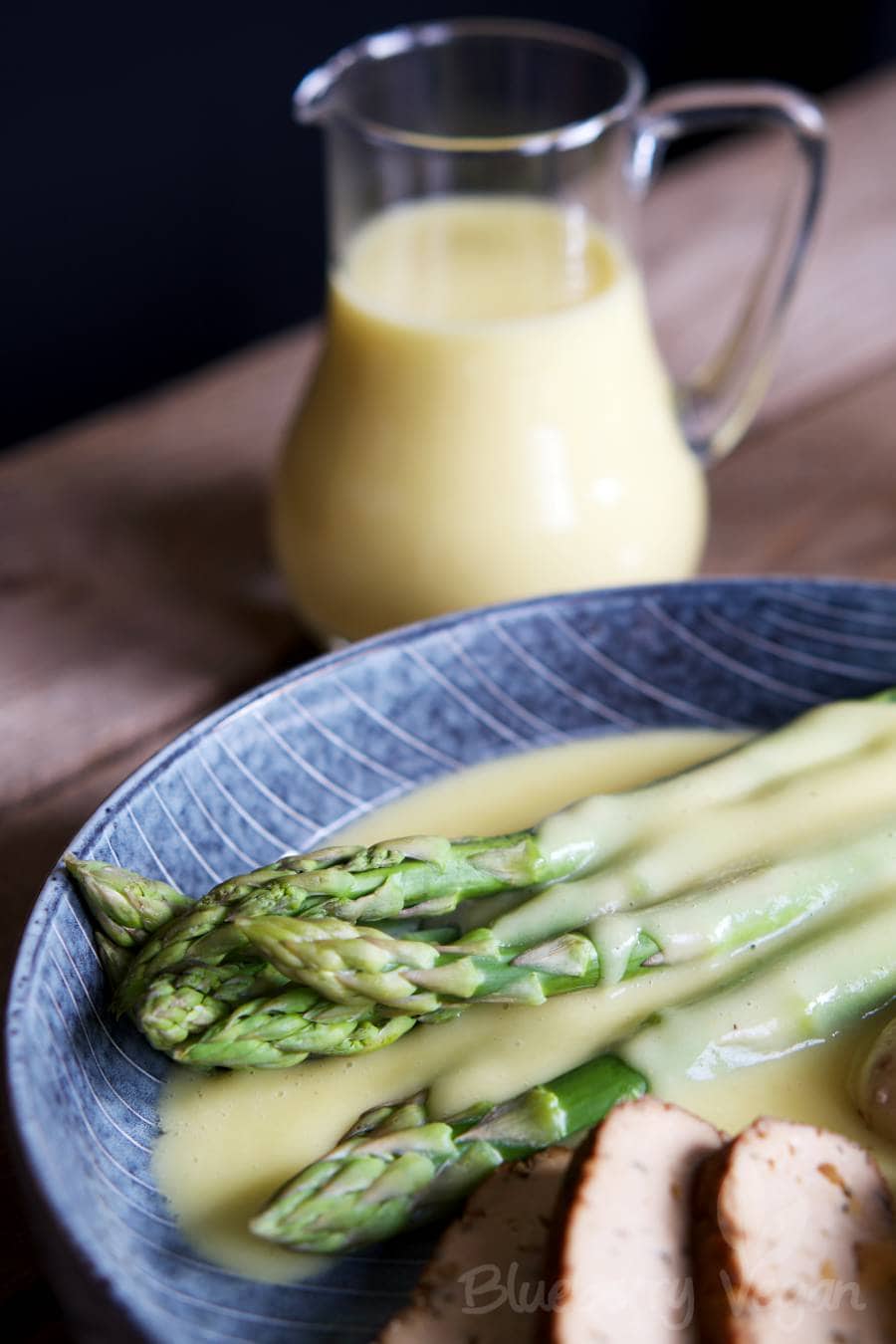 I could eat this sauce with a spoon, that's how much I like it. 😀
Enjoy!
Love,
Rina
Asparagus with Potatoes, Tofu and The Ultimate Vegan Sauce Hollandaise
Zutaten/Ingredients
For the Sauce Hollandaise:
250 g (8.8 oz) potatoes
1 small onion
1 clove garlic
1 cup (240 ml) water
4 tbsp Alba oil
1 1/2 - 2 tbsp lemon juice
2 tsp nutritional yeast flakes
1 tsp mustard
1/2 tsp salt
white pepper
1 pinch turmeric - just for the color
1 pinch Kala Namak


Also:
1 bunch asparagus - white or green
400 g young potatoes
1/2 pk. Taifun Black Forest Tofu - or any other smoked tofu or ham substitute
Zubereitung/Instructions
Cook the potatoes and asparagus until done. I boil the potatoes in a pot and then add a steamer with the asparagus on top of it, after half of the cooking time.


Roughly chop the potatoes and onion for the sauce, peel the garlic. Cook or steam the veggies until soft and then blend for about two minutes with the other ingredients until smooth. Season to taste with lemon juice and salt.


Arrange asparagus and potatoes on a plate. Slice the tofu and add to the plate. If the sauce isn't hot enough (my blender makes it really hot) reheat it and then pour it over the asparagus and potatoes.
Tipps/Notes
There are supposed to be people who can divide this amount of sauce into three servings. I don't know such people.