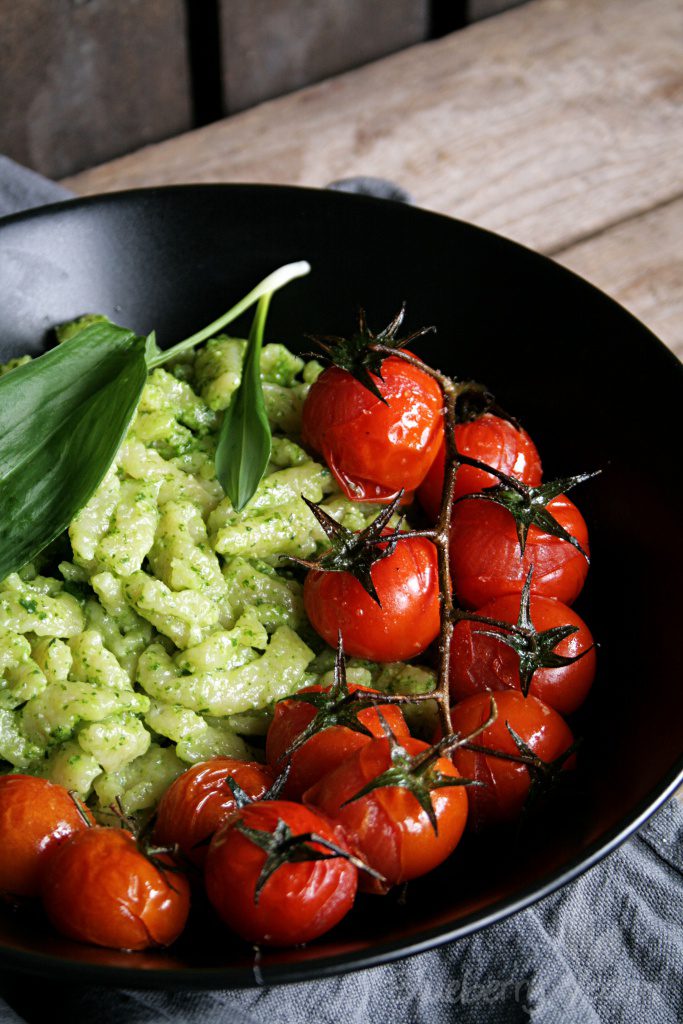 [Advertising: Affiliate Links]
Last weekend I finally went into the forest nearby my appartment and picked wild garlic. It was worth waiting for it. Although I only pick big single leaves, so that the plant can grow on, I was able to bring home 200 grams (about 7 oz).
If you want to look for wild garlic yourself, you should do it now, because the plants are easy to spot. When I was in the forest everything was still brown and grey, only the wild garlic showed in bright green. Also at this time of the year you probably won't mistake lily of the valley for wild garlic.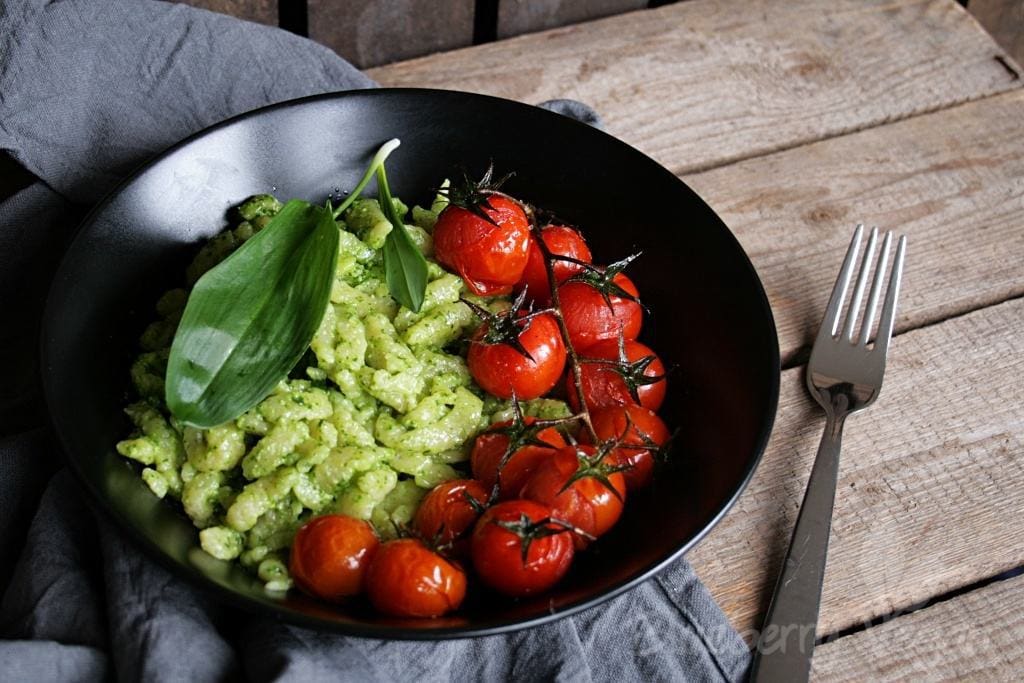 You should be careful about that, because lily of the valley is poisonous. Wild garlic leaves are thinner and smell like garlic. Later in the year, I don't pick wild garlic from places, I don't know and buy it in the supermarket, just to be sure. Also I freeze some leaves to prolong the wild garlic season.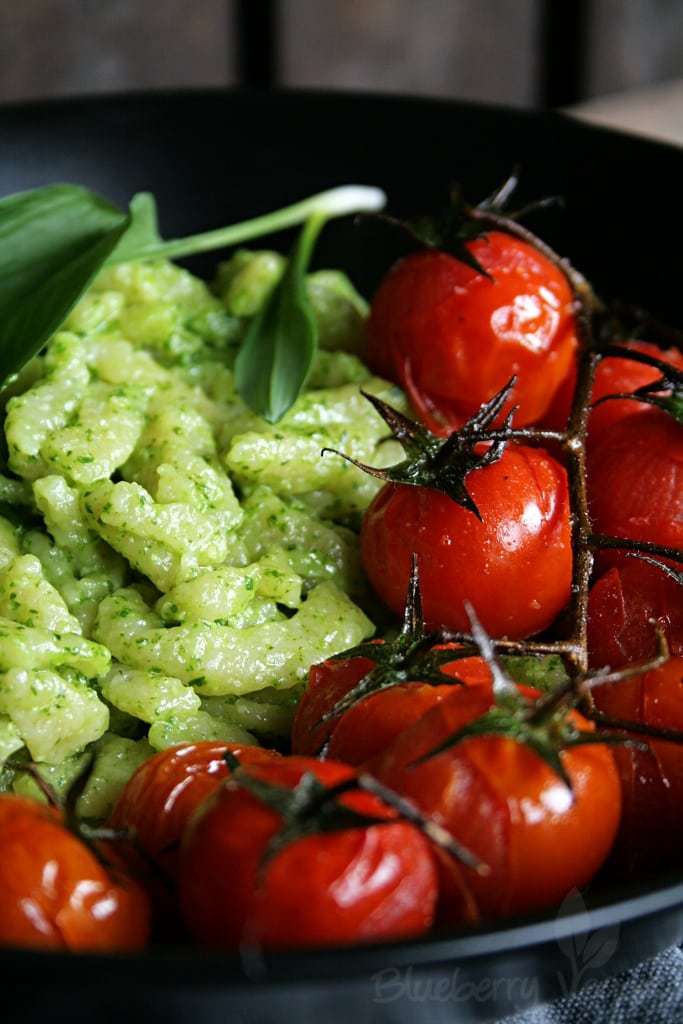 The first thing I made with wild garlic was pesto, of course. And I left over some leaves for wild garlic butter. I used the pesto as a sauce for homemade spätzle and served them with oven tomatoes.
I hope you enjoy this dish!
Love,
Rina
Spätzle with Wild Garlic Pesto and Oven Tomatoes
Zutaten/Ingredients
For the pesto (yields a small jar):
60 g (2.1 oz) wild garlic
30 g (1 oz) cashews
5 g (1 tbsp) nutritional yeast flakes
5 g (1/2 tsp) salt
60 g (2.1 oz) oil


For the oven tomatoes:
2 branches cherry tomatoes
olive oil
salt


For the spätzle:
160 g (1 cup) flour
2 tbsp soy flour or chickpea flour
1/2 tsp salt
180 ml (3/4 cup) water
Zubereitung/Instructions
Weigh all ingredients for the pesto in a food processor and process until desired consistency.


Combine the dry ingredients for the spätzle in a big bowl, add the water and beat with a wooden spoon until a smooth, but sticky dough forms (I hope you have some muscles in your arms). Let rest for 10 minutes.


Place the tomatoes in a baking dish, drizzle over some olive oil and sprinkle with salt. Set in the oven and turn it on to 180° C (360° F) circulation. After 15 - 20 minutes the tomatoes should have bursted and be ready.


While the tomatoes are baking, make the spätzle. Bring salty water in a big pot to boil and press in the batter with a potato press or use a spätzle board to scrape it in. After 2 - 3 minutes, depending on the size, the spätzle are ready. Remove from the water with a skimmer and pour in a bowl.


Mix two tablespoons of pesto with the spätzle and arrange on two plates. Add a branch of tomatoes to each plate and serve.