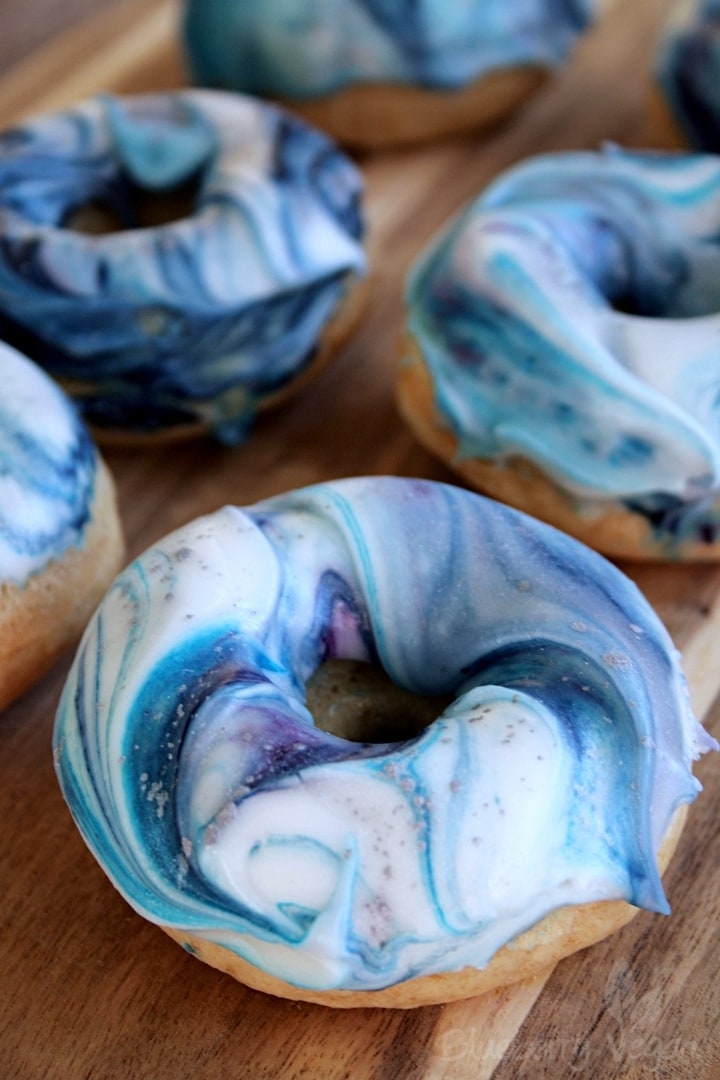 [Advertising: Affiliate Links]
I love to bake. And when I am invited to someones house, I can't resist to bring something baked along. This weekend I baked space donuts and brought them to a party.
I bought a donut mold a couple of days ago, since I always wanted to make some donuts. I am not a big fan of anything deep-fried, so this a better option for me. Aren't they fabulous? And they are so easy to make.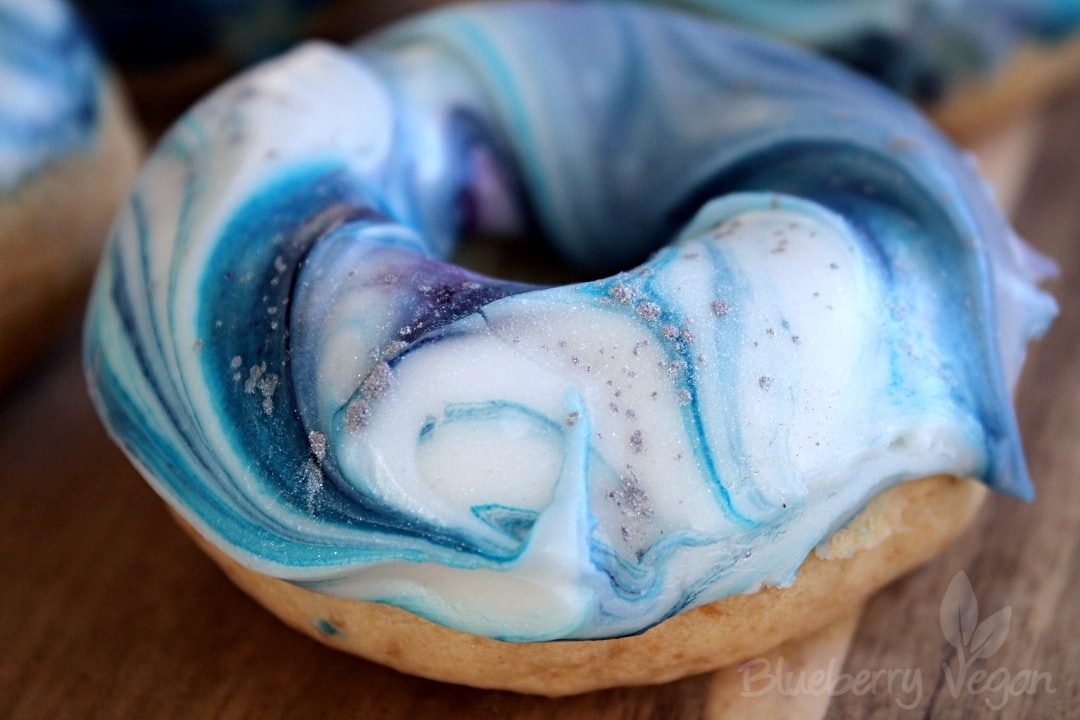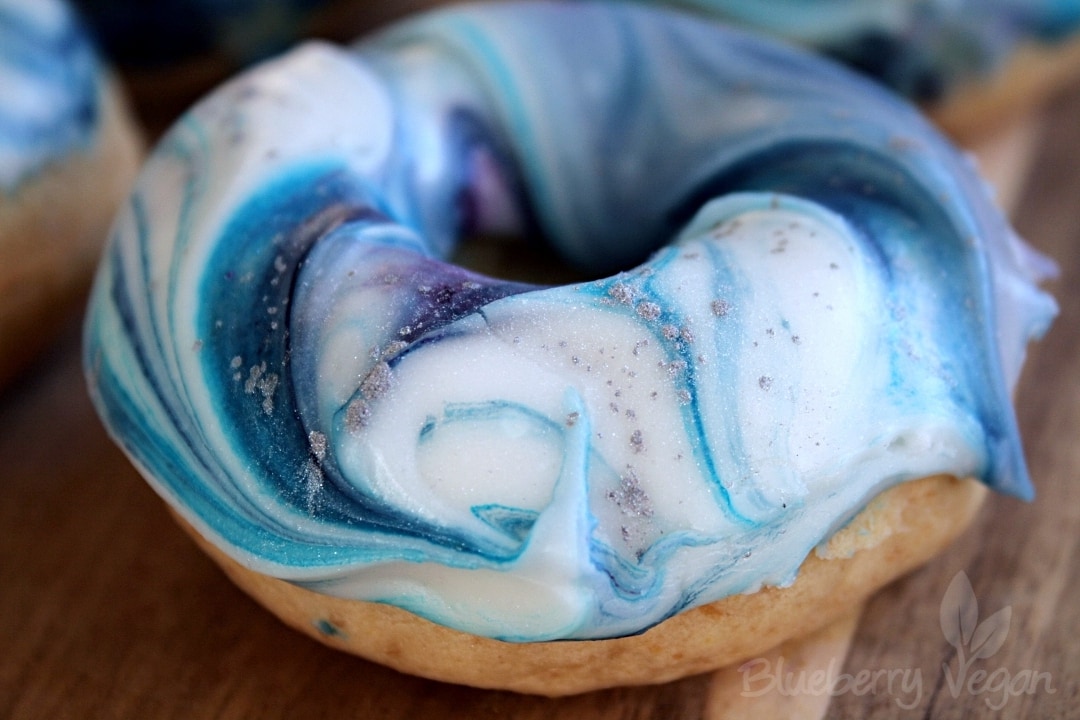 Usually donuts are made from a yeast dough, shaped into rings and then deep-fried. I wanted a quicker solution than a yeast dough, that will need time to rise. And so I used baking powder as a rising agent. It worked really well and the donuts have risen just perfect.
For the dough you heat up the wet ingredients, then pour them over the dry ones and give it a good stir. To pour in the dough into the mold without making a mess use a freezer bag. Put it over a water glass and pour in the dough. Then cut off the edge and pipe the dough in the mold.
You'll need food coloring for the icing. I used Sugarflair pastes in blue, purple and turquoise. To dust the donuts I used silver dust and a soft brush. (Tip gently against the brush to let the powder fall down.) To give your donuts this spacey look, pour a small amount of dye into your icing and marble it.
To marble use a spoon handle and draw circles and s-forms into your icing until you like the colors. Then dunk in the donuts halfway, give them a slight turn (about 1 inch or so) in one direction and pull them out. Let them drip on a cooling rack.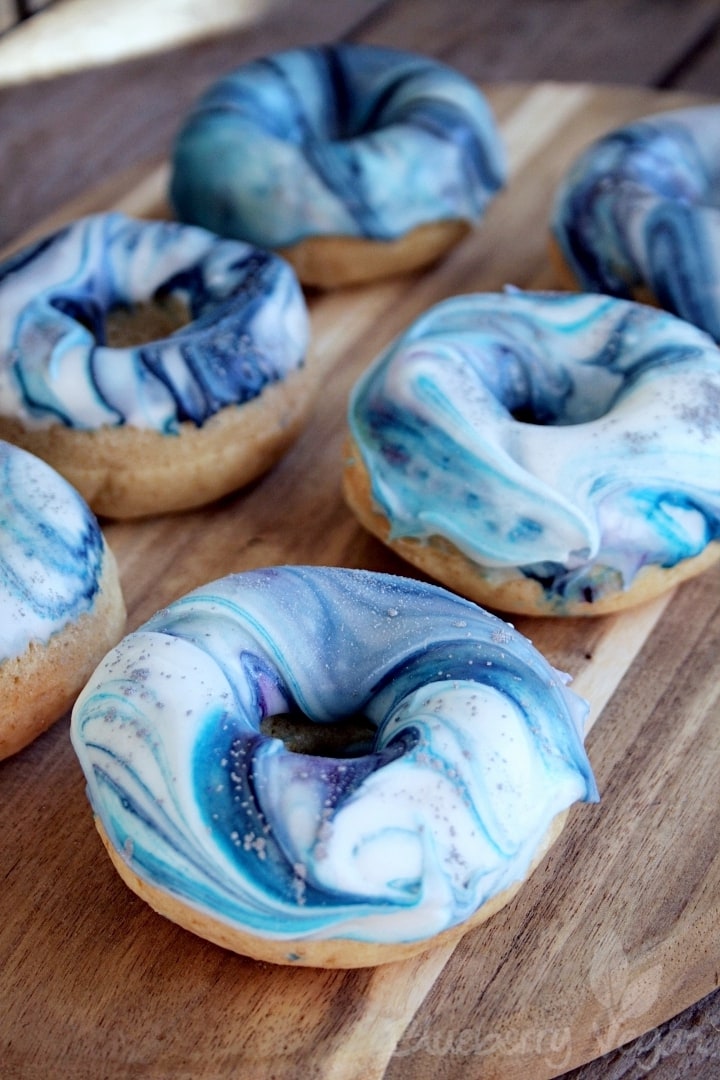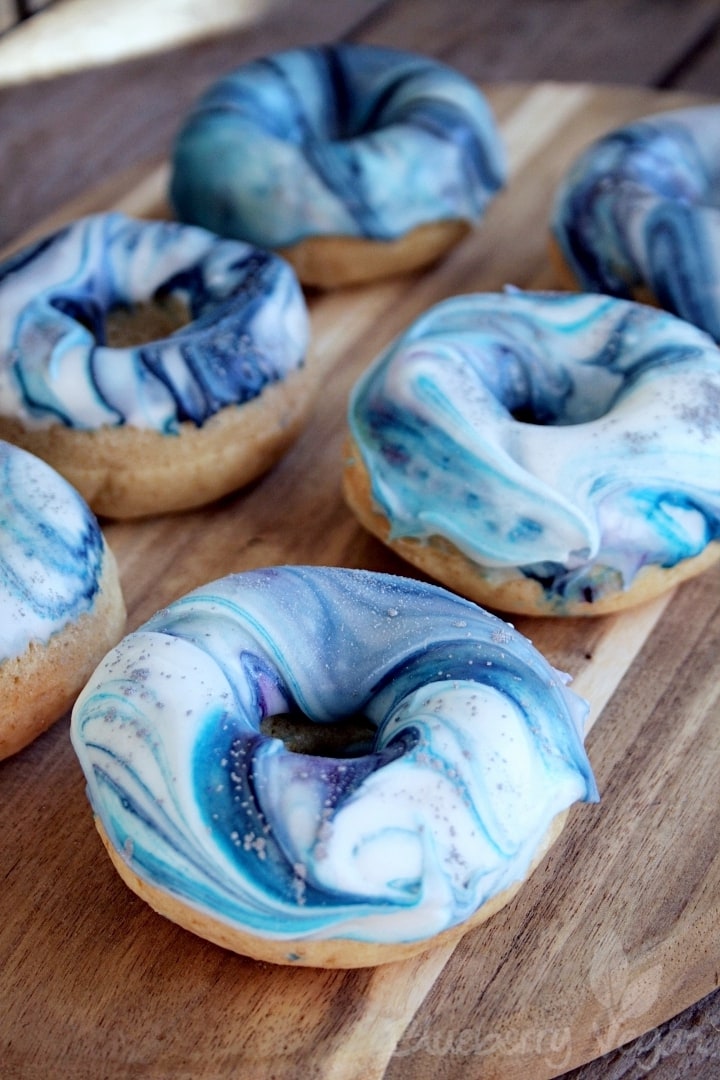 Have fun baking these space donuts!
Love,
Rina
Space Donuts
Zutaten/Ingredients
For the donuts:
160 g ( 1 cup) white flour - spelt or wheat
60 g (1/4 cup) sugar
1 tbsp corn starch
1 1/2 tsp baking powder
1/4 tsp salt
120 ml (1/2 cup) soy milk
1 tsp apple cider vingegar
2 tbsp apple sauce
1 tbsp ground (golden) flax seeds, combined with 3 tbsp water
2 tbsp neutral tasting oil
2 tsp vanilla extract - alternative 1/2 tsp ground vanilla


For the icing:
250g (about 1 cup) powdered sugar
2 - 2 1/2 tbsp soy milk
2 tbsp margarine or coconut oil, melted
1 pinch salt
food coloring in blue, purple and turquoise
edible glimmer powder
Zubereitung/Instructions
Preheat the oven to 180° C (360° F) and grease a donut mold.


Combine the ground flax seeds with water and set aside. Also combine soy milk and apple cider vinegar and let curdle.


In a bowl mix flour, sugar, starch, baking powder and salt. Pour soy milk, flax seeds, oil, vanilla extract and apple sauce in a sauce pan and heat up slighty warmer than lukewarm but not simmering.


Pour the wet ingredients over the dry ingredients and give it a good stir.


Pour the dough in a freezer bag, cut off the edge and pipe the dough in the donut mold.


Bake in the oven for about 10 - 12 minutes, until a toothpick comes out clean. Remove from the mold immediately and let cool completely.


For the icing combine all ingredients except for the dye and the glimmer. Add one drop of dye of each color to your icing and marble it with a spoon handle by drawing circles and s-forms into your icing.


Dip in the cold donut halfway, turn it a little and pull it out. Let drip on a cooling rack and dust with glimmer powder.
Tipps/Notes
Make sure the icing isn't too runny, so your icing stays on the donuts 😉