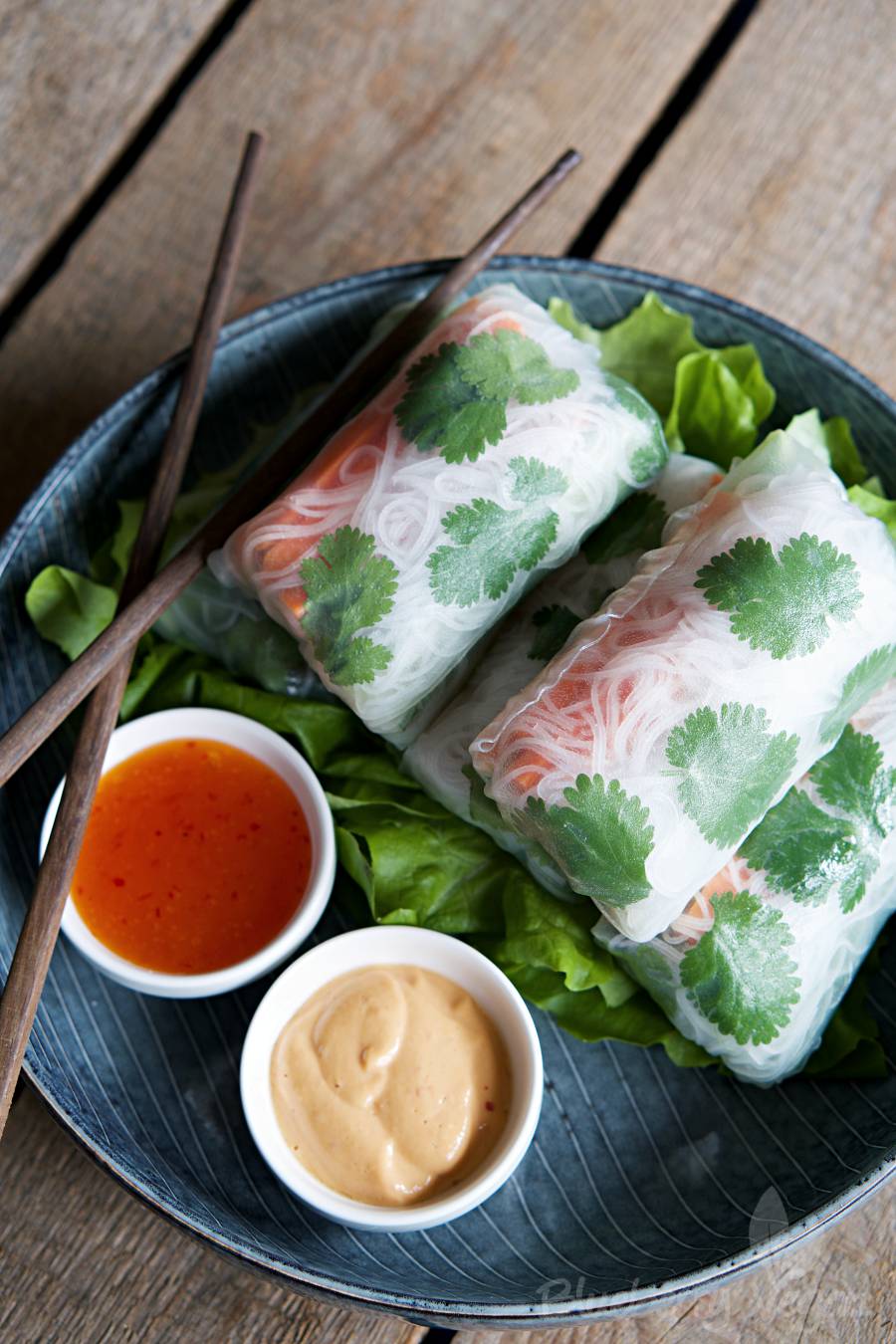 [Advertising: Affiliate Links]
On hot summer days I am usually not that hungry and I don't like heavy meals. You probably know what I mean. A fresh salad or antipasti with baguette are things I want to see on my table these days.
Or this delicious summer rolls. This Vietnamese version of spring rolls isn't deep-fried, but filled with fresh veggies. You can fill them with anything you like or things you have to use up.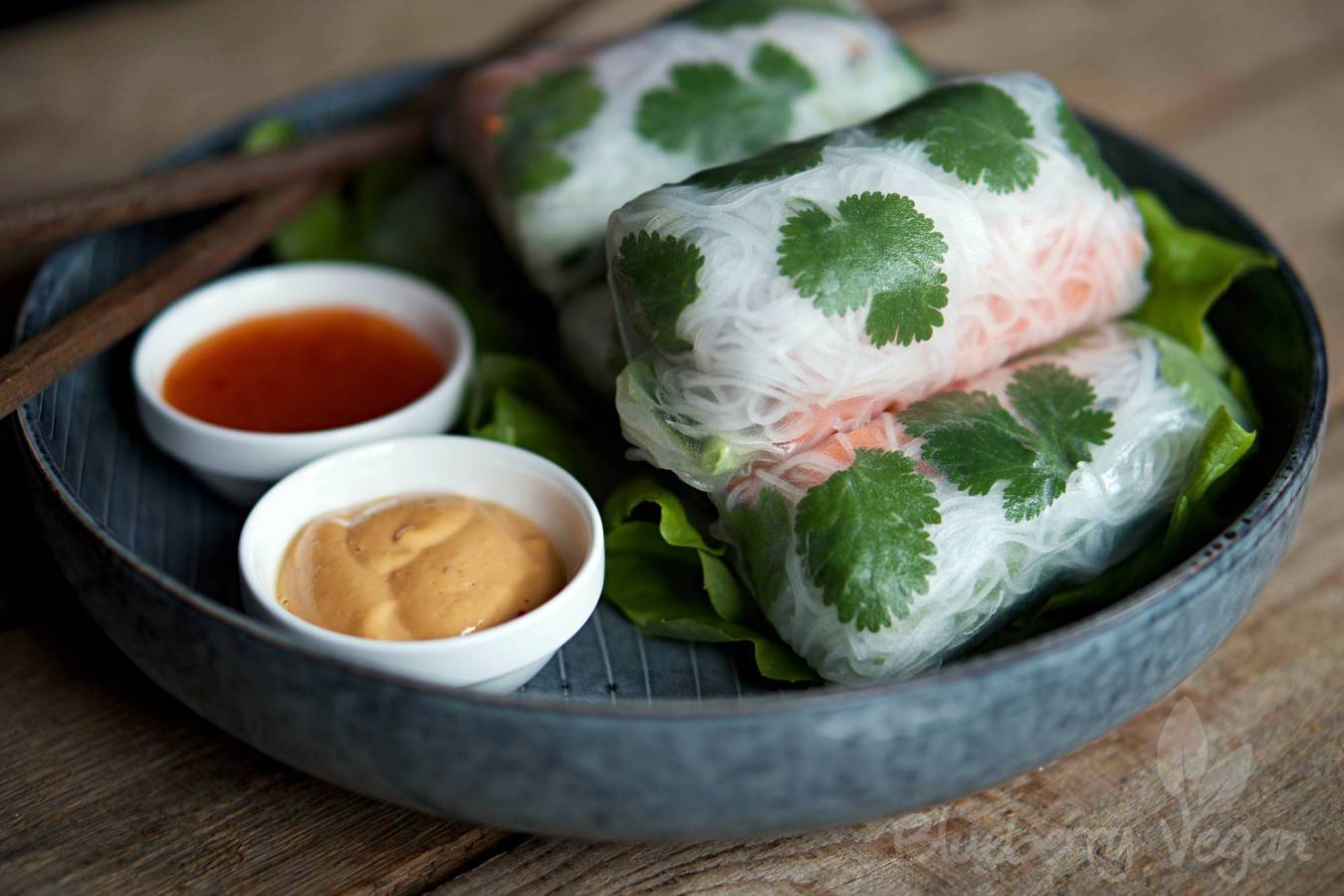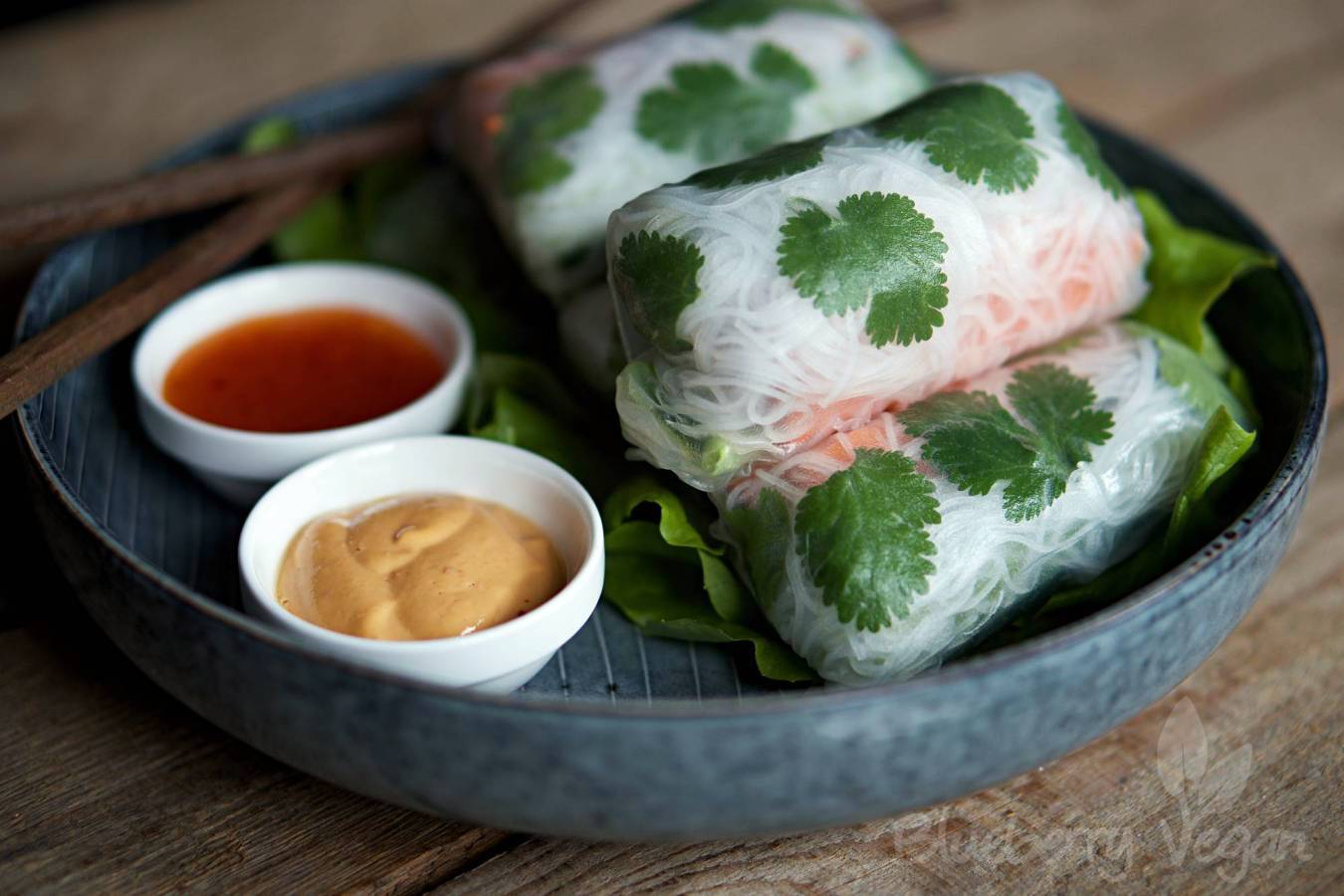 I decided to make a simple filling with rice noodles, carrots, cucumber, smoked tofu, lettuce and cilantro. Also great are avocado, mushrooms, bell pepper, mango, nuts and parsley or mint.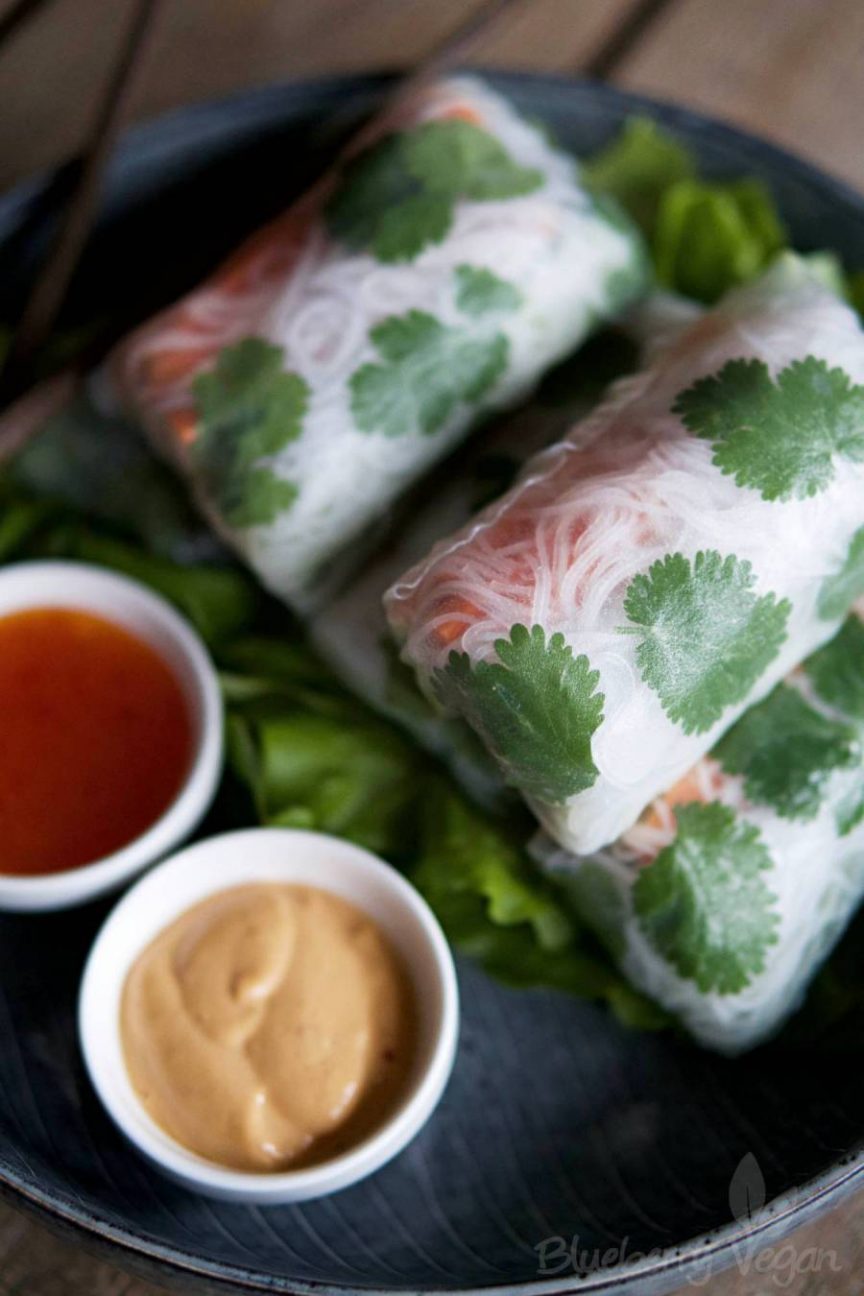 Because of the rice noodles and the rice paper the summer rolls are much more filling than you might think.
For the dips I have chosen two classics: sweet chili sauce and peanut sauce. You better cook the chili sauce at first, so it can cool down as you prepare the rolls.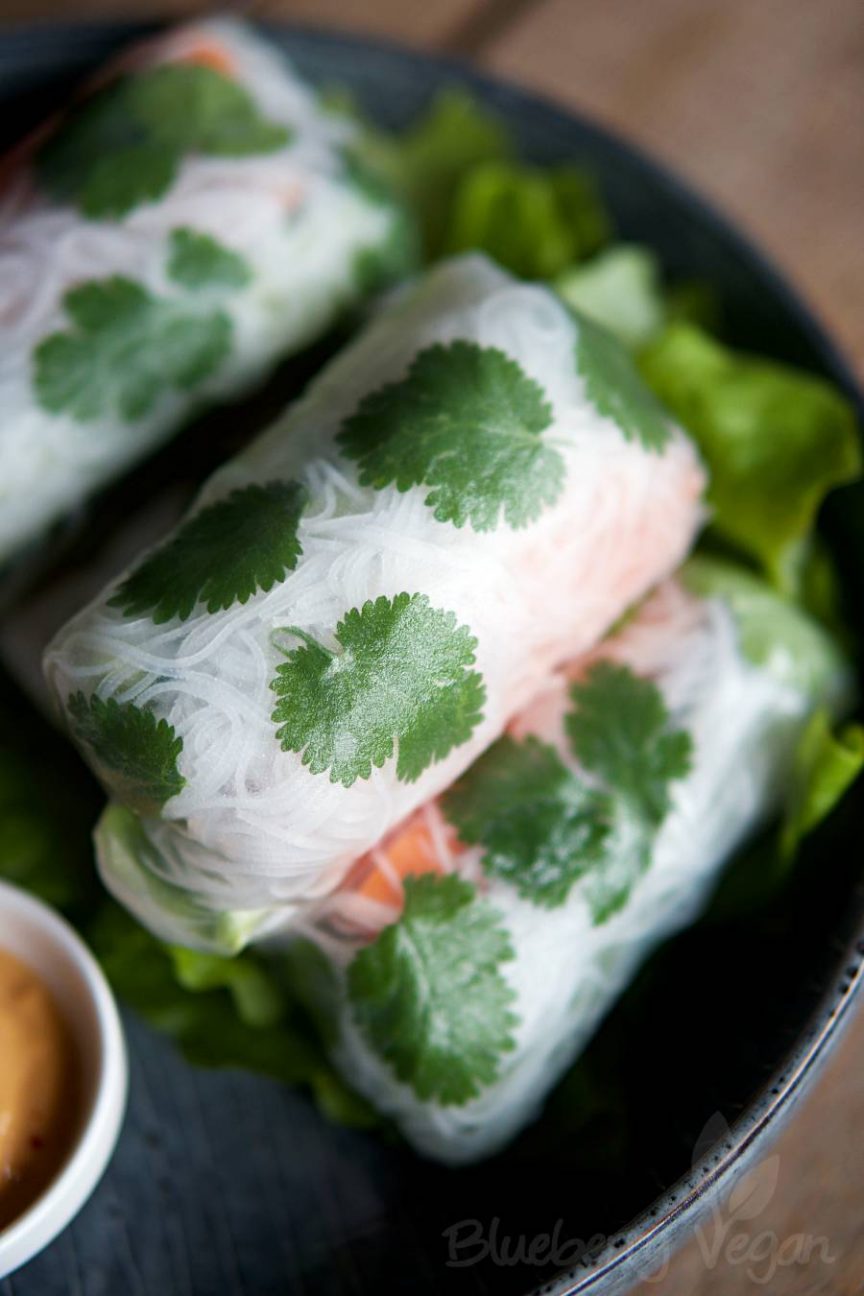 I wish you fun rolling and I hope you enjoy these summer rolls!
Love,
Rina
Summer Rolls with Peanut Sauce and Sweet Chili Sauce
Gang/Type:
Starter / Main Dish
Ergibt/Yield:
1 - 2 servings
Zutaten/Ingredients
For the summer rolls:
50 g (1.8 oz) rice noodles
1 carrot
1/4 cucumber
1/2 pk. smoked tofu
cilantro, fresh
6 leaves lettuce
6 sheets rice paper


For the sweet chili sauce:
100 ml (1/3 cup plus 1 tbsp) water
4 tbsp sugar
2 tbsp rice vinegar
1 tsp sambal oelek
1 big clove garlic
1/2 tsp salt
2 tsp tapioca starch


For the peanut sauce:
2 tbsp peanut butter
3 tbsp coconut milk - alternatively plant-based milk
1 tbsp lemon juice
1/2 tsp red curry paste
1/4 tsp salt
Zubereitung/Instructions
Mix all the ingredients for the chili sauce in a blender until smooth. Pour into a pot and bring to boil. Let simmer for about 2 minutes, then let cool down. Stir from time to time to avoid a skin on the sauce.
Combine all the ingredients for the peanut sauce in a bowl and season to taste with salt.


Pour boiling water over the rice noodles and let them steep for 5 minutes, then drain, cold rinse and set aside.


Cut the veggies and tofu into sticks. Hold a sheet of rice paper under running water for a few seconds and then lay it on a wet kitchen towel. Add the filling of choice in the middle of the sheet. Then fold over one side, fold in the sides and roll up the package. Continue until all filling is rolled.


Cut the rolls in half and arrange them on two plates. Pour the sauces in bowls and serve with the summer rolls.
Tipps/Notes
I mixed the dips in no time in my <a href="http://www.blueberryvegan.com/mein-allerliebstes-kuechengeraet-der-personal-blender/" data-mce-href="http://www.blueberryvegan.com/mein-allerliebstes-kuechengeraet-der-personal-blender/">Personal Blender</a>.