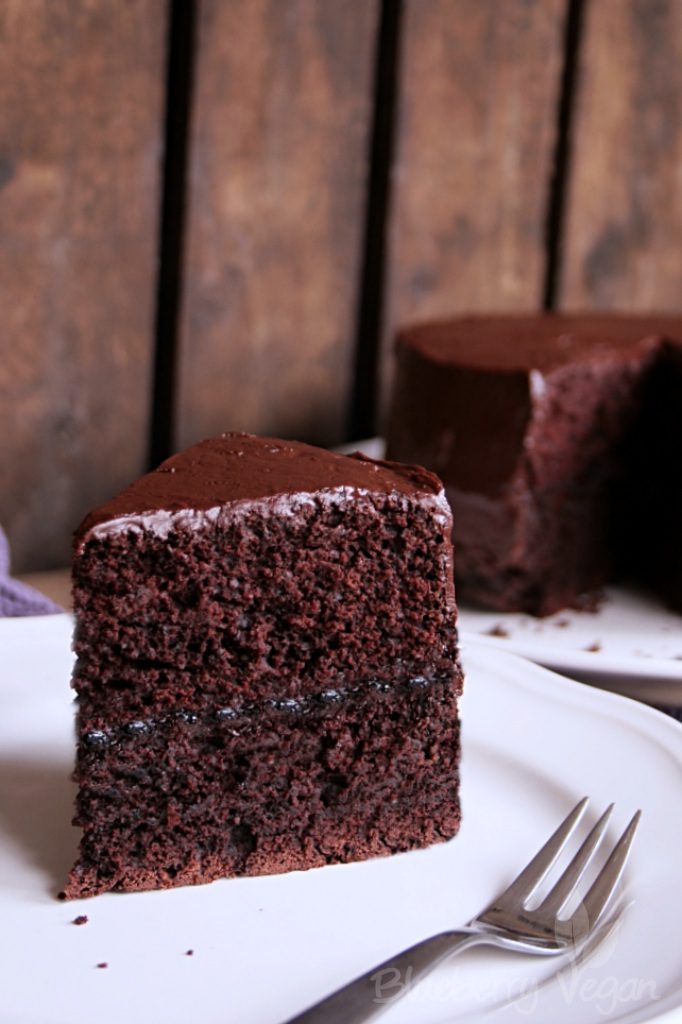 [Unpaid Advertising]
Hey, do you like chocolate? Me, too! And the dark one is my favorite. If you are looking for a soft, fluffy and moist chocolate cake, you just found it.
You don't need special ingredients or machinery to make it. Just grab a bowl and a spoon or spatula and there you go.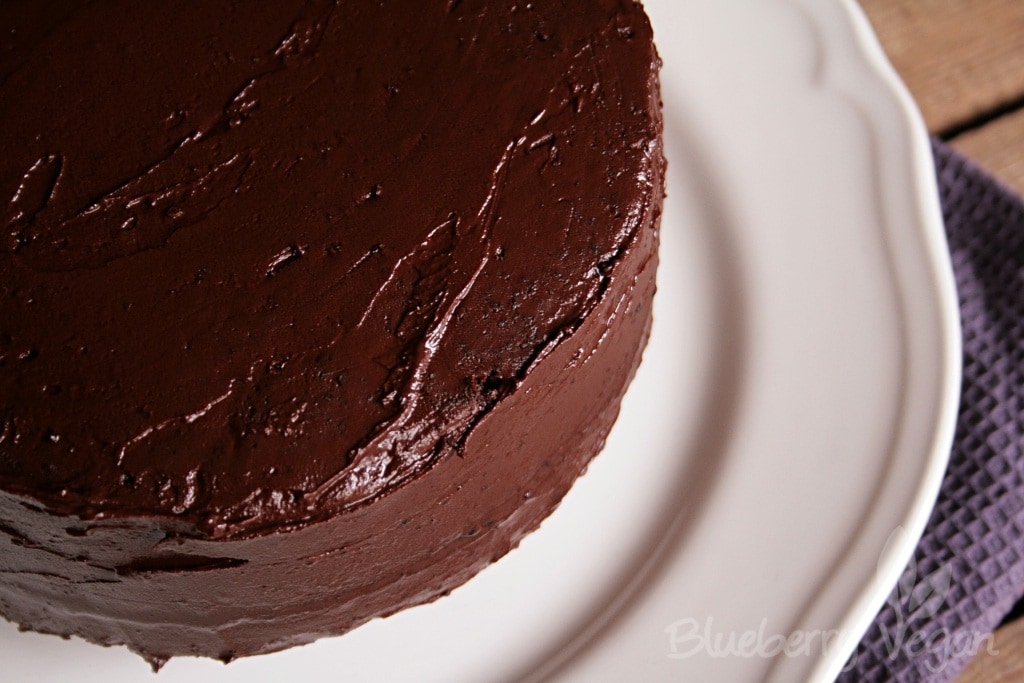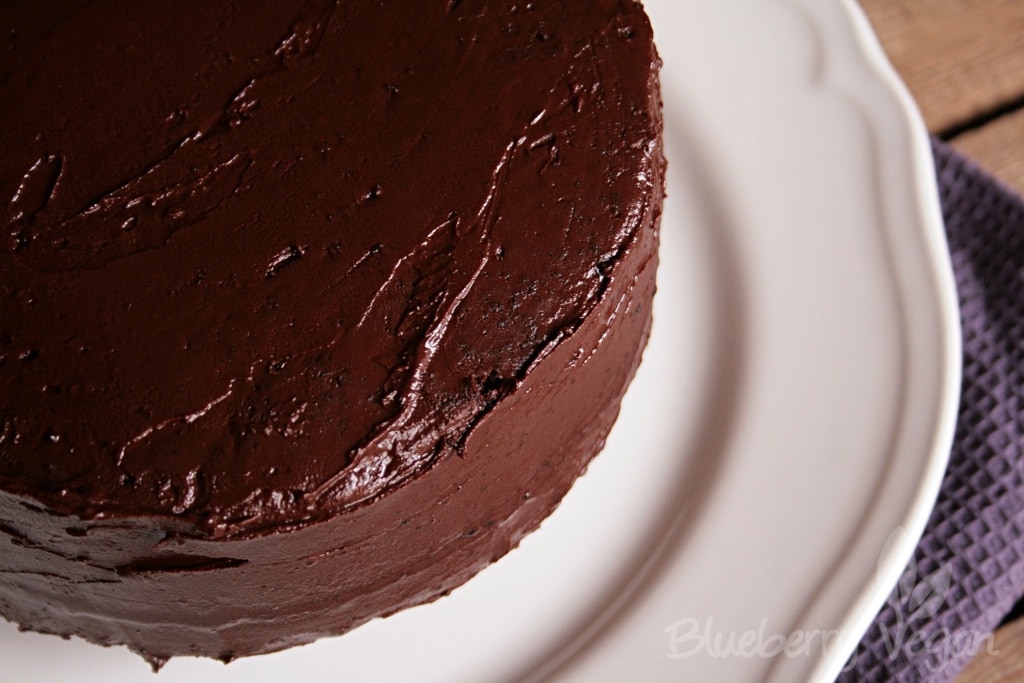 To bake the cake evenly without a cake mountain in the middle, I isolated the springform pan on the outside. This way the cake gets less heat from the sides and doesn't bake through there, so that the rest of the dough will rise in the middle. The baking agents let it rise to look over your pan. I posted a picture of that on Instagram.
To isolate the pan you'll need a thin kitchen towel, that you wet, wring out, fold length-wise two times and then fold it around your pan. To keep the heat from the towel and to fix it, I wrapped some tin foil around the towel. Make sure you just cover the springform pan on the side and keep the bottom free. So the cake will get enough heat to bake through.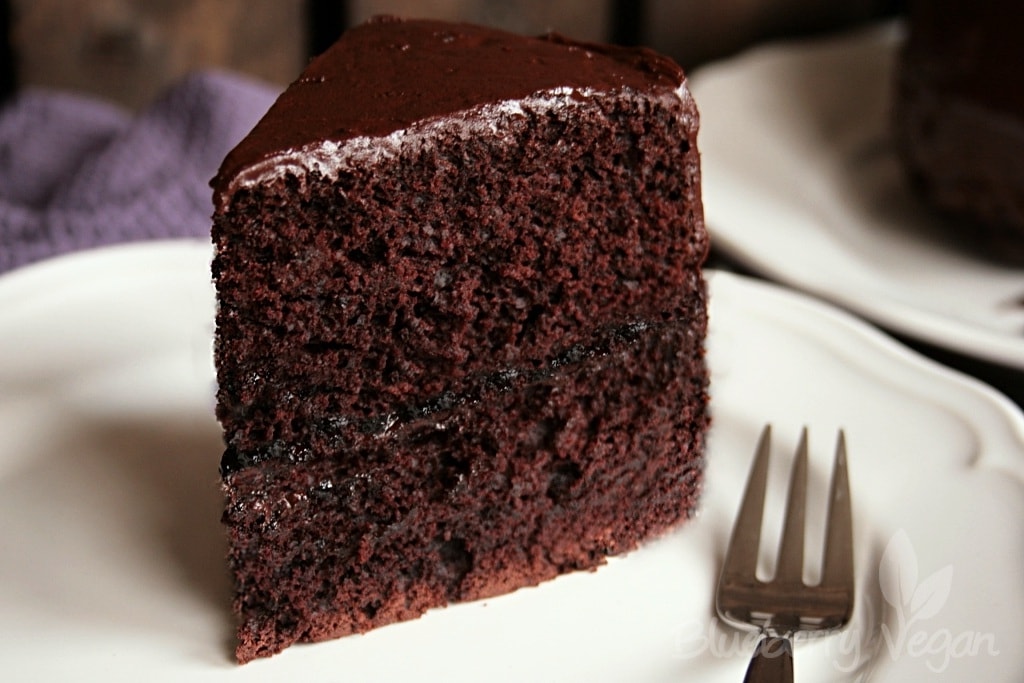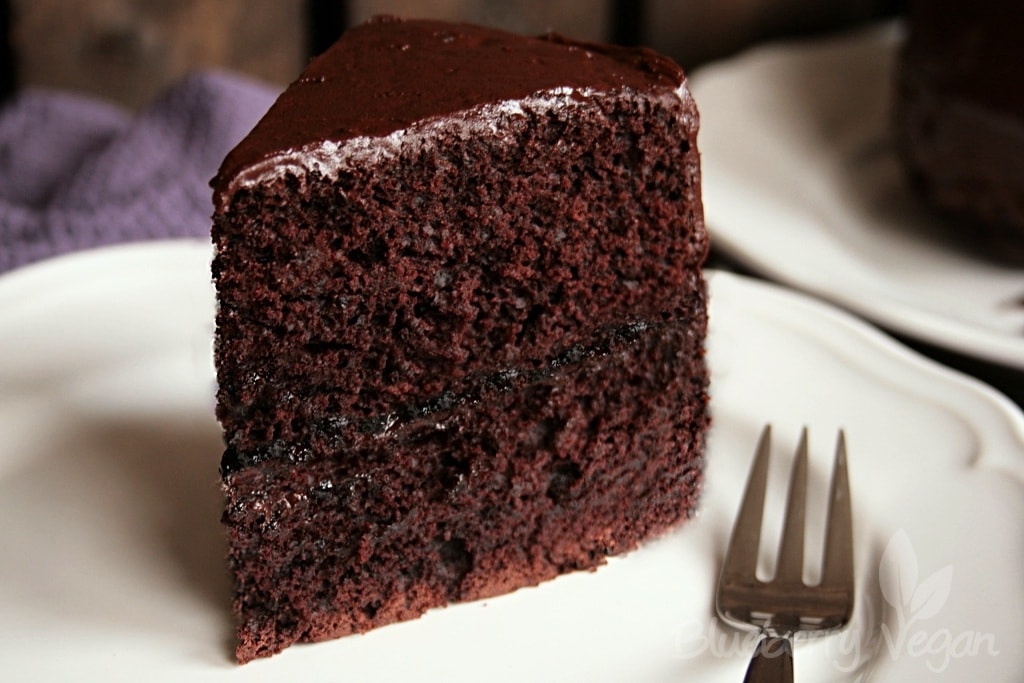 When the cake is done, let it cool completely and then halve horizontal. Spread one side with blueberry jam and the other side thin with chocolate glaze. Reassemble and cover entirely with chocolate glaze.
I recommend you start eating it by having a small piece. My friends and I had a normal-sized piece as an appetizer before making waffles and we went straight to eating coma…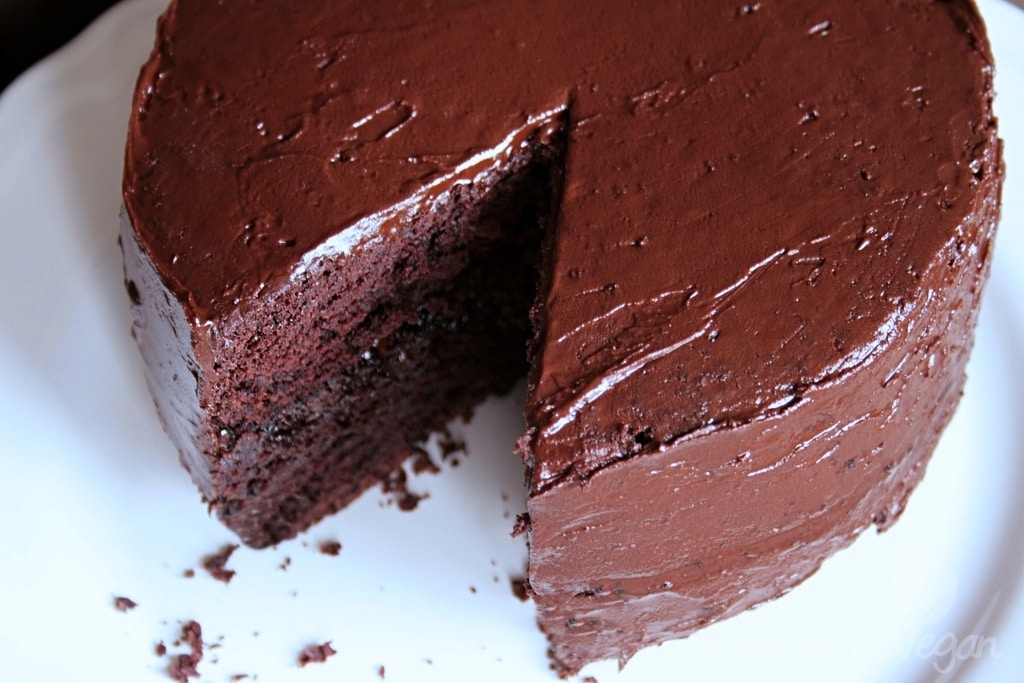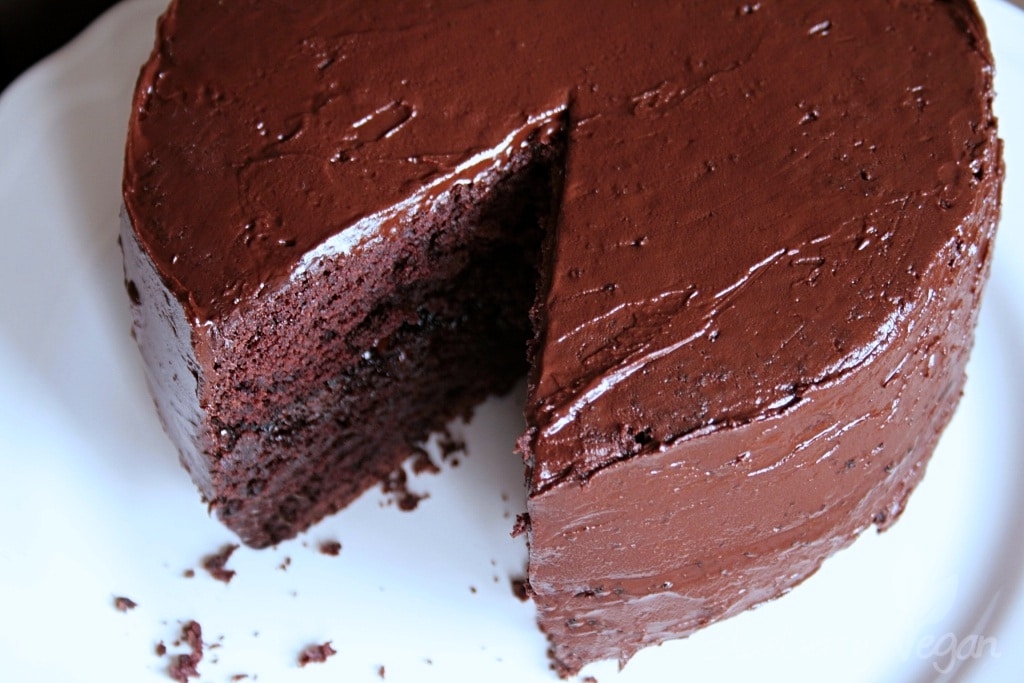 Happy indulging!
Love,
Rina
You want to make more cakes? Take a look at those: lemon cake, strawberry cake, apple pie, chocolate dark beer cake, fruit streusel cake, chocolate orange cake and vegan cream cheese cake.

Chocolate Cake with Glaze
Ergibt/Yield:
8 - 10 Portions
Zutaten/Ingredients
For the dough:
240 g (1 1/2 cups) white flour - spelt or wheat
60 g (1/2 cup) corn starch
60 g (1/2 cup) cocoa powder
220 g (1 cup) sugar
1 1/2 tsp baking powder
1 tsp baking soda
1/2 tsp salt
250 ml (1 cup) soy milk
1 tsp apple cider vinegar
80 ml (1/3 cup) neutral tasting oil
2 tsp vanilla extract
1/2 tsp orange flower water - optional


For the glaze:
150 g (5.3 oz) dark chocolate
3 tbsp coconut oil - alternative margarine
1 1/2 tbsp agave nectar
1 tsp vanilla extract


Also:
Zubereitung/Instructions
Preheat the oven to 180° C (360° F) and grease a 7 or 8 inch-springform pan (18 - 20 cm). Wet a kitchen towel, wring and fold around the pan, cover with tin foil to fix. Make sure, there is no towel or foil covering the bottom.


Mix soy milk and apple cider vinegar and let curdle. In a bowl combine all dry ingredients with a spoon or spatula. Add the rest of the wet ingredients to the soy milk, mix, then pour over the dry ingredients and stir until just combined. Don't overmix, a few little lumps are allowed.


Pour the dough in the pan and level the surface. Bake in the oven for about 55 minutes, until a toothpick comes out clean. Let cool in the pan for 10 minutes, then remove and let cool on a cooling rack completely.


For the glaze in a bain-marie melt chocolate, coconut oil and agave nectar and stir until smooth. Then stir in the vanilla extract. Let cool and thicken a little.


Halve the cake horizontal and spread jam on one side, a thin layer of the glaze on the other side. Reassemble and cover the entire cake with chocolate glaze.


The cake tastes best at room temperature.
Tipps/Notes
You can use any kind of jam, of course. I love the
blueberry jam
 from IKEA by the way... Have you tried it yet? Vanilla extract is so easy to make yourself:
vanilla extract
.